Should you build a landing page vs website? The answer will surprise you.
If you've only just begun to explore the world of marketing and lead management, these two terms could seem confusing. However, once you understand the nuances of each term, you will find it easier to choose which is best for your business. Both a landing page and a website have their own advantages. Depending on your needs as an organization or brand, one might serve you better than the other. So, let us take a closer look at what they both are and how they can be used to improve your marketing strategy.
What is a Landing Page?
A landing page is a page on your website where visitors can be directed to from a marketing or advertising campaign. A landing page is usually designed to drive a specific type of action, such as a sale or lead generation.
The goal of a landing page is to convert a visitor into a lead or customer by convincing them to take a specific action. Landing pages were originally used by marketers to create a place where visitors who found their website via an advertising campaign could direct their attention. They allow you to direct the visitor's focus to one specific goal. As a result, they are a more focused way to direct a visitor's attention than a general website.
Here's something no one mentions — every page on your website is, by definition, a landing page.
However, in the world of online marketing, a landing page is typically a sales page that features a specific product, service or offer.
What is a Website?
A website is a place where all of your organization's information is housed. It is a general hub where people can find all of your information, from product descriptions and features to contact information and service hours.
Websites can also include information like company culture and values, company history, and any useful articles about your industry. The main difference between a website and a landing page is that a website covers a broad range of topics. It is also designed to be "evergreen", meaning that it will be useful for a long time without needing frequent updates. On the other hand, a landing page is usually designed to be short-lived, with a very specific goal in mind.
Differences Between Landing Pages and Websites
Websites and landing pages each have their own unique benefits and use cases.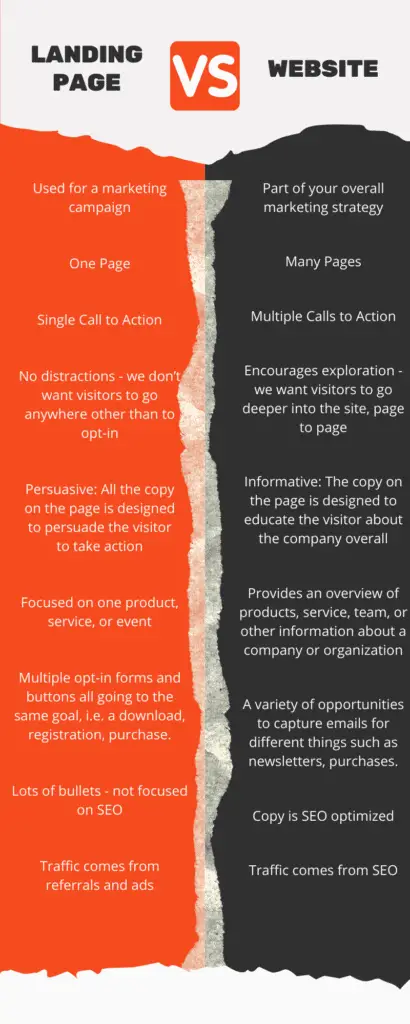 Can I Use a Landing Page as a Website?
Yes! Don't let the lack of a website stop you from making money! You don't need a big complicated website to start your business — but you DO need a landing page.
A landing page is the best, fastest, easiest ways to start making money in your business.
All you need is a simple offer and a basic call to action — that's it.
The best part is, that you don't need any technical skills to create a basic landing page. There are simple, low-cost landing page builders that you can use to get that offer up and out into the market.
Best Landing Page Builders
I'm super excited about sharing these landing page builders because every single one of them will allow you to create both landing pages and web pages that you can piece together with other pages and ultimately create an entire website with related web pages!
My Pick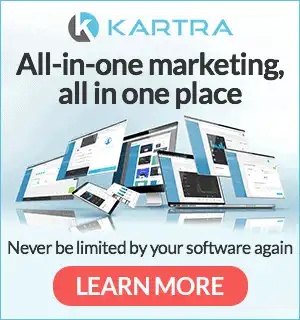 Kartra - Your Online Business Made Easy
I've been using Kartra for over a year now and I really like it. It's relatively simple to create landing pages, run email campaigns and literally scale your business without knowing a bit of code.
I also use WebinarJam and EverWebinar which is owned by the folks at Kartra, so if you also use WebinarJam, this is a no-brainer.
Try for $1
We earn a commission if you click this link and make a purchase at no additional cost to you.
LeadPages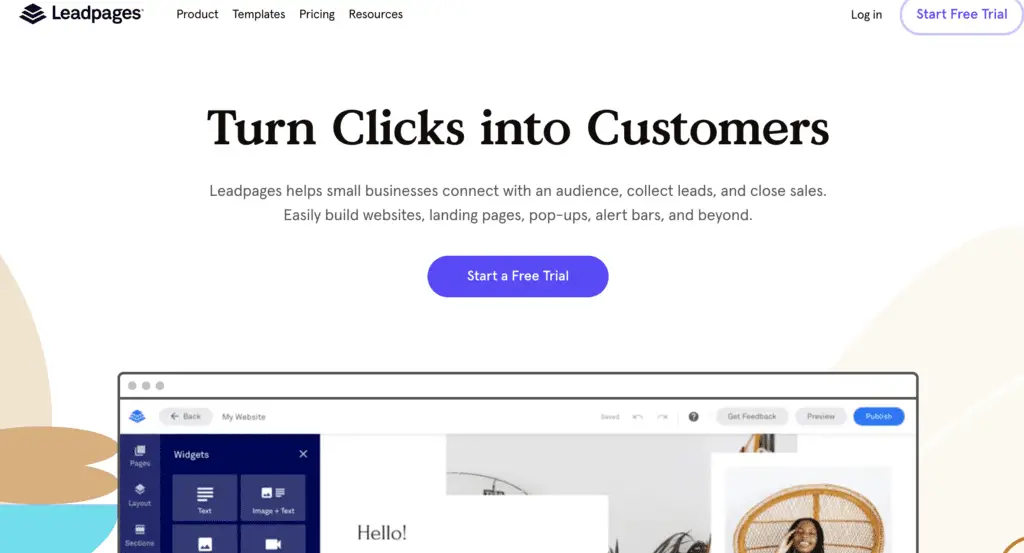 These folks have been the leaders in the industry for more than a decade. One of the things that's great about LeadPages is that the templates are "pre-optimized" meaning that they've already optimized the designs and even the copy that they use on the templates is optimized. All you need to do is customize it for your business.
LeadPages has a WordPress plugin so that you can integrate it with your website if you want to. Personally, I don't recommend this. I think it's best to keep your pages separate from your website.
These days you can customize LeadPages quite a bit, and I'm not sure that's such a great idea. After all, you want to take advantage of their pre-optimized templates.
Unbounce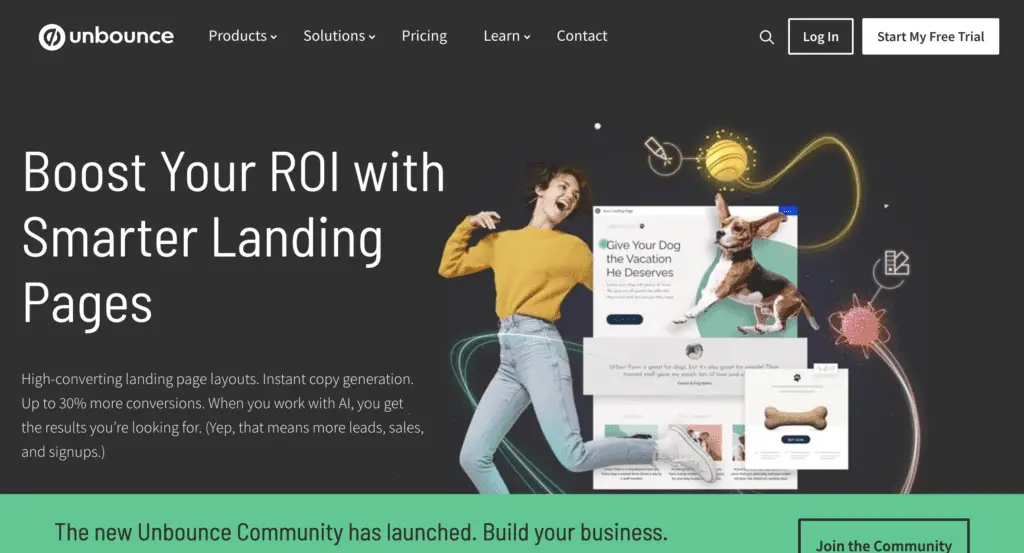 Unbounce is a site where you can make your own landing pages. You can choose from different templates, or you can make your own. Then, you can put in your own information and pictures. You can also change the colors and fonts.
These folks built their brand on AB testing. So if you want to test what headlines or images convert better, this is a great choice.
ClickFunnels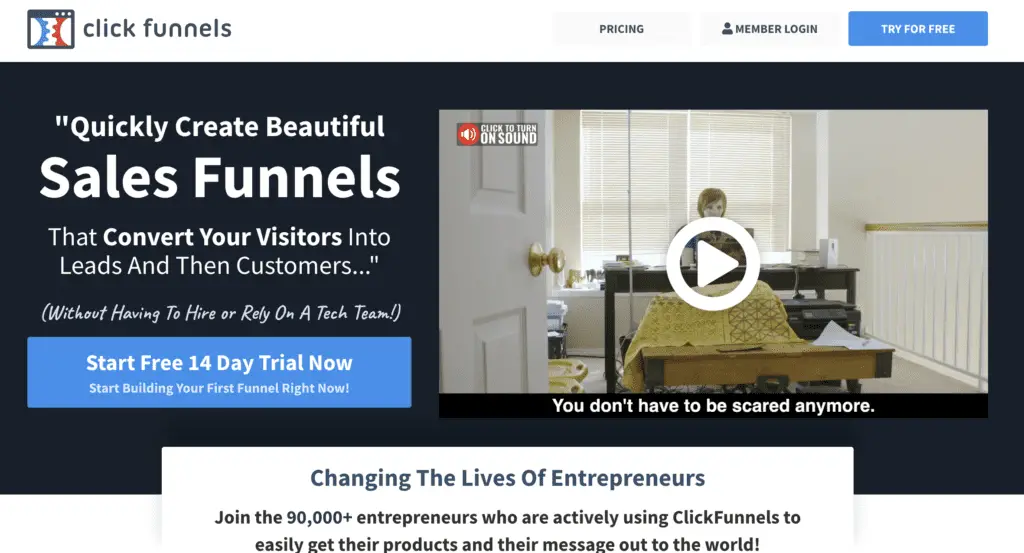 ClickFunnels is the go-to platform for coaches and consultants. Run by entrepreneur Russel Brunson, you'll get proven and complete funnels that you can plug and play to sell your offers.
Is my website home page a landing page?
Yes. Your home page is often the most popular landing page on your website. Just remember, marketing landing pages differ in that they are designed to capture leads and turn them into potential customers.
What role to landing pages play in my digital marketing strategy?
A dedicated landing page is critical to your marketing campaigns. Each marketing campaign should have a dedicated landing page with a specific offer and call to action. If you're running PPC campaigns, you should also have a dedicated landing page for them as well.
Do I need a website and a landing page?
You do NOT need a website and a landing page. However, most people have a website and then they create landing pages to sell specific products, services, or offers.
Do landing pages convert better than websites?
Overall, landing pages tend to convert better than websites. But this is primarily because a landing page's job is to convert visitors to leads or customers, while the job of a website (in general) is to inform and educate visitors.
While some pages on a website can be designed to convert, this isn't always the case. Remember every page on a website is — a landing page. But the goal of every page on a website isn't always to convert.
Final Words
When deciding between a landing page and a website, it is important to consider the advantages of each. This way, you can better plan which will work best for your organization.
If you want to generate leads, sales and email opt-ins, go with a landing page. It's the best way to launch an offer or a business without having to hire a developer or someone to build your website.