I am a massive CoSchedule fan. I've used their platform since they launched in 2013, and I can honestly say that using CoSchedule was like having a full time social media manager for about $14 a month. Here's the story of how I found a CoSchedule alternative.
Why I Loved CoSchedule and Why I'm Looking for an Alternative
CoSchedule is an amazing marketing calendar — really. But there is (err was) a feature that I loved above all the features they have — social media campaign templates.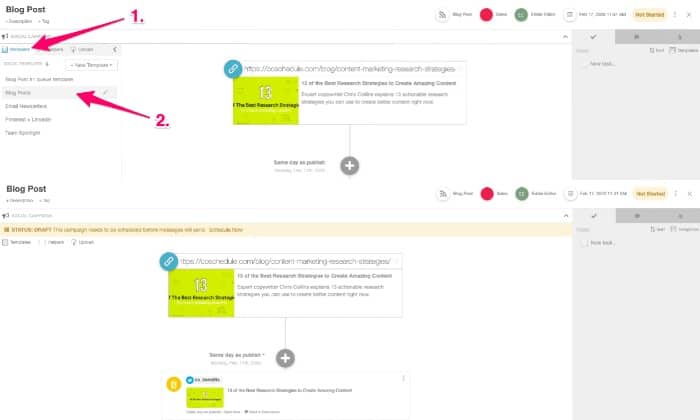 OMG — Let me just gush about this feature for one last time
I can't believe that no other platform has this feature. It's the most amazing feature on the planet and I'm going to miss it so much.
Social media templates allows you to create a customized posting schedule for any type of campaign that you do.
It allows you to create unique posts for every social account you have. It allows you to match up custom images with custom posts. It drives engagement like crazy and once you've set it up, you could run a campaign of ANY length of time. When I tell you it's set it and forget it — I'm not kidding.
It took me about three hours to set up the templates — based on their tested formula for which they made this awesome graphic.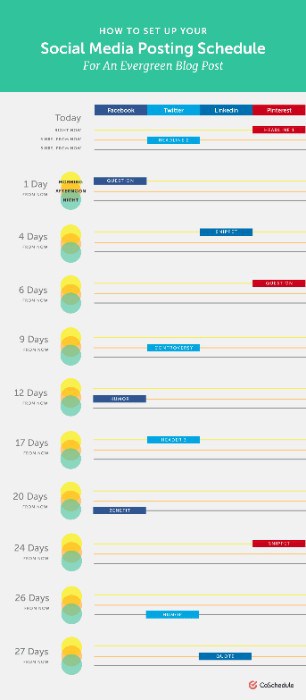 and after that, I can launch a social media campaign (again, for any length of time) in about 3-5 minutes. Then I click publish and at the scheduled date and time, the campaign runs. If I want to re-run the campaign — I just go to the desired blog post, bring it up again and click publish. That's it.
I promise you with EVERY OTHER social media management tool you have to recreate the campaign post by post; creating the messages, the images, and setting the times. That's just how it is.
Then Came the Twitter Monkey Wrench
I had a great 10 year run with this. Until Twitter decided to literally cut off their API and hold a lot of social media platforms hostage. The cost for using the API was $500,000 per year. Everyone sidled up to the bar and paid their money. But then, Twitter didn't immediately give everyone access.
Ultimately, after having NO ABILITY to send scheduled posts to Twitter, CoSchedule decided to eliminate this feature from their platform.
As someone who relied heavily on CoSchedule for my Twitter campaigns, I felt crushed and left in the lurch.
My Quest to Find a Suitable Alternative
Since then, discovering the perfect alternative to CoSchedule became my new mission. I needed a tool that met my specific needs:
Ability to create entire campaigns that run between 1 week to 1 year
RSS feeds to promote other content
Promoting other articles or features from clients I work with
A cost of less than $50 per month
Remember, when I just said that NO OTHER tool gives you this ability — at ANY price. I wasn't kidding. I already knew I wasn't going to find anything like what I had with CoSchedule, but I tested a few tools to see if any would step up to the plate.
Buffer Fell Short on Key Features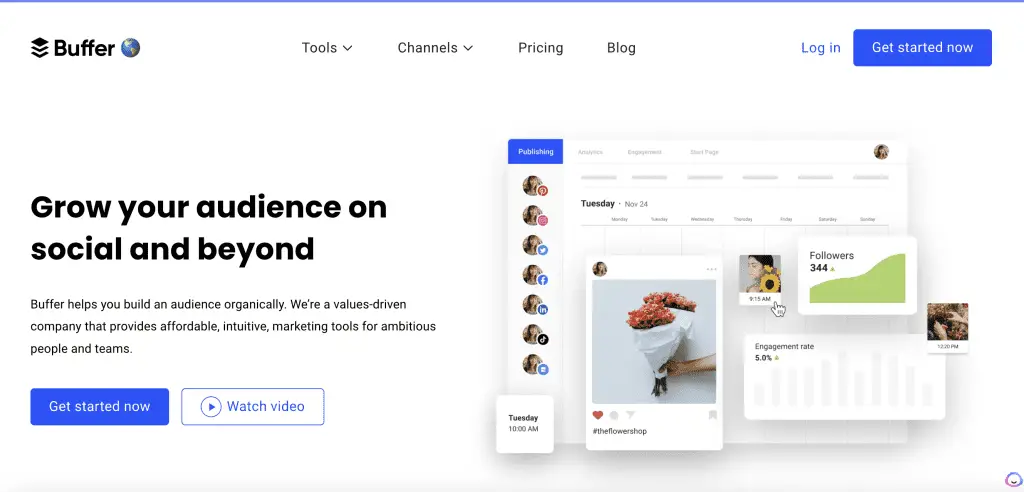 First, I tried Buffer and its plugin. I've been friends with the folks at Buffer since they started in this space. And, since I already use Buffer for various campaigns, I was hoping (beyond hope) that maybe there was some type of automated campaign feature there that I just didn't know about.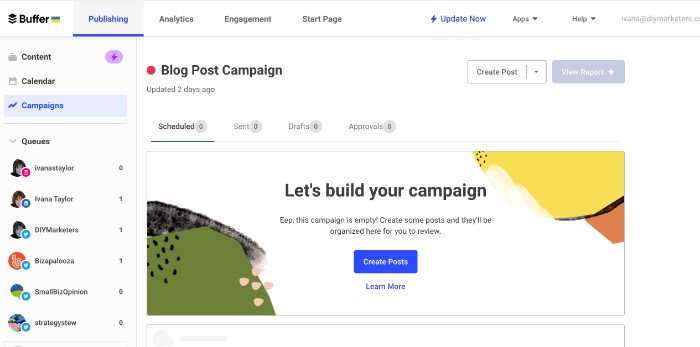 Well, there is a campaign feature — but you literally have to create each individual post; the copy, the mage, the schedule — EVERY. SINGLE. TIME —
I've done it —
And it took me about 30 minutes for each one. I mean seriously — this is tedious work that ate up 10x more time than using CoSchedule. WHY? (Sorry Buffer friends – but seriously!)
I'm a little emotional about this — but this is the equivalent of taking away my dishwasher, clothes washer and dryer — having clean things is essential, but imagine waking up one day and having to wash every dish, every glass, every item of clothing and then waiting for it to dry.
How much other work would you get done?
Why not just have me chop my own wood?
But — I digress.
As much as I love Buffer, the tool didn't have the pre-programmed campaign feature I needed, so my quest for an alternative continued.
Unavailable Features in the Cheaper Plan in Lately.ai Kept Me Searching
Next, I tried Lately.ai.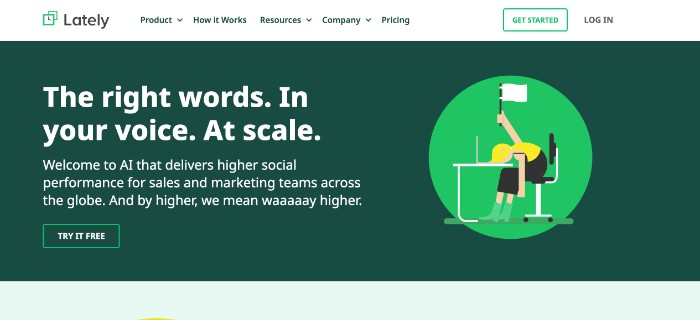 I LOVE LOVE LOVE the Lately.ai team. I've known the founder for years, I've used the tool in the past, and I will do anything to support them…
Unfortunately, the pricing was just too high for my budget, and the features I wanted the most were available only for enterprise users.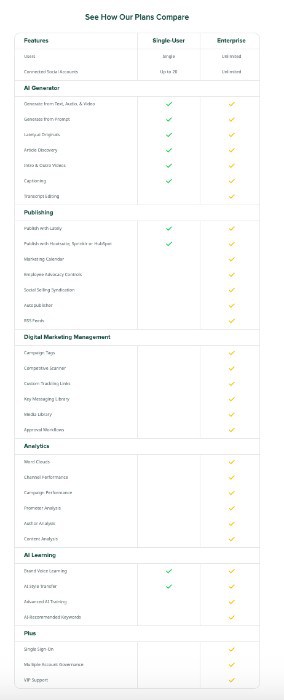 This was disappointing, but I pressed on in my search.
Missinglettr: Filling the CoSchedule-Shaped Hole in My Heart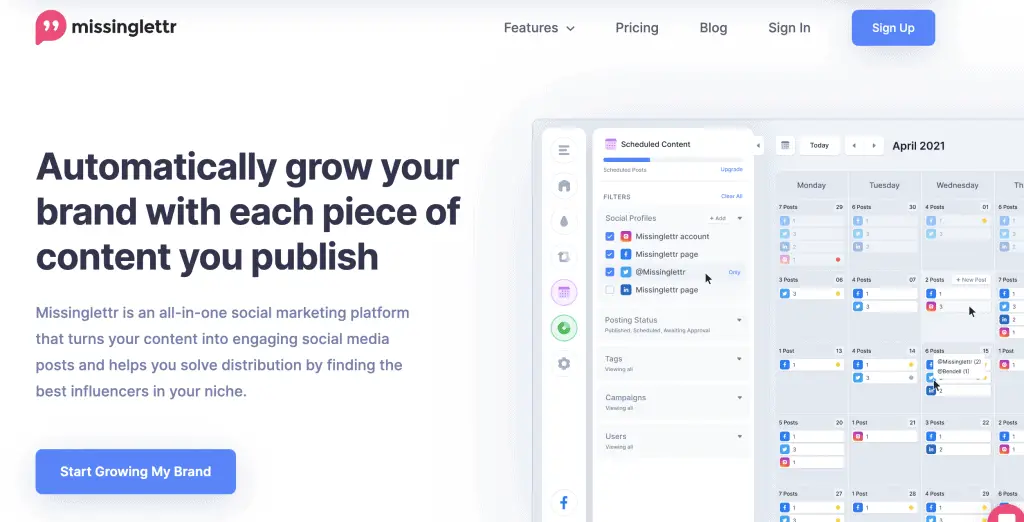 Finally, I discovered Missinglettr. It ticked all the right boxes, had a reasonable price, and offered the automation features I was looking for.
I had evaluated Missinglettr in the past and I thought it was good — but again, NOT AS GOOD as CoSchedule and, at the time, it was more expensive. Remember, I was paying $14 per month with CoSchedule, and Missinglettr was $39 per month for the number of social profiles I needed.
But now, that I have to switch to something — it turns out that Missinglettr is my best, lowest-cost-highest-value alternative.
Here's how Missinglettr met my key requirements:
Let's review those. Remember, I want to recreate the experience I had with CoSchedule, the ability to have pre-designed campaigns that I could run. The ability to customize or alternate images, that ability to launch a quick campaign in about 5 minutes. And, to meet my budget of less than $50 per month.
Customizable Automated Campaigns Driven by RSS Feeds
This isn't ideal, but it will work. Remember I could write a blog post and run a custom campaign with the click of a button. The campaign would start when the blog post publishes. This is an important distinction for folks who are writing and scheduling posts out into the future.
With CoSchedule you can create and schedule as you go — set it and forget it.
Now, with Missinglettr, you can create campaigns, but you HAVE TO WAIT for the post to go live.
Not ideal – but it will do.
Missinglettr will import your blog posts (or posts from any site you choose) using an RSS feed. From there, you simply create your campaign.
Our Pick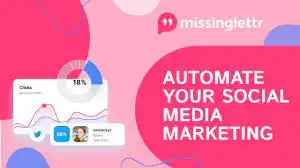 Automatically grow your brand with each piece of content you publish - Missinglettr
If you're looking for a way to streamline your social media marketing efforts, you have to check out Missinglettr.com. This amazing tool was designed for creating strategic and automated social media campaigns that can drive traffic for a whole year! With Missinglettr.com, you can breathe easy knowing that your marketing campaigns are set up to work for you automatically.
Try For FREE
We earn a commission if you click this link and make a purchase at no additional cost to you.
You can customize the automation schedule — to a point
I have to say I kind of like Missinglettr's customizations. You customize drip campaigns by simply adding how many posts you want in a specific time period.
You can customize your posts and images — but that takes a lot of time
Missinglettr gives you the ability to customize each message. But, you don't really want to do that. It's better to create more evergreen messages that work for each image. In other words, you want to create a campaign that can mix and match images to messages.
Addressing the Twitter Conundrum
Importantly, Missinglettr supports Twitter, making it a direct low-cost and effective solution for automated social media campaigns in the wake of CoSchedule discontinuing Twitter support.
Affordable Pricing
Lastly, a crucial factor in my consideration of Missinglettr was its affordability. Priced at less than $50 per month, it proves that you don't always have to shell out big bucks to get exceptional service.
One Small Issue With Missinglettr: Not All Links Work
While Missinglettr impressed me overall, I must mention that it doesn't work with every link. I tried using it for a landing page campaign, but the platform wouldn't accept it. Although I still haven't figured out why, it's a minor issue given the numerous benefits and exceptional alternative to CoSchedule that Missinglettr provides.
Additional Benefits of Missinglettr
Apart from meeting my key requirements, Missinglettr offers several other useful features that make it stand out from other alternatives. Some of these additional benefits include:
Analytics: (Only available with the $39/mo plan) Missinglettr provides insightful analytics that help you track the performance of your campaigns. This feature allows you to identify what works best for your audience and make necessary adjustments for better engagement.
Customizable Templates: Missinglettr allows you to create customized templates for your social media posts. This means you can maintain a consistent brand image across your campaigns while saving time on content creation.
Easy Collaboration: Missinglettr supports team collaboration making it easy for you to work with colleagues or clients on your social media campaigns. This feature allows for seamless communication and smooth project management, ensuring that everyone stays on the same page.
Content Curation: With Missinglettr's content curation feature, you can discover and share relevant articles, blog posts, and other resources with your audience. This not only saves you time searching for valuable content but also helps you establish yourself as an industry expert by sharing quality resources.
Integration with Medium: THIS is an awesome feature and one I've not seen anywhere else. Missinglettr will repost your article to Medium! I love this feature. Wish they would also do LinkedIn.
The Decision That Saved My Social Media Game
Twitter's changes left all CoSchedule fans, including myself, scrambling for alternatives, but discovering Missinglettr saved my social media strategy.
With its customizable campaigns, RSS feeds, seamless Twitter compatibility, and affordable price, Missinglettr has become the tool that turned my social media strategy around.
Not only did it meet most of my requirements, it also offered that cool additional benefit of reposting to Medium.
While there was a minor issue with link compatibility, the numerous benefits Missinglettr provides far outweigh this inconvenience.
I wholeheartedly recommend Missinglettr to anyone seeking a powerful and cost-effective alternative to CoSchedule.
Its extensive features, ease of use, and affordable pricing make it an invaluable tool for managing and automating your social media campaigns.
With Missinglettr, I was able to adapt to the changes in the social media landscape, and I'm confident you will find it just as transformative for your social media strategy.