Looking for the best CRM for nonprofits? Good luck because there are a lot to choose from. Should you go with a well-known CRM for small businesses like Salesforce or should you look at lesser-known CRM tools that are specifically designed for nonprofits?
In this guide, we're going to look at the unique needs of nonprofit organizations and help you choose the best nonprofit CRM software at the lowest price.
Why use a CRM just for nonprofits?
Nonprofits have a unique structure and manage their contacts in a different way than for-profit organizations. Nonprofits need a CRM (customer relationship management system) to organize, manage and track; volunteers, individual donors, major donors, corporate donors, and other supporters
If you want to keep donations flowing and donor retention rates high, you're going to want a CRM for nonprofits.
CRMs provide nonprofits with an easy way to track donor information, which is crucial to your business. CRM tools also help streamline your organization's fundraising efforts and can be linked closely to other functions of your nonprofit like membership or event management.
How do nonprofits use CRM?
A nonprofit CRM software has a few key differences from a for-profit CRM.
Typically a nonprofit wants CRM software for:
Fundraising and donor management,
Donor retention
Constituent relationship management,
Membership management,
Volunteer management
Event management
Nonprofits have to manage all different types of donor relationships. While a for-profit business might have products or services at specific price points, nonprofits often deal with a variety of donor profiles; everything from online donations to volunteers who donate their time and in-kind donations.
If your primary way of generating new donations comes from referrals, choosing the best CRM for your nonprofit will only expand your word-of-mouth marketing.
How do I choose a nonprofit CRM?
As you start your CRM choosing process, make sure that you don't do it in a vacuum. Ask your executive director, development director, donor relationship manager. Make sure you bring other team members in the discussion about using the CRM.
Here is a simple step-by-step process for choosing a nonprofit CRM.
Step 1: Start With Your Organization Needs
Make a list of users. Start with a list of users and their jobs. For example, Jane calls corporate donors. She will need to know the corporate name and primary contact information (email, phone number Extention). She will need to have their donation history.
Map out your donation process. Just like any sales and marketing person, you'll need to map out your donation funnel or process. What outgoing communication do you put out (events, direct mail, phone calls, advertisements) what inbound strategies are you using (Facebook, blog articles, webinars, etc)
What third-party software are you already using? For example, what email marketing system or what marketing automation software are you currently using that your CRM will have to integrate with.
Focus on features that support your process. With this basic list of users and your process, you can develop a list of basic features and functions that you must have in your software.
What are your security requirements? Are your users in the office or working from home? What type of security features do you need to protect your organization?
What's your budget for a CRM? How much can you afford to pay monthly? If you're just starting out, look for a system that offers a forever-free option that you can grow into.
If you start with this quick internal evaluation, you'll find it so much easier to weed through the many CRM platforms for nonprofits.
Step 2: Decide on Key CRM Platform Attributes
Before you dive into evaluating specific CRMs for nonprofits, you'll want to decide on some critical attributes that will help you narrow down your choices for software solutions.
Take a look at the choices I list below and make sure you talk to your development team about each one. Discuss the pros and cons openly.It might help to prioritize them or label them as must-have, nice to have, or doesn't matter.
You'll find that each CRM for nonprofits software will differ on what they offer for free or as a premium feature.
Cloud-based vs Installed: For nonprofit teams that are dispersed and working away from a corporate office, a cloud-based donor management CRM for nonprofits is best.
Mobile apps: If your volunteers and your team is mobile, you definitely want to make sure that your CRM tool has a functioning mobile app where you can actually conduct transactions.
Integrations: Are you using an email marketing or marketing automation software such as Active Campaign or MailChimp already? Look for a nonprofit CRM software that directly integrates with your other third-party tools.All nonprofit CRM software will say they integrate easily through Zapier. I recommend you look for a clean and simple "click to integrate" feature. You're going to want to do donor data analytics, so make sure your CRM integrates with any other donor management software.
Suite vs Standalone: If you're not committed to any marketing automation or email tools, you can consider whether or not you want to use a Suite CRM software such as Zoho, where you can easily add on and integrate other tools. Or, if you want to use a standalone CRM for nonprofits where you'll have to do your own integration.
FREE vs Subscription: You can find free CRM tools for nonprofits. But be careful.Experts like to say these tools are "Free like puppies" – meaning that you may NOT have to pay a month. fee, but you will need to have a certain amount of technical expertise to implement the tool properly.So move forward with caution here.
One thing is for sure, if you choose an all-in-one nonprofit CRM, you might pay a premium to get a lot of features that are mediocre and that you don't really use.
FREE CRM for Nonprofits
Flowlu
Flowlu is a nifty CRM nonprofit software that provides a clear overview of everything happening day-to-day in the company. You can have the CRM as part of the free plan, but if you want task and project management, you'll have to subscribe.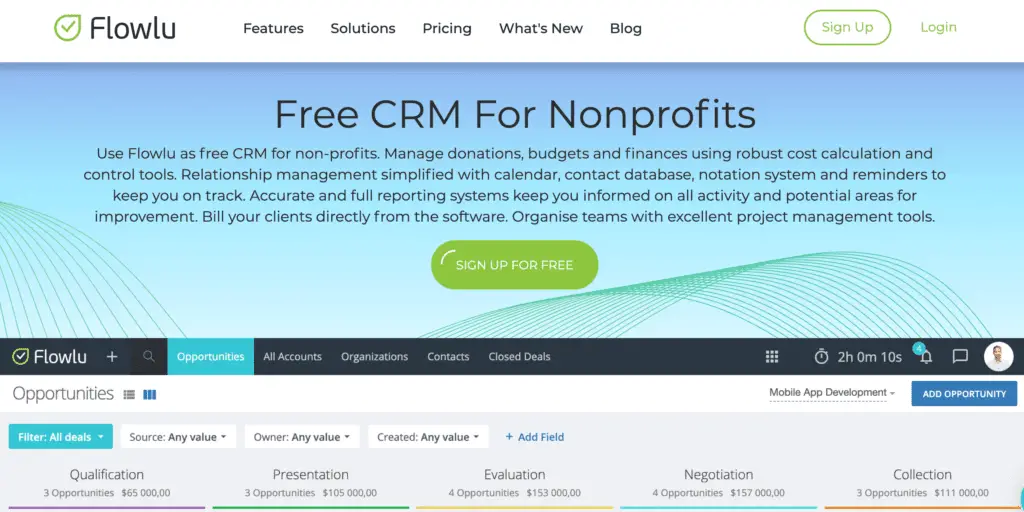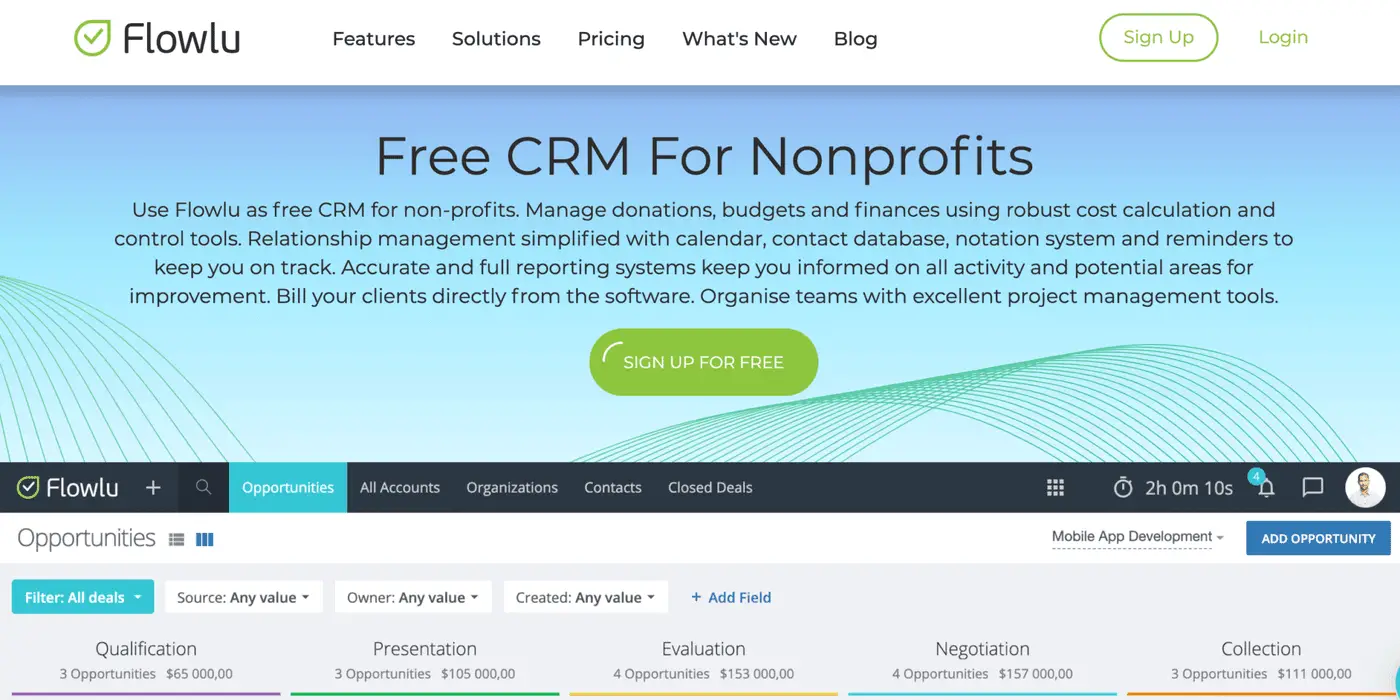 Pros
The forever-free plan is generous and allows for 2 users, unlimited contacts and CRM automation.
If you like Trello you'll love Flowlu.They use the same kanban format to help you visually track potential donars and your relationships with donors.
Cons
The free plan doesn't offer any task management.
 There aren't as many tutorials for newbies
Salesforce for Nonprofits
If you or someone on your board is a fan of Salesforce, you'll be happy to know that Salesforce does, indeed, offer a CRM for nonprofits.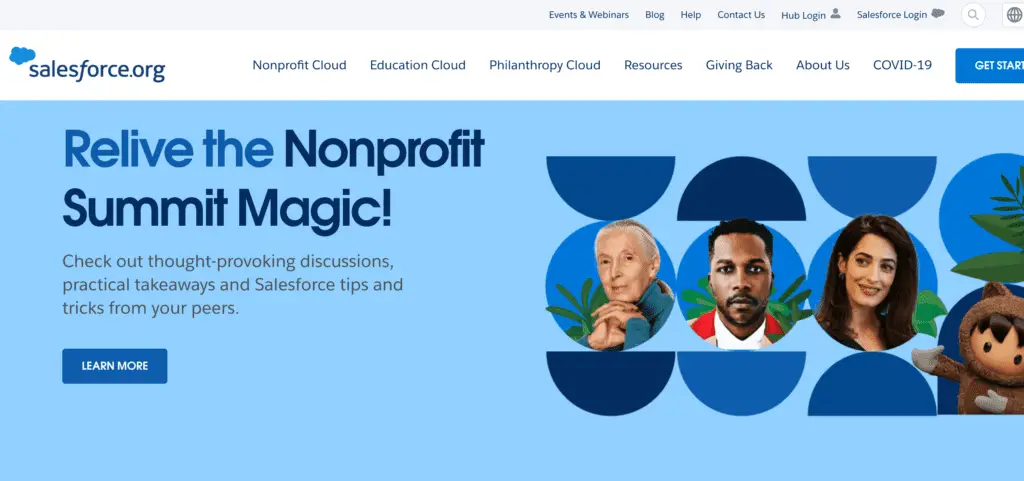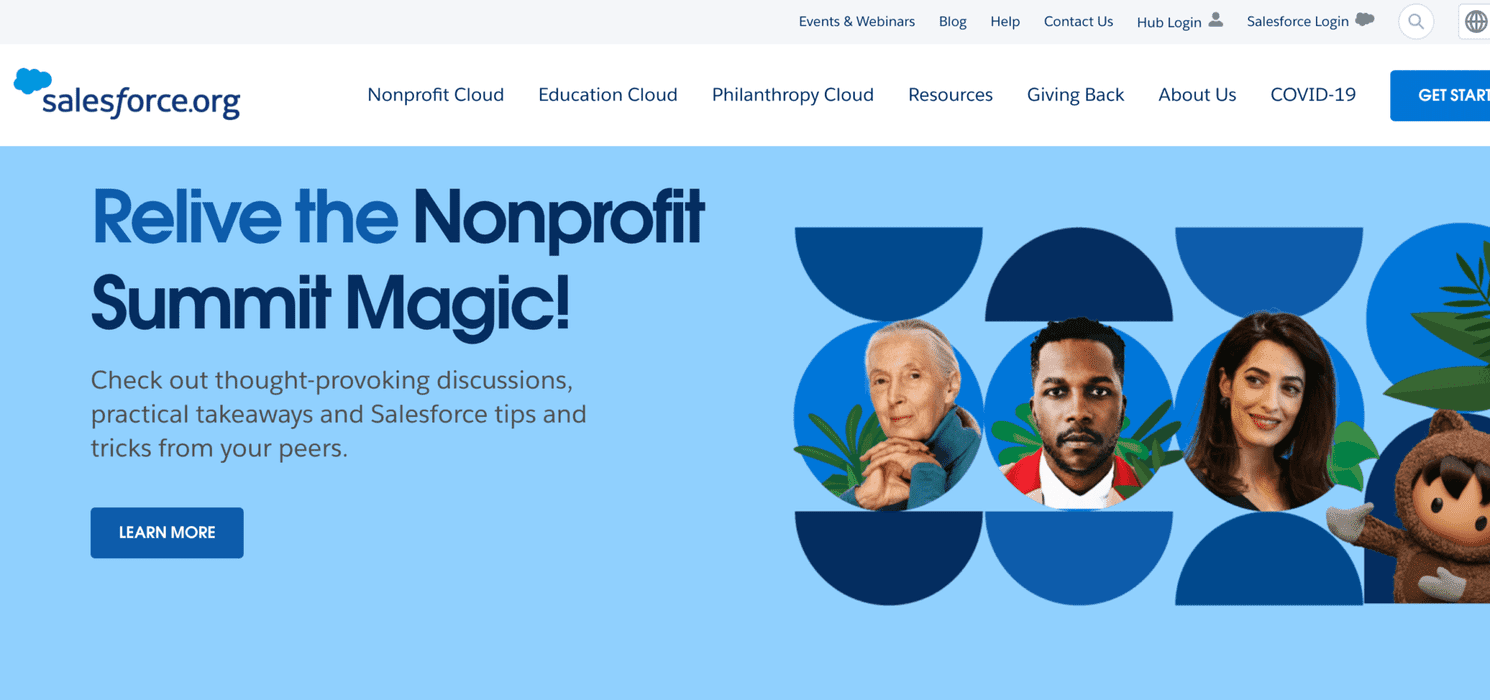 Pros
Well known brand and leader in the space
You can make it do anything you want. Everything from custom fields to custom reports and communication tools.
Cons
You'll need tech help and a Salesforce expert to set up and integrate with all the other Salesforce tools.
Takes time to learn
Not designed for nonprofits first.
Bloomerang
Bloomerang CRM for nonprofits is cloud-based software designed to help organizations reach, engage and retain donors. With features like a dashboard that displays donor retention rates along with tips on how to improve, reports and accounts accessible at one click, constituent timeline displaying all interactions made with a particular donor as well as the ability to integrate Bloomerang CRM into your website or social media hub, this CRM solution has been optimized for mobile use so users can experience the same functions from any device they are using.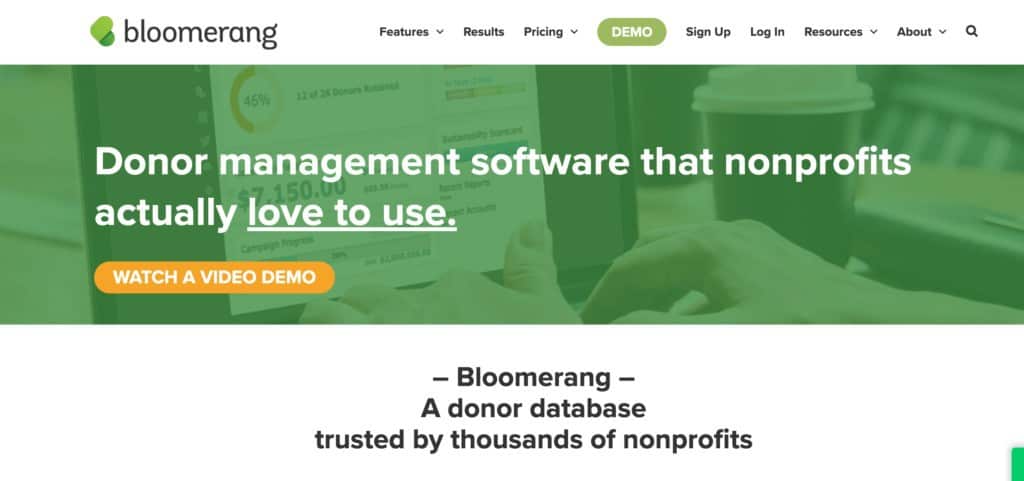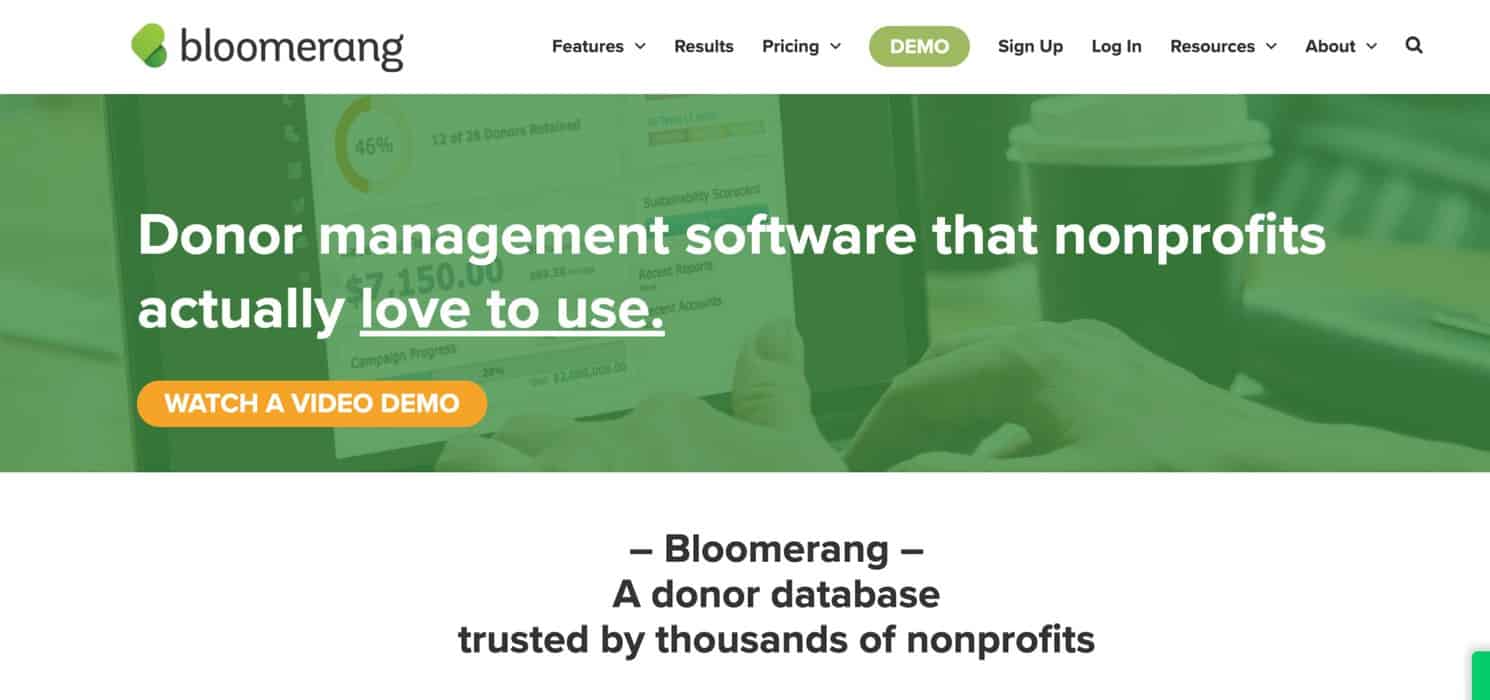 Pros
Boomerang Lite has a forever-free plan for up to 250 contacts.
Offers engagement scoring so that you can identify potential donors and
Provides access to a tutorial academy.
Cons
Customers complain about lack of customizations.
May be overwhelming for beginners
Bitrix24
Bitrix 24 is a free CRM software with unlimited users, storage and time. Bitrix offers donor management, volunteer management, tasks and projects, communications, collaboration, document management, HR, even email and telemarketing. I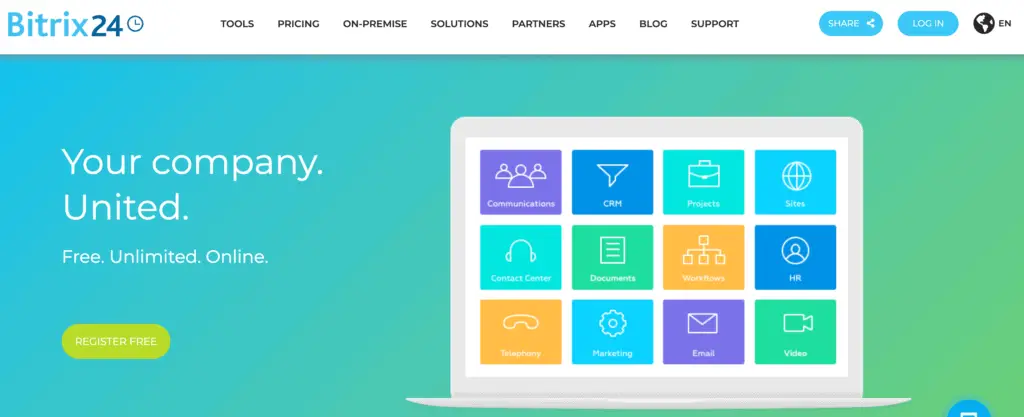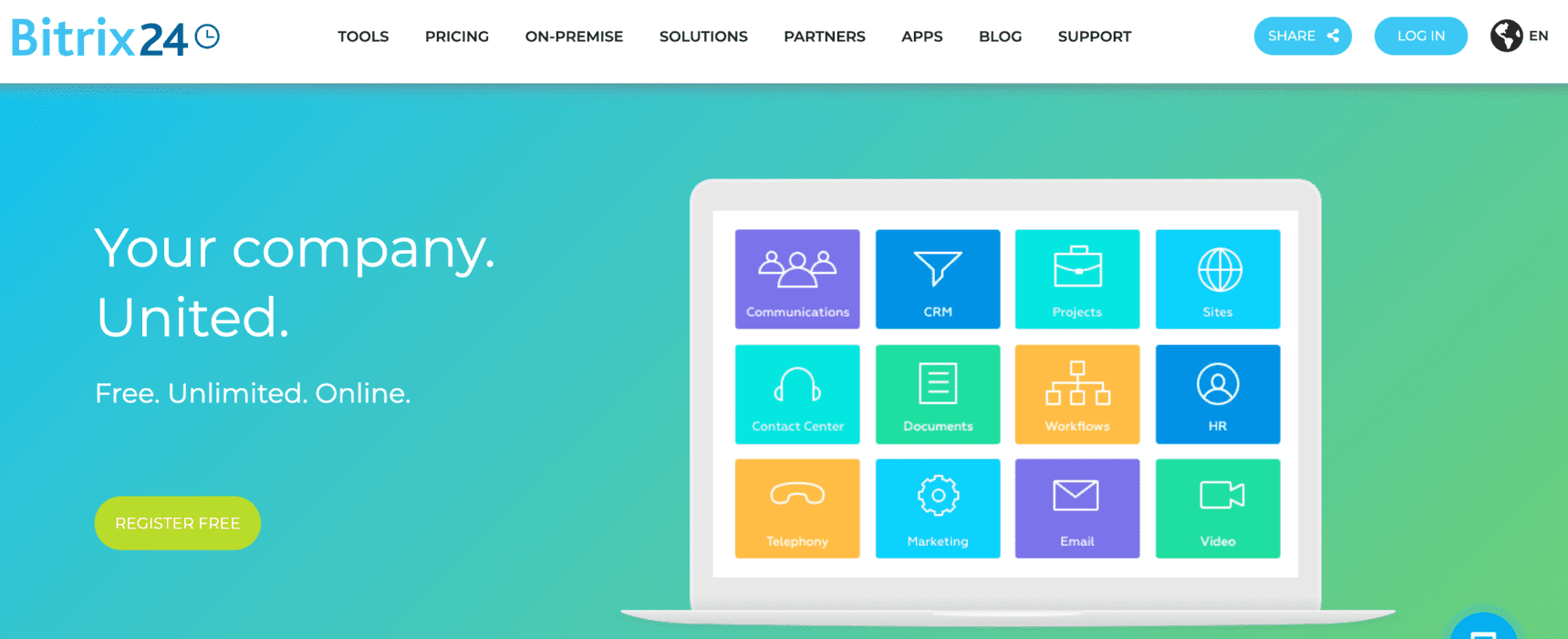 Pros
Offers both cloud and on-site installations.
Mobile app for Android and iOS available on free plan
Cons
Lacks robust reporting features
Customers have complaints about user interface
Best CRM Software for Nonprofits
The nonprofit space includes organizations with a range of different funding models, such as churches with recurring donations, trade associations that offer memberships, and support organizations that rely on fundraising. As a result, nonprofits often need a CRM with industry-specific features like payment processing and volunteer management tools.
Kindful
Kindful is CRM software for nonprofits that has a mobile-friendly interface and includes detailed donor profiles. Kindful integrates with many online fundraising tools, minimizing data entry time by collecting all of your important information in one central hub.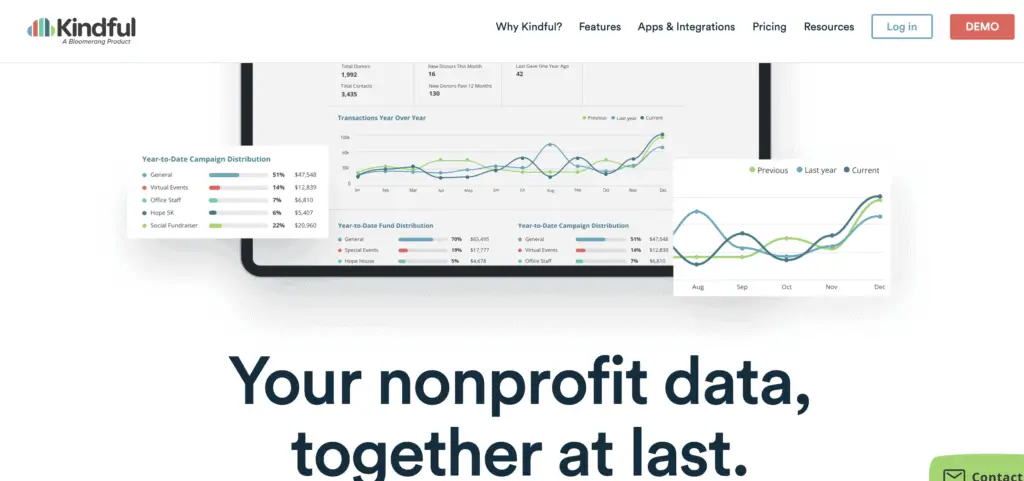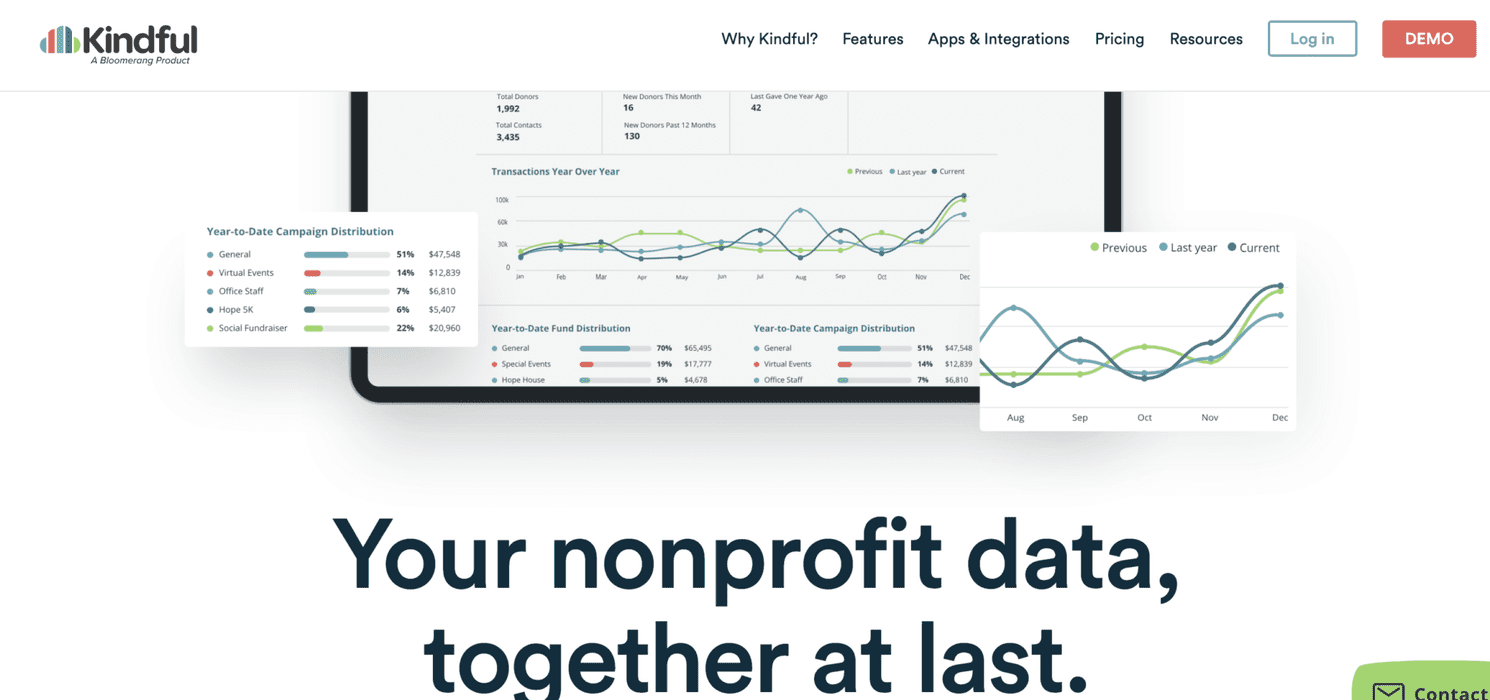 Pros
Integrates with popular tools like MailChimp, PayPal, Eventbrite
You can segment donors based on donation dates, events and demographics
Cons
Integrations can be clumsy
User interface isn't as intuitive as other tools
Reporting tools are limited
DonorPerfect
DonorPerfect is an all-in-one nonprofit CRM software. It includes a variety of tools to help with fundraising management and development plan implementation.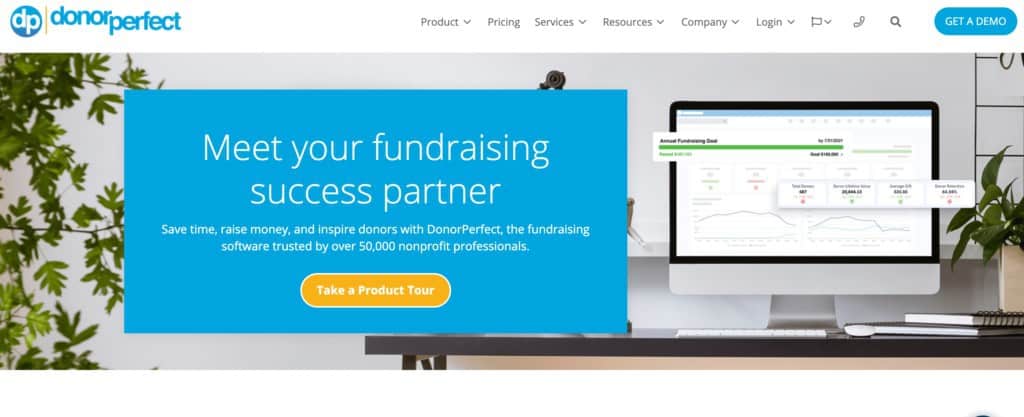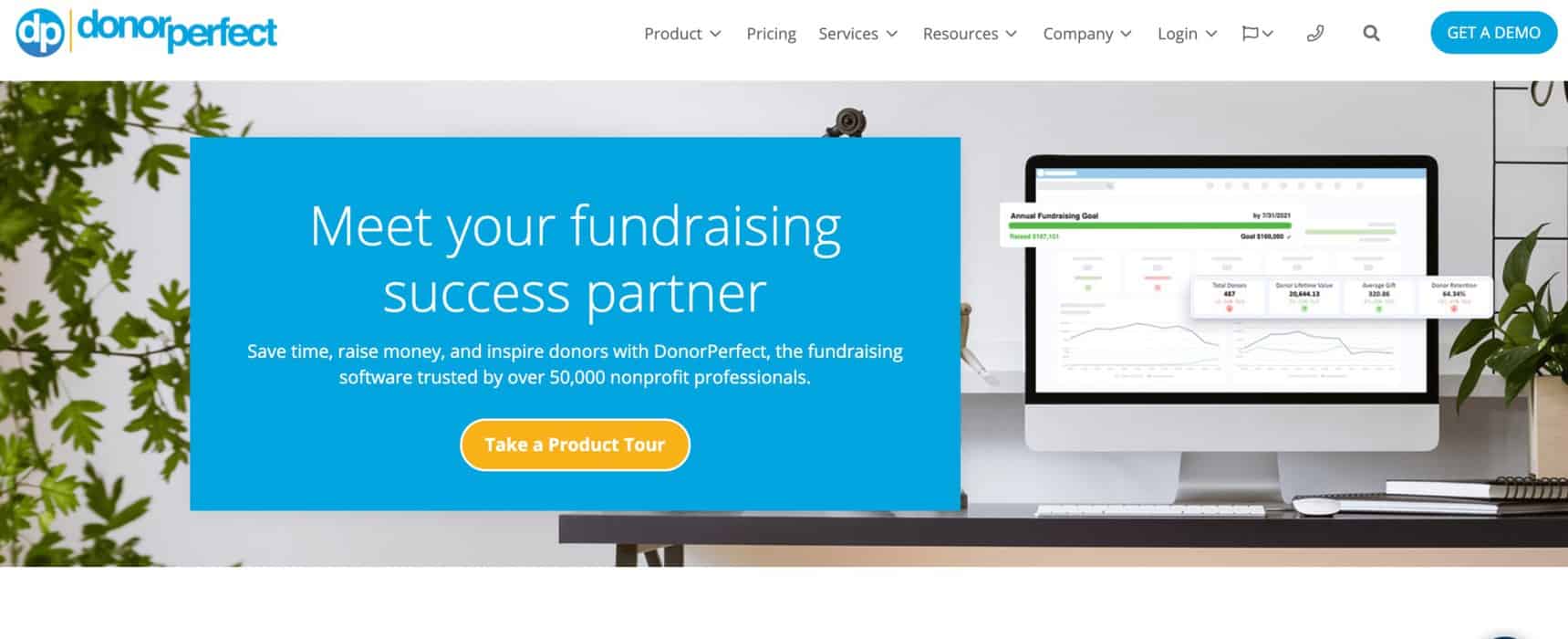 Pros
All-in-one nonprofit CRM software.
Easy-to-use.
Customer onboarding service
Avalable mobile app
Cons
May be overkill for smaller organizations.
Keela
Keela provides a CMS platform for managing volunteers, emails and remote teams. It also allows its clients to send newsletters and track donation receipts with the click of a button.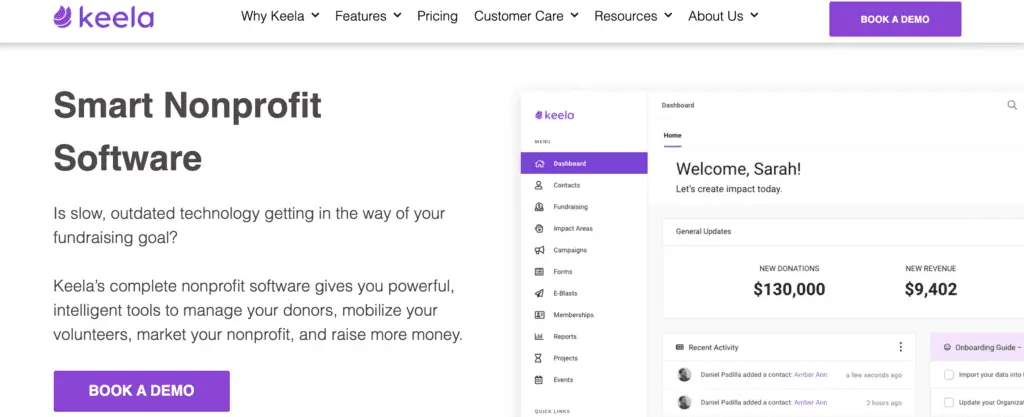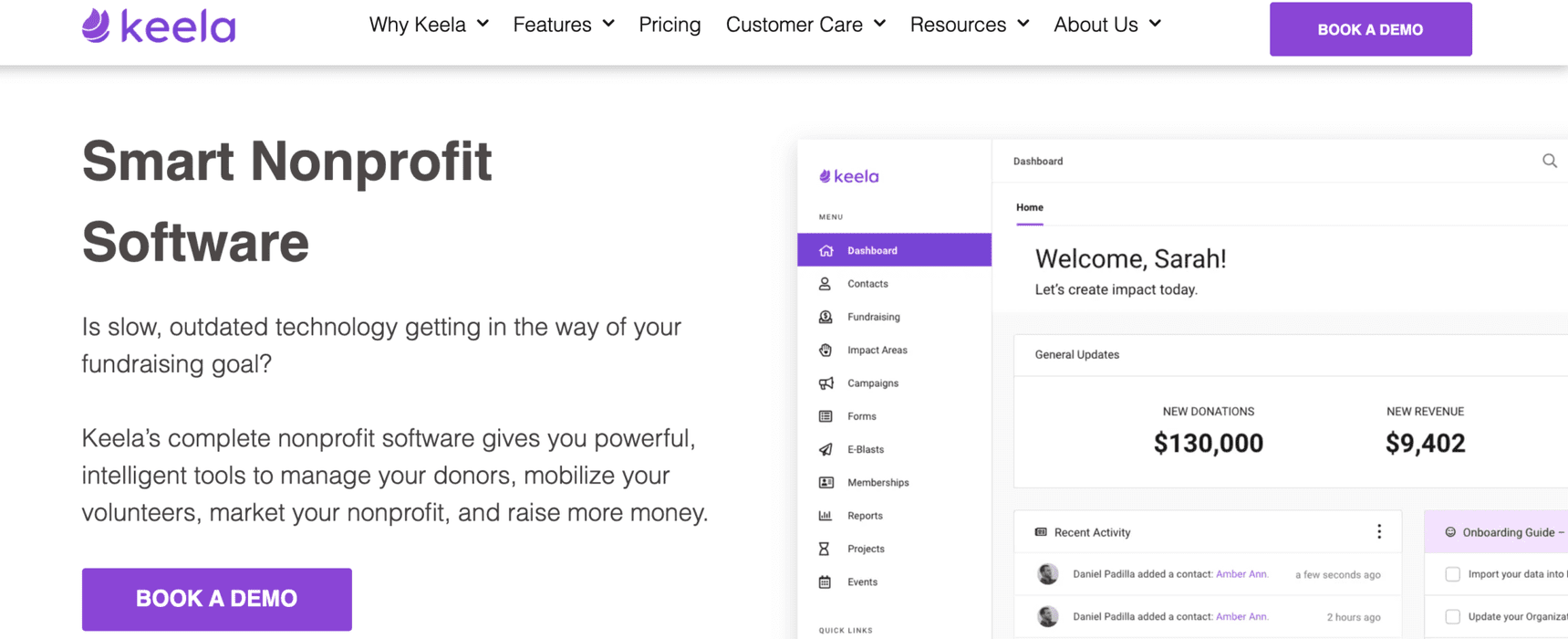 Pros
They will do the first import for you
Easy to import data and start using immediately
Contact Insights feature that identifies a donor's gift potential and suggests a gift range.
Integrated email
Cons
Some complain that the user interface is clunky
Doesn't do recurring donations
Virtuous CRM
If you are part of a larger nonprofit, you might want to consider this powerful tool. Virtuous CRM is a well-known all-in-one nonprofit CRM.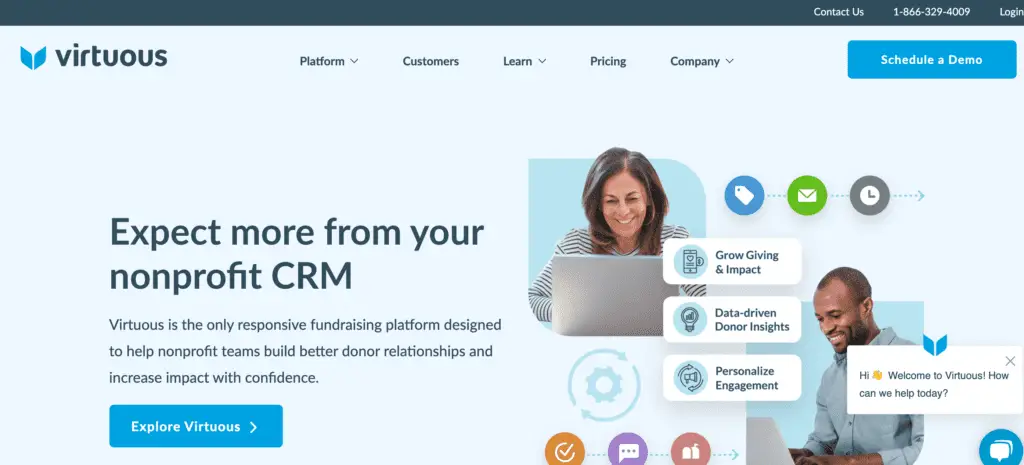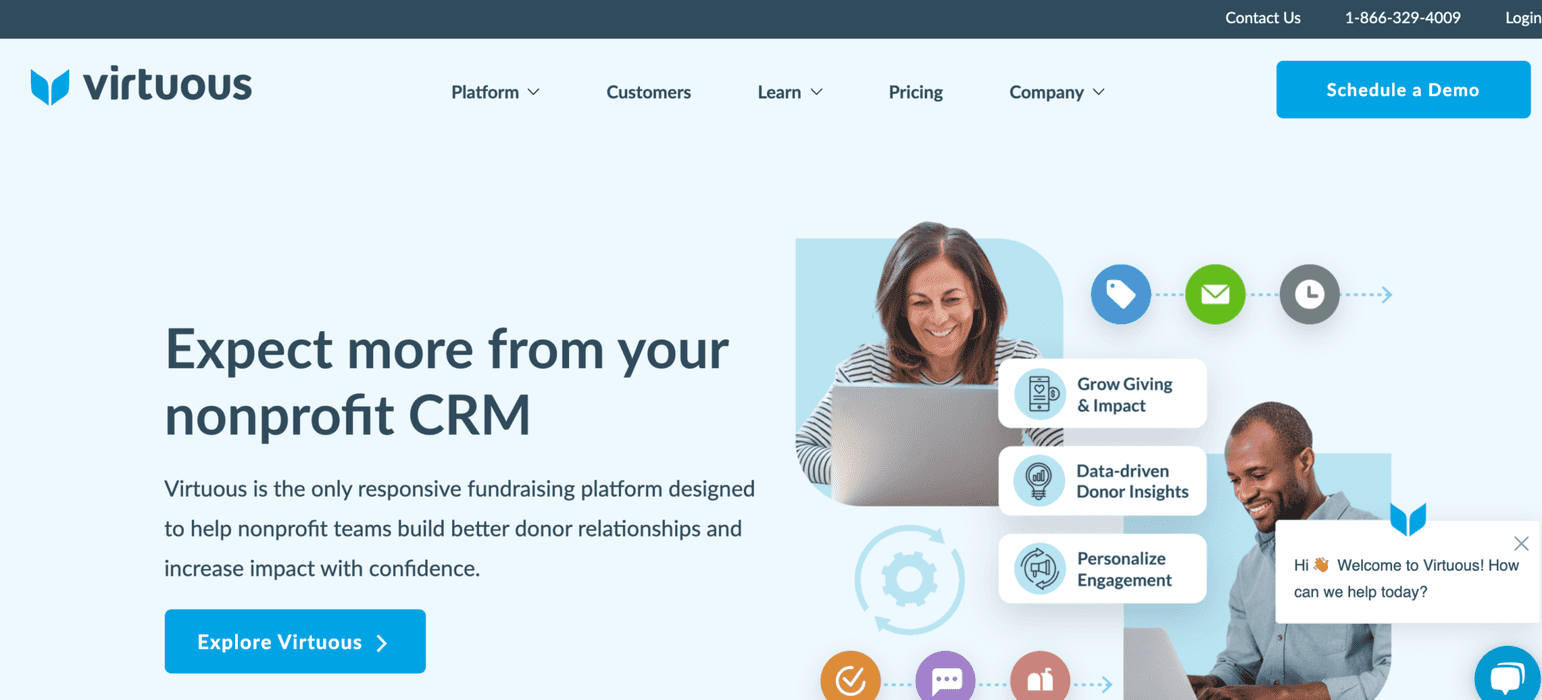 Pros
All-in-one platform for nonprofits
Easy-to-use interface
Great customer service
Cons
High-price, starts at $350/mo
Lacks scheduled reports
May take time to convert if you're using a simpler nonprofit CRM
Salsa CRM
Salsa CRM is another nonprofit CRM that is mainly targeted at larger organizations. I normally wouldn't include it because they don't post their pricing and force you into a demo. This is usually a sign that it's way out of my price range — and probably yours too.
I am including it because Salsa CRM is a big player in this category.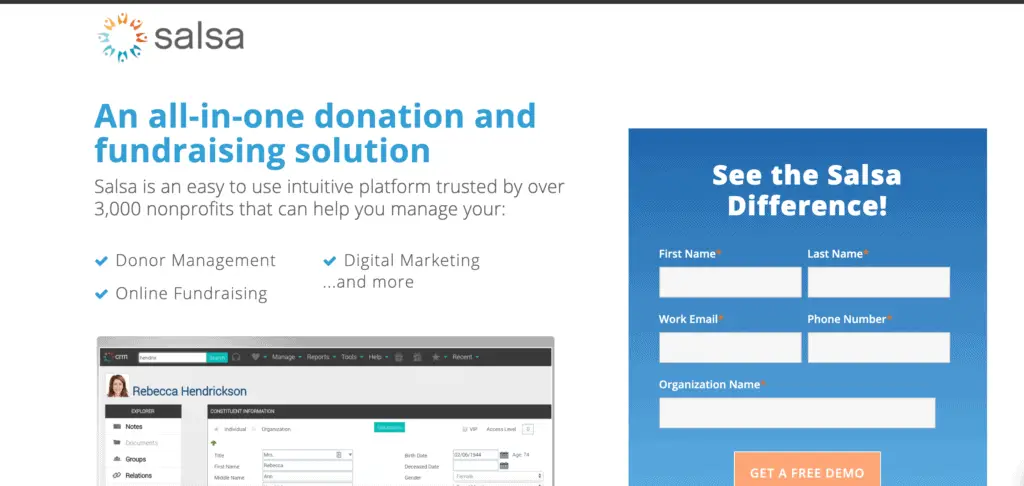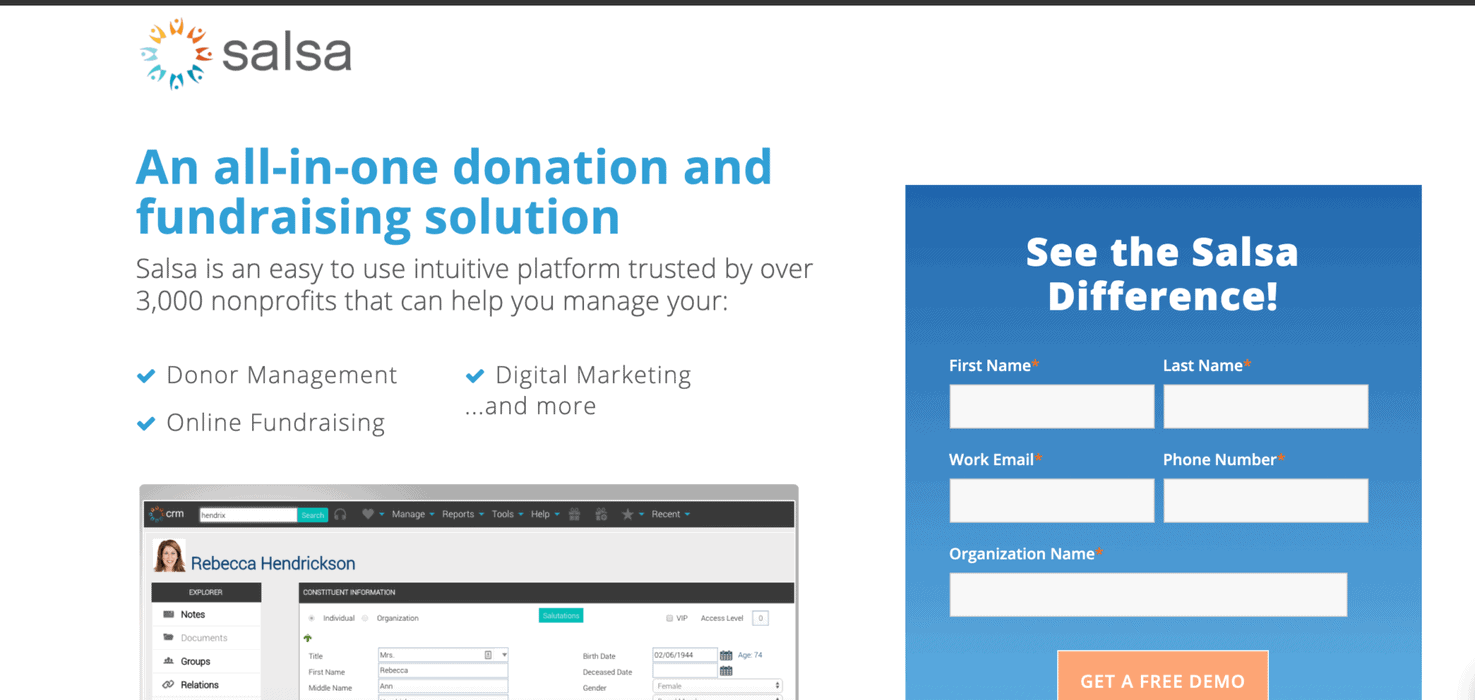 Pros
All-in-one platform for nonprofits that includes marketing automation along with a CRM
Cons
No pricing table listed and forced demo
Can't easily add offline donations
Complaints about being disjointed and clunky
Frequently Asked Questions About CRMs for Nonprofits
Should I choose an all-in-one CRM or a platform that's just a CRM?
Choose an all-in-one CRM if your contact info is in third-party platforms like Apple Contacts, MailChimp or Constant Contact and contact management and contact organization is cumbersome and the integrations you have in place aren't working well. An all-in-one platform will give you the ability for contact tags and that will make segmenting contacts and contact organization much easier.
What's the best way to compare key features across platforms?
The best way to compare features across platforms is to make your own list of must-have features first.
Does your donor management software have to be on-site for security solutions, or will a cloud-based fundraising and donor database be enough.

For example:
How many employees will be using the system? If you organization has 11-50 employees, you can use a smaller system. But if your organization has 51-200 employees, you may want an all-in-one solution.
What donor management tools do you need? What does your desired donor record look like?
Do you need a comprehensive donor management solution or will a somple donor communication system do the trick?
What type of insight reporting do you need? Compare platforms to see what key insights or actionable insights that they provide.
Do you need payment processing or a payment processor?
How big is your donor base? (if it's small, than you might be able to use a free tool). Do you need a donor database?
Do you need a comprehensive donor management solution or donation management solution? If you need a lot of complex features, you may want to select an all-in-one platform.
What type of donor interactions do you have?
What donor communifation features do you need?
Do you need donor tracking or donation tracking?
Do you want to see donor trends?
Do you want a system that recommend donation amounts?
Do you need donor logins?
Do you need a system to deal with donor attrition?
Do you need to process recurring donations?
Are your donors sophisticated and do you need to provide dynamic donor experiences such as online donation forms or online donation tools?
What reporting do you need to measure donation growth?
How much donation history do you want to see?
Check to see what additional features, advanced automation features and decision making features you need. Don't just choose the cheapest. Sometimes those advanced automation features and decision making features are worth the extra cost.
Do you need a tool that managemes your entire business operations?
Our Recommendations for Choosing a CRM for your Nonprofit
There is no "best CRM for nonprofits". The best nonprofit CRM software depends on your organization and your donor management needs. One thing is certain your nonprofit CRM has to serve your process, your employees, and volunteers and turn potential donors into regular donors.
We recommend that you start with free nonprofit CRM solutions first. Then work your way to a more advanced relationship management CRM system.
With so many CRM options to choose from, you're bound to find one that's right for you and your organization.