The most common question I get asked is "What the best email marketing software"? The answer to that question keeps changing. I'm always looking at new and old email marketing tools and this is is where you'll find my most recent recommendations.
When it comes to finding the best email marketing tool for your business, it is not that easy of a task. Luckily, many tools will help in your automated email marketing campaigns to increase the subscriber list.
We have selected a few of the best email marketing tools to make it easier for you to make an informed choice for your business. Keep on reading to find out which one is the best for you.
Email Marketing Software Reviews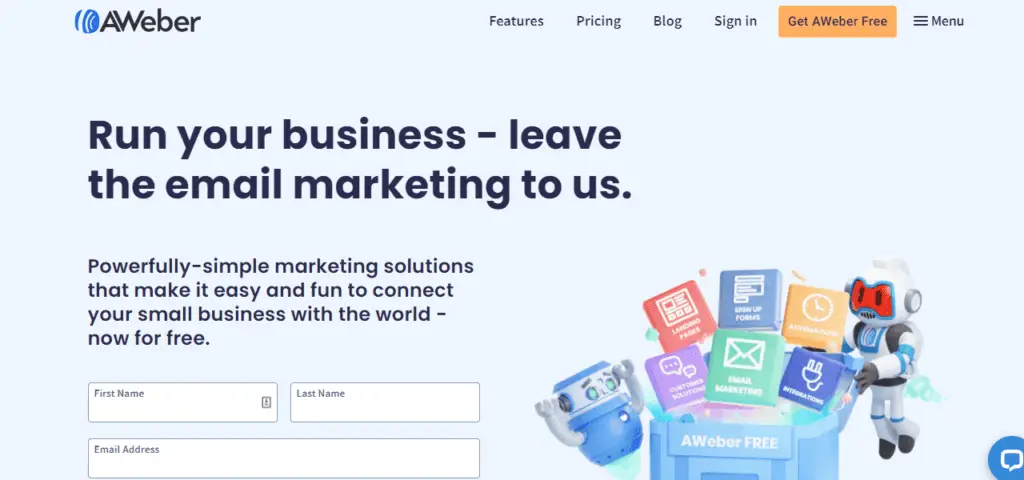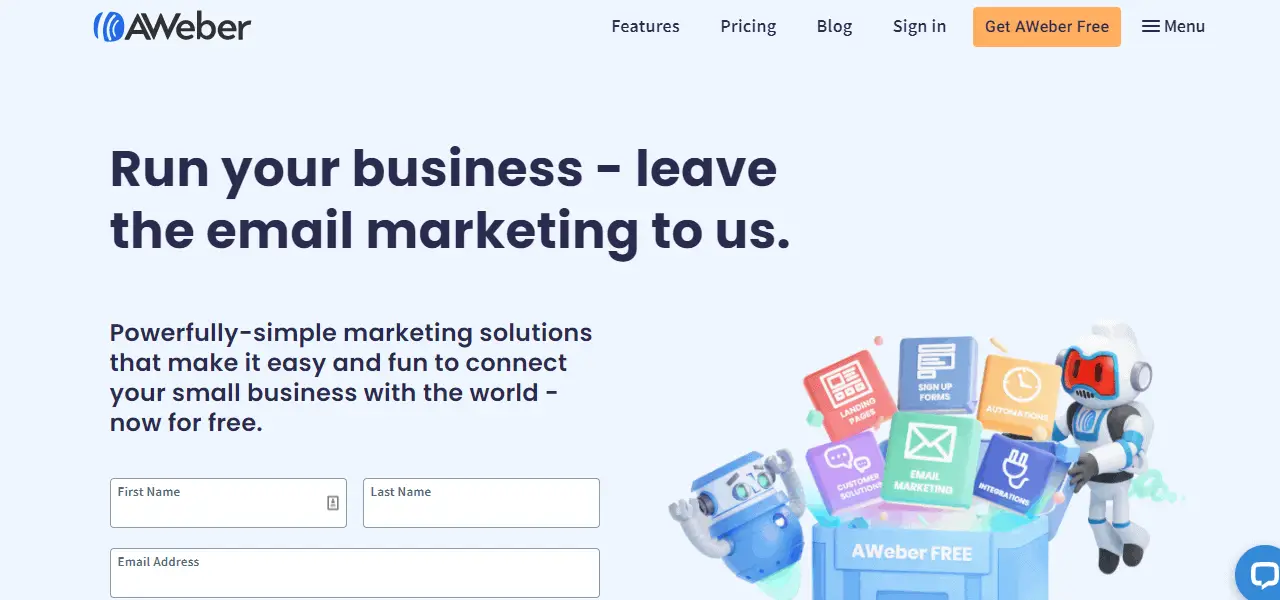 This email marketing tool is loaded with a number of easy to use features to make your life easier and your businesses more fun to market.
With this email marketing app, you get access to 7000 different templates. Also worth mentioning is that the app is relatively easy to use, so there is no steep learning curve to master it.
Another great thing about AWeber is that it comes with a free plan for users with less than 500 subscribers. The app also has a built-in landing page builder, so you can use it as an email marketing tool for your business.
One thing that is not so good is that many of the templates at your disposal look a bit dated.
Related: read our in-depth review of AWeber app here.
Pros
Long list of templates to choose from
Completely free plan is available
This app is relatively easy to use
You have a landing page builder included
All email templates are responsive
This app is quite affordable for marketers
Cons
Large choice of templates is a bit overwhelming
RSS templates cannot be edited by AWeber
Many of the templates are outdated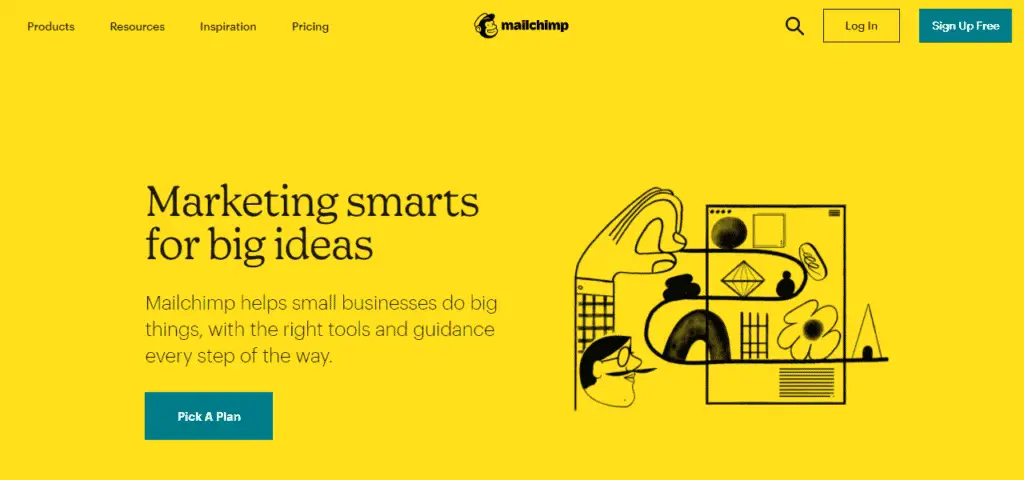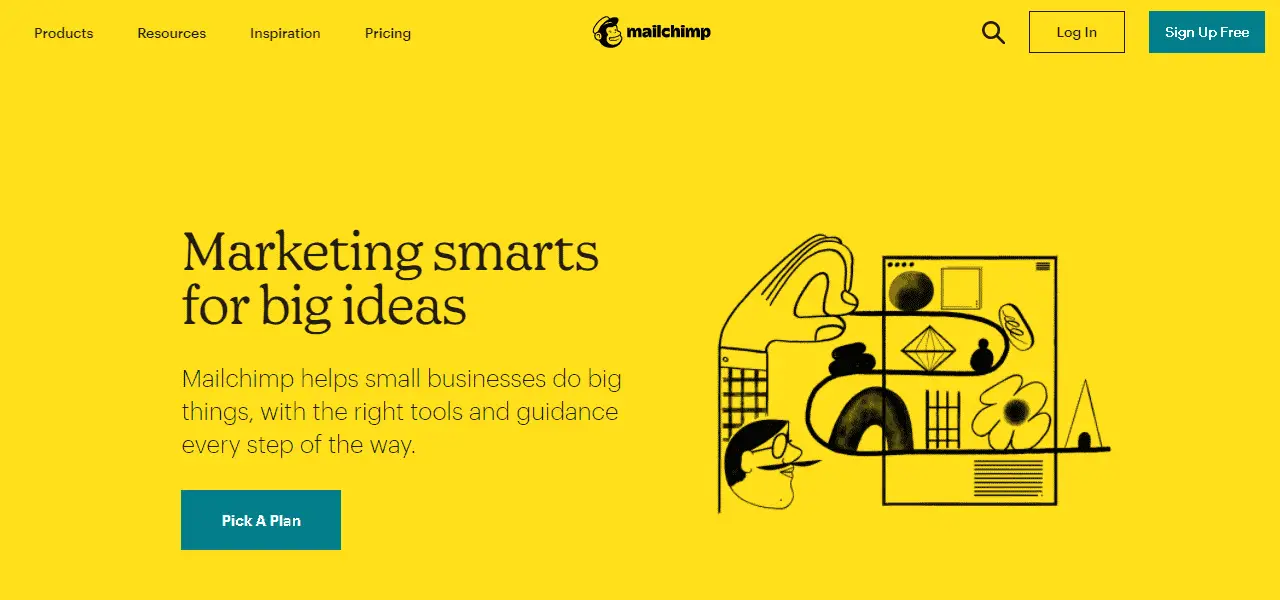 This fast-growing email marketing app is one of the best and will provide you with some of the best email marketing tools and user interfaces you may get.
With this email marketing tool, you can quickly build your business's reputation with clean emails delivered all the time. With a true drag and drop builder included with this email marketing platform, you can quickly and easily build your email templates.
The easy to use dashboard will give you quick access to all the marketing channels to improve your subscriber count. However, this email marketing app will take some time to get used to, so it is a bit difficult for the beginner.
Pros
You get a good reputation and clean emails delivered
Regular upgrading of software for more enhanced option
Ease of use is great with the simple dashboard at your disposal
Designing your email templates are quite easy with drag and drop
A long list of up to date templates to choose from
Has a wide range of packages available for your business
Cons
This marketing app is quite difficult for the beginner
Constant updates can be daunting for the less frequent user
Native forms are not very functional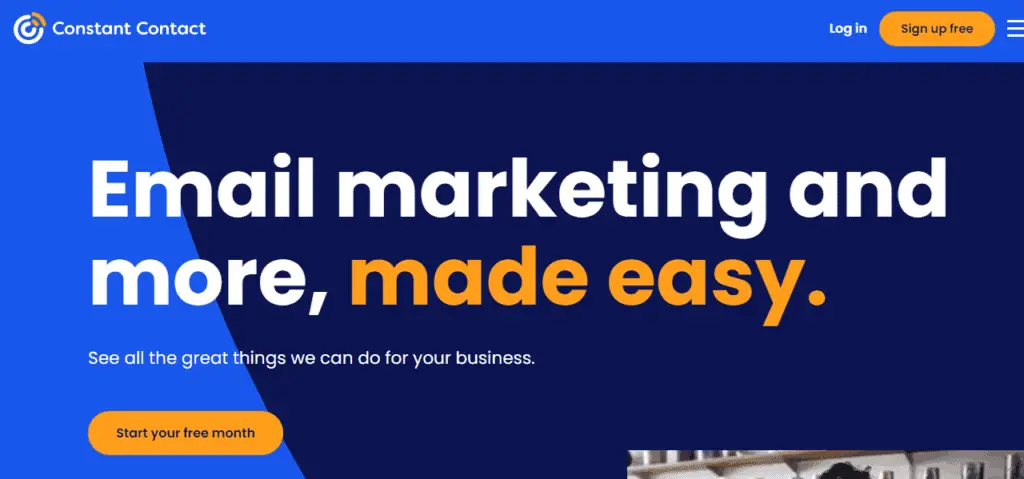 With Constant Contact as your email marketing tool, you will be able to stay connected with your subscribers in a personal way.
Creating an email list of all of your contacts is really easy with this email marketing tool from Constant Contact. The app is great for growing your email list with the easy to sign-up form available for subscribers.
With the feedback mechanism you have with this bulk email marketing tool, you will have constant feedback at your disposal. But you will not have your own domain with the email marketing tool provided by Constant Contact, and it also may become quite expensive with a large subscriber base.
Pros
Very easy to create a subscriber or contact list
Includes an easy sign-up option to increase subscriber count
Setting up your email campaigns is relatively easy
Easy adjustment of your email services
Excellent customer support
Great email marketing tool for Ecommerce
A dynamic feedback mechanism for your email list
Cons
You will never own your own domain
There are no advanced automation features included
A large client base can become quite expensive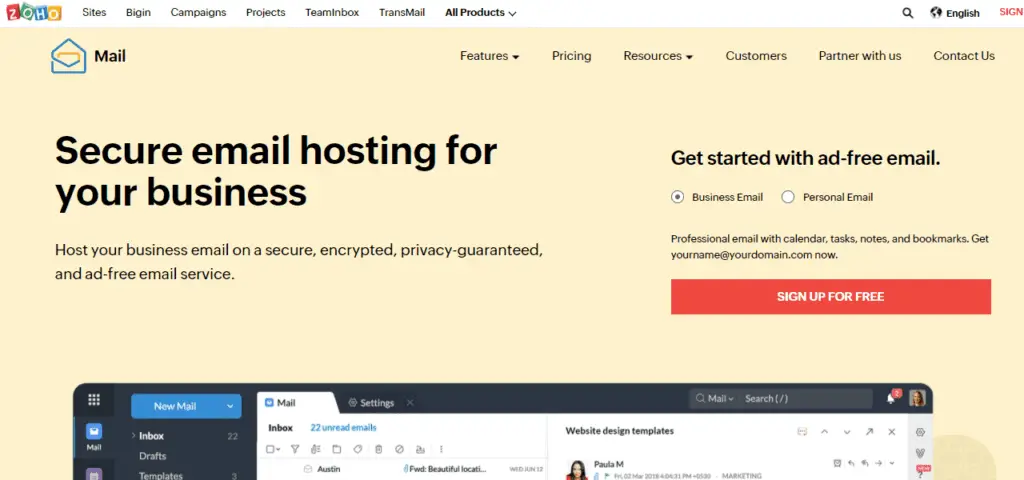 With this popular email marketing service, you will be able to build your subscriber list with all the great features included with the app.
The dashboard of this email marketing software is easy to use and provides you with up-to-date email information. With the simple cut and paste feature included, you can quickly get started and easily create or re-use content for the templates provided by them.
A wide range of email marketing plans is available to make the bulk email listing much easier for your business. But this app is not very easy to get ready for use, so you will have a steep learning curve before mastering it.
Pros
Easy to use and analytic dashboard
Straightforward option to cut and paste content into templates
Quite an affordable price with smaller subscriber lists
Smooth integration with easy to use email templates
A wide range of email marketing paid plans
Lets you know whether the email is opened
Cons
It is quite tricky to get it up and running
Very limited option to customize this email marketing software
Pre-built campaign layouts are a bit limited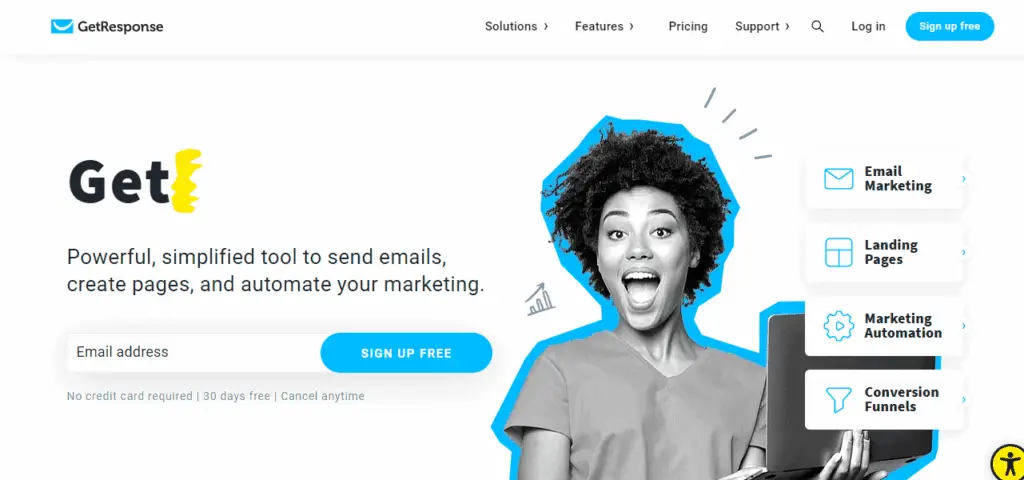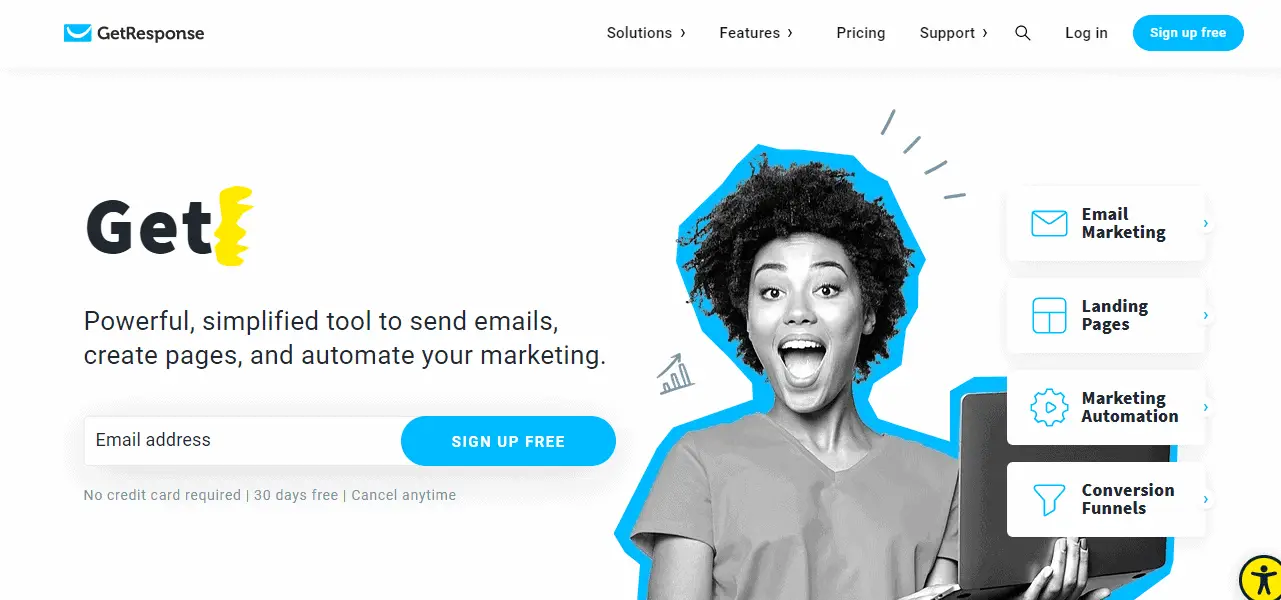 This powerful automated tool will help to automate your email marketing campaigns by sending emails and creating landing pages quickly on the go.
The easy to stay in contact communications feature included helps to build a subscriber list for your business quickly. You get generous support and training from the app developers to get you up and running.
It also comes with quite a modern user interface, so more people will be able to relate to the email tool. However, it is not very reliable when importing your lists, and the landing pages are not easy to customize to your personal preferences.
Pros
Easy targeted online communications to stay in contact
Comes with a 24/7 live chat and support
The user interface is modern and user friendly
A wide range of email marketing packages available
It is an easy to use email marketing software
Automated sales funnel creator tool
Cons
Landing pages are not very easy to customize
Not a very stable and reliable email marketing tool
It is not suitable for large subscriber lists
Conclusion
The best email marketing tool in this line-up is the MailChimp email marketing software that provides you with great features. It is also one of the most affordable automated email listing software with a wide range of products available.
In a very close second position, we have the AWeber that gives you an extensive limited customer free option. Thanks to the wide range of paid options at reasonable prices, it also includes many features to improve your subscriber list.