If you're looking for the best productivity apps for you or your team members, you'll find them here. But, there's so much more to getting and staying productive than installing and using a few productivity apps.
"Time is an equal opportunity employer. Each human being has the same number of hours and minutes every day. Rich people can't buy more hours. Scientists can't invent new minutes. And you can't save time to spend it on another day. Even so, time is amazingly fair and forgiving. No matter how much time you've wasted in the past, you still have an entire tomorrow."

― Denis Waitley
Today, you're going to see how to create real-time structures that will help you get more done, get ideas for saving time, and, of course, the best productivity apps to help you get there.
Instead of listing dozens of apps and websites, I've curated a list of the best productivity apps. I've used all of these apps over the years to help me manage virtual teams and get more done.
Do Productivity Apps Work?
The best productivity apps integrate seamlessly with how you like to work and how your processes (and your teams' processes) work best.
For any productivity websites and apps to work and save you time, you must be very clear about your workflow and how a completed task or project looks.
Before you go out and try many productivity apps, take a moment to understand precisely what productivity means to you and where you and your business will benefit the most from adding a productivity app to help.
Take it from me; just adding productivity apps to the mix can easily make you a slave to the productivity apps instead of the productivity tools working for you.
What Productivity Means
Productivity means that you use your time wisely.  The goal of adding the best productivity apps to your business is to help you reduce the tasks in your day that waste your time.
For example:
Sitting in a meeting for an hour and not being clear about what the action items were.
Sending emails back and forth to schedule a meeting with a group of people.
Trying to complete a task for a project team and having to look for files or assets.
I'm sure you have your list of time-sucking micro-tasks that turn a potentially productive day into something more resembling a funeral dirge.
Find Your Time Bandits and Increase Your Profitability
If you finish your day by collapsing on the couch knowing you worked like a dog and feeling like you haven't scratched the surface, then you've been hit by time bandits. And time bandits are profit bandits.
Your goal is to have that feeling like "I can't believe I'm getting paid to do this" or feel energized at the end of a day.  Your body knows when you've had a good day and when you didn't. So pay attention to that.
Once you've done that, it's time to start tracking. 
Use a Time Tracking App to Track Everything You Do In a Month
If you're a consultant, freelancer, or service professional, every minute you spend not working on something that makes you money is eating into your profitability.
If you're a hairstylist, not working on hair or making appointments is costing you money.
If you're a consultant, the time you spend on client projects or marketing or selling activities costs you money.
If you're a retailer, the time you spend outside creating a killer customer experience costs you money.
Unfortunately, these other activities are essential, so what you can do to ensure that non-revenue generating activities are as streamlined as possible.
Running your business costs you money.  
Want to know exactly how much? If you have a business credit card account, pull out your statements, and you'll see. Don't forget to add utilities such as internet and office supplies. 
Since I'm not a financial or math wiz, I tend to keep things simple.  My monthly expenses are costs; whether they are fixed or variable, that money leaves my account and goes somewhere else.  
To see how much my business costs me per working hour, I simply divide these total costs by the number of hours I work each month.  And that tells me how much money I am spending every working hour — whether I'm earning that back or simply burning it.
Track Your Time to Understand Your Costs
My bookkeeper asked me to do this for 30 days.  Her instructions were simple.  Every time you start an activity, track your time. Every time you stop working, track your time and write down what you did and why you did it.
If you're doing client work, document what you were doing, for what project, and the amount of time you spent.
My bookkeeper used this real-time information to determine how much time I spent on each client project and understand the actual cost of doing that work.
Ultimately we used this information to set a profitable price for my products and services.
Best Time Tracking Apps and Time Management Apps
If you want good time tracking data, you'll want apps to help you get the most accurate representation of where your time goes.  Choose a time management app that works across devices so that you can track your time easily, no matter where you are.
Rather than overwhelm you with dozens of apps, I'm sharing the best productivity apps for time tracking for task management and billing.
Use RescueTime to Set Your Baseline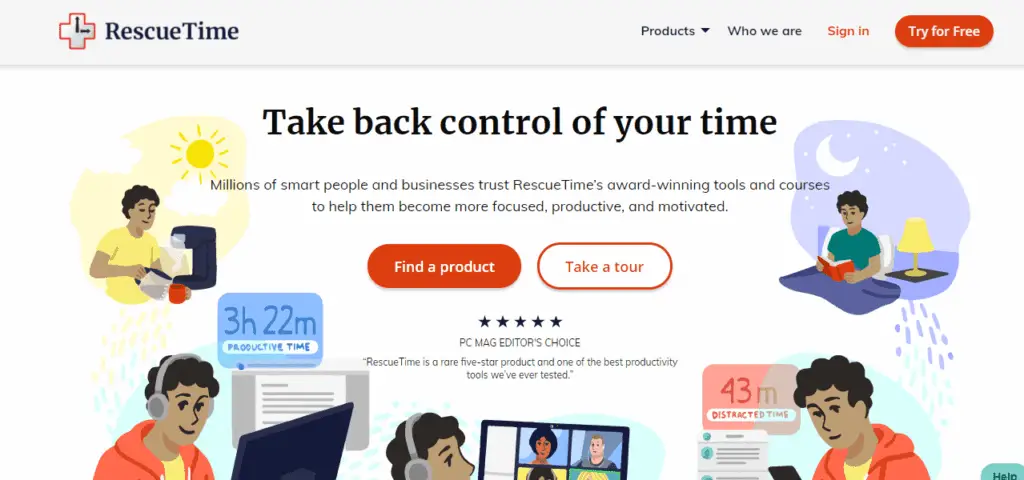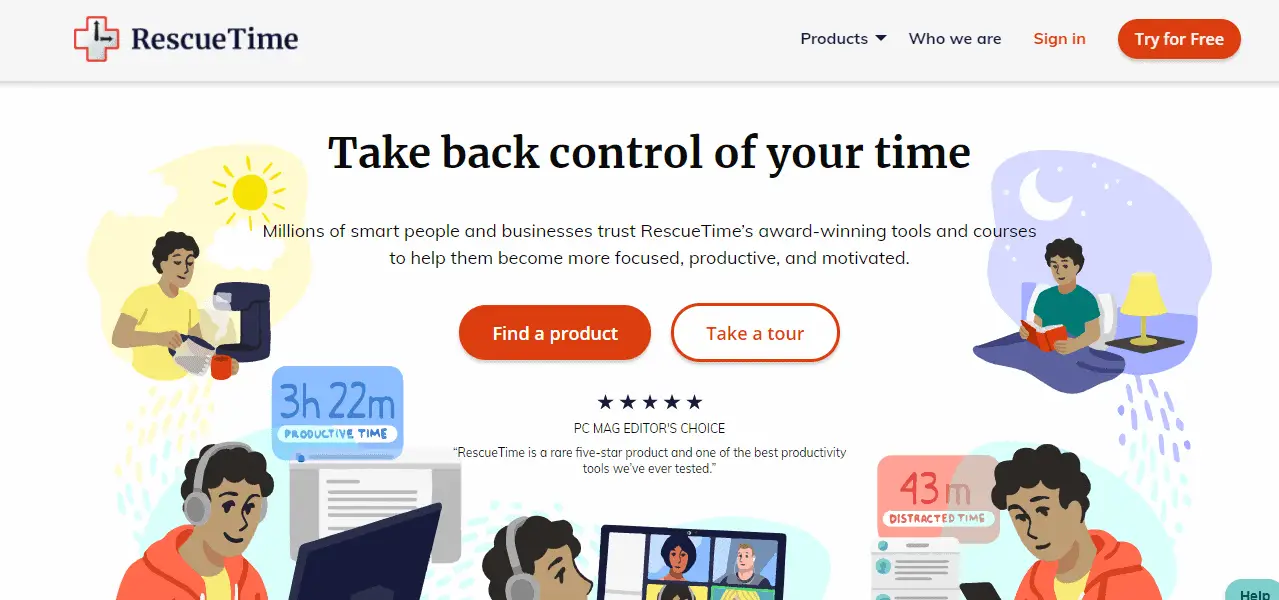 Let's start with RescueTime.  RescueTime is NOT a typical time tracking app.  It's more like an app that reports on how much time you spend on specific sites.  Think of it as your browsing history on steroids. 
You can be as rigorous with RescueTime as you like.  Use it to track where you spend most of your time online.  Or go all out and categorize specific apps and sites as "work," "entertainment" or "research," so when you ask yourself, "Where did the day go" — RescueTime will have an answer.
To get the most out of RescueTime, you will have to download it onto your computer. You'll see downloads for Windows, Mac, and Linux.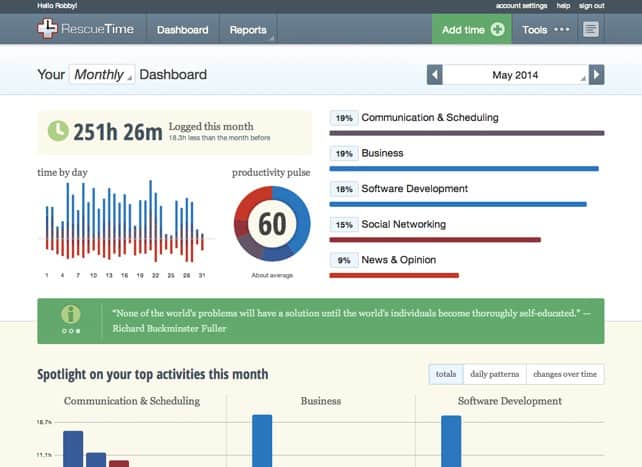 One of the best features of RescueTime is the ability to designate sites and apps based on how you use them.  For example, if you use Google Docs to write blog articles, you can specify that with a category.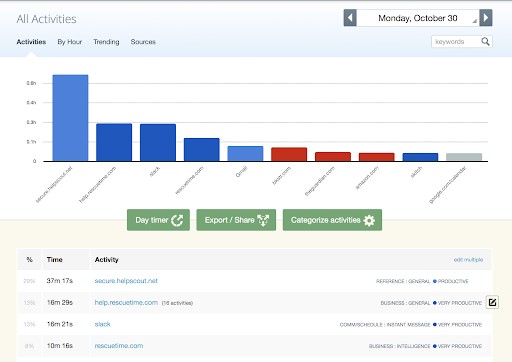 RescueTime will automatically designate sites from Distracting to Productive based on the categories that you specify.
The bottom line with RescueTime is to give you a baseline to see where you can optimize how you spend your time.
RescueTime markets itself as the go-to solution to increase your productivity, as well as help one remain motivated and focused. It offers three different packages: the software itself, a 4-week masterclass on productivity, and a separate package for teams and collaborators.
Overall, the software is comprehensive and intuitive. It comes with a bevy of different features that will help keep you on track.
Truly, Process excels at what it sets out to do – though it never accomplishes much more.
Pros
Three separate packages, each with its unique benefits
Comprehensive productivity software
Plenty of features and functions
Allows for a great deal of flexibility in the parameters you set for the app
Offline functionality
Can integrate with other standard smartphone apps
Cons
All three packages together can be costly.
Use Toggl to Keep Track of Time by Client or Project

Toggl is the best free time tracking tool that I use.  I recommend Toggl all the time because the free version is ideal for solopreneurs.  You'll get everything you need to track how much time you spend on client projects, your projects, or any other tasks you do in the free plan.
I also love the reporting feature.  The Toggl reporting feature is my favorite for creating reports and invoices for specific clients.
But even more importantly, I've used Toggl to track all of my time so that I can understand how much it costs my business to perform the services I provide clients. This is important because it's the first step in setting a price that will guarantee profits.
Toggl integrates exceptionally well with just about every app you use in your business.  Download the Chrome extension or Firefox extension and use Toggl on more than 100 apps like Asana, Trello, and Google Docs.
You'll find Toggl time tracking apps for both Android and iOS.
Toggl Pricing Plans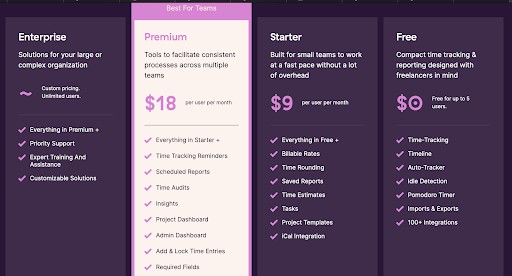 Pros
Integrations with every app I need, use and want
Idle detection — this is critical because I'm always turning the timer on and forgetting to turn it off.
Time tracking edits — Of course, I also FORGET to turn on the timer, and the manual edit feature allows me to edit my time tracking manually.
Easy reporting – I don't often bill by the hour or the project, but Toggl's reporting makes it easy to export my time tracking by client and project.  You can even track PROFITABILITY with Toggl (Starter Plan).
Cons
Linking time to cost and billing
In the summary tab, you can only see one week. You can switch between individual time frames but can't see the entire month at once because it only keeps track of time by week.
Toggle doesn't provide an automatic categorization of time tracked based on websites used during that time.
Use Harvest for Virtual Teams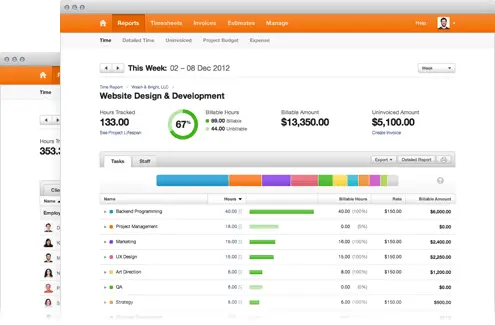 Harvest has been a fan favorite time-tracking app.  Like Toggl, it tracks time across platforms, and it has an excellent reporting structure of time spent by individuals and teams.
I've used Harvest. But found myself going BACK to Toggl more than once.
If you're part of a larger team or manage a larger group, Harvest is probably the better choice.
Pros
Excellent functionality for teams.
Excellent user interface and experience.
Easy to use and integrate with project management apps
Cons
Hard to track multiple projects at once
Lack of functionality to batch-assign time to various employees.
Limited options for minimum billing increments.
Limited ability to view an entire project instead of just the timers within that project.
Harvest vs. Toggl Recommendations
Both Harvest and Toggl were founded in 2006, but Harvest took an early lead in this space.  Which app you choose depends on your personal preference and work situation.  Harvest is the ideal choice for work teams and project management features.  Toggle is the best choice for solopreneurs.
Process Management and Project Management
Every small business owner says that they want to work on their business and not in it.  If you find yourself in this space, then project management tools are a terrific first step.
The first step is understanding all of the processes that happen in your business and map them out. 
Process.st Makes Organizing Tasks, Processes, and Teams a Breeze.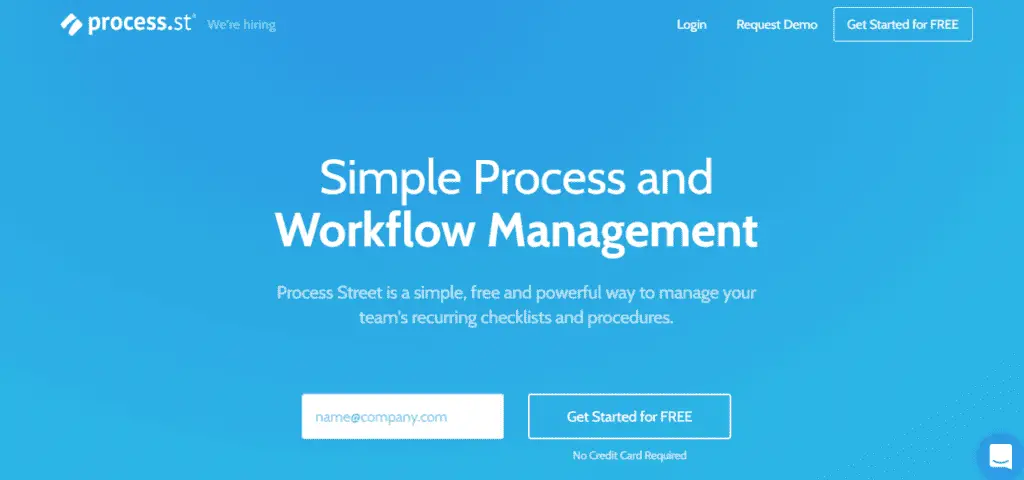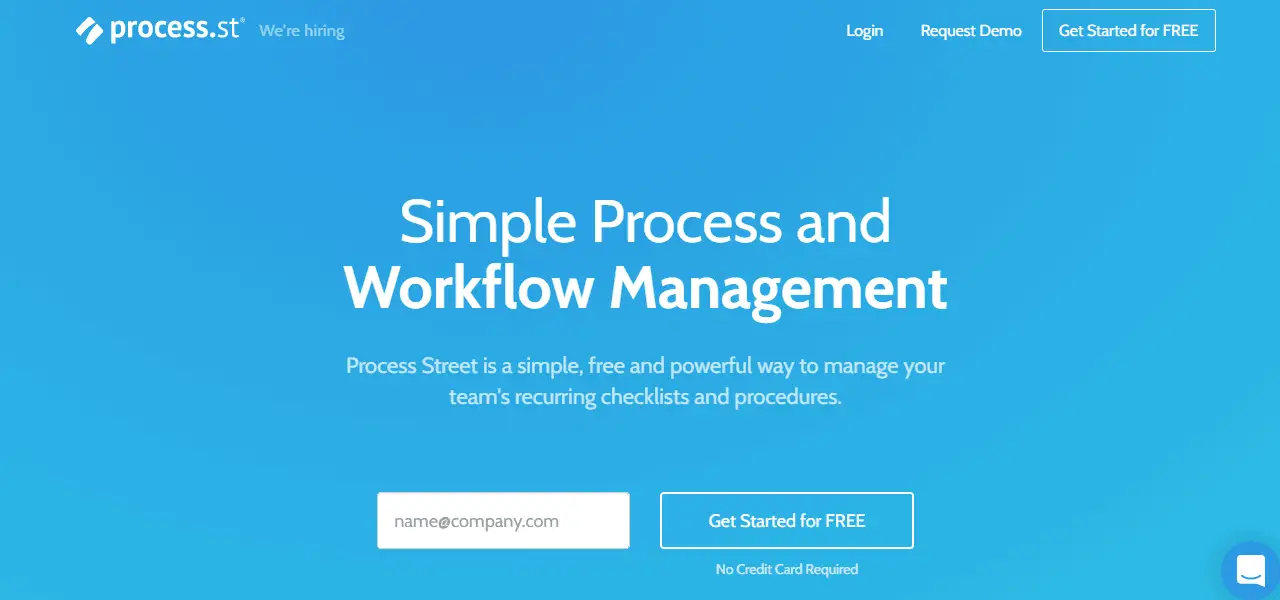 Process Street is a standard operating procedure and checklist software for small businesses. The platform makes it easy to create and automate workflows, checklists, forms, and standard operating procedures.
It's the ideal tool for your business if you outsource a lot of tasks.
Here's a short video I've made of my #BizapaloozaChat process:
Process.st makes a lasting impression despite its minimalist design scheme and simplicity. The interface is so intuitive that you'll be comfortable using the app in just minutes. 
Process.st allows its users to quickly create procedure documents shared with other users, adding a welcome layer of collaboration to the entire process. Assign checklists to collaborative users and check on the progress at any time.  When you complete a document, take it through a customizable approval sequence. 
Pros
Intuitive design allows for easy functioning
Informative prompts guide you through the processes
Collaborative – ideal for teams
Immediately comprehensible to quickly get things done
Simple to use – even for beginners
Able to create procedure documents in seconds
Cons
Limited functionality and use for more advanced users
Trello is the Simplest Project Management Tool
Trello is the most popular project management app for a reason.  It's easy to use, it's flexible, and you can get 90% of all the features with the free version.  What's not to like?!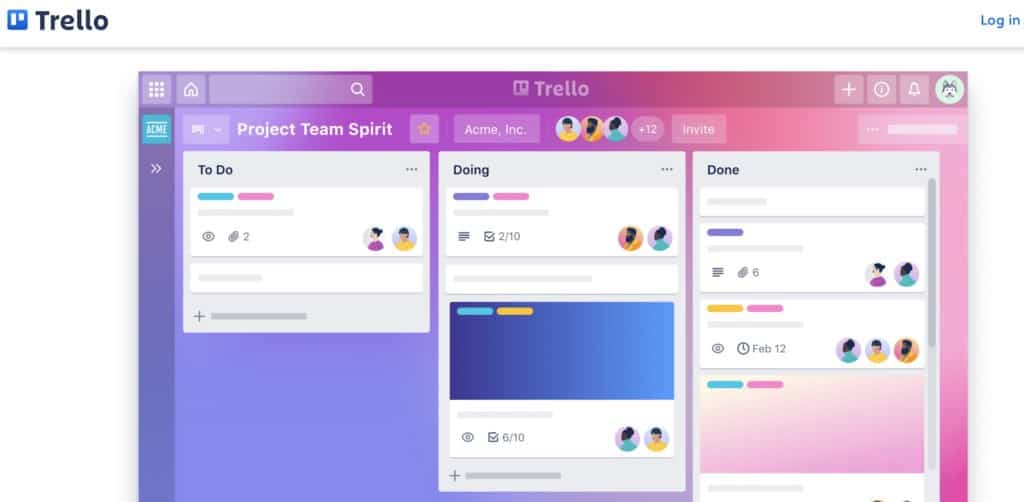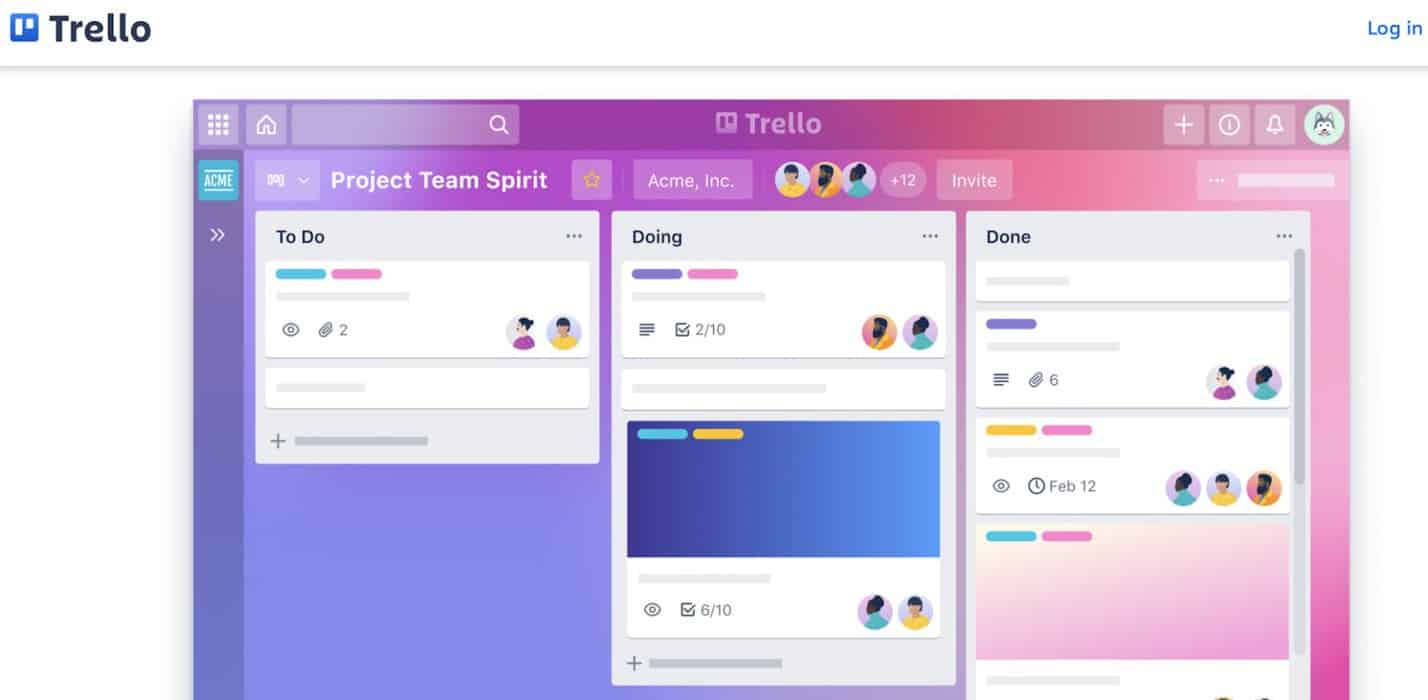 Trello is a kanban project management tool.  That means that it organizes your project into columns.  The most popular kanban organization has a column for inbox or backlog, doing, in process, complete.
Trello is the perfect "starter" project management tool.  You can use it across platforms, both desktop, and mobile, on all devices.
Pros
Extremely flexible.
Easily share boards inside and outside the organization as well as publicly.
Terrific for brainstorming projects and events.
Integrates with your favorite time tracking app
Integrates with emails so you can convert emails to tasks
Cons
It lacks productivity metrics.
Template settings could be more customizable.
It might be a little too flexible. If you aren't skilled at organizing projects, Trello won't give you enough structure.
No Gantt chart
No native time tracking tool
Use Asana to Manage Virtual Teams and Tasks Easily
Asana is one of the best productivity apps when it comes to managing projects. If Trello is too simple or constricting, Asana might be a better choice for you and your team.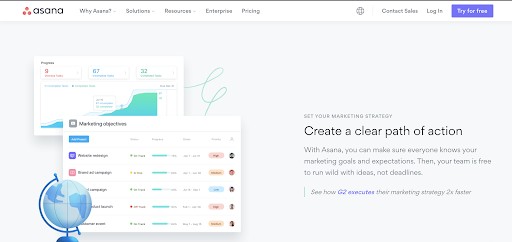 Asana is a favorite among businesses of all sizes. You wouldn't use Aana to send a rocket to the moon, but it will meet 99% of your needs to manage basic projects, campaigns, or events.  
Asana is insanely flexible.  It's almost too flexible.  You can use Asana to keep track of ongoing work and long-term projects and coordinate teams and distribute workloads across employees. 
Asana integrates with the most popular apps so you can customize it to your company's unique workflows.
Pros
It has an intuitive interface for managing team workflows.
Offers a free plan for up to 15 users with all essential features.
Real-time communication and reporting.
Dozens of templates you can use to get you started.
Set up any type of project; kanban, list, Gantt, etc.
Automations make it easy to pass tasks on to team members and update tasks.
Cons
Almost too flexible.  There are so many options and structures to choose from you might get overwhelmed.
Lacks resource management functions.
Use Monday.com To Manage Basic Projects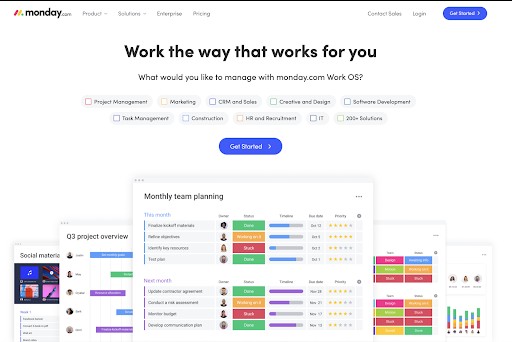 There's a new project management tool on the block called "Monday."  Monday is a cloud-based project management software that uses color-coded boards that let you manage personal or team projects.
Monday is working hard to displace Asana as the project management tool most solopreneurs choose. If you're currently not using a project management tool and need to communicate with a small outsourced team or clients, this would be a terrific choice. 
Pros
Attractive interface
Useful project visualization tools
Supports integrations with other platforms
Highly customizable
Offers in-app automation
Includes templates
Encourages transparency and accountability.
Cons
It doesn't offer a free version.
Expensive if you have a large team.
Lacks advanced task tracking features
Asana vs. Monday
A quick review of multiple reviews shows that Asana continues to hold the top spot as one of the best productivity apps when it comes to project management. 
Asana's side navigation is simple and to-the-point, with friendly icons and labels to help guide you to the right area, from your inbox to reports. If you ever manage to get lost, the Home screen is where you'll find your most urgent tasks with upcoming deadlines and recent projects.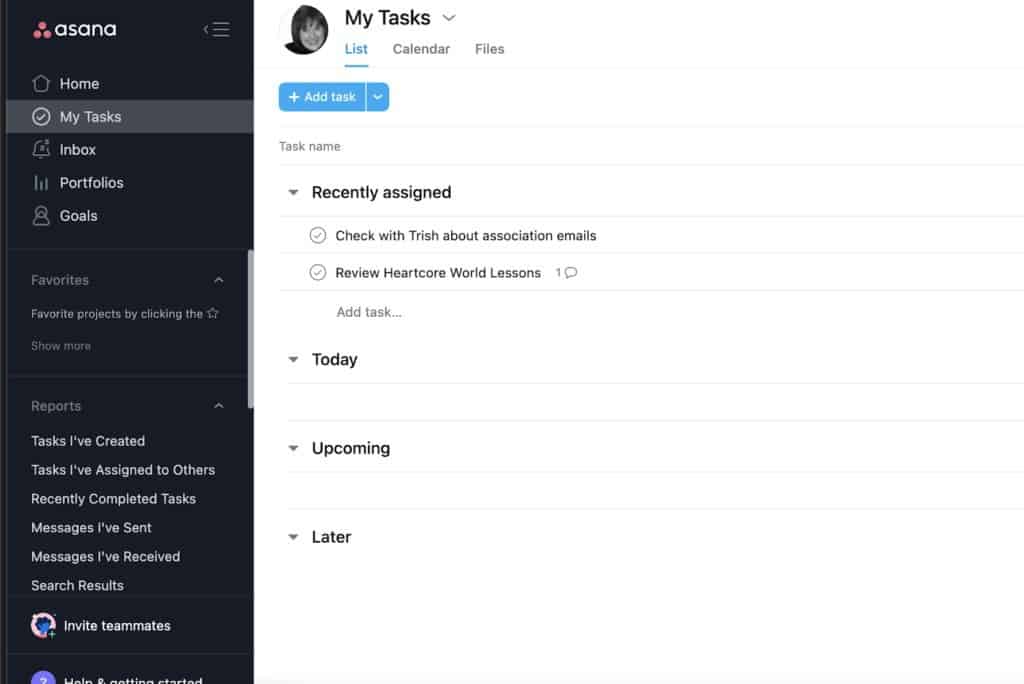 Monday's project plan templates have more tasks filled out so that you can see what an actual plan looks like.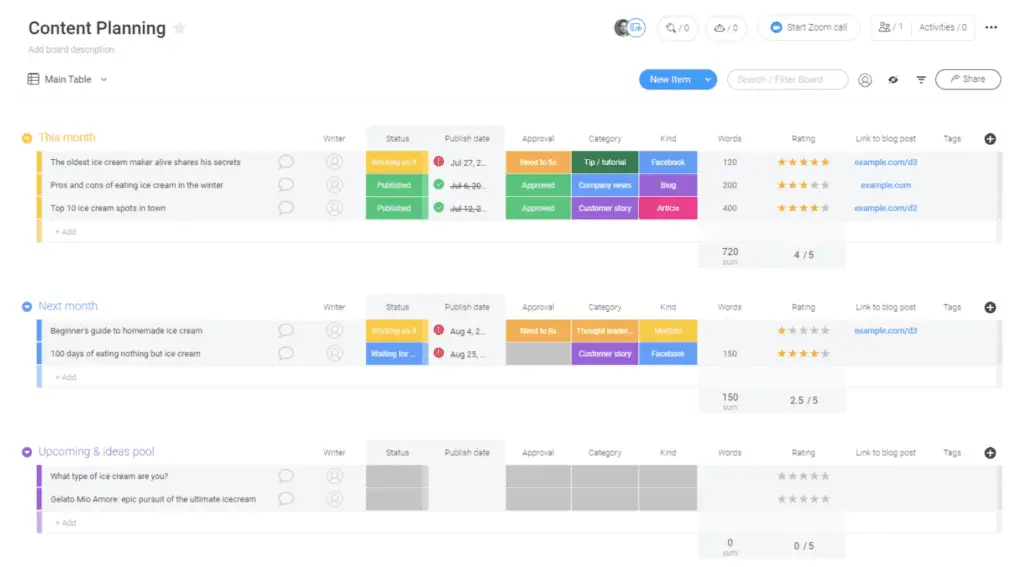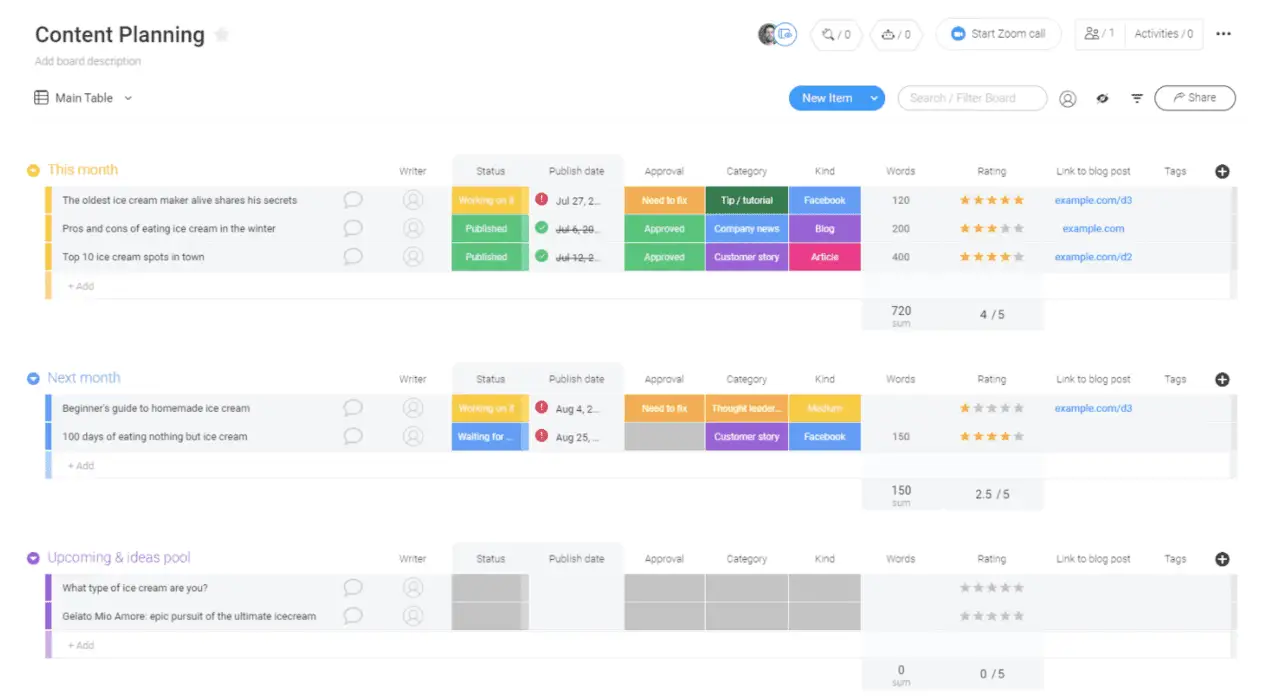 Asana offers better team management functions.
If you're working on a complex project with multiple internal and external collaborators, Asana is the clear winner. Its team management features centralize all information in one place, and advanced features like portfolios and workload allow you to allocate resources accurately.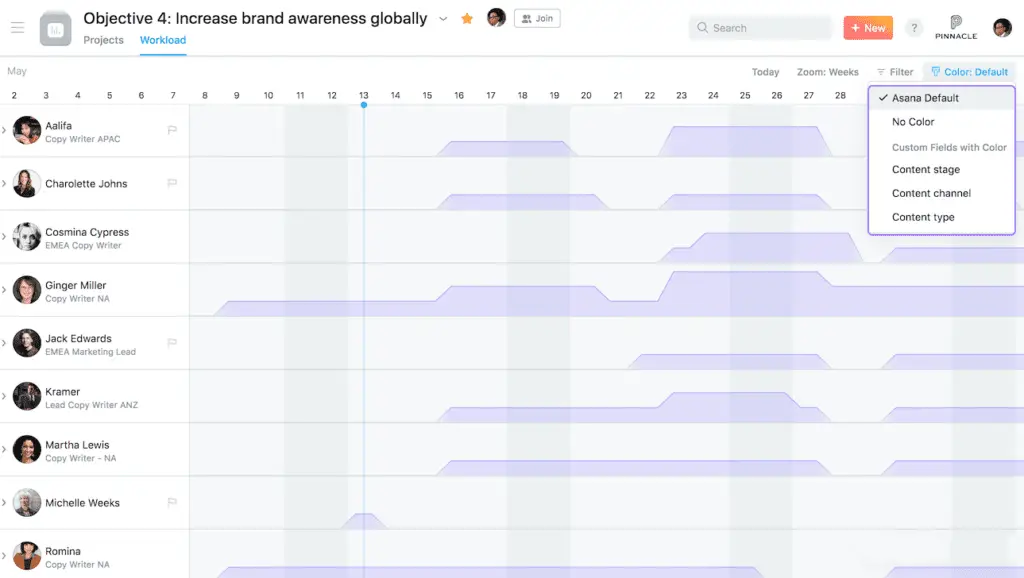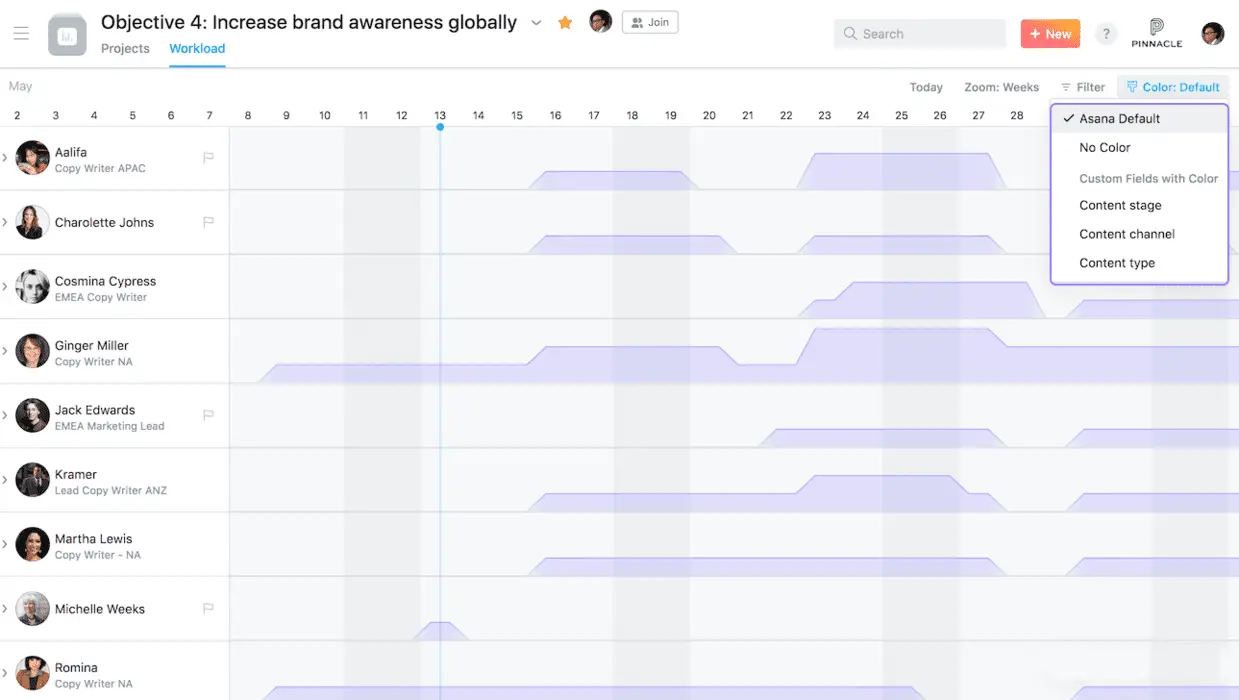 If integrations are important to you, Asana is the clear winner.Asana is a bit pricier than Monday, but it does offer a free plan. You can still do a free trial for 14 days on Monday.com, but you'll have to upgrade to a paid account after that.
The Best Note-Taking Apps for Meetings
Have you ever attended a zoom meeting and realized that you didn't capture essential details after taking your notes?
Taking careful meeting notes is a crucial skill that will improve your communication with others and create an essential record of what has to be done and by whom.
But, great note-taking isn't just about completing projects; it's also about capturing great ideas when they pop up.  
For that, I've pulled together the best productivity apps for note-taking that you won't be able to live without. 
Use Evernote to Organize Your Notes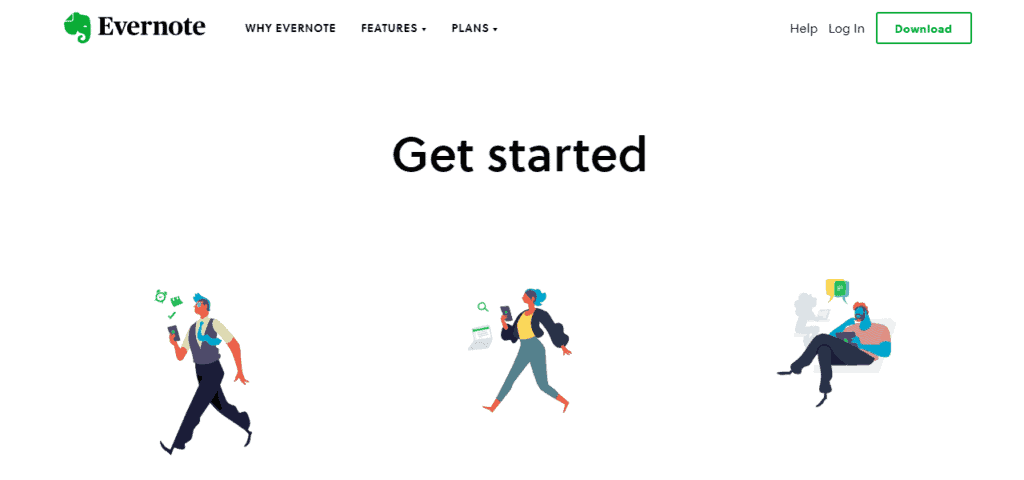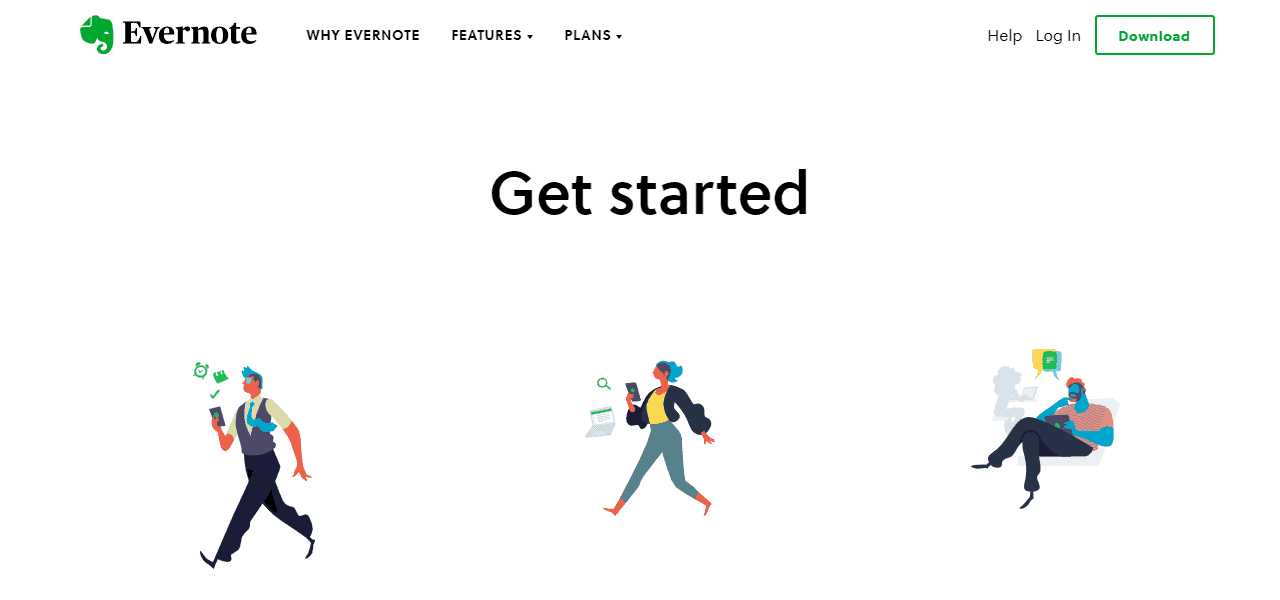 Evernote has become the silent leader in the note-taking app category.  Some have even asked if Evernote was "dead" — and the answer is hell no! Evernote is still the most popular note taking app.  
Evernote allows for far more than mere documenting and note-taking. The app boasts an incredible array of different features, and it functions more like an "idea hub" than a simple digital journal.
Of course, note-taking is still one of the app's primary functions, and if that is all you need it for, you will no doubt be impressed with its quality.
You can store photos, videos, links, tasks, and everything in between and share it privately or publicly across various platforms. 
Additionally, Evernote accommodates teams as much as individuals. Ideas from every team member can be shared and perused amongst others, creating a decisively robust and powerful collaborative experience.
Evernote can be tough to come to grips with despite the relative simplicity of its functions that help to get you started. Despite the slight learning curve, it remains a great app that is trusted by hundreds of millions of users worldwide.
Evernote is one of the best options and has become exceedingly popular over the last few years, with an average of 225 million users as of the writing of this article. Of course, popularity cannot possibly hope to compensate for quality. Fortunately, Evernote has quality in spades thanks to a bevy of features and possible applications for its use.
Additionally, Evernote need not be used in a vacuum – the app accommodates teams as much as individuals. Ideas from each and every team member can be shared and perused amongst others, creating a decisively robust and powerful collaborative experience.
With all of that being said, however, Evernote can be tough to come to grips with despite the relative simplicity of its functions that help to get you started. Despite the slight learning curve, it remains a great app that is trusted by hundreds of millions of users worldwide.
Related: read our in-depth review of Evernote App here.
Pros
Variety of functions and features
Solid foundation of note-taking and journaling
Allows for collaboration and project management
Syncable across multiple platforms and devices
Excellent hub for different ideas and projects
Cons
Slight learning curve that can be off-putting
Some may find its design sensibilities to be more than a little dated
Use Otter.ai to Capture Every Word From Your Next Meeting
Otter is one of the best productivity apps for speech-to-text out there.  With Otter.ai, you can transcribe voice conversations in real-time. It's available on desktop, Android, and iOS devices, and there is a limited free plan for new users to try it out.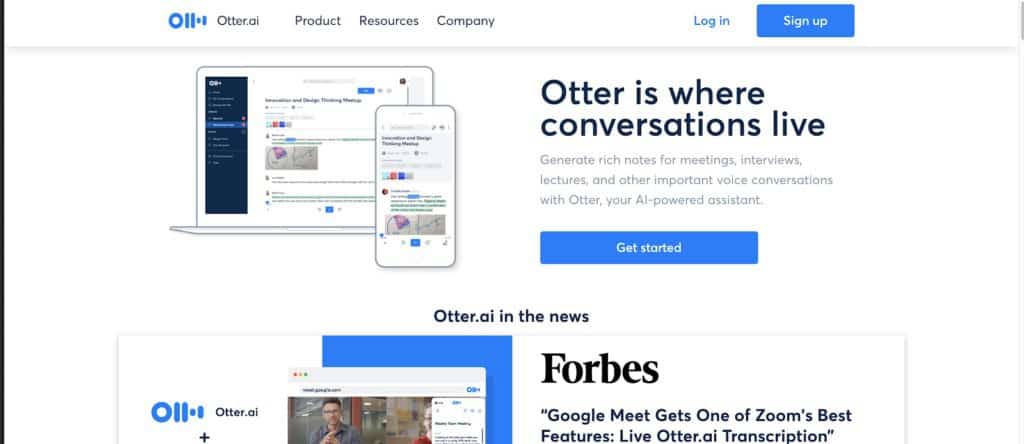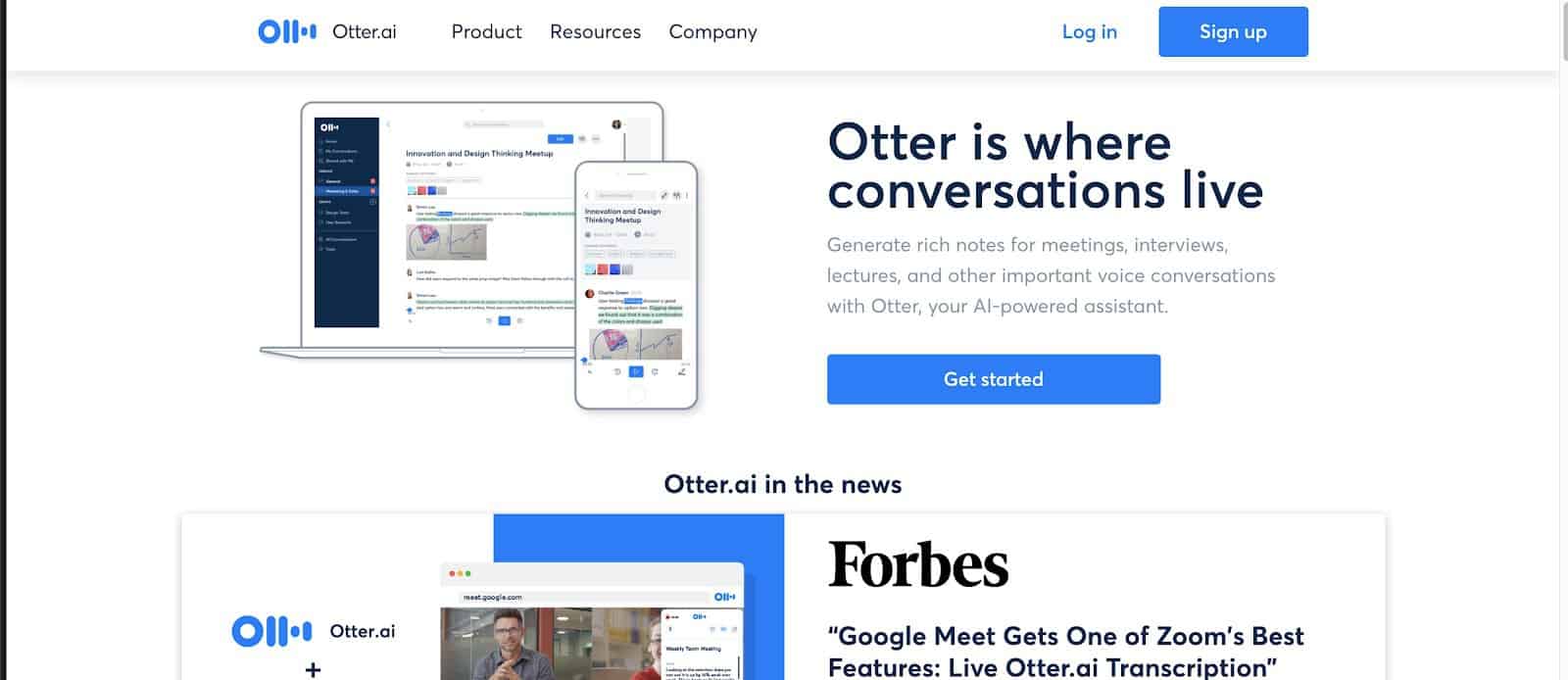 Do you struggle with taking notes at meetings?  Either they are too general, or you've missed the point of the meeting because you tried to transcribe every word that was said. 
Thankfully, I've discovered Otter.ai, a real-time note-taking app that integrates with Zoom and Google Meets.
You can upload video or audio for transcription, or you can transcribe your meeting in real-time. 
While there are other note-taking apps around, Otter.ai gets the award for best value overall.
Pros
The free version will meet 90% of your needs.
Good voice recognition
Cross-platform functionality
Speaker recognition
Easily shareable
Integrates with Zoom and Google Meets
Cons
Some features are still rough.
It doesn't record phone calls from the app.
People with accents and people that sound a lot alike don't always register right on the transcript.
Lacks advanced account settings.
Video, Audio Editing, and Transcription
If you record podcasts or videos and then need to edit the video or audio, there are tools for that.
These are the best productivity apps for transcribing and editing video and audio. 
The video and audio tools I'm sharing here are all powerful time-savers and will help you eliminate time wasting activities like back and forth emails, one-to-one meetings, texts and phone calls.
YouTube
Sure, you know that YouTube is where you can upload live or recorded videos and share them with the world. But did you know that YouTube also provides a FREE transcription of your videos?
If you're looking for a quick and dirty transcription to a video or audio that you've created, just upload it to your YouTube Channel.
For any video or audio content that's under an hour, YouTube will provide a transcript along with time stamps.
There are a lot of drawbacks to using YouTube for its free transcription feature, but it's a great low-cost way to grab a transcript from audio or video.
Cons
There is no speaker recognition
The quality of the transcript isn't very good
You can't export the transcript. You have to cut and paste into a document.
It's not made for collaboration between team members
Use Descript to Edit Both Audio and Written Notes
Descript is a brand new audio and video editing and transcription tool that is one of the best productivity apps to come along in years.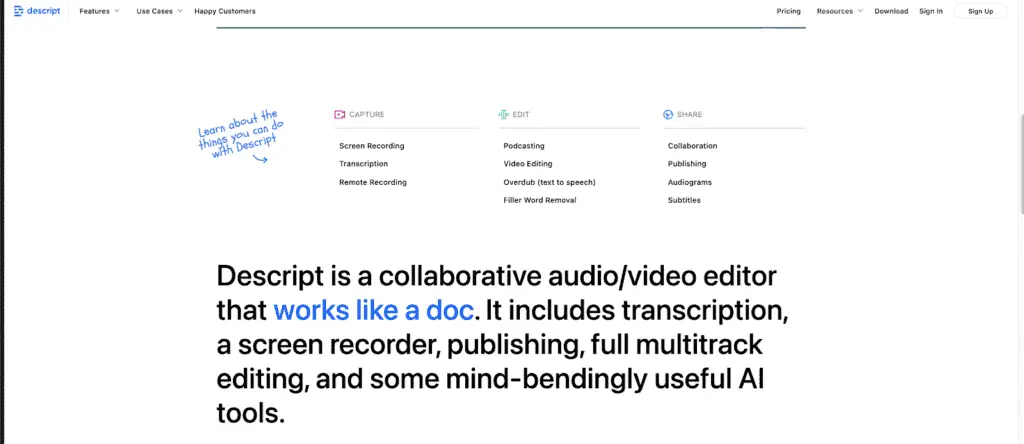 Descript uses Google transcription technology and takes it to a new level.  It's the lowest-cost tool available for editing BOTH audio, video and text files all at the same time.
Descript uses a powerful AI technology that also allows you to overdub and add or replace existing audio with your own voice (or the voice of a guest speaker).   I've been using Descript for several months and I highly recommend it. You can read my Descript review.
Pros
The transcription quality is very good.
The technology is intuitive and easy to use.
Offers real-time transcription
Transcribes uploaded audio and video quickly
Cons
Only works for English speakers.
Editing the transcript vs. the media can be a little clunky.
Use Loom for Quick and Easy Screencasting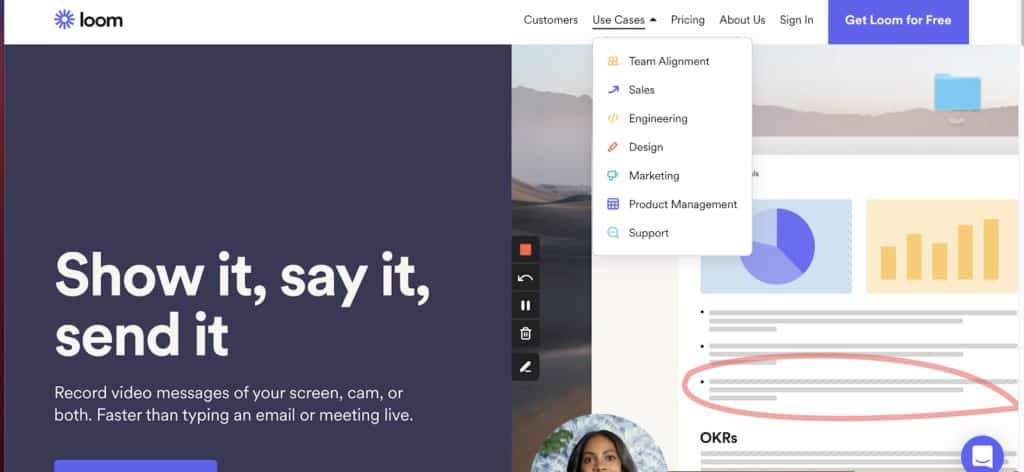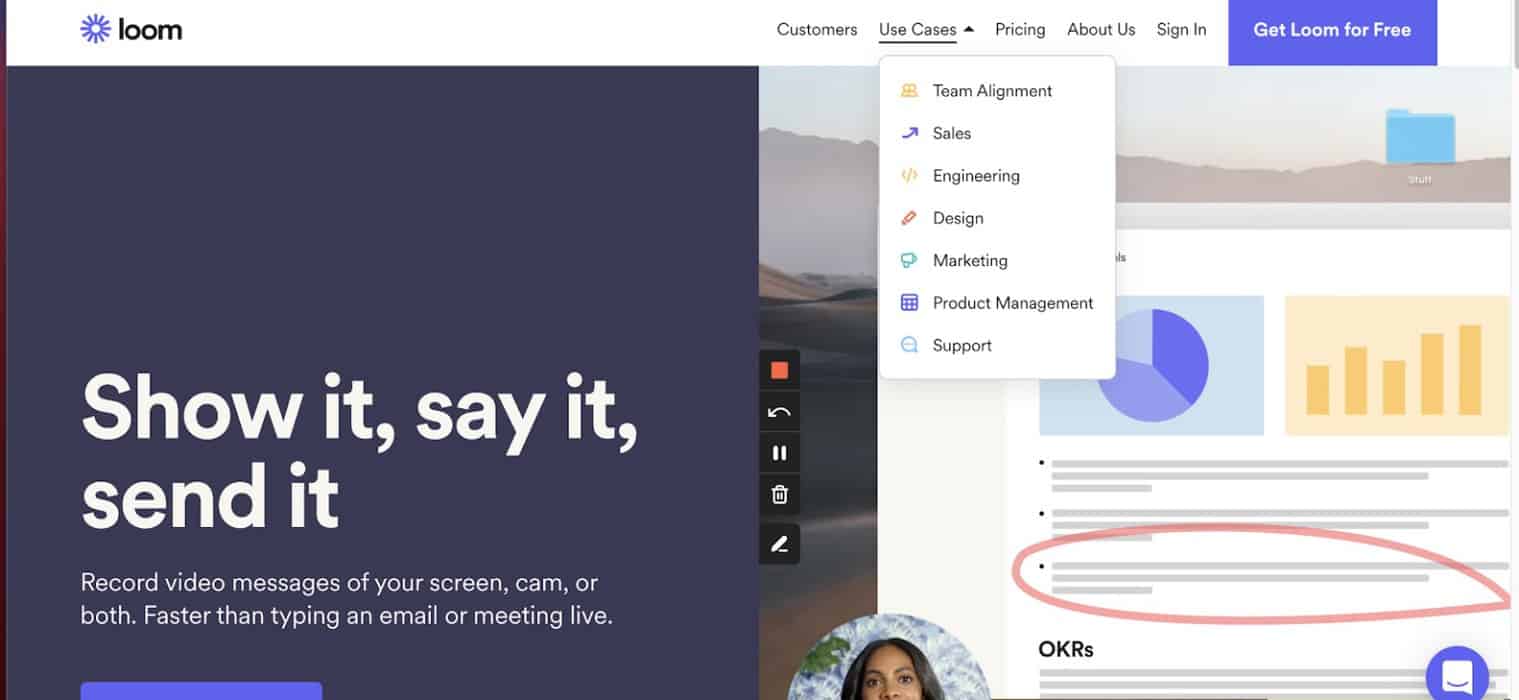 Loom is a simple low-cost video and screen capture tool for creating instructional videos for your team members. 
I've been an on-again, off-again user of Loom for creating screencasts for both troubleshooting and creating how-to videos for my team. 
The interface is very easy to use and allows you to share videos without much effort. 
Loom is one of the only tools that markets itself using popular use-cases so that you can easily apply the tool to your specific application.
Pros
Simple user interface
Free version covers a lot of ground
Detailed explanations of use-cases
Cons
When an internet crash occurs, the loom has a recording failure
Editing a video is a bit clunky.
Calendar and Appointment Scheduling Apps
If you've ever tried to get a group of people together for a meeting, you know how frustrating it can be.
There are dozens of calendar apps out there, in this section, you'll get recommendations for the one that's best for you.
Use OnceHub to Automatically Choose the Best Meeting Date and Time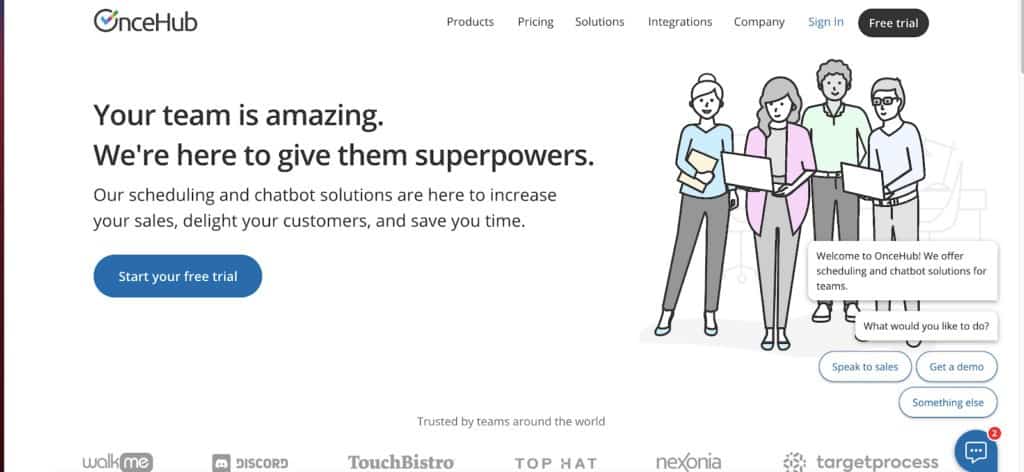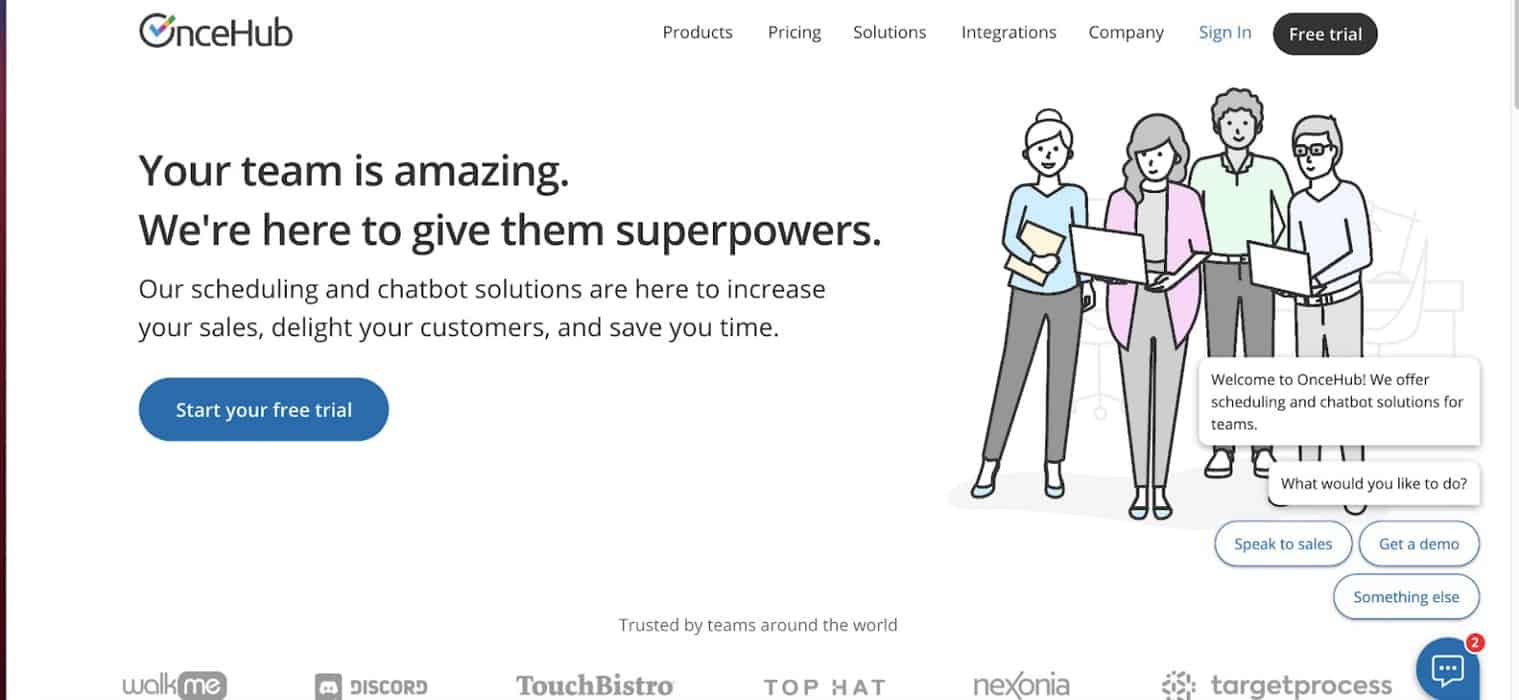 If you have to pull together more than two people from different organizations, OnceHub is your best and only affordable choice.  
OnceHub is a terrific choice for consultants, freelancers, subject matter experts and service providers who offer services at different price points.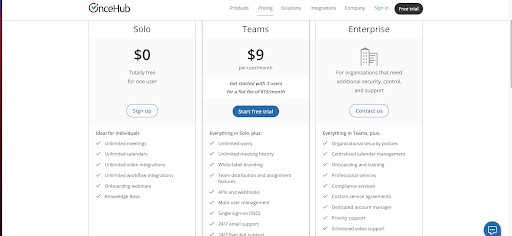 The free version will cover more than 80% of your needs.  At $9 per month, you can add additional booking pages and team calendars. 
Pros
The only meeting scheduling tool that automatically chooses a meeting date based on invitees availability.
Create fee-based meetings where customers can pay a fee for a meeting.
Easily distribute sales and service meetings across team calendars.
Integrates with a wide variety of third-party tools; Google Calendar, Gmail, Google Meets, Salesforce, Microsoft Teams and more
Cons
Customers have complained about customer service quality.
Setup takes some time and can be unwieldy
Choose Calendly for Basic One-to-One Scheduling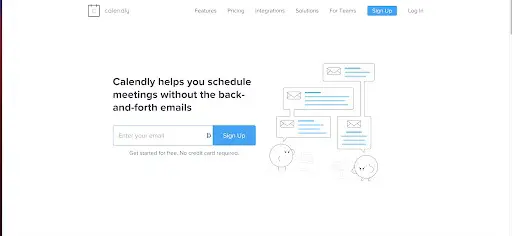 Calendly continues to be the leader in the meeting scheduling tools.  The free version is often enough for the bulk of consultants and business owners.
Pros
Integrates with all major calendars; Google Calendar, Microsoft, Outlook, iCloud.
Integrates with all major marketing automation tools; Aweber, MailChimp, LeadPages, Active Campaign and more.
Invitees can submit full or partial payments when they schedule an event using Stripe or Paypal.
Cons
Unable to propose times or schedule meetings with a group that is outside your organization.
Styling of calendar pages is limited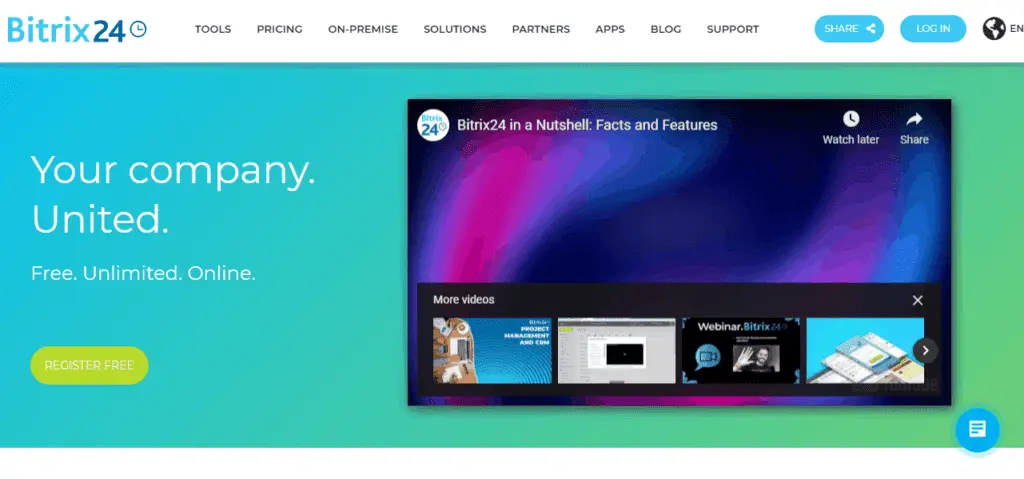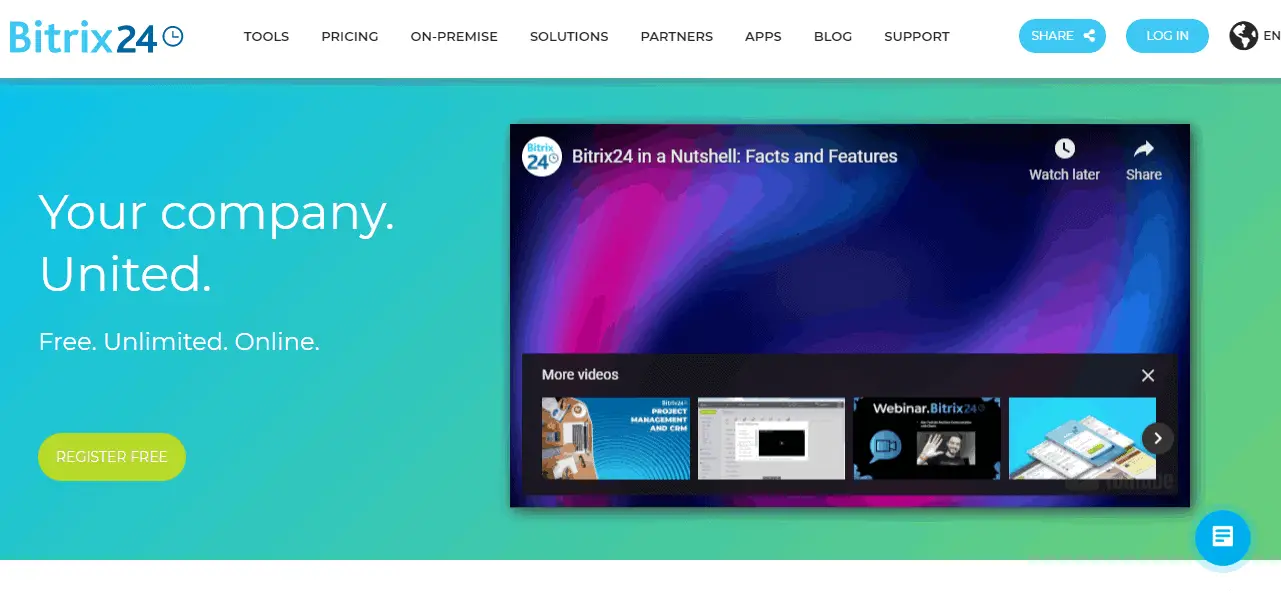 Whereas our previous app mostly focused on the needs of the individual (with some additional functionality for more collaborative efforts), Bitrix24 is made for companies and sizable workforces.
Bitrix24 is made for companies and organizations. As such, you can expect many of its features (all of which are well-thought-out) to cater more towards the management side of things rather than individual projects.
Its many features include its own video conferencing software, as well as numerous databases and spreadsheet functions that will help keep you and your organization on track.
Unfortunately, possibly due to its scope, Bitrix24 can be difficult to learn and come to grips with. Still, there is a reason it has been used by as many as 8,000,000 organizations across the world.
Pros
Vast in scope
Excellent management tools
Variety of features focused on enhancing communication between workers
Plenty of tools for individual projects
Can host company websites
Cons
Difficult to get used to
Not much use outside of sizable organizations and companies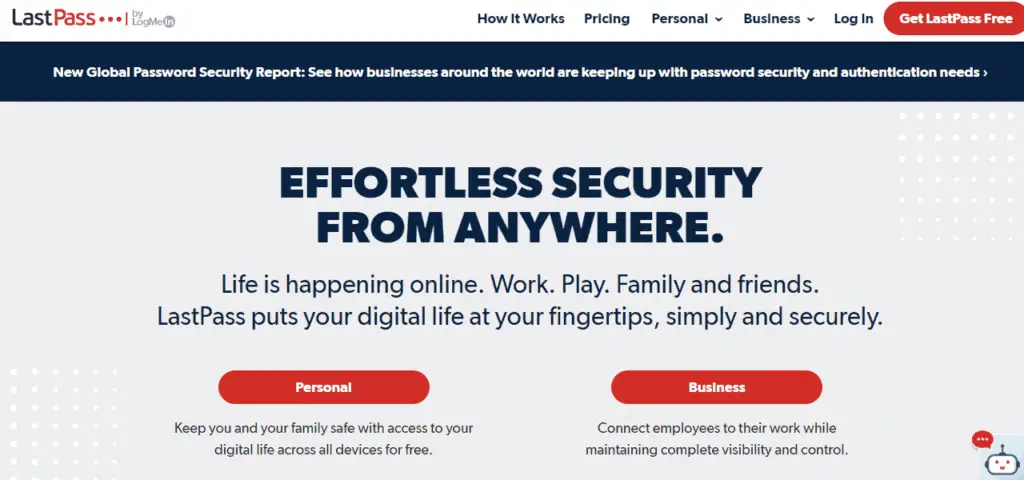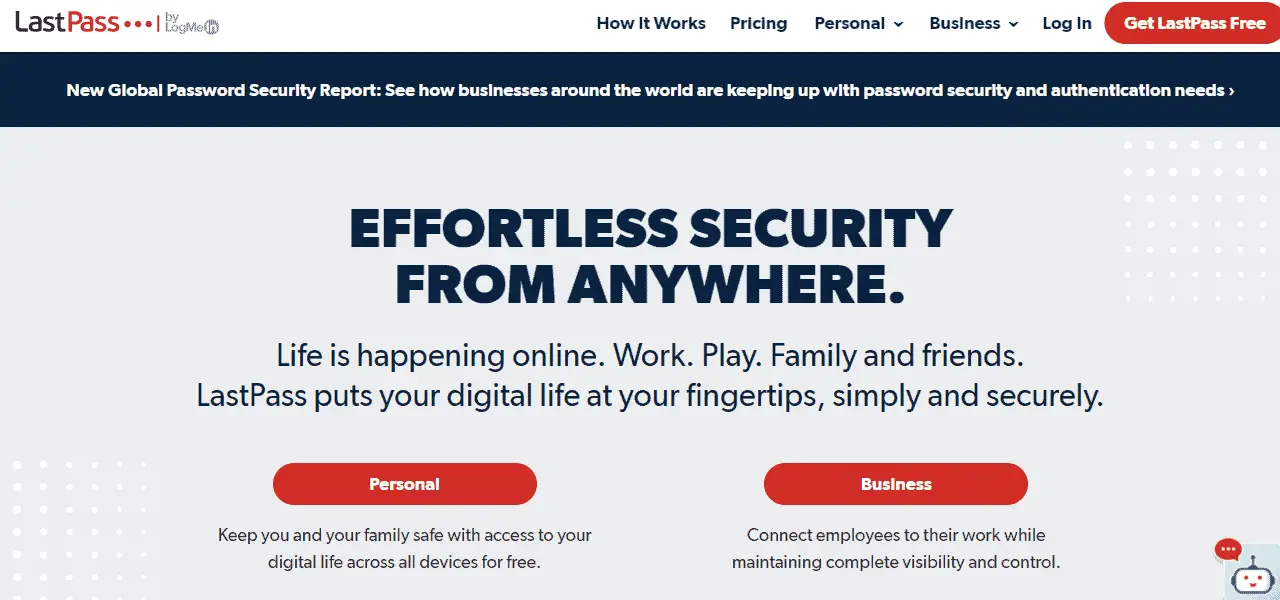 Our final app recommendation is not so much focused on enhancing your workflow as it is streamlining other parts of your life that might hinder your productivity. Simply put, LastPass is the last pass you will ever have to make once you download this great little app.
The primary function of LastPass is to streamline your security while still ensuring that your personal details remain confidential and safe. The app accomplishes this through a variety of different features, all of which culminate into a single whole that is sure to strip away a lot of the fat off of your busy life.
Pros
One-time password save
Safe and secure for all team members
Numerous security protocols in place
Able to store digital records
Effortless, safe sharing between different users
Cons
Limited functionality
Does not directly increase your productivity
Conclusion
We guarantee you that, with any and all of these apps at your side, you will become far more productive than you ever thought you could be.