One of the biggest challenges for many bloggers is to come up with new blog post ideas for content on a regular basis. Sure, it's easy to just throw something together but that's not really the point of content marketing. The whole point is to provide your target audience with quality content that establishes your place as an expert within a given industry or niche.
Even the best content marketers face writer's block. When this happens (and it will), why not look back at an old blog post and write a retrospective post that sheds new light on the topic and link to the original post?
As time goes on, your knowledge of a particular subject matter should evolve. It's likely that the industry that you are blogging about has evolved as well. Depending on how long you have been blogging, you may have lots of great content that could use an update.
Find blog posts with lots of comments
Clearly, not everyone that reads your blog takes the time to comment on it. Many blog readers skim the content, get the point, and are on to the next thing. If you have an old blog post that got many more quality comments than usual the subject matter must have been important to them. Why not revisit it?
If you're using WordPress, simply click over to "posts" and then sort your post's comments in descending order.

Read through the comments and create a new blog post incorporating the additional information.  Be sure to quote the sources of the comments and notify them that they've been quoted and ask them to share on social!
Find Posts That Received Lots of Traffic and Juice Them Up
Check your analytics data to see if there are any posts that received an unusually high number of visitors. What was the post about? What new information can you add?
Here's a screenshot of a few of my most popular posts.

Notice that I didn't pick the top post, rather I picked a post that was popular but could be improved to drive even MORE traffic.
How to Improve Your Post
In order to see exactly HOW to improve the post, I recommend that you use BuzzSumo.com.  This is an AMAZING content marketing research tool.
Search and see what's most shared
Simply click on Content Research and select "Most shared" then type in your keyword phrase.  In my case, I used "branding exercises" because that is the keyword from the blog post I'd like to improve on.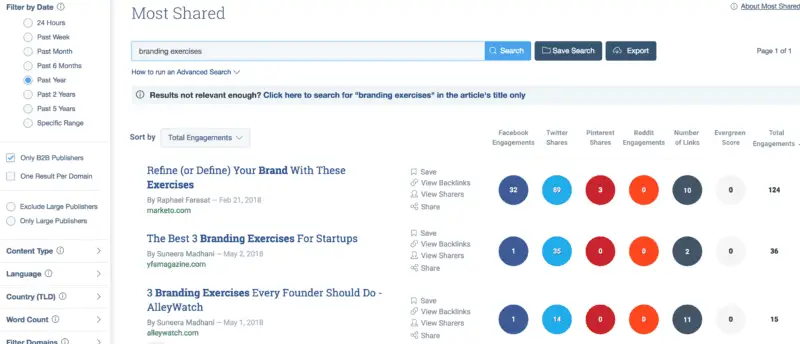 Drill down to relevant sources
The next thing I did was select "only B2B publishers" (you can see that in the left-hand margin) because I didn't want stories about Ivanka Trump or other consumer branding stories, I only wanted stories that were relevant to business owners.
Read the most popular blog posts
Then I clicked through to the most popular stories and read them to see what they included that I could add to my already great blog post.
This is where it gets interesting.  Many content marketing experts will tell you to improve on already popular posts by adding graphics or by providing more detail, but when you actually try to do that, it might feel overwhelming. So I'm going to walk you through my process.
Look for opportunities
One immediate idea is to see what other exercises these popular posts were including and add them to my post — thereby increasing my list of brand exercises.  I can research other branding exercises provided by experts, include them in my list and give them credit.  Also when the post publishes, I can tell them that I used their idea and they can then share that post.
Another idea might be to actually go through some of the exercises yourself and create worksheets and downloads that would help your readers easily implement these exercises.
Add Hot/Timely Topics to Evergreen Posts
Every good blog has a mix of timely and evergreen topics.  As you're checking out the daily headlines or trending topics in your industry, search through your older blog posts and see if you can combine the trend, news or hot topic of the day to an evergreen piece of blog content.
Here's an example of a story that is trending today; Trump has been blocking Twitter followers who are critical of him.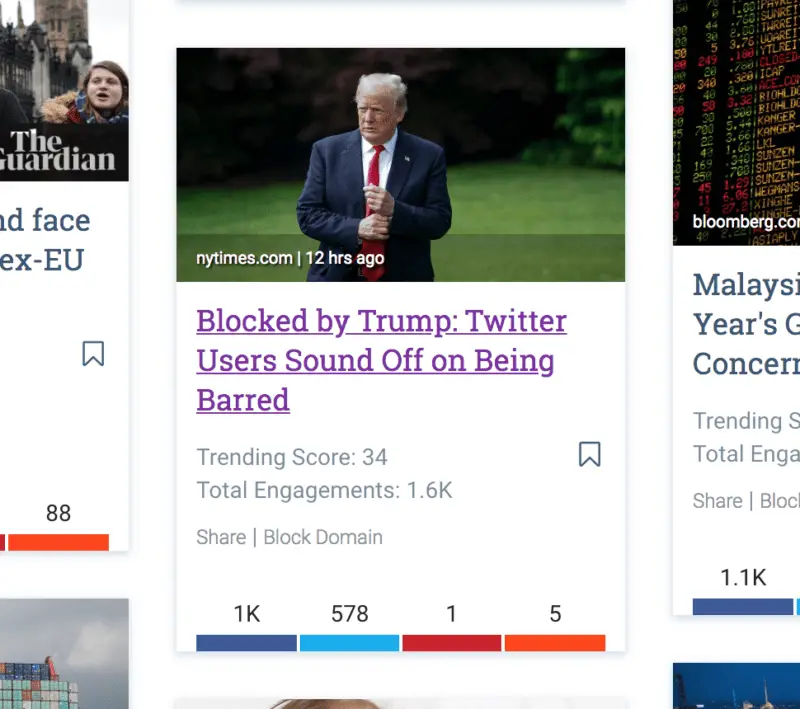 If you've written any articles about Twitter or how to gain followers, this might be an interesting blog post idea that will take advantage of a hot piece of news while providing valuable Twitter tips for your audience.
Create a Round-Up of You Favorite Articles
There's no doubt that there are some blog posts that you are more proud of than others. Point out what you like so much about them and explain the writing experience and process. Include what you might change if you were writing it now.
Your blog post library is the best place to go to find these posts.
I've already shown you how to find the most popular articles, now you can go in and search for some of your FAVORITE articles.  This is a terrific opportunity to take some articles that may not have gotten the attention you think they deserve and put them front and center so you can promote them again.  The other benefit is that you will be creating internal links to great content.  Here are a few articles that will explain why and how internal linking is good for your blog:
Create a Best of the Worst List
It may be hard to admit, but there are probably posts that you look back at with slight embarrassment and think, Really, I wrote that? While you might not want to draw attention to those posts, they are evidence that you have grown and your audience will probably appreciate that. Pointing out your own flaws and recognizing mistakes that you might have made in the past humanizes you and makes you more relatable.
Just because your blog posts are categorized in the published section of your blogging platform, doesn't mean that they are no longer valuable. The bottom line is that there are fresh new blog post ideas right in front of you.  So if you're feeling stumped, try these 5 blog post ideas and say good-bye to writer's block.