These are the best content marketing tools that I've used to write and promote more than 1300 articles.
Content marketing is an incredible way to promote your business, but creating great content can be a challenge. There are many tools that will help you create high-quality, engaging content that will boost your marketing efforts and help you accomplish your goals.
Instead of just dumping a bunch of tools on a list with no rhyme or reason, I'm going to share the top content marketing tools I've chosen to help me create killer content.
This article is for the "ALL" Marketing Superpowers
Want to know what YOUR marketing superpower is?
Content Marketing vs Content Strategy
There is a difference. Content marketing is your overall marketing strategy. It means that you're going to use educational content to drive inbound leads.
Content strategy is one level below content marketing.
Content strategy is the choice you make about
What TYPE of content (written, audio, video, etc)
WHERE the content will be posted (what channels are best for you and your customer)
HOW the content will look and feel (the design of your social media posts, for example)
In other words, it's the nitty-gritty of how you and your marketing teams are going to implement your content marketing.
And for that, you're going to need content marketing tools.
Recently, a friend of mine asked me what tools I use to put my content together. This is a more organized version of my answer.
So, the good news for you is – I'm not going to give you a mish-mash of marketing tools with no rhyme or reason. I'm going to give you the content marketing tools that I use from start to finish.
Tools to help you do content research
Writing content is time, thought and labor intensive. You don't want to waste it. This is why you need to do solid research on your keywords, topics, etc.
For that, you're going to need some SEO Tools.
I'm going to assume that you're not an SEO experts, so you're going to want some SEO Tools that offer just the right amount of information and context without getting too overwhelming.
These are the tools I use that fit the bill.
Criteria for Choosing Content Marketing Tools
There are a ton of FREE content marketing tools out there. I've also purchased access to lifetime deals for a variety of content marketing tools.
(Don't judge me. Some women love shoes, I love tools)
After buying and trying dozens of tools — this is a curated list of the tools that I deliver the best bang for the buck.
Let's talk about how to measure value for content marketing tools:
How often will you use it?
If you're going to be using the tool at least once a day, then anything under $1000 per year is worth it. That's about $3 per day.
How much time does it save?
Let's say your hour COSTS you about $50. How much time does this tool save you? If you use a content marketing tool for 10 minutes and it saves you 3 hours in the future. What's that worth to you?
Is it fun and easy to use?
This may seem ridiculous, but it's necessary. Everyone likes to see information differently. So if a tool gives you information in a way that works for you but it costs more — pay more.
I've learned the hard way that if the content marketing tool feels clumsy for me, I won't use it. If you don't use the tool, it's a waste.
Now that you know this — you will understand why I chose to invest in the tools I'm using.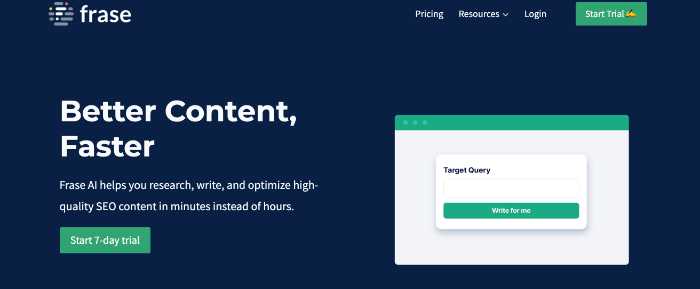 SEMrush is a content marketing tool that helps you research your competitor's keywords and ads, spy on their rankings and traffic, and measure their social media impact. It's a great tool for understanding your competition and improving your own marketing strategy.
Why I love it: The interface is simple and easy to read. I especially love the keyword research features because it helps me choose phrases to create content that I am more likely to rank for.
How much I pay for it: $959 for the annual plan.
Why it's worth the money: This is my biggest investment in content marketing and it's worth every penny. I use it multiple times a day to find keyword phrases that I can rank for and that deliver on ad revenue
[Check out SEMRush]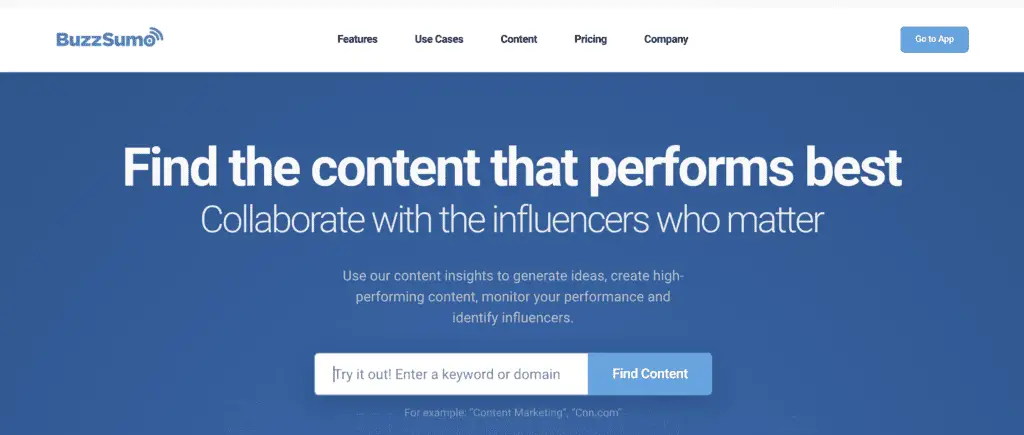 BuzzSumo lets you search for content based on whatever parameters you set. For example, you can type in "facebook" and it'll pull up a list of articles about Facebook from around the web. You can also type in a keyword phrase and narrow down your results to a specific site or topic.
Why I Love it: BuzzSumo has this unique feature where you can see the engagement any ranking article gets. This is really helpful when creating social media posts and coming up with ideas for content.
How much I pay for it: You can use BuzzSumo for free for up to 10 searches a month. This is an amazing deal.
Why it's worth the money: If you are a marketing agency working on influencer campaigns, this is the easiest tool to use to find influencers on platforms you care about.
Tools to help you write content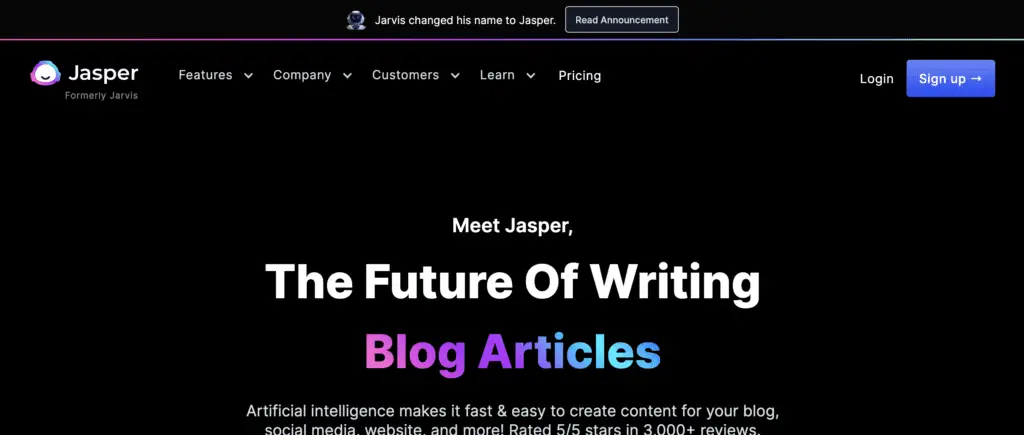 Jasper (previously known as Jarvis previously known as Conversion.ai) is one of the first and by far the highest quality AI writing tools out there. Not only that, but it's supported by a rabid Facebook community where you can get a lot of support and have a lot of fun.
Why I Love it: I love the community, the quality of the content and the fact that it integrates easily with SurferSEO.
How much I pay for it: $590 for the year! I was an early adopter, you'll have to check them out to see what's available.
Why it's worth the money: Jasper eliminates writer's block. Some people use it to write almost 80% of their content. While I do use the editor to write in, I don't use the AI as much as others do. If you're an author, Jasper will increase your productivity and profitability.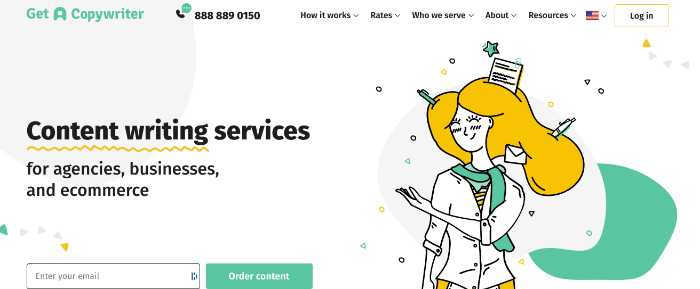 If you want to outsource your content writing and even graphic design, you can try Get a Copywriter. One of my community members recommended it and I've tested out the content writing.
Why I Love it: While you can get cheaper writing, Get a Copywriter is an affordable choice for content marketers who want good optimized content.
How much I pay for it: You can choose a Pro writer form $89 or an Expert writer for $130 for 400 words.
Why it's worth the money: The writers I've worked with over at Get A Copywriter were excellent. I found them to be an excellent supplement to my content marketing team.
Tools to help you optimize your content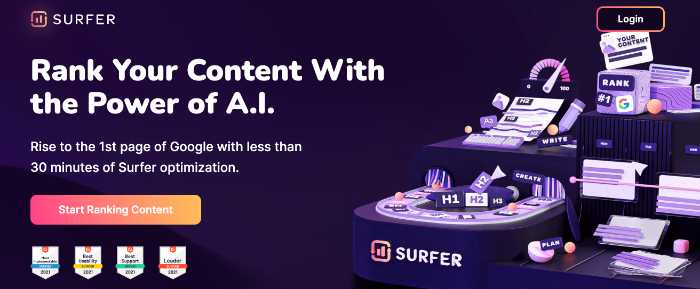 Here's something many marketers forget to do: Integrate the keyword phrases you want to target with anchor text within the first paragraph of your article or post so surfing around will be easy for search engines.
SurferSEO is a fantastic online SEO content marketing tool that makes creating and optimizing your content shockingly simple.
Why I Love it: SurferSEO gamifies writing content. The name of the game is to get as many of the the keyword phrases to turn green and make your score go up!
The feature I love most is the sharing feature. This way if you're outsourcing content, you can share SurferSEO with someone who is not a subscriber.
Another feature I love is the integration with Google Docs.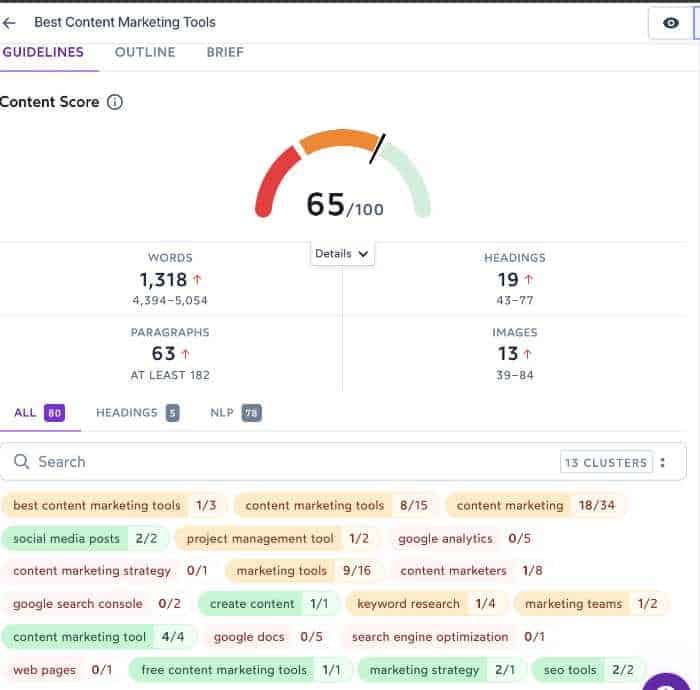 How much I pay for it: $590 per year for the basic plan. This is more than enough for me. If you're writing content for clients, you're writing for several clients.
Why it's worth the money: There's nothing worse than spending time writing "relevant content" only to have it wither on Google. SurferSEO increases your chances of ranking for your keyword phrases.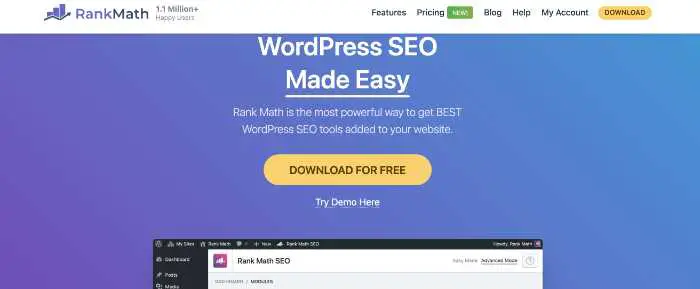 RankMath is an alternative to Yoast's WordPress Plugin that helps you optimize your content for search engines. It's easy to use and can help you achieve better results in terms of SEO.
Why I Love it: I've used Yoast for more than a decade but there's something about the RankMath interface that is so much easier for me to make sure I've put all the basic in place before a publish a blog post.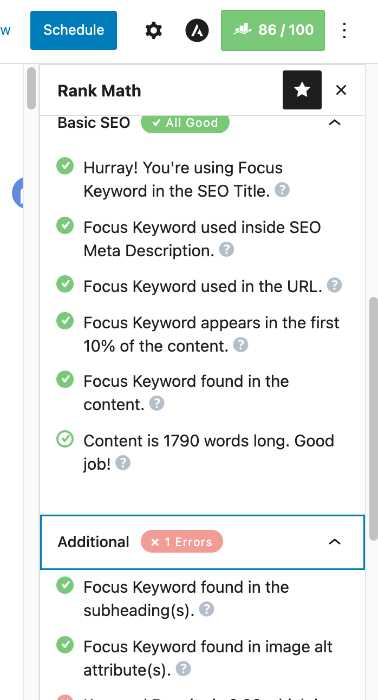 How much I pay for it: $59 per year.
Why it's worth the money: Again, it's all about making sure that you're optimizing your search engine optimization as you write, rather than having to constantly go back and fix things.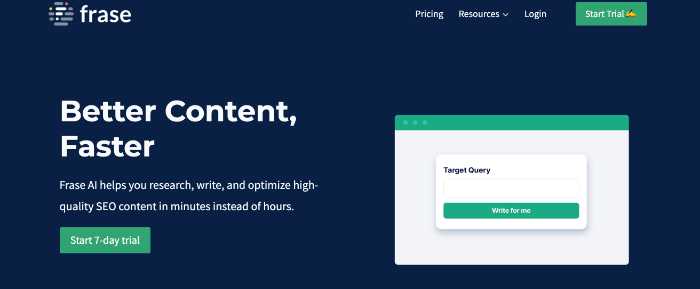 Frase.io is a web app with a desktop application, helping you write content faster and easier, by breaking it down into phases: Researching keywords & insights from your website, writing copy using an artificial intelligence-powered text editor or online word processor, reviewing potential landing pages in the browser before going live on the site.
Frase is an alternative to SurferSEO. I have both of these and I find myself hopping from one tool to the next.
Why I Love it: Frase is a combination of SurferSEO and an AI writing tool. So, if you like the interface, you'll really like this. Just remember, Frase is primarily designed for optimizing content, so don't expect too much from the AI writing feature.
How much I pay for it: I purchased the AppSumo Lifetime plan years ago for something like $69. I also purchased an add-on and now I pay an additional $18 per month.
Why it's worth the money: This is cheaper than SurferSEO, and if you like the interface, this is an outstanding deal.
Create Images for Content
Once you've written your blog posts or web pages, you'll need some visual content. Here are the best content marketing tools that I use to grab and customize images.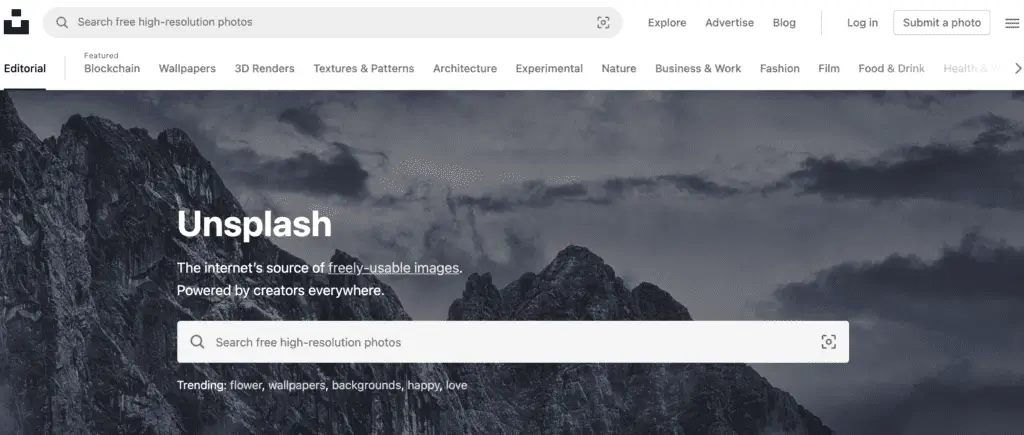 Unsplash is a website where you can find high-quality, royalty-free images to use in your content. The images are sourced from professional photographers and are released under the Creative Commons Zero license, which means you can use them for any purpose without needing to ask for permission.
It's my favorite tool for images because the images are free and you're supporting other artists.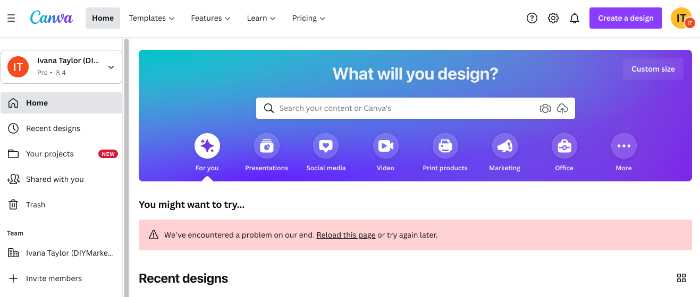 Canva is a suite of free tools that allow you to create professional-quality design projects, whether for work or just for fun.
I use Canva every day to create social media images for my blog posts and web pages.
There are lots of free design templates to choose from, so it's never looked like I'm using stock photography in my content!
Tools to help you promote content
Content creation is wasted if no one sees it. Here are the best content marketing tools that I use to promote content.
There are many content marketing tools to help you promote your content so that it reaches even more people than ever before!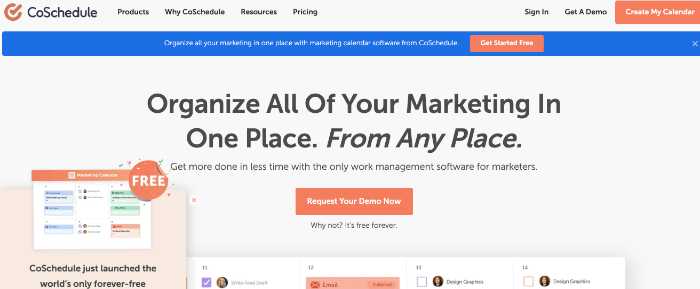 Why I Love it: CoSchedule is THE ONLY content marketing tool that lets you write a blog post, schedule it and run an entire social media campaign with the click of a single button.
It serves as a type of content management system through it's WordPress plugin. It also comes with a chrome extension so that you can create marketing campaigns and share curated content easily.
How much I pay for it: CoSchedule has a generous free plan. I'm paying $168 per year for the social templates feature.
Why it's worth the money: This social templates feature I keep talking about is worth the price of admission. This is really a marketing automation feature that saves me countless hours. I invest 10 minutes writing the social posts and selecting images then press a button and never think about it again.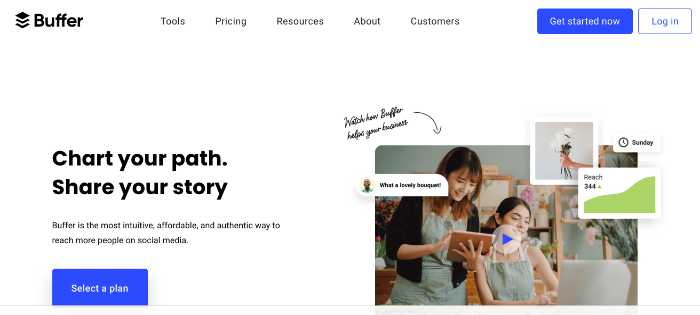 Buffer is a social media management platform that allows you to schedule posts, track analytics, and collaborate with team members. It's a great tool for managing your social media accounts and helping you to achieve your marketing goals.
Why I Love it: Buffer is the most affordable content marketing tool for use with my team. We use Buffer to produce, run and promote our popular #BizapaloozaChat Tweet Chat. The customer service is outstanding and it's super easy to use.
How much I pay for it: $10 per month although you can also use a free account.
Why it's worth the money: We have several team members who run several accounts through Buffer. This is a steal!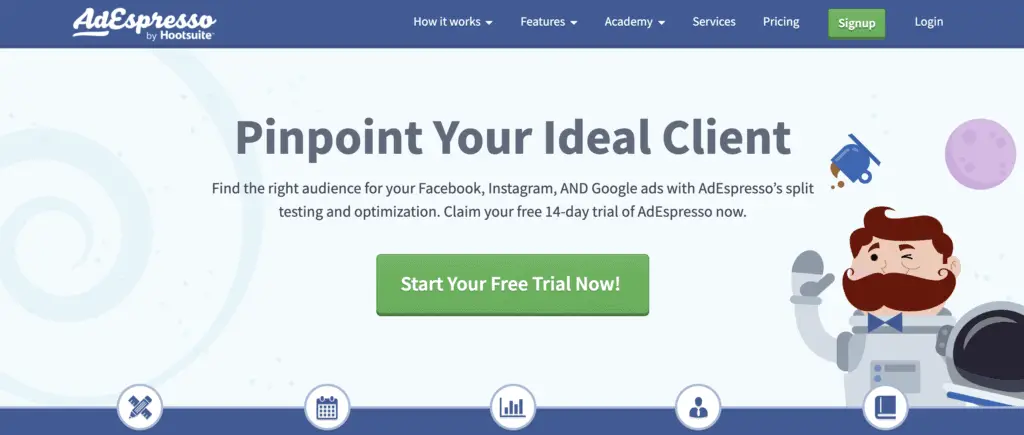 AdEspresso is a great tool that allows you to create and optimize Facebook Ads and Google Ads. This is a very powerful tool that lets you upload up to three different images on one ad, A/B test every image, and optimize your campaign for the best ROI.
Why I Love it: AI powered permutations optimize and show the best performing ads to your audience. The free trial was insanely generous. I ran an entire campaign and got to experience the value.
How much I pay for it: $45 per month. I'm doing the monthly plan because I'm still testing to see if I want to promote ALL of my new content.
Why it's worth the money: It's more difficult than ever to organically promote your content. This is why I've been using AdEspresso to drive cold traffic to new content and to give it a leg up.
Project Management Tools
So, how are you supposed to keep all that content marketing organized? You might want a project management tool to do that. If there's one critical success factor to any content marketing strategy
As of now, most content marketing tools are more focused on creating content, rather than keeping a team organized. While some have calendars, most content marketing teams are left to their own preferences.
So here are my recommendations:
CoSchedule: Best overall content marketing calendar
If you're looking for an all-in-one project management tool, you won't get closer than CoSchedule. You can use CoSchedule to manage content creation, promotion and distribution. It integrates easily with MailChimp and Buffer.
Trello: Best free tool for visual project management
If you're a visual person, you'll love Trello. It integrates with Google Docs and is intuitively easy for anyone to use.
Asana: A good intermediate tool for content marketers
Asana is a great tool that helps you keep track of your projects and tasks. You'll be able to easily see what's been completed, what's in progress, and what still needs to be done.
Monday.com A new customizable project management tool for content marketers
Monday.com is a new project management tool that's been getting a lot of press lately. They've packed a lot of great features into an innovative interface. Not only can you manage your team, but you can also manage your own tasks and projects.
Measuring Your Results
When it comes to measuring your results, you'll want to use the only tools that count for tracking site metrics, Google Analytics, Google Search Console and the analytics features of CoSchedule, Buffer and AdEspresso.
The key to reaching your digital marketing goals with content
Start Your Content Strategy Now
So there you have it, these the tools I use for content optimization tools I use to publish three blog articles a week, hundreds of social media media posts and content promotions.
All you have to do is follow my process from top to bottom to get your content marketing strategy started.