What do consumers want from small business? A new survey series with 1500 small businesses reveals consumer preferences for small business. Embrace this or risk losing out.
If you're a small business, you are enjoying the biggest consumer support cycle from consumers since — you could only buy from a small business.
I don't say this lightly. Large corporations and chain stores are ubiquitious and convenient, and affordable. But small businesses have something large companies are paying billions to gain (and failing) — the attention, hearts, and wallents of everyday consumers.
It's Hip to Buy Small
It's been a long time coming, but consumers are basically sick and tired of giving their money to big companies. Yes, they still do (otherwise Target, Wal Mart, and Amazon wouldn't be where they are) but, given the option, they'd rather go small.
Small Businesses Have Competitive Advantage a Large Company Can Never Have By Virtue of Who They Are
Having worked with both large enterprise companies and small businesses, I've observed an interesting phenomena; small businesses have tried to look big (to compete with larger busineses) and big businesses have tried to look small (to create that emotional connection.)
But here's the funny part — small businesses have won the hearts and minds war! And what's that?
Here's what small businesses can do hands down that a large company simply cannot do — by definition of who they are:
Keep its money in the community: Consumers often prefer to shop at local small businesses because they want to support their community and contribute to its prosperity.
The Institute for Local Self-Reliance conducted a study in several small Maine communities. They found that $100 spent at local independents generated $45 of local spending, compared to $14 for a big-box chain.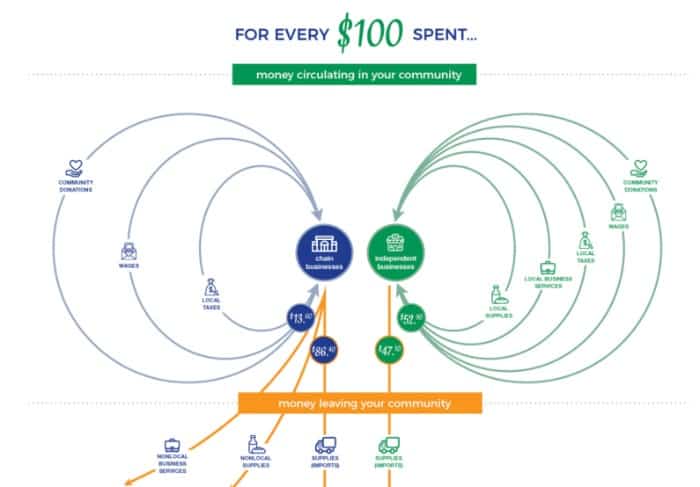 Deliver authentic and personal customer service: Small businesses often provide better customer service than larger corporations, which can be a major factor in consumer decision-making.
Provide unique products: Small businesses often offer unique products that cannot be found at larger retailers, which can be a major draw for consumers.
Reside and participate in the community: Consumers want to purchase from companies that share their beliefs and values, and are more likely to support businesses that engage in corporate social responsibility.
Big businesses and investors are gobbling up small brands or creating small brands to create this "local business" emotional connection — but it isn't working
Consumers are smarter — and they have upped their game in vetting the companies they will buy from. As Millennials and Gen Z continue to earn more money, they are doing their research and walking with their wallents.
Check out this guy!
Look, it's not new that consumers like small business, but I was curious about the numbers. So I jumped into my QuestionPro research system and ran a survey.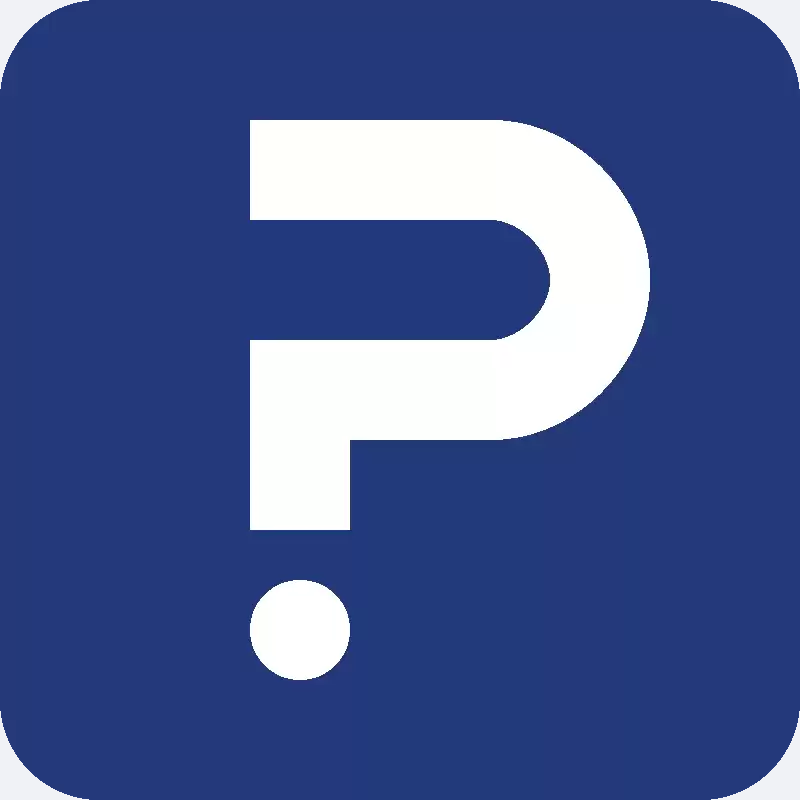 Want Data Like This?
QuestionPro's DataStream Partner Program is designed for influencers, creators, and media companies to have exclusive access to the advanced QuestionPro's Software Platform, Audience & Research.
For more information: https://www.linkedin.com/in/timothyjcornelius
Learn More
We earn a commission if you click this link and make a purchase at no additional cost to you.
Here's what we learned:
Consumers prefer a small or independent business every time, regardless of price
OK, so we know that consumers prefer to purchasing from an independent business, but the strength of that preference is what blew my mind — 74%! That's three out of every four consumers want to purchase from a small business!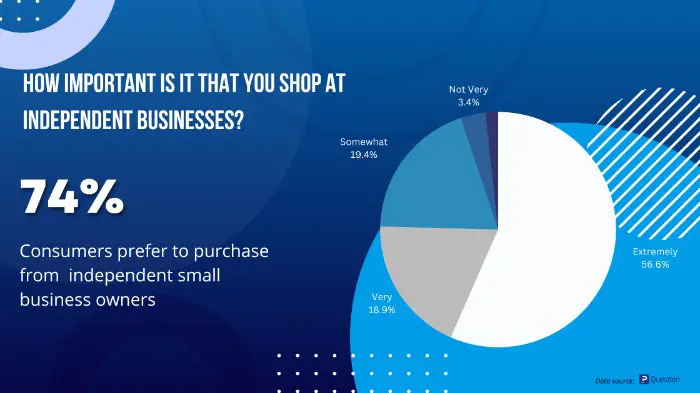 And, more than half of all consumers are willing to pay more to purchase from a small business.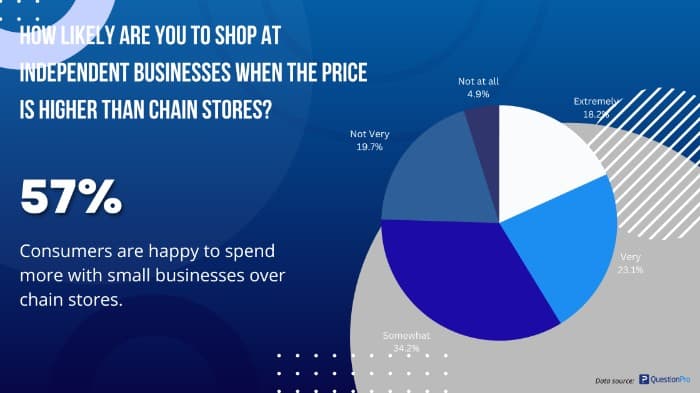 Consumers are passionate about supporting the businesses who share their values and beliefs. They want to buy from businesses with whom they can be on a first name basis.
This connection is so strong that you, as a small business, can stop worrying about competing with the big guys and just do YOU.
And this is where it gets interesting.
Now that you know that you have an entire population of potential customers who are looking for a reason to buy from you, how can you welcome them?
Marketing Tip:
Embrace that consumers would rather buy from you!
Ask your existing customers why they buy from you, what makes you different than other alternatives.
How Consumers Choose Who to Buy From?
So how are customers finding you? You won't be surprised by this. It's all about getting referrals and recommendations from friends and family.
Great customer experiences drive referrals and recommendations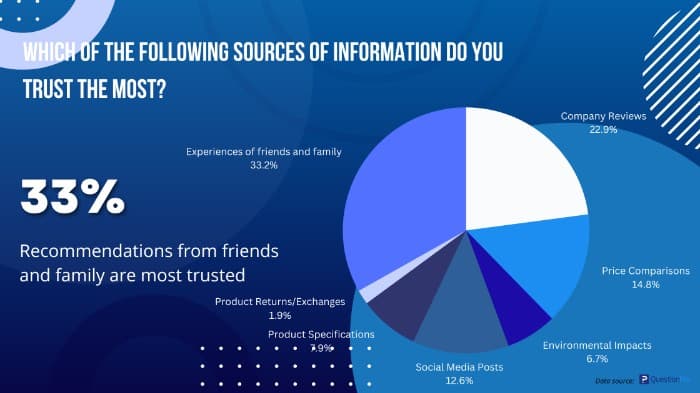 Creating a great customer experience is your best investment of marketing dollars.
It's not enough to just work on generating referrals. You see, it's the quality and consistency of their customer experience that also impacts how sensitive they are to price.
Price and affordability play a powerful role in driving purchasing decision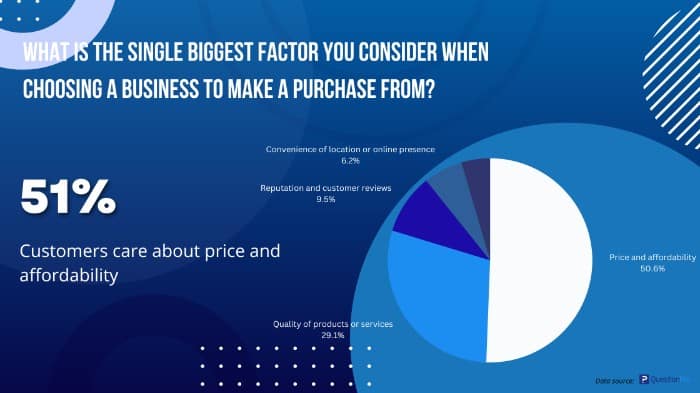 I started this section by saying that consumers want to buy from small businesses regardless of price.
So why is price and affordability such a big deal?
Well, the intersection of experience and price is where VALUE lives.
In other words, something wonderful has to happen over and over again to trigger a referral.
And that brings us to our next finding.
Consumers want to buy from businesses who match their beliefs and values.
Marketing Tip:
Ask your customers: "What is one thing I can do to improve your experience?"
Choose one element of the customer experience to improve on and put 100% of your effort to move the needle. It can be something as simple as responding to customer requests within an hour. It could be establishing some type of no questions asked guarantee. It could be that you simply engage with your customers in a more personal way.
A clear and obvious point of view that communicates your brand values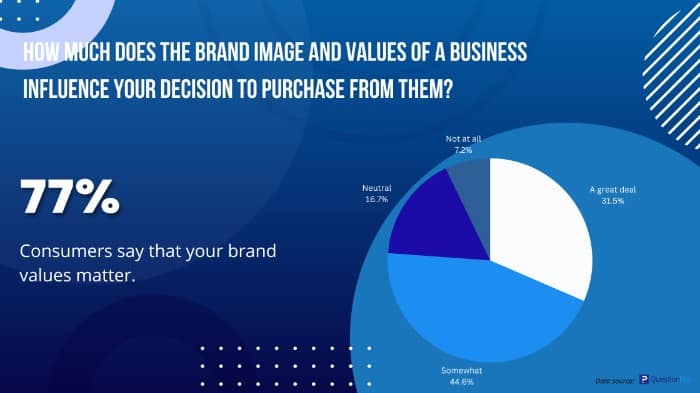 There are more than enough customers to go around. So don't be afraid of putting your beliefs and values out there.
In the past, there was a tendency to try to appeal to everyone and not rock the boat.
Times have changed. I'm not sure if it's a good thing or a bad thing, but it's a thing.
Put your beliefs and values out there. Weave your unique voice and personality inside your business.
Whatever your passions — share them with your audience.
Marketing Tip:
Make a list of your beliefs and values
Work your list into a mission, vision, or manifesto
Look for all the ways you can incorporate your belives and values in physical and online elements of your business.
A crazy example of turning your values and beliefs into a theme — The Heart Attack Grill
The Heart Attack Grill started back in 2005 in Tempe, Arizona, when Jon Basso had a wild idea. It all started when he was working on a marketing thesis about fitness studios and heard stories of his clients sneaking off their diets for some guilty pleasures. That's when he decided to create a place where people could indulge in what he called "nutritional pornography" – basically, really, really unhealthy food.
He went extreme with the idea and infused it into every aspect of his business.
Now, you don't have to go that far, but this extreme example shows you exactly how taking a stand (no matter what it is) can create an experience that keeps people coming back
Offer Discounts – on social media, in emails, everywhere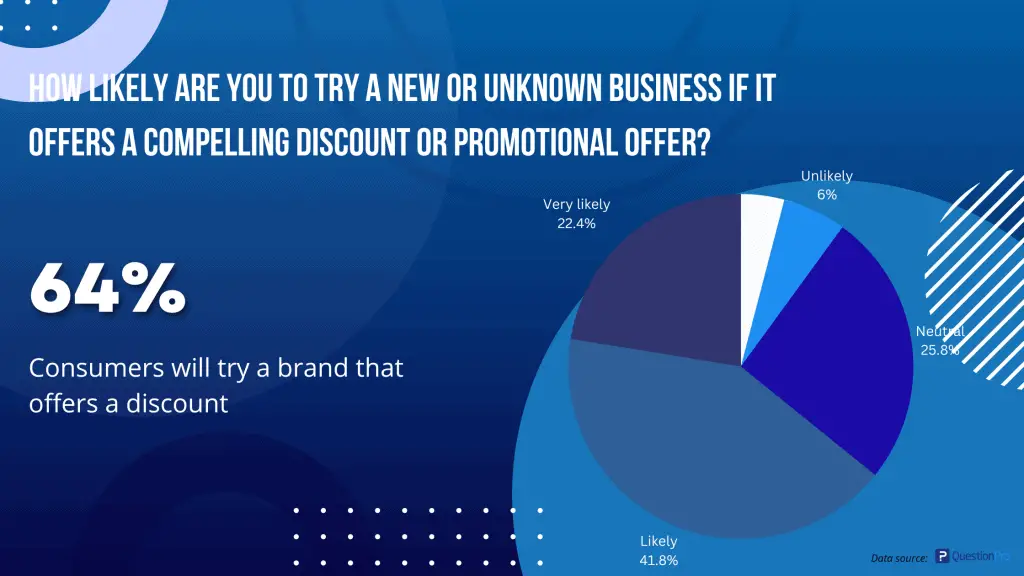 Yes — everybody loves a discount. This result from our survey matches the thousands of others out there.
But I want to put a twist on this — because I don't want you to think that it's all about low prices. Remember, if you deliver a consistently great experience, you're going to get the business — even if your price is higher. So relax!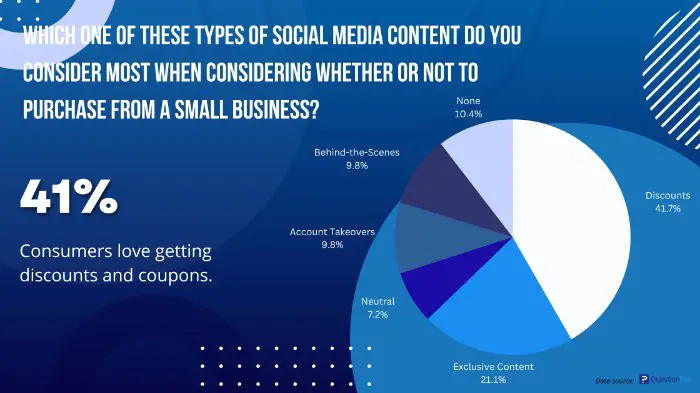 Marketing Tips for Discounts:
Set a "list price" for all your offers. This will be the highest price you intend to charge. This way you will not have to raise prices and you can always offer a variety of discounts.
Create a series of discounts and offers that you can use in advance. Work in partnership with you accountant, bookkeeper or business manager to come up with profitable discounts that won't hurt your bottom line.
Does Engaging on Social Media Generate Sales?
If you've ever wondered if it's worth investing in social media engagement — don't.
Engaging with a small business on social media is a part of consumers' research process.
Social media engagement is a precurser to a sale – the more you engage, the more you will sell (and maintain a profitable price point.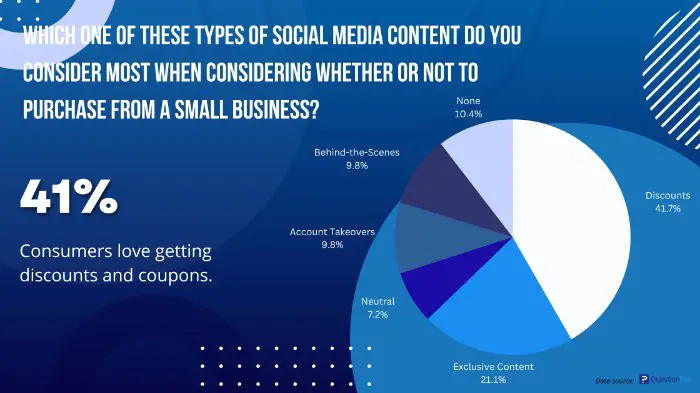 Social Media Marketing Tips:
Create a Facebook page and Facebook group and take the time to figure out what you're going to post. Remember, your customers want to see other customers, they want to see the inside of your business, they want to have an experience with you before they buy.
Consultants, coaches and thought leaders often offer live events and workshops to build relationships, answer questions and help their audience overcome obstacles and choose them.
Enroll your community to post and share on your social channels
Future customers want to see who your current customers are an to see them having an experience with you.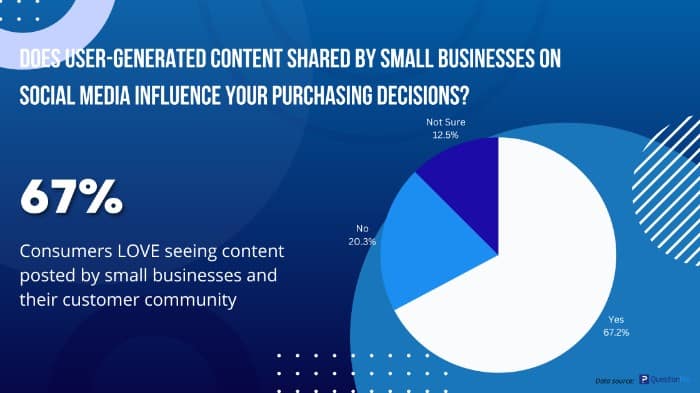 Social Media Marketing Tip:
Enroll your existing customers to share their experience with your products or services and post them on social media.
Create opportunities such as contests and events that encourage your audience to engage with you and other customers.
Offer special discounts to highly engaged customers.
Social media contributes to loyal customers
Given everything we've talked about, it's no surprise that 70% of consumers are going to stay loyal to the businesses with whom they have relationships on social media.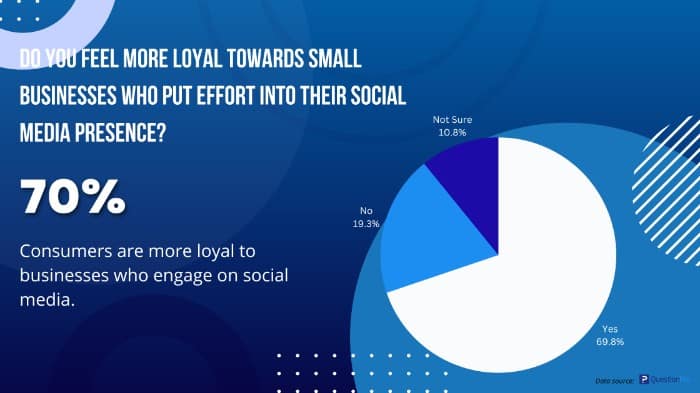 Building Customer Loyalty Tips:
Cross-pollinate your offline audience with your online audience. In other words, drive your social media audience to your business and drive your offline audience to your online spaces.
Design and create opportunities for customers to build relationships and communities with each other around their shared love for your brand. This can include online and offline events, customer-only discounts, special "off-menu" items that only community members get to take advantage of.
They Like You — Really Really Like You
Being a small business is your superpower! Embrace it! Today, it's all about YOU – the passionate local entrepreneur offering personalized service, unique products, and a strong community presence.
You have that special sauce that no large corporation can ever replicate. And the best part? Your customers absolutely love it.
You don't have to worry about generating demand as much as you need to invest your time and money into getting close to your audience, build relationships with them on social media, create that unique experience that speaks to your mutual values and beliefs.
Your biggest challenge is going to be letting go of the scarcity mindset and focus your energy on what works for you and your customers.