These days, it's really hard to get your prospects' attention; emails go ignored calls go unanswered, reaching out on LinkedIn feels icky.
So what is left?
Plenty! If you're looking for a process and a list of ideas, you're reading the right article. If you're looking for a silver bullet, you've come to the wrong place.
Your prospects are sick and tired of getting cold messages that could have been sent to hundreds of people at a time.
They want to feel like you know who they are , that you've thought about what their problems are and that you have a solution that will work for them.
So how do you approach each prospect in a new, creative way? How do you impress your prospects, get them to open up and really listen to what you have to say?
In this article, you'll get a process and a list of ideas that you can use to turn every cold prospect into a warm conversation and an initial meeting.
3 Big Reasons It's So Hard to Get Your Prospects Attention
Pitch Aversion
You are someone's prospect and you do it too; unsubscribe from frequent emails, ignore and block calls and messages.
But, you don't avoid ALL pitches, there are some pitches you listen to. What is it about them that makes you stop, or take the call?
You know the person and you like them.
They've interacted with you and your content over time.
They've taken the time to actually read, process and form an opinion about your content, product or service.
You actually need, want, and are looking to buy what they are offering.
Hit and Run Sales Calls
Two percent of sales calls yield a "yes" on the initial call. Based on experience, a lot of sales professionals would rather reach out to a thousand people to get twenty sales than reach out to twenty-five quality people to get 20 sales.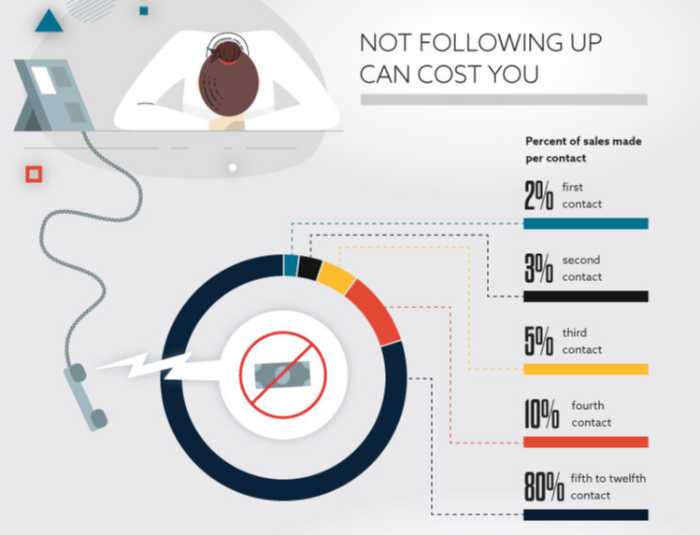 (Source: IRC sales solutions)
In this chart you can see that 80% of sales happen after the twelfth follow-up!!! That means you have to grab the prospect's interest to get your prospects' attention.
Sales success comes from using a clear sales strategy and sales process. You already know that a commitment to following up yields results.
Irrelevant Offer
Think about those times where you successfully got your prospect's attention, I'll bet that they needed exactly what you had. The 90% of people you're reaching out to do not NEED, want, or value your offer. This is a targeting problem.
So, you're either targeting the wrong person, or you haven't framed your sales pitch in a way that addresses their biggest challenges.
How to Increase Response Rates and Get Prospect's Time
You can't control what your prospect does, but you can control how you approach your process in a way that grabs the buyer's attention.
Prepare, Practice and Present
Wendy Weiss, President of Cold Calling Results, and prospecting expert, shares her "Salesology" process for effectively turning calls into appointments.
She recommends the same process she used as a professional dancer to train high performing sales teams on how to get prospects to pay attention, but to turn that attention into a meeting and that meeting into a customer.
Her process is simple; preparation, practice and performance. Preparation means doing your research.
Who will you reach out to?
What do you know about them?
Do they have a problem you can solve?
What is their pain point?
Then you have practice. Wendy recommends prioritizing your prospects into a list where you start with the prospect with the least impact on your success (maybe a smaller business). Then you work your way up to the prospect with the biggest impact on your success, say a fortune 100 company.
Create an Authentic Connection
While sales reps spend a lot of time preparing what they are going to say about their product or service, few take the time to plan a solid connection to their prospect.
There are lots of ways to create a connection and all of them require time, attention and planning to give you the best shot at taking advantage of short attention spans and get your prospects' attention.
Here are a few tips on how to create an authentic connection.
Create a spreadsheet of targeted contacts
Brian Moran has a wonderful recipe for how to put his tactic into practice:
Sit down and start researching companies and specific people inside those companies who qualify as your ideal customer or who might be interested in what you have to offer.
Check out your prospect's LinkedIn bio, and other social channels
Be sure to add their website, social media channels and any other relevant information.
Michaela Underdahl from Nimble also has some powerful tips on how to keep track of your notes.
Engage with your prospect and do something for them
Take time every day to visit their profiles and ENGAGE (not pitch) with their content. Make a personal connection by taking notes and visiting any articles they shared.
If your prospect is a content creator — share their content, comment on their content, ask questions about their content.
If your prospect is a direct marketer — learn a little about their business, see if you can refer people to their business, or, ask them what they are promoting so you can help them promote it.
The key is to GIVE before you receive. And you need to do nice things for them multiple times.
Always be qualifying
If you follow this process as I've laid it out, you'll quickly discover if they are, indeed a qualified prospect or maybe they are a potential referrer.
Use their preferred method of communication
If you've been researching your prospects, and attempting to engage with them over social media, you'll have a good idea of how they prefer to communicate.
Your goal should be to move this relationship from a third-party platform to email, then a call and then a presentation if it's appropriate.
What to do AFTER You Get Your Prospects' Attention
By this stage of the process, you should have developed close to those twelve follow-up touches and built a relationships. And this is what's going to make this next section ten times more effective.
Not only that, but you've built up some credibility and have exponentially increased your likelihood of grabbing someone's attention and scheduling a meeting.
Every single one of these tips is designed to work AFTER you've developed a relationship with your prospect. While many people use all these examples cold — they just don't work cold.
Each of these is designed to take a cold relationship warm.
Send them a celebrity shout-out with Cameo
Cameo lets you hire celebrities to create personalized videos that make memorable gifts, thank you's or creative connections with prospects.
In this video Bill Jelen explains how he used Cameo.
As an example, here's a video that Bill sent ME as a thank you present.
Send a fun and personal video
You don't have to hire a celebrity to send a fun message, you can send them a fun and interesting video.
I've had people send me a video like this as a first contact, but I really didn't like that — especially if we hadn't had any interaction. They were going on and on about something that had NOTHING to do with me or my business — DELETE.
This is why you don't want to use this idea until you have some connection with your prospect. So DO YOUR RESEARCH first and they will respond.
There are two tools I really like for this tactic:
Hippo Video is a video creation tool that makes it easy to create videos by combining text, images, and videos from your computer, phone, or the web. You can then share them with your team or publish them on social media.
One of the things I like about Hippo Video is the many examples they have to help you create a fun and engaging way to send to your lead and encourage them to take the next step.
Loom is a free app that lets you record videos of your screen and share them with others. You can use Loom to record tutorials, answer customer questions, and more. Like Hippo, Loom makes it easy to add a video to your email.
Power-Up Email Signatures
Your email signature is the most underused real estate that you can use in your sales process.
Here are a few examples of email signatures that will do the selling for you.
Add an easy-to-find link to a calendar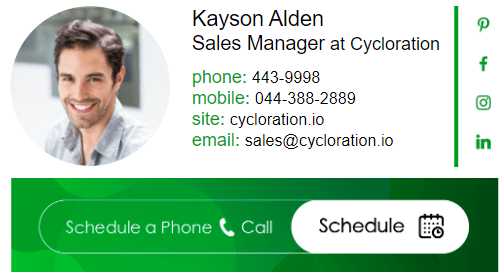 Feature a link to a website with a recorded webinar, video, case study or something else.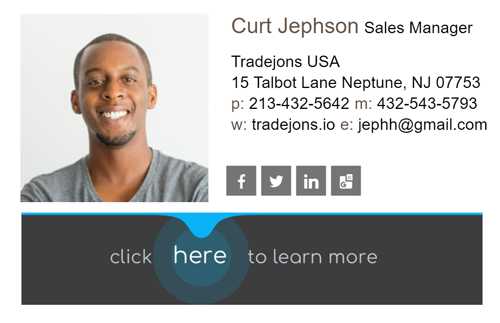 Provide a relevant coupon or discount offer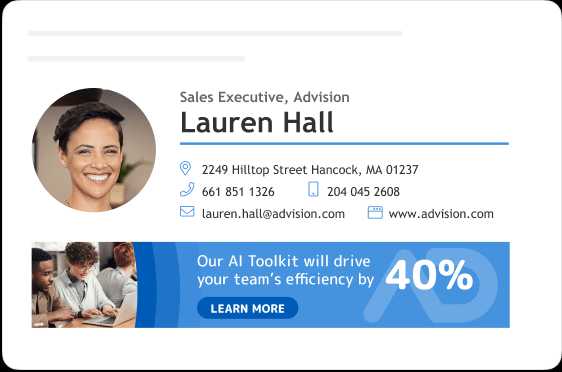 Use a relevant and powerful subject line
Cold outreach emails tend to be overly creative.
Include a fun GIF in your emails
This is another type of outreach email that I've received from sales people looking to get my attention. Unfortunately, they come in cold, so the GIF feels like an overreach.
BUT, if you've already got a relationship with your prospect, they can really help you seal the deal.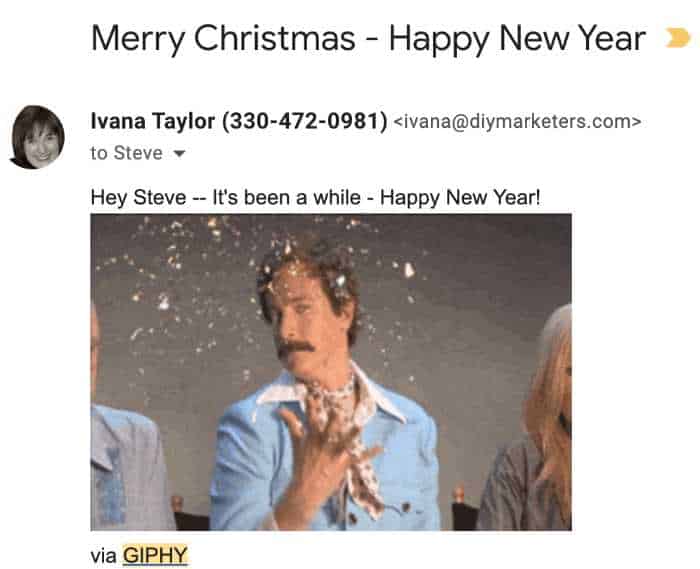 Take Your Time to Do It Right
The one thing you should take away from this article is that while you COULD do mass outreach, I encourage you to take your time to know your prospects. Invest most of your time upfront in choosing the right prospects and building a relationship with them. This is what will give each of the ideas shared here even more punch.