You're probably not thinking about how to choose a web host, but you should. Web hosting is an often ignored element of a business website. But it shouldn't be. Think about it. Your web hosting service is your web site's HOME. So you want to make sure that it's a safe place for your web site.
A lot of small businesses have their web sites hosted with a "friend" or even with an industry group. This isn't always the best idea. The businesses that I've worked with who have this arrangement have clunky, poorly designed sites that aren't keeping up with the times.
Look, your web presence is important. So if you want to attract and convert the most customers, you need a hosting package that provides the best experience for your customers.
This is why I've pulled together this short list of tips for choosing the best web hosting services that no one talks about.
1. Invest in the best hosting provider for your business
Remember, you get what you pay for. It's tempting to use a free or super-cheap web hosting provider. But your web site's performance and security can be affected. If you're running an online business, you need to make sure that your site is up and running all the time. So it's worth spending a bit more on a quality web host.
Here's a hint — pay special attention to your web hosting plan and what server resources the web host offers.
Today, every website needs SSL certificate support. The good news is that most web hosts offer that as a standard part of any plan.
Here's an example of WPEngine pricing. WPEngine has a great overall reputation for speed, service and it's pretty affordable too.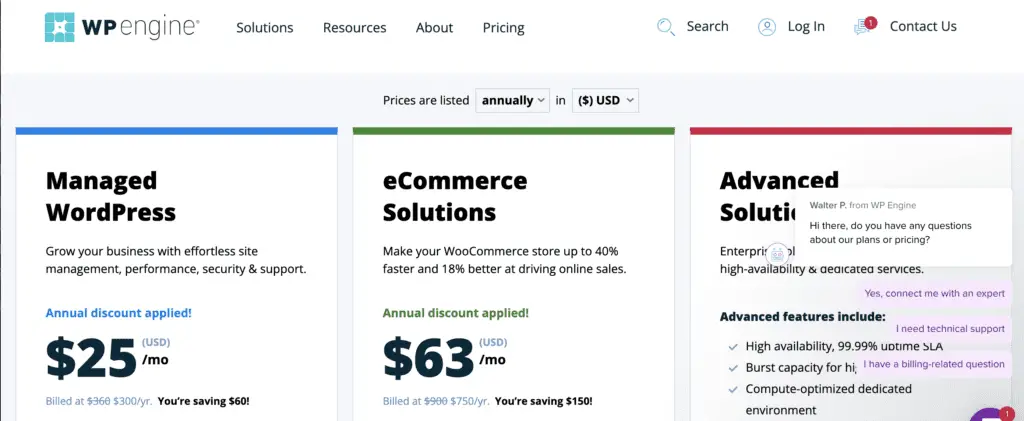 2. Domain registrars (where you buy your domain name) aren't always the best web hosting services.
"Back in the day" there were registrars and web hosts. Today, registrars have gotten into the hosting business and web hosts have gotten into the registrar business. You can certainly keep everything with the same company, just remember that with a registrar, you aren't getting the best web hosting and with a web host, you aren't getting the best registration service.
3. Choose a web host that offers great support (including chat).
When is your site most likely to have issues? In the middle of the night, on a holiday or some other supremely inconvenient time. You want to look at web hosting providers that are open 24/7 with a solid support team who can fix what's wrong over chat. The best web hosting service will have enough staff and tech support to keep your site up and running.
4. Choose a web hosting service that's built for speed.
Did you know that a slow website is costing you customers? You know from your own experience that if a site takes too long to load (especially on mobile) you are out of there. Your web hosting company plays a BIG role in how quickly your website loads on desktop and mobile. Here's what to look for:
Look for server response time between 100ms and 200 ms. Between 200ms and 1 second is considered acceptable, but should be improved. Above 1 second, your site is considered too slow.
Make sure that your web host is using SSD's (Solid State Drives) this is the latest, greatest and fastest type of drive.
RAM (Random Access Memory) is another important ingredient for a fast web site. Just like with your computer — more RAM is better. Get as much as you can afford.
Lots of Bandwidth. Think of bandwidth as a pipe through which information goes through. The bigger the pipe, the faster the site.
5. Fastest Web Hosting Services
Many web hosting services talk about how "fast" they are. But which cloud hosting is fastest? That depends. So, I did some research to see which web hosts were mentioned most often for providing the fastest speeds.
These are the web hosts that were mentioned most often as being the fastest: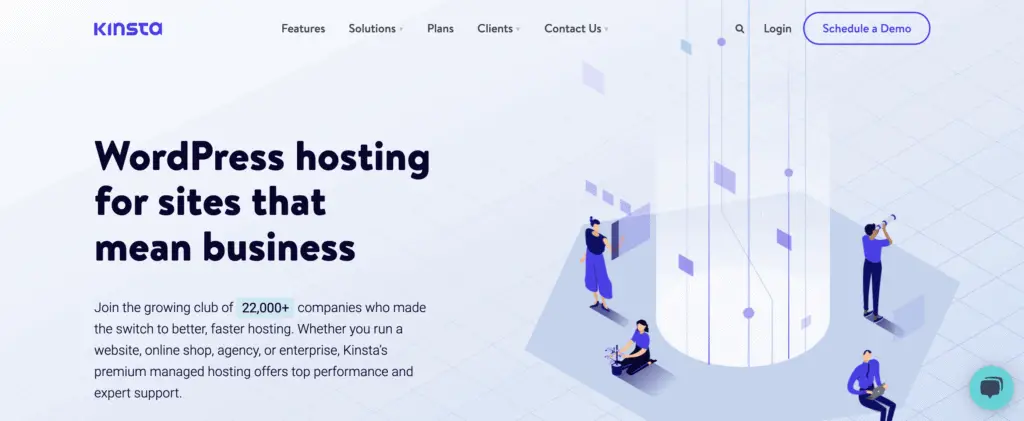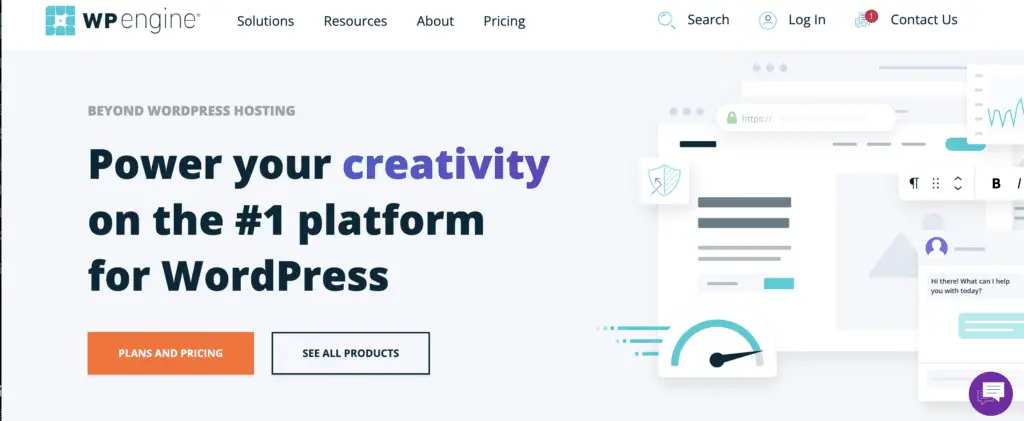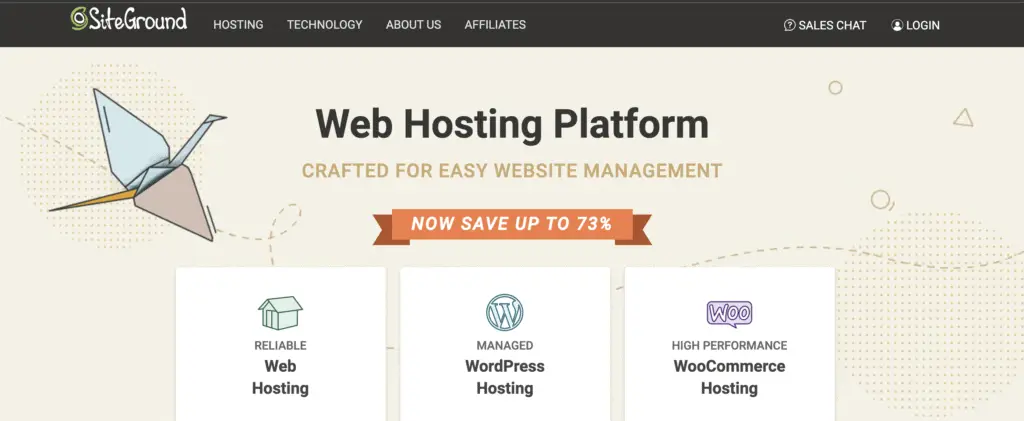 6. Use dedicated hosting if your site gets more than 10,000 visitors.
Think of "shared" hosting like an apartment building. You are sharing space with other web sites. Many small web sites can get by with shared hosting, but when you reach a certain level of traffic and need the capacity to grow, then it's time for a dedicated server. Dedicated servers also allow better isolation and security in managing your site.
7. If you have a WordPress site – choose managed WordPress hosting.
A managed WordPress hosting service provides an additional layer of security for your site. They are experts at updating both WordPress software and the plugins you're using on your site, so you don't have to worry about doing it yourself. Not only that, but they'll know how to troubleshoot problems with themes or widgets, which can save you time on the phone with a third-party customer service representative who doesn't know what they're talking about.
8. Check their contract for uptime — 99% isn't enough!
Many web hosts will say that they have 99% or 99.5% uptime. That seems like a good deal, but remember, if they say 99% that can be 87 hours of downtime- so if you get 10 visitors per hour that's 870 lost leads! Granted, if your website doesn't get as many visitors, that may not be as important. But if you get leads from your website, this can be a critical factor.
9. Make sure they offer a "staging site" or sand box.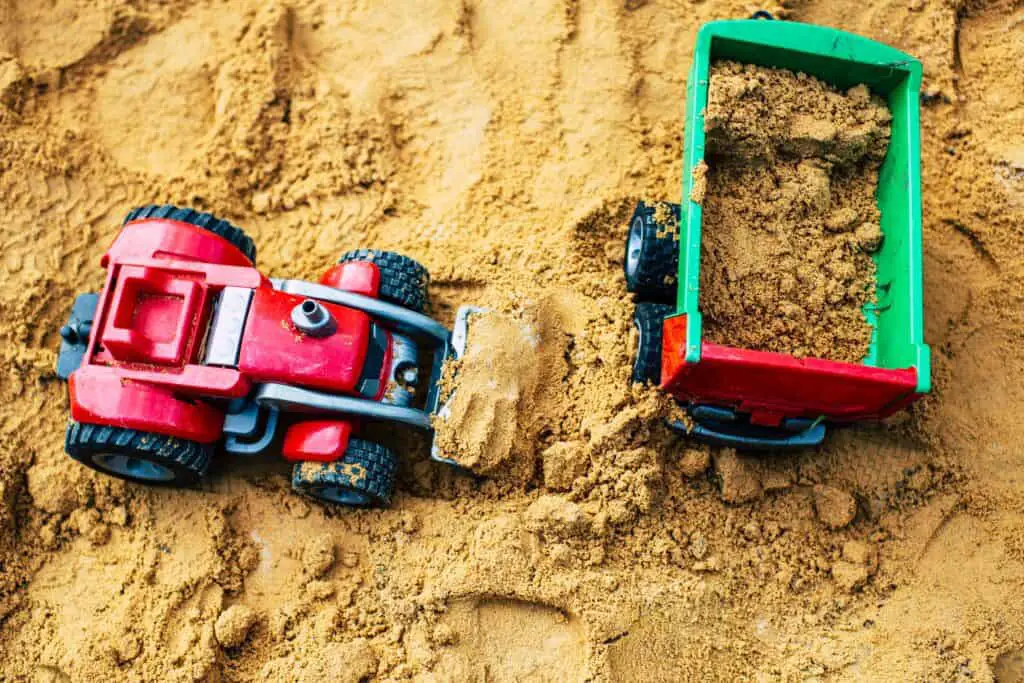 One really terrific feature that's offered by the best web hosts is "staging" or a "sand box" feature. A staging site is a preview website that you can use to test out things like new features, blog posts or web pages before putting them live on the production site.
The great thing about a staging site is that it lets an online business experiment without impacting the main website at all. Unlike developing locally and testing in a browser, if something goes wrong with a staging site it has no effect on your live site.
10. Features web hosts offer you might consider
Virtual Private Server: If your business deals with a lot of sensitive data, you want to consider using VPS hosting.
Site Builder: If you aren't running an online business, but still need a website, this is a great feature to have. GoDaddy has a great hosted website builder. You can also choose Wix, Weebly, or Squarespace.
Free SSL certificate: SSL certificates are essential if you want to do e-commerce or process credit card information. They make sure your business data is safe and secure.
Free Website Migrations: Some web hosts will upgrade your site for free when you sign up with them. This makes planning a website move much easier on you, the business owner!
11. Hosts I recommend
Best Service Pick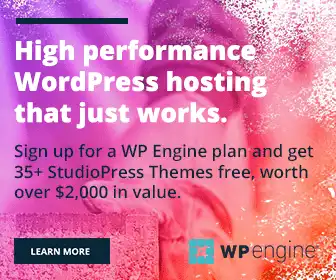 WP Engine+StudioPress
I've used WP Engine for my website hosting for YEARS! If you're just starting out, this is a terrific service at a reasonable price.
Host My Website
We earn a commission if you click this link and make a purchase at no additional cost to you.
Feature Summary Checklist
To keep things simple and in one place, here's a feature summary checklist.
Site backups and backup services: You must, must, must have backups for your site. Things happen and you want to make sure that keep a backup that you can restore.
Hosting plans that include: managed hosting, shared hosting or shared server, virtual private servers (VPS hosting plans), a CDN (content delivery network), unlimited storage.
Website builders: If you really want to keep things simple, you can take advantage of easy website building straight from the host.
Optimized website performance: A great host will always be updating their systems to keep your website optimized.
Conclusion
Choosing a web host is an important decision, so it's worth taking the time to do your research before making a commitment. The article gave you some helpful hints for choosing a great web host that will give you everything you need and more without any of the hassle or headaches!
Which hosting company have you chosen? Let us know what led you to their site — maybe they offer features that were unexpected or perhaps there was another factor which influenced your decision?