Ugly websites are costing you customers.
There's just no other way to say it.  I've worked with dozens of small business owners over the last couple of years who have come to me begging for help because they didn't have enough customers.
Do you know what they all had in common?
Ugly websites.
You see website design matters. It matters more than you thought.
This is anecdotal, but there's research out there that supports my experience. Here are just two little data points.
75 percent of consumers admit that they judge businesses' credibility based on their website design. (Kinesis Inc.)
 85% of B2B customers search the web before making a purchase decision, your website has the best chance of being a prospect's "first impression"
Awesome Website Templates Fix Ugly Websites
Choosing the wrong website design for your business is like wearing a baseball uniform for your wedding.  There's nothing wrong with baseball uniforms and weddings are awesome, it's just that they are two very different events.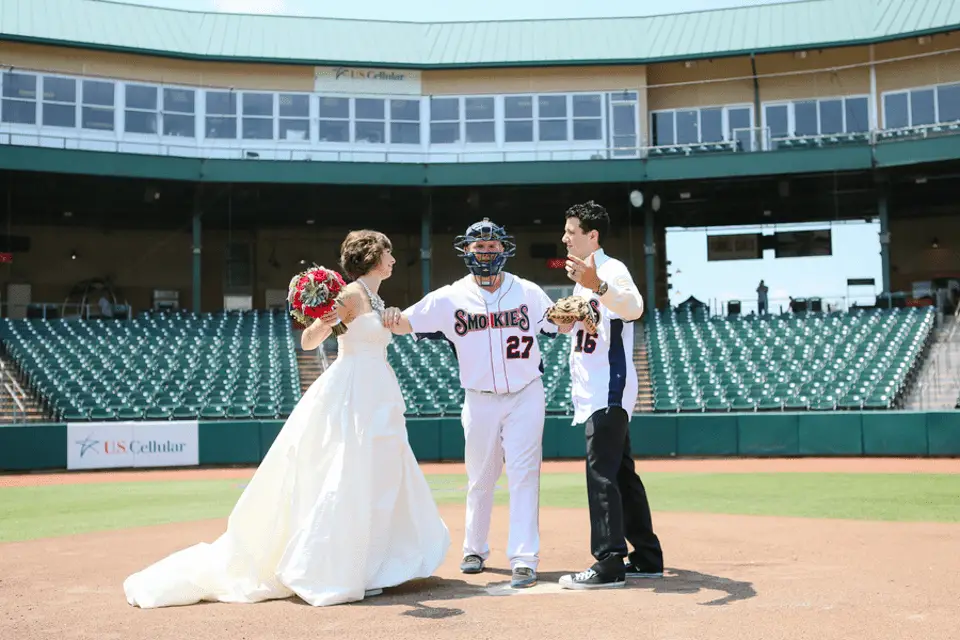 Lucky for you, there are hundreds of thousands of brilliant designers out there who have created website templates that will knock your socks off. And here's the best part — many of them are FREE or cost less than $50!
So, instead of thinking that you have to spend time and money creating a website from scratch when you feel like a complete doofus about websites — don't worry – there's a template for that.
How to Choose a Website Template
Every website builder has thousands of professional web designs.  All of the website templates are organized by business type (such as photography or restaurant) or they are organized by content type (magazine or landing pages).

While this is certainly helpful, it doesn't seem to be helping business owners choose the right template for their business.
4 Steps to Choosing a Template for Your Website
In this article, I'm going to give you a step-by-step guide that will help you choose the best website template for your business and a few tips on how to use that template to make your website attract just the right customers.
1. Be your customer and go through the buying process
Every small business with an ugly website does the same thing.  They build a website from their point of view, instead of their customer's point of view.
Put yourself in your customer's shoes and go about the process of buying what you're selling.
Search Google for the problem you're trying to solve. "basement waterproofing in (your city)" Here is an example of two different websites for basement waterproofing in my area:

Which would you choose?
The first template on the left is neat and clean with a single call to action. The second one is all over the place. It looks like they haven't updated this website since 1995! Maybe that's why the company on the left was on page 1 of my Google search and the company on the right was on page 5!
If you have a basement waterproofing problem, you need a solution YESTERDAY — and the example on the left understand this – they give you the choice to read more or to get a quote. You don't have to search or read, just click.
Search on various phrases your customers might be searching for and click through websites that are listed on the first page and then websites that are listed on pages 4 or 5 of the Google results.  You'll immediately see a difference.  Google rewards websites that are clear and easy to understand.
Make a list of things you like and you don't like. Also, make notes on what your impressions are for each example that you click through.  Notice which elements of their websites make you want to click and see something and which make you want to run away.
2. Think about how your customers find you and what information they need to see on your website.
How do you get customers?
Do you get most of your customers from the internet or do you get most of your customers via face-to-face selling or networking?
Businesses that get new customers online will need to pay close attention to SEO (search engine optimization) of their images, product descriptions and other information.
Local businesses who get most of their customers from personal relationships or via foot traffic have to make sure that their websites have important information such as phone numbers, addresses or menus so that the customers who search specifically for their name who are looking for a phone number or address can find it quickly.
Here's an example of a local Elder Law attorney.  All of his customers are within a 15-mile radius.  After some analysis of their website, we learned that most of his traffic comes after someone searched for the name of his law firm.  We also learned that most of the people who searched for the name were looking for a phone number!
So his website puts the phone number at the very top and also provides an easy way for visitors to register for a seminar.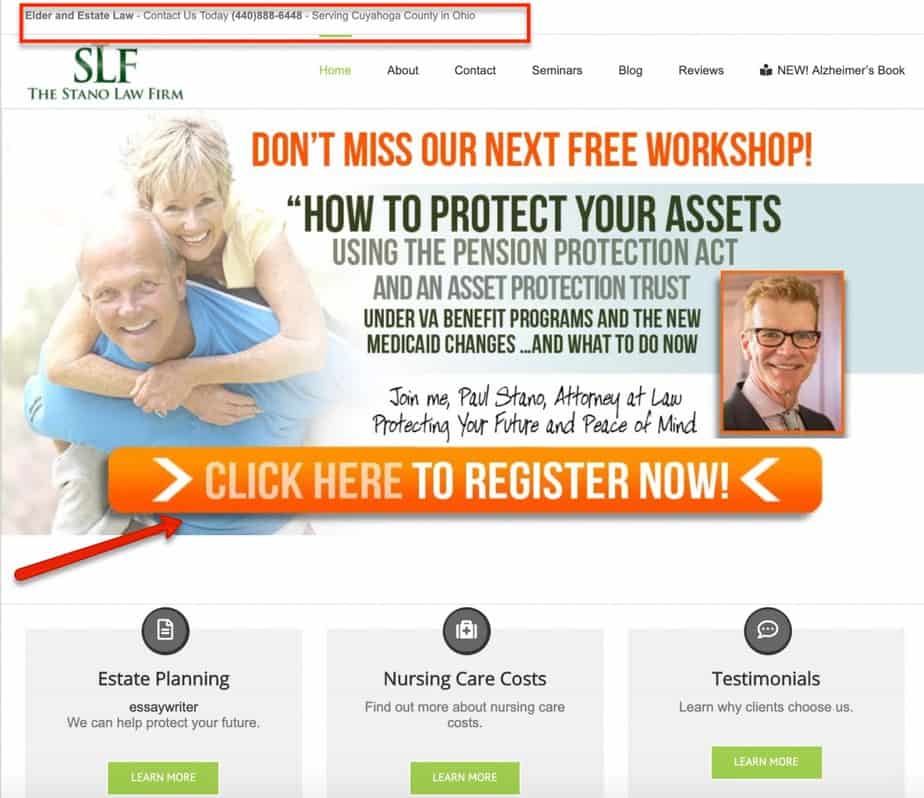 Another thing that his clients are looking for is some basic information about "elder law" and in the three gray blocks they can easily understand that this law firm takes care of estate planning and nursing care costs.
This entire site is a pre-designed website template. All we did was add images and text in the spaces provided.
3. Select a template designed for your type of business
All website platforms have hundreds (maybe thousands) of templates that are specifically designed for your industry and type of business. But don't just choose one that you like, look at all of the website template options they offer for your type of business and select the one that highlights and features what your customers need to see to choose you.
Here's an example of a pre-designed website template for a CPA business: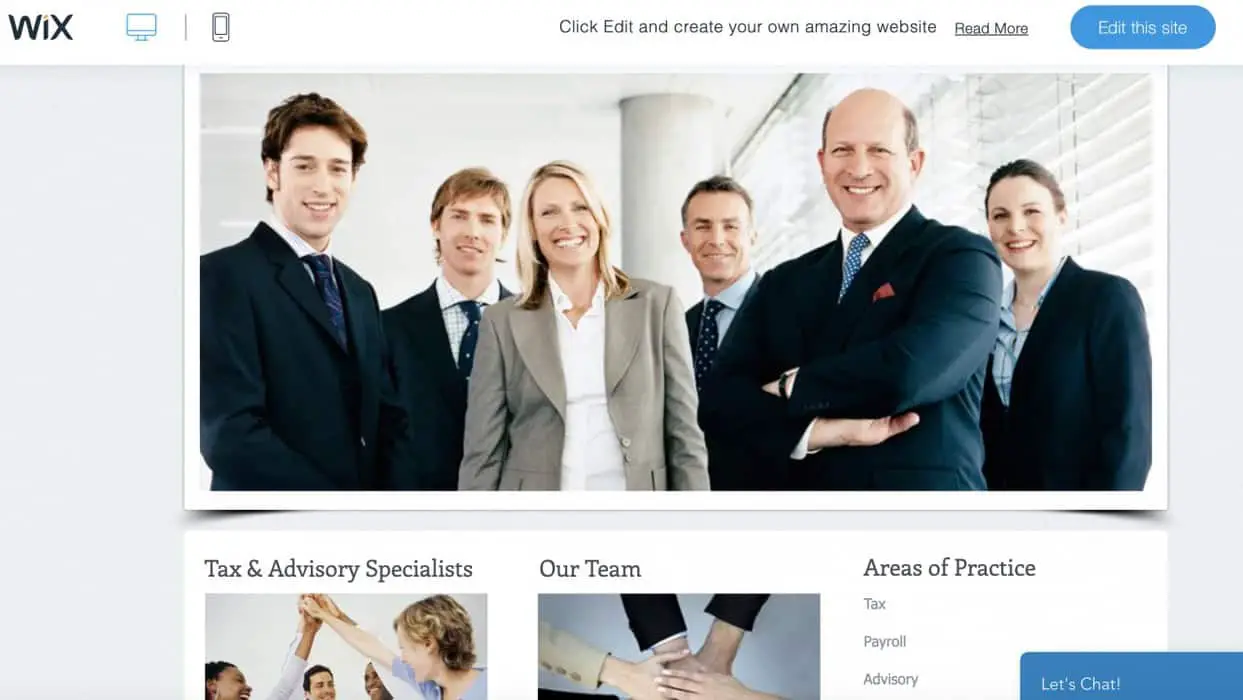 The professional designers have used data from millions of high-converting website designs and come up with this layout. You don't need to think about it, just replace their images with equally high-quality images of your own.  Do not skimp on images. Professional, high-quality images convert visitors to customers.
4. Will Customers Find You by Clicking on an Image or on Text?
Because every customer's first step is searching online, you have to be very clear about what customers will search for in order to find you.
Image-Heavy Website
Depending on your product or service, you have to keep in mind that customers may be searching on IMAGES and not just text! Take a look at this picture and notice how the quality of the image might influence which retailer you choose.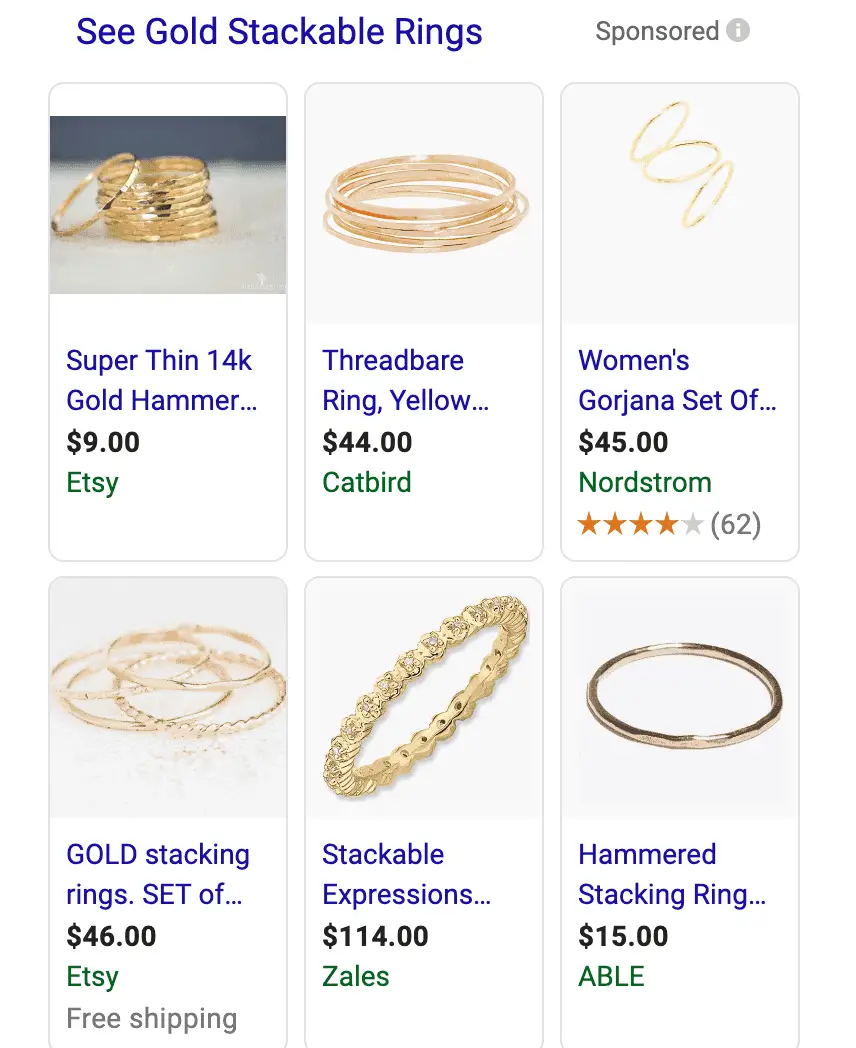 Here is an example of an "image-heavy" website template for a jewelry store.  The focus of this template is on showcasing jewelry and so images are extremely important.
The ideal customer for this business might search on "gold stacking rings" and then click on "images" – they will scroll through the images and click on an image that they like and that image would send them to THIS website.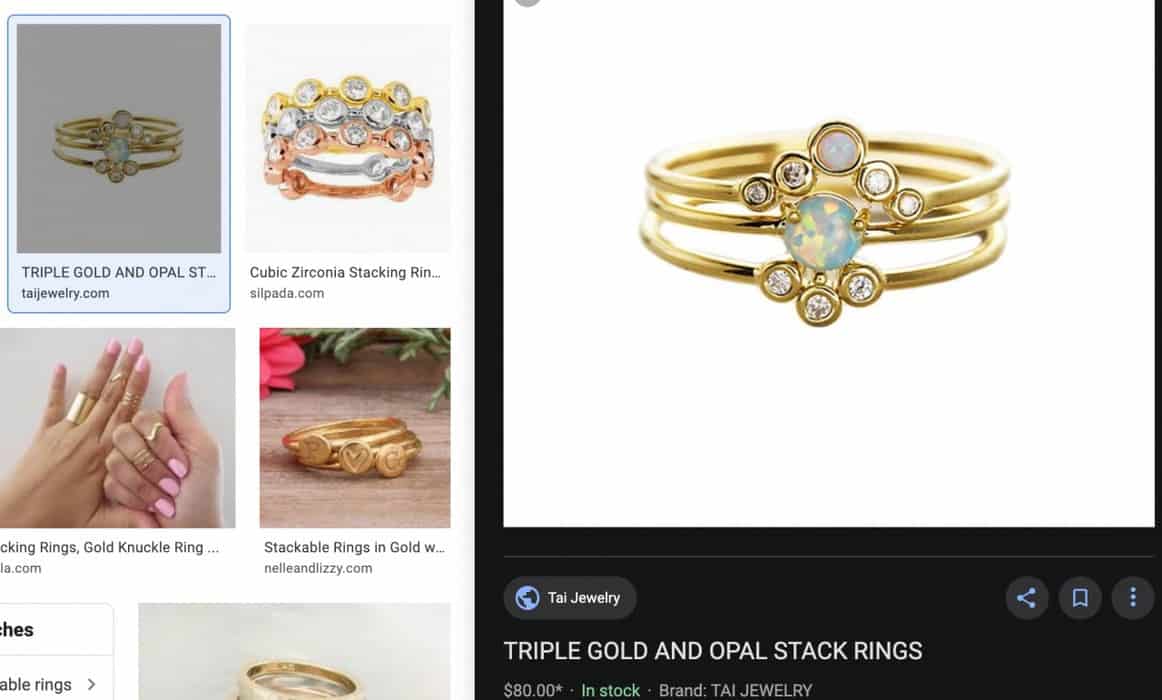 When you think of it that way, you can see exactly why investing in high-quality photos and images is so important – the image is your salesperson!
You can choose the online store website template and then choose "jewelry" as a subcategory.
Here's an example of a professionally designed, high-converting template specifically for a jewelry store.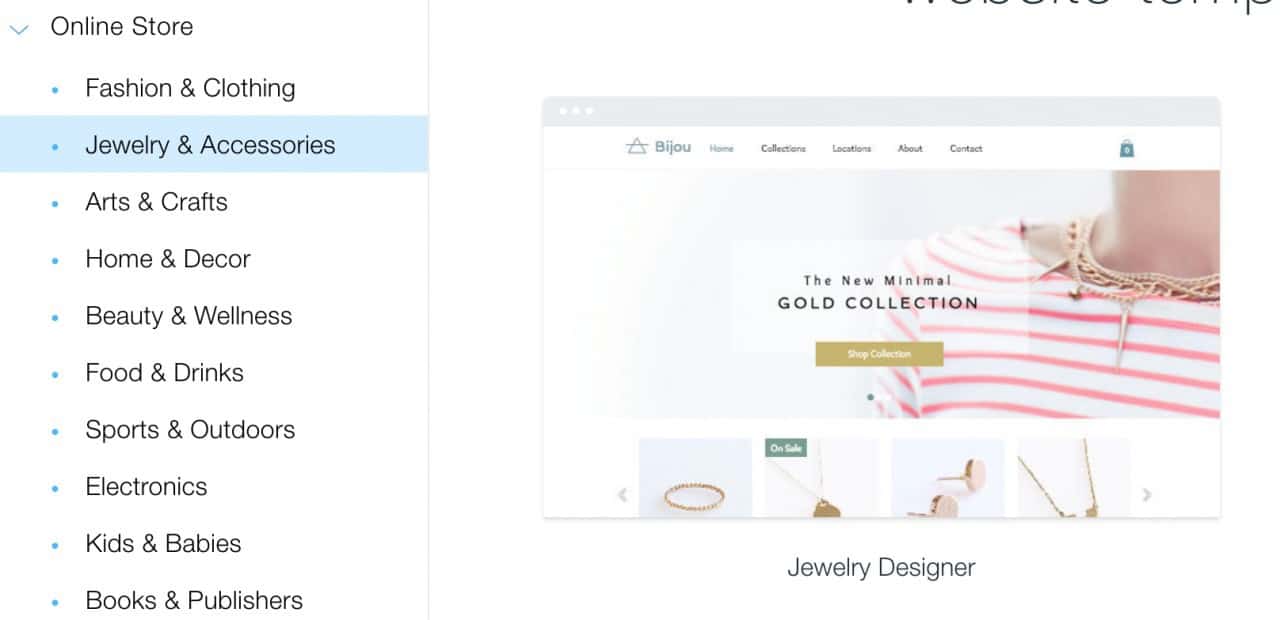 Here's the secret to customizing the template — replace every template element with exactly the same type and style of image and text.  This way, the template will retain its elegant design.
DO NOT replace their high-quality images with images you shot on your cell phone.  Also, remember to replace their text with similar amounts of text.
Text-Heavy and Image-Heavy Website Templates
Let's look at another example of a website template that is specifically designed for businesses where customers could be looking at BOTH text information as well as where images also do the selling.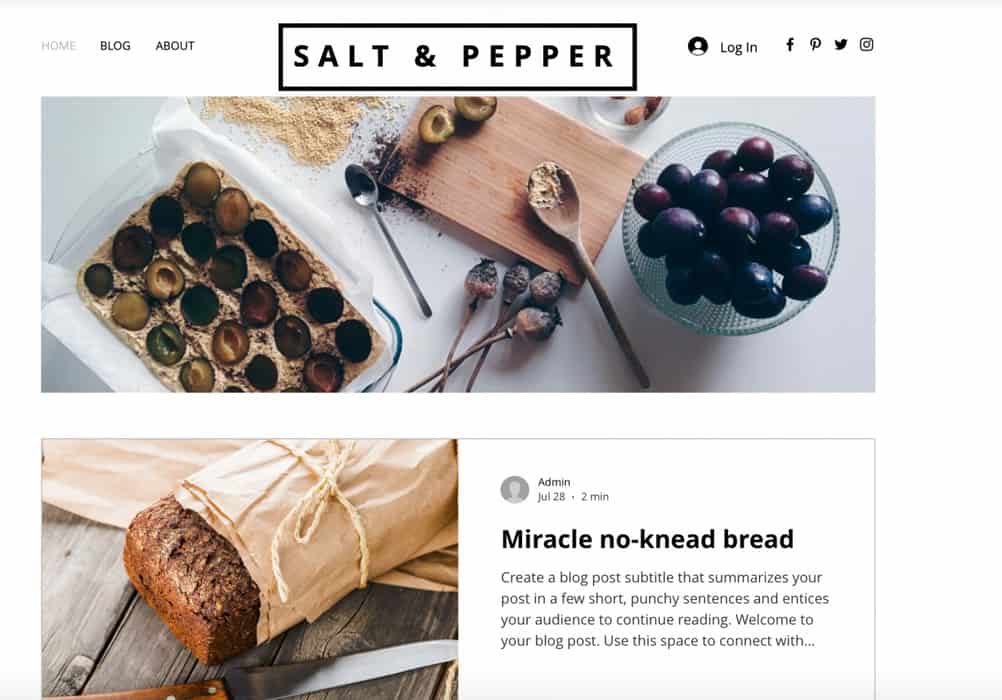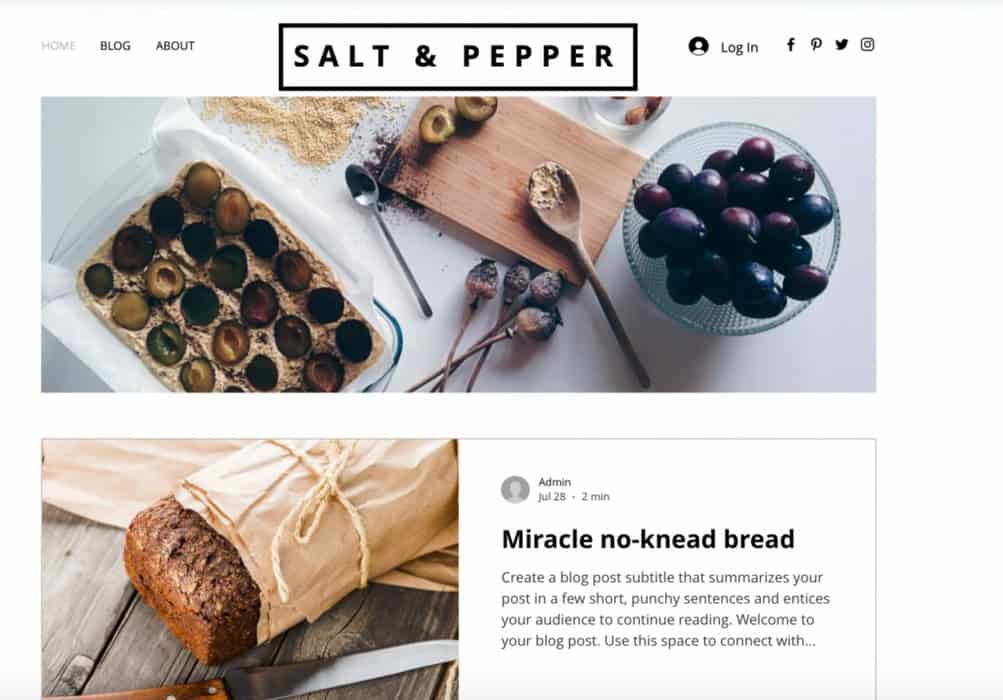 This is a recipe and cooking website example.
Notice how gorgeous the images are.  Like the previous example, you can imagine their ideal customer searching for a "no-knead bread recipe".  They might be looking for a text recipe OR they might search on images to see what "looks good" — and for that type of customer, you need to have a website template that has a layout where both images and text are represented.
Text-Heavy Website Templates
Finally, there are businesses who get their customers primarily online from searching for information that answers their question or educates them with a blog post or article. Or maybe an online business or blog that generates money from advertising.  There are specific templates for that as well.  These website templates are more focused on SEO (search engine optimization) features and on displaying advertising.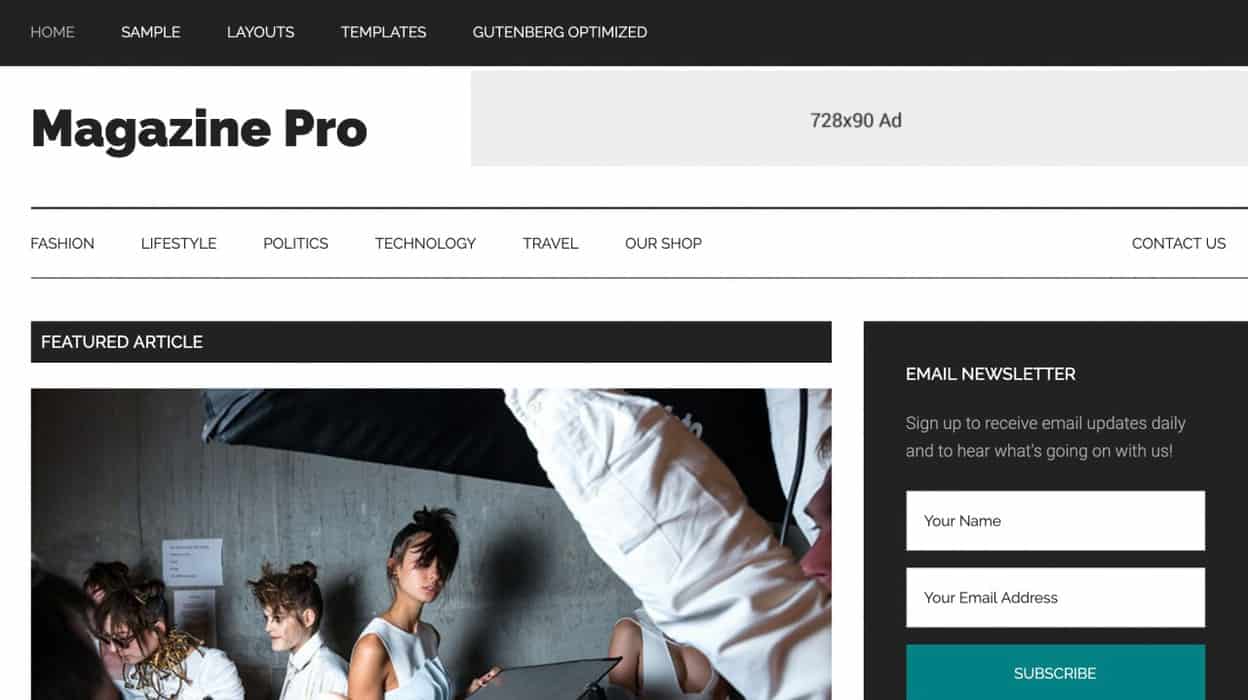 Website templates that are designed for articles and advertising are optimized for speed and are focused on keeping visitors on the site so they visit as many pages as possible, click on as many ads as possible and sign-up for newsletters and offers.
Website Template Must-Have Checklist
No matter which website template you choose, please make sure that you have the following:
Every website template MUST:
Responsive web design.  This means that the text and images adjust automatically to fit any size screen; desktop, mobile or tablet.
Have both full-width and boxed-width options.  Full-width website templates are those with an image that stretches across the entire screen, while boxed-width templates have a sort of frame around the text.  If you want to present a more contemporary and current design, then choose full-width.  If you want to portray your business as more traditional, choose boxed-width.

The ability to add searchable text on top of a header image.  While every template will give you the option to add a large image in the header, you want to make sure that you can overlay actual text on top of the image instead of uploading an image with text on it.
Text that you overlay on top of an image is searchable. So if you use descriptive keywords in your header, customers who search on those keywords will be able to find you.  In the example below, I've put red boxes around potential keywords.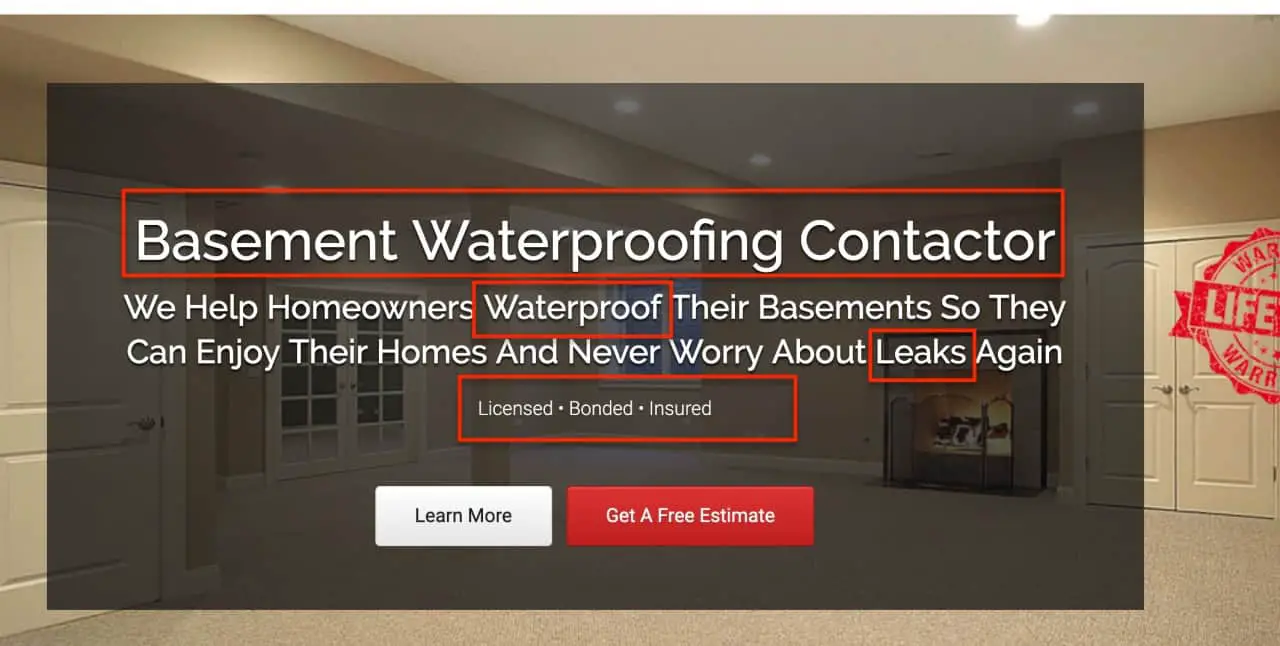 Lots of menu bar choices.  Menu bar design is more important than you think.  Make sure that the website template that you pick gives you the ability to create a hierarchy of categories. Also, make sure that you have the ability to designate where you want your menu bar to appear.
Website Template Choices WordPress or Wix
I'm focusing this section on the two most popular website template choices; self-hosted WordPress or Wix.  Which you choose depends on your business and how much control you need to have over your website.
The biggest difference between the two is that WordPress is a platform that you download onto a hosting service such as GoDaddy or WPEngine. While Wix is a standalone platform. Both are user-friendly and affordable. And both offer free website options, although I'd recommend the paid versions.
If your business gets most of its new customers from a content marketing strategy, use WordPress. WordPress was originally created as a blogging platform and it continues to be the best choice if you are using SEO strategies to get found.
Wix, on the other hand, is a "hosted" platform meaning that you don't have to download anything.  If you are running an eCommerce website or online retail store, Wix is a fantastic choice.  It's much, much easier to manage.
But no matter which platform you choose, remember to focus on user experience and start with what your customer wants to see and choose the website template the best helps you give it to them.