It's been decades since presentations have seen a makeover, and I, for one am SO READY! I've been searching around for the best AI presentation makers — and here are my choices.
With AI AI everywhere, the idea that you can create a slide deck with a description and the click of a button is here! And I'll just say that it's a game changer.
I can remember being a junior staff member or marketing manager and having the CEO or director come into my office at 4pm to tell me that either he needed a presentation for 8am or that I was giving a presentation at 8am. And then, there's always the "emergency board meeting" that would crop up from time to time. This meant spending several mind-numbing hours clicking, pasting, searching for images, and videos and organizing and editing slides from scratch.
Not Fun.
Another scenario also had me editing ugly "Death by Powerpoint" slides to make them more presentable to a power-broker audience; like customers or the board.
Also — not fun.
Ultimately, what "wastes" the most amount of time is figuring out what you're going to say and then organizing it. And this is where AI presentation makers can save you hours of time.
What is an AI Presentation Maker?
AI Presentation Tools have revolutionized the way you can create and deliver your message. From designing to delivering, these tools can enhance every stage of your next talk.
But here is where the definition of an AI presentation maker is different based on the presentation tool or presentation software you use.
How a Lazy Marketer Rates AI Presentation Makers
Everyone's definition of AI presentation tools is different. These days, lots of software and tools like to slap the AI label on everything that's remotely automated. So let's get something clear; automation doesn't equal artificial intelligence.
When I evaluate AI tools, I'm judging a tool on the quality of output that it creates compared to the amount of information it's given.
On a scale of 1-10, if I give a presentation tool the title "AI for Marketing Managers: 10 Ways Entrepreneurs Can Use AI to Get More Customers" – and the AI tool delivers a slide deck of say 20 slides with appropriate, high-quality images, headlines and bullet points using my branded assets — BOOM! That's a 10
If, on the other hand, an AI tool takes my PowerPoint text and applies a design style to it and some image – that's like a 5.
And, if the so-called AI tool has me go slide by slide and select designs and customize 6-way from Sunday and the only thing that's different is that the design is slick or it sings and dances. That, my friends is like a 2 or 3. It's not AI, it's automation. It's what a software is supposed to do these days.
Oh, and one more thing. I'm looking for an AI tool that either has a forever free plan, a generous free plan, or that costs me less than $10 per month. So, there's that.
Now that we have that out of the way, and you know that I'm looking for an AI tool that sings, dances, and reads my mind, let's take a look at the tools I've selected.
Other AI presentation tool features I'd like to see:
Brand colors: I'm looking for the ability to customize to my exact brand colors using a hex code OR to find a color palette that most closely matches my brand colors.
Logo: This is a big ask (especially for a free version). Can I upload my logo? This is a lot to ask, but let's see what these tools have to offer.
Charts and data: Can I enter charts and data? How does that look?
Does it really save time? Yes, these tools are fast, but does it give me good enough information I can use or will I have to spend hours customizing poor content. (you know polishing $#!+.
Engagement: Are the slides engaging? Will it engage the audience? I'm stretching things here, but I'm looking at the quality of the design and overall output.
10 AI Presentation Makers — Rated by how much they blog my mind
To reiterate. I'm lazy and cheap and I'm looking for an AI presentation maker that will save me both time and money. I've used all these tools and I'm going to share my raw opinion on each one. These are in no particular order.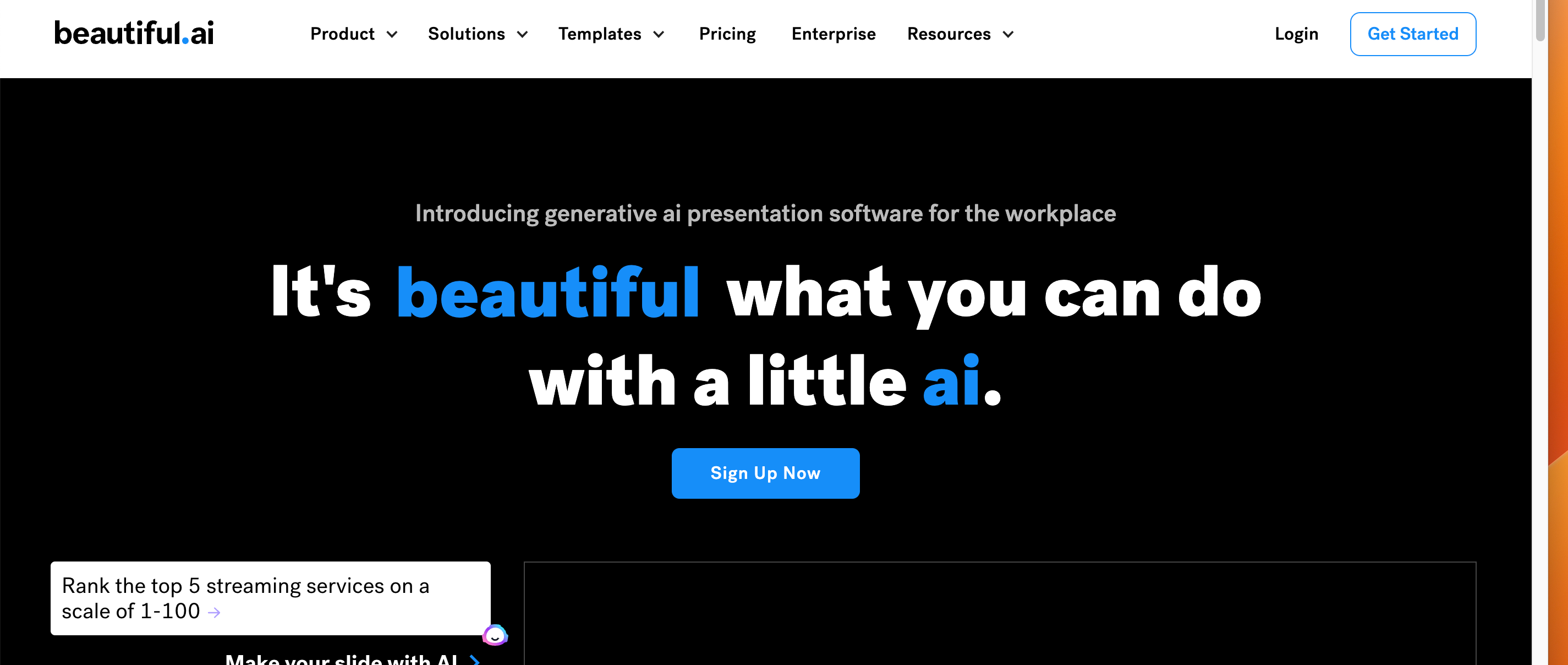 I've been using Beautiful.ai since they launched. This tool was created by a designer who was on a mission for beautiful slides — hence the name. Let me be clear. Originally, Beautiful.ai was designed in such a way that it was IMPOSSIBLE to create an ugly slide.
I kid you not. Personally, I think this was a stroke of genius! So, genius that it forced you to think in terms of building a story around your video presentation.
I mean — you could NOT create ugly if you tried. I simply can't say enough about how much I loved this limitation.
But then, as corporate people probably complained about the fact that they couldn't bore you to death with their ugly slides, things changed, and poor Beautiful.ai was forced away from their original mission and now, you can create ugly (if you want to), and the interface is not as simple as it used to be.
But I digress — we're here to talk about their new AI feature. Since I've had an account with Beutiful.ai for years, I don't have the option of testing it out myself, but I found this demo you can take a look at.
Aside from making it easy for teams to create stunning slideshows fast (key phrase) , Beautiful.ai can also streamline team collaboration through easy sharing and commenting functions. With a wide range of customization options available at your disposal such as animation effects or custom branding elements like logos or fonts, you'll have all you need to captivate your audience with impactful presentations.
Why I gave Beautiful.ai an 8:
Brand colors: Brilliant
Logo: You have to pay
Charts and data: Absolutely
Does it really save time? Sure
Engagement: "meh"
I would have given it a 10, except that to get access to this feature, you have to pay them — $45 per month. This is great if you're doing a ton of presentations. But if you're like me and only do presentations from time to time, it might be worth the $45 to get your presentation done and downloaded and then go to the free plan.
Now, let me get into all the positives; If you're a paid user you can upload your brand logos and customize colors. I found the content to be very good and easy to make edits and changes without sacrificing design.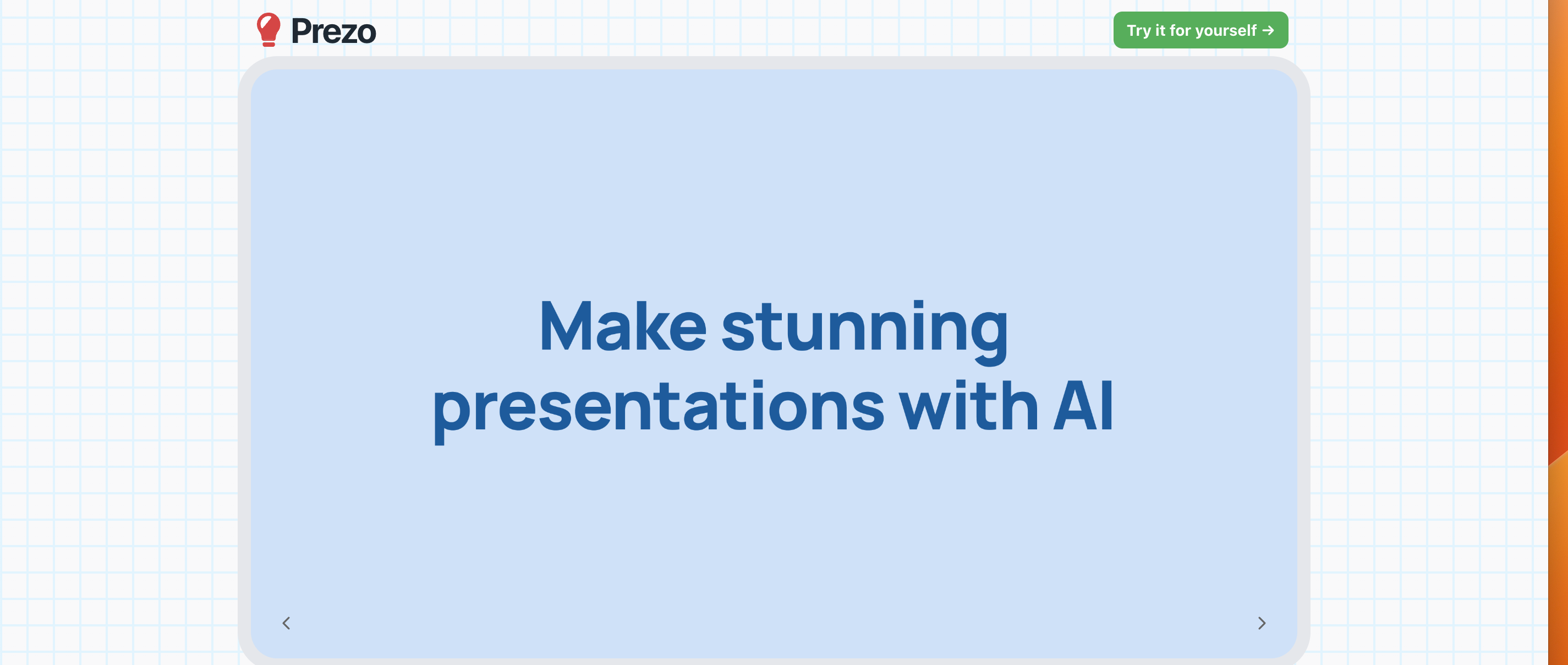 I found Prezo.ai over at Future Tools (highly recommend this directory of AI tools).
Prezo.ai is an AI-powered presentation software designed to make presentations faster and easier. Not gonna lie — it's very minimalist. No fancy bells and whistles here. But hey — IT'S FREE!
In fact, here's a quick demo.
Overall, if you're looking for an AI tool to help you streamline your presentation process with advanced automation features and seamless team collaboration options, then Prezo.ai is worth considering to get your team and presentation party started.
Why I gave Prezo.ai a 6
Brand colors: "meh"
Logo: not really
Charts and data: no
Does it really save time? Kind of
Engagement: "meh"
Let's just say that free and easy is what takes this over a 5 rating. I found the content to be decent and it definitely helped get me off the blank presentation template. However, customizations are slim.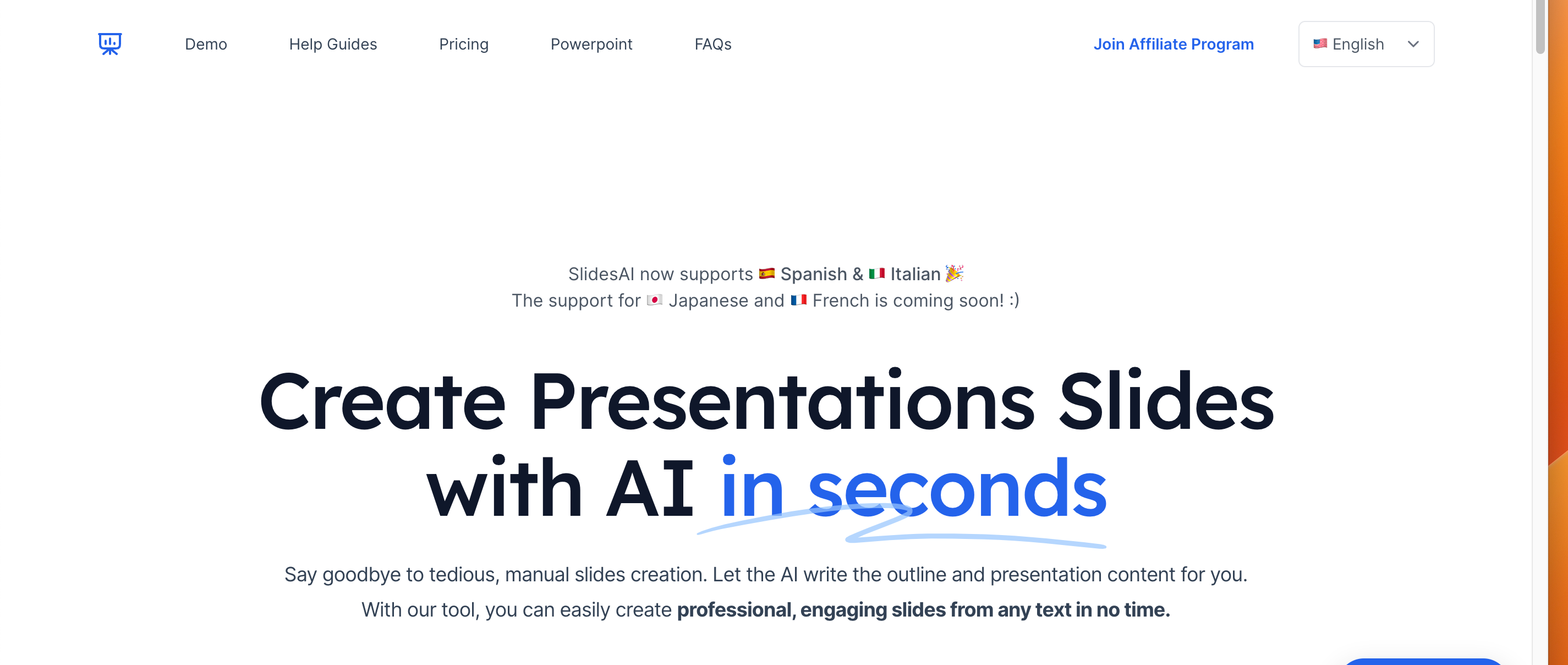 Color me pleasantly surprised. Slidesai.io is a Google Chrome browser extension that takes your written text and builds it out into a semi-branded slide presentation.
Here's a quick little demo of Slidesai:
I haven't used Slidesai a lot, and, to be honest, that surprises me. I use Google Slides regularly and I've been creating a lot of slides lately, so "slap my wrist" for not spending more time playing with this.
Why I Gave Slidesai.io a 7
Brand colors: Yes
Logo: yes
Charts and data: yes
Does it really save time? sure
Engagement: "meh"
Remember, my idea of a 10 is that I give the tool a little bit of information and it magically (and consistently) reads my mind and spits out TEDTalk style stunning decks, it's free and it sings and dances on demand.
Slidesai is a Chrome extension. I use Chrome and I really like that. This AI presentation maker meets me where I am.
The down side is that you can only create a maximum of 10 slides. Generally, this shouldn't be a bad thing. I mean no presentation should be longer than 10 slides, but some of them are – so it loses there.
On the other hand — it is FREE — so you get what you pay for and this isn't bad at all.
4.Tome: Score = 8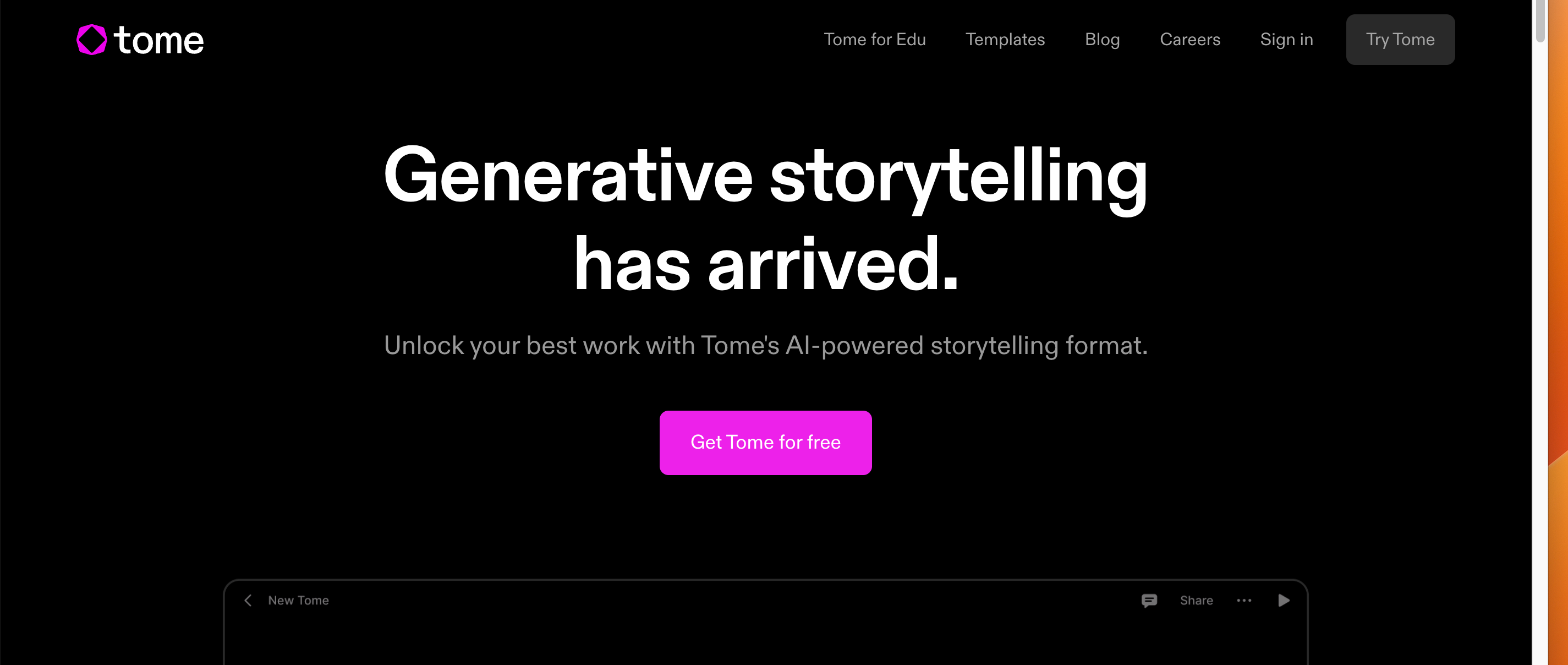 Tome is one of these AI presentation makers that has taken TikTok by storm. Marketing people are raving about it. So I gave it a try.
Here's how it went:
While the rest of my video gives you a quick demo, I'm going to take the time to outline some additional features that I think you'll appreciate:
You can embed public websites directly into the presentation, eliminating the need for clunky video integrations and external links.
Embed interactive documents from popular tools like Figma, Miro, Giphy, and Twitter, and the embeds resize without any distortion, ensuring a polished and professional look.
Why I gave Tome an 8
Brand colors: Yes
Logo: no
Charts and data: Yes – add from third party apps like Airtable
Does it really save time? yes
Engagement: Yes – very nice
This tool offers a lot of customizations (but not a brand library), you will have to customize the colors and the fonts. Speaking of which, you can choose any color you like, but you will have to use the fonts that are available.
The ability to add tables, videos, links from sites, images etc. is a really great feature. It's not one I intend to use, but if you're using tools like Airtable, Giphy, Miro and such, you will love this.
Did I say it's FREE FREE FREE – yeah – it's free. Overall a great product with nice features and the best price.
5.Lumen5: Score = 7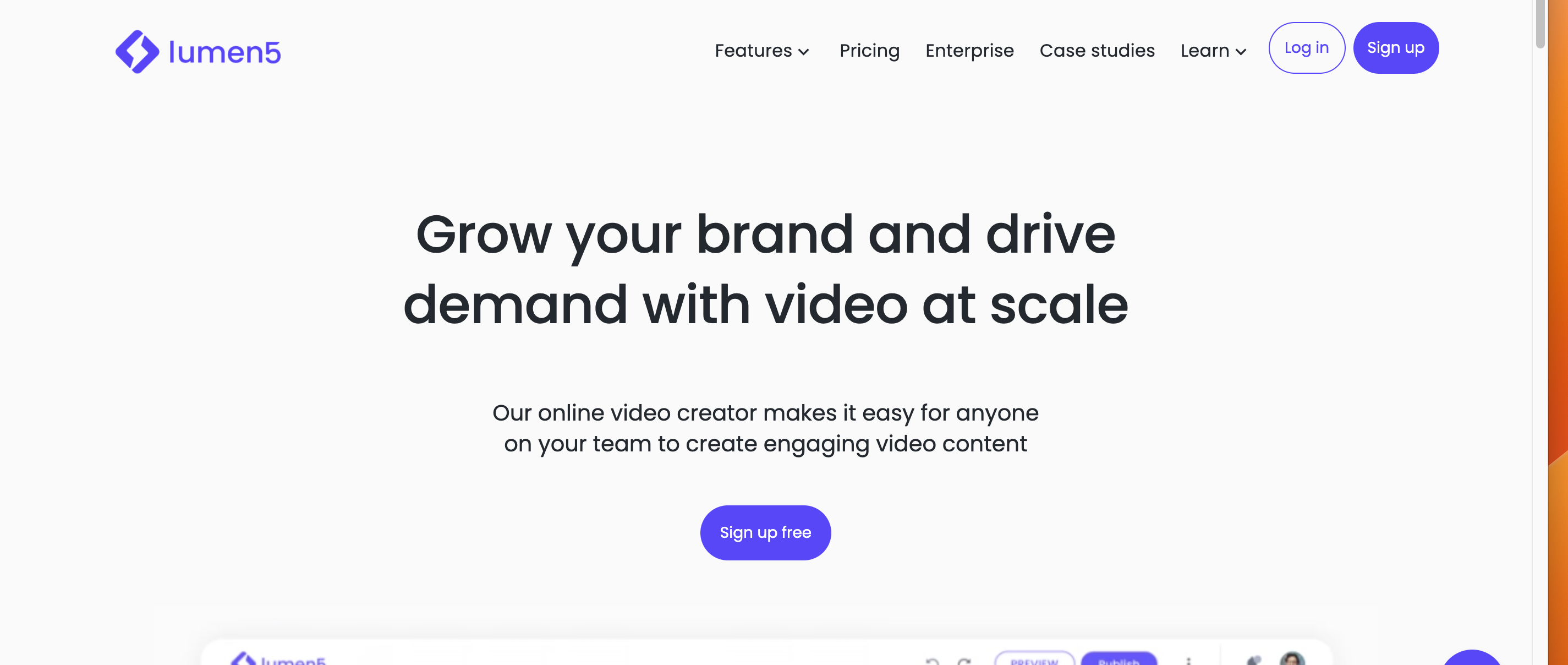 Lumen5 is an AI-powered video creation platform that transforms your static content; like a script or a blog post with your key points into engaging videos.
I've been using Lumen5 to convert my published blog articles into shorter videos and I love it! I enter the URL of the article, and Lumen5 will automatically generate a link to a video that I can use on social media or inside the article.
Here's a quick overview:
But it gets better.
The tool uses AI to analyze your content and suggest relevant visuals, music, and even text overlays to enhance your message.
Why I gave Lumen5 a 7
Brand colors: "meh"
Logo: There's a brand kit, but you have to upgrade
Charts and data: Not really
Does it really save time? Yes
Engagement: Sort of — it's video and video is more engaging
I'm definitely not a natural "video" person. And this is where Lumen5 saves me. My favorite feature is the ability to simply enter a URL and have the tool create a video presentation from scratch.
It's easy to customize the script and the design. And it's free.
However, it's not a "slide presentation tool". It's a video presentation. So, if that's what you're looking for, go for it.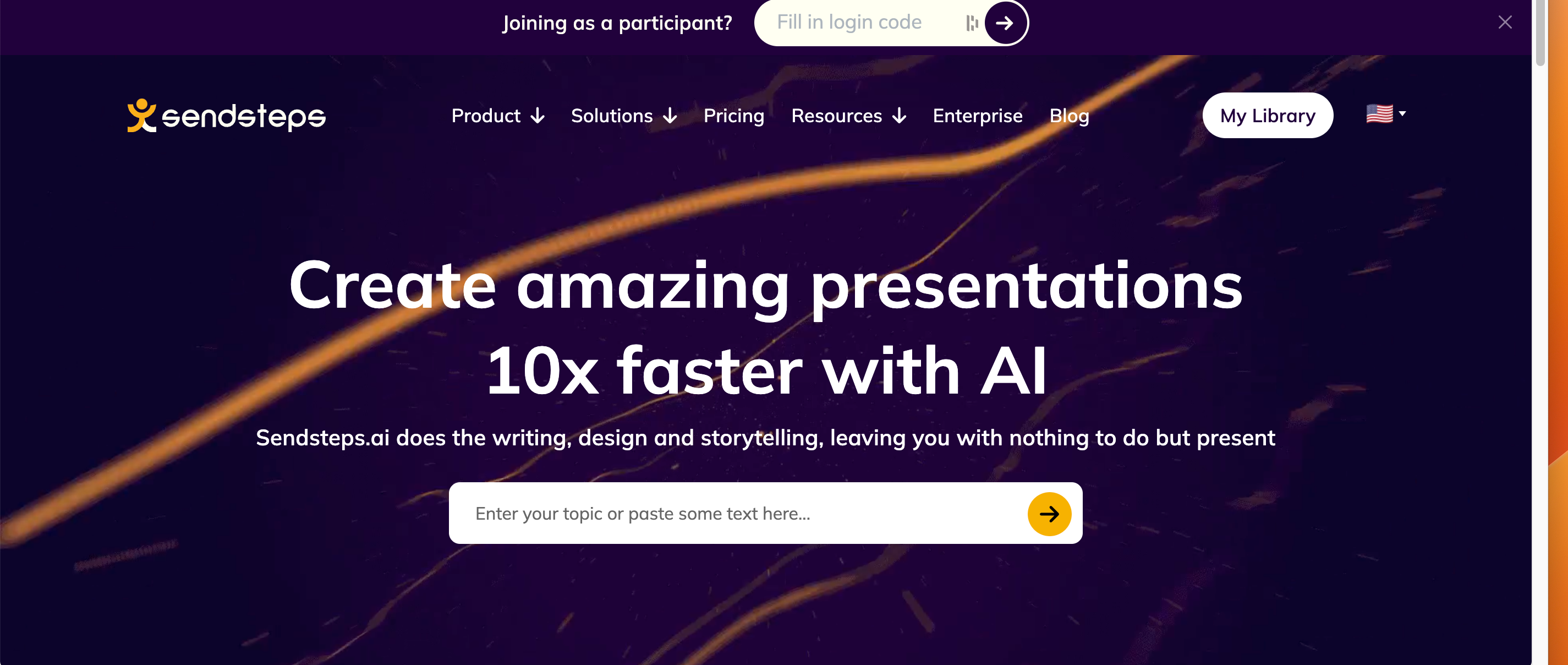 Everyone is always telling you how you need to create something to engage your audience in your presentations. You know you need to, but who has time to come up with polls and quizzes? Sendsteps does!
With Sendsteps, you can create polls, quizzes, and surveys that enable attendees to participate in real-time. You can also receive feedback and ideas from the audience anonymously. This feature allows them to answer truthfully without worrying about potential negative consequences.
But there's more, Sendsteps will also help you understand your audience's perspectives better by analyzing their responses. The analytics feature you can monitor the performance of your presentation so that you can make improvements accordingly.
Here's a walkthrough in real time:
Why I gave Sendsteps an 9
Brand colors: kind of – only with enterprise
Logo: With professional plan
Charts and data: no – you can insert an image
Does it really save time? Yes
Engagement: Outstanding
What's not to love? Not only will Sendsteps take a topic and turn it into a presentation, it will also insert cool engagement features like polls and quizzes that your audience will love.
There's a forever free option with some basic branding shifts you can make. If you want more customization and branding, you're going to have to upgrade. But that shouldn't be a problem because $10/mo is totally doable.
This is also a great choice for corporate folks who want to integrate with Microsoft Teams. It also integrates with PowerPoint.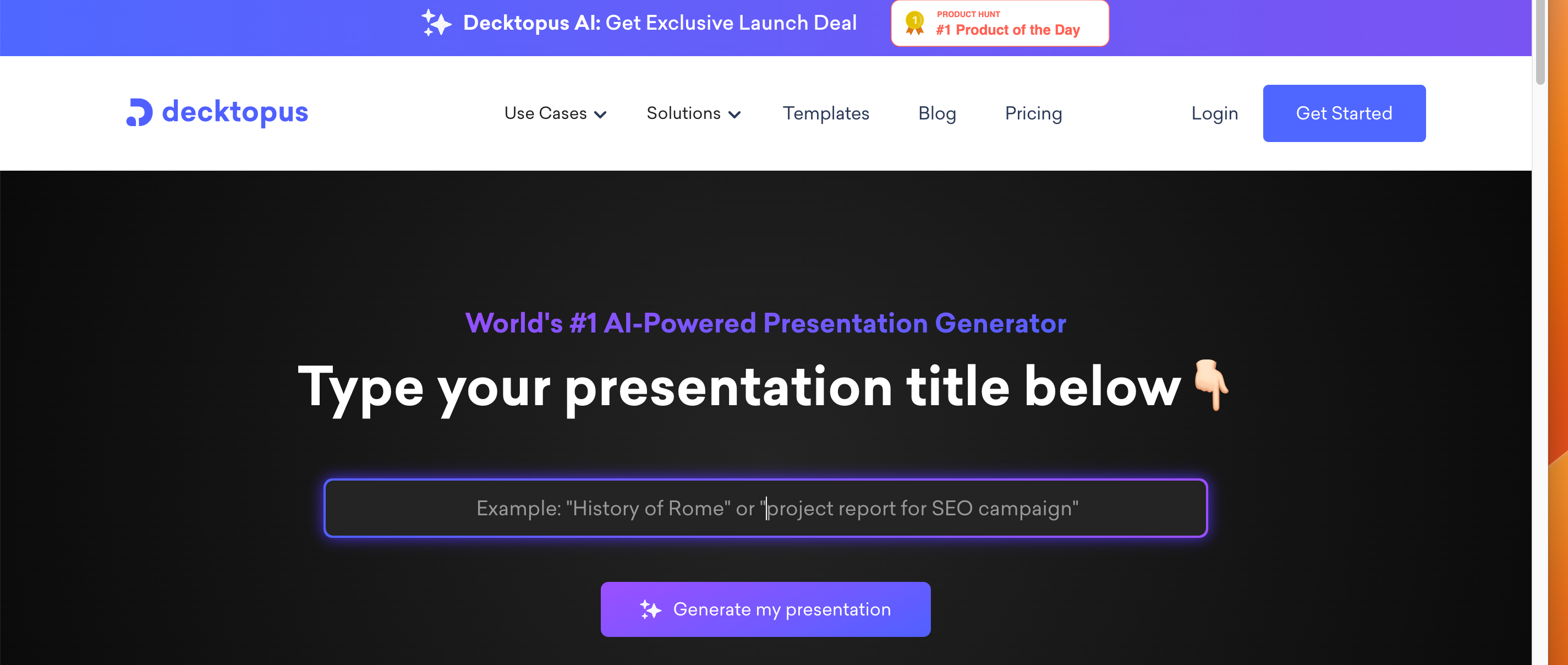 This AI presentation tool just plain rocks. Aside from having a fun name (Octopuses are super smart), Decktopus is giving Beautiful.ai a run for its money when it comes to ai driven presentations.
Like al my favorite AI presentation tools, it starts with a short form that includes your topic, audience, industry, etc. You'll also choose your design theme. After a few minutes, you'll get an AI presentation that's really not too bad at all.
Here's a quick tour:
But there is one downside — the servers were so busy that I had to come back early in the morning to finish up my little demo. So, no matter what that means, don't try this (as a free tool) when you're in a hurry.
Why I gave Decktopus a 9
Brand colors: With business plan
Logo: Possibly with business plan
Charts and data: YES – outstanding
Does it really save time? – Yes
Engagement: No
There's a lot to like about Decktopus. I'm going to start with the name and logo and interface; it's cute, it's friendly. Let's get a little more serious and talk about price.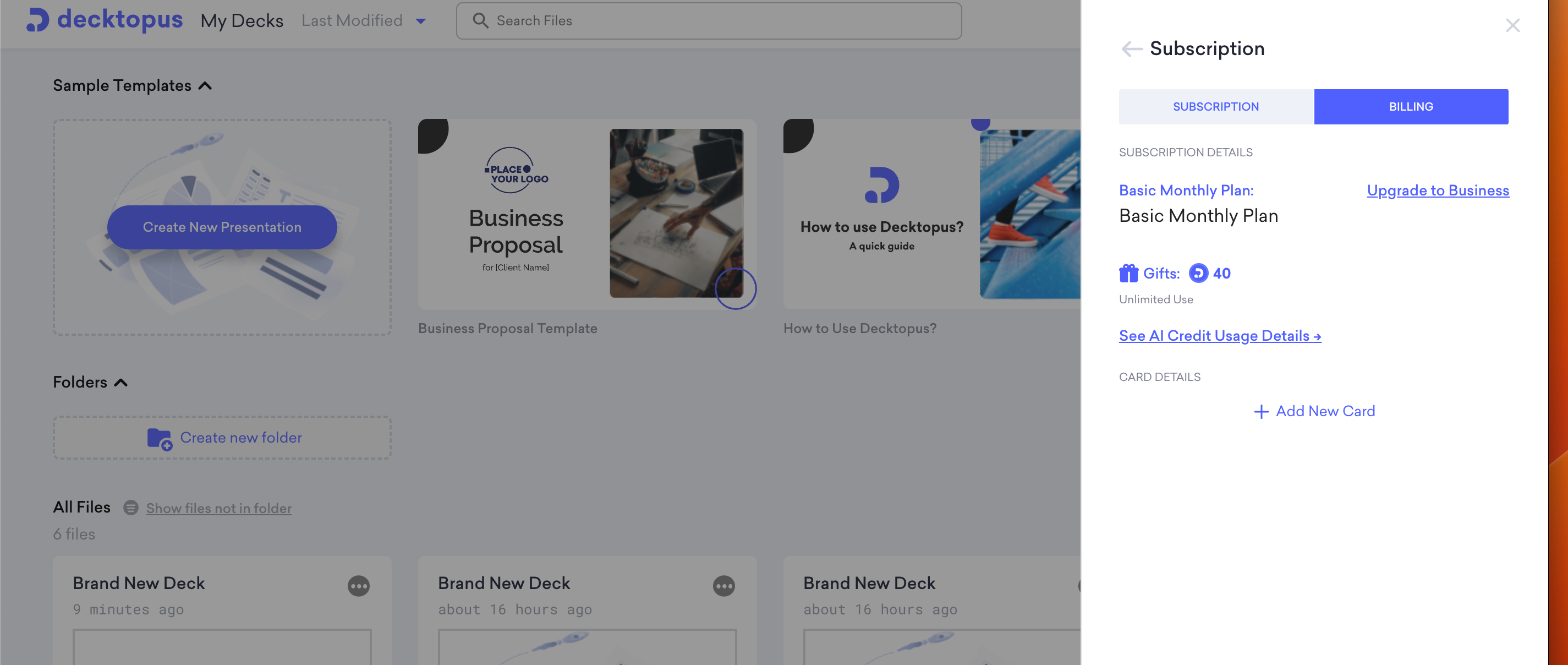 I'm on the free plan which comes with 100 credits. That will buy you 1 test presentation for sure, maybe 2 of the shortest ones. After that, you'll have to pay up $5/mo. But I think it's totally worth it.
The quality of the output, the customization options and ease of use earn this little tool a solid snap-it-up recommendation.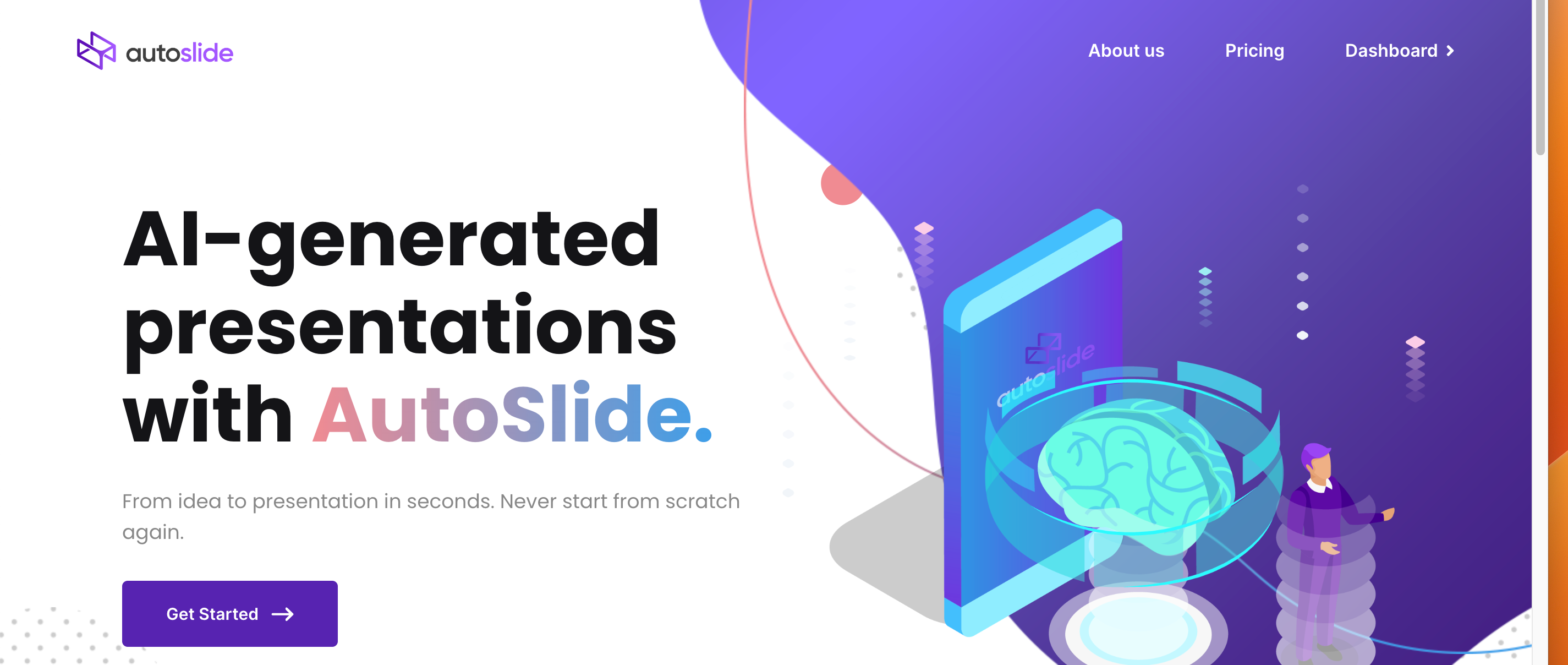 This is another minimalist AI presentation maker. The process is about as easy as it gets. You open it up, write your presentation idea or outline into the text box, press go Autoslide will automatically generate a slide presentation with your key points in focus.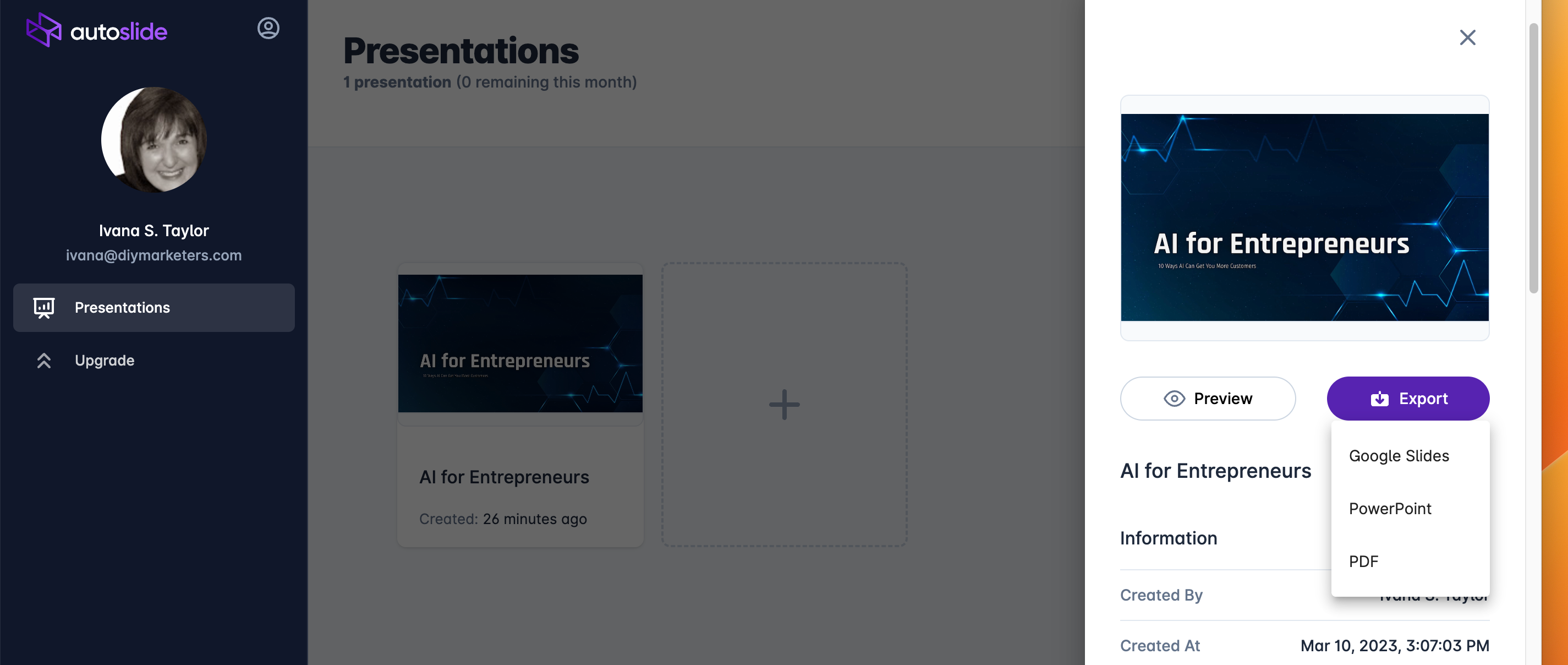 Why I gave Auoslide a 6
Brand colors: With premium plan
Logo: maybe with premium plan
Charts and data: No
Does it really save time? – "meh"
Engagement: No
Even with a nice design a decent user interface and experience, Autoslide is lacking a few customization features that other AI presentation makers offer for free like changing the design or brand colors for example.
Another strange limitation is that you can't really edit or preview ALL the slides (at least I couldn't). But I was able to export the slides to PowerPoint, Google Slides, or a PDF.
Overall, even though Autoslide will create a deck, you'll have to give it some guidance, and the design limitations lead me to rate this as ok instead of over-the-top.
My Recommendations
As AI technology continues to hit mainstream software and tools, you can expect to see more and more of these AI features hit your existing web apps. Canva has done it, Microsoft will probably do it, and so on.
What I like about some of these AI presentation tools is that they are simple and uncluttered. I was in PowerPoint the other day and spent more time looking through the menu to change the font than it took me to outline the presentation.
For now, I'm going with Slidesai.io if you want to do presentations on Google Slides. I'm also really liking Decktopus as a lower cost alternative to Beautiful.ai. You get a lot of the same look and feel for a lot less money.
As you try some of these templates and tools, remember, this is NOT the presentation you're going to deliver, it's a start. In other words, it will save you the hour or two that you'd spend creating an outline and a draft. But then you get to spend the next hour or so customizing everything.
Happy Presenting.