When a crisis hits, your business doesn't have to be a casualty. What you need is a crisis management plan and checklist. This crisis marketing strategy will help you and your team members develop a basic crisis communications plan and a few key messages that you can use with your customers.
Table of Contents
I like to say that a crisis is really an opportunity in disguise.  It just depends on how you think about it.
So let's tackle your mindset first.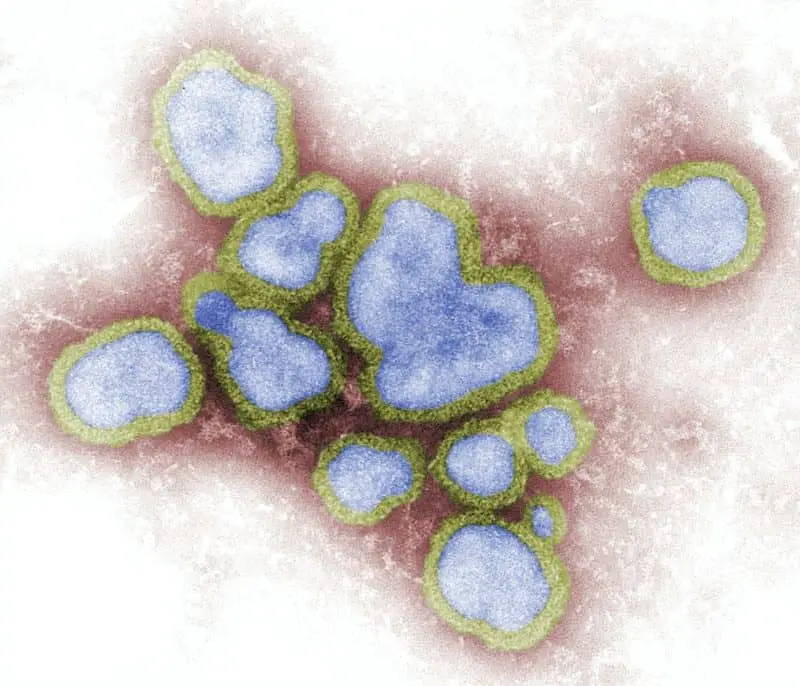 Reframe the Marketing Crisis into A Marketing Opportunity
One of the key skills in crisis marketing is shifting mindsets.  So, it makes sense to start with your own mindset.  
Here are a few simple mindset strategies that will shift your thinking into something more creative, productive, and hopefully profitable.
Things happen "for you" and not "to you". 
Because any marketing crisis is an external element you don't control.  It's easy to say that it happened TO YOU.  But this puts you in this helpless situation of being a victim.  And victims just want to hide under a rock and not solve anything.  So this isn't helpful.
Instead, look at the crisis as something that revealed an opportunity.  Just like the wind blowing away a cover and revealing a hidden treasure.  
When you think of it this way, your brain will be occupied looking for treasure rather than crying over something that can't be changed.
With this type of mindset, your crisis marketing strategy will start taking shape and you'll see opportunities that may have been in hiding.
You don't HAVE to do things differently, you GET to try something different.
A crisis will push you into a fight or flight mindset.  And you already know that doesn't work.  Instead, shift just ONE word in your language.  Instead of saying "I have to…" consider "I get to".  
This simple word change will shift how you communicate to your team, your family and with your customers and that makes a difference.
With that mindset in place, let's find a new way of dealing with a new circumstance.
[optin-monster-shortcode id="afagqgbaoaaahsmjlpuh"]
How to Keep People Updated and Informed
our first step is to create a quick step-by-step crisis communication plan that will keep people informed about how you're going to run your business and serve your customers.
You're not alone in this!  If you have employees, get them involved.  If you are a solopreneur, get on a conference call with some fellow business owners and brainstorm some ideas.
Update your voicemail daily
The first part of your marketing crisis strategy should be to update your voicemail. Start your message with the date of the message. Don't say "today" because people won't know what day you're talking about. Don't forget to ask people for their patience as you work through this. Here's a sample voice mail script you can use:
Hi there! Thanks for calling (your business name). Today is (insert the date and time). Our hours today are (insert your hours). We are out of… and we have X amount of …. We have deliveries coming (insert when). We're offering (insert an offer) to get some, please call our offices (insert your phone number) or email us your oder at (insert your email). You can come and pick it up between….. If you're one of our older, at risk customers, we'll be happy to deliver it to you.
What customers want to know about your business during a crisis:
Your new hours
How can they still purchase from you, how to place orders? Is there a way to setup an online portal to allow people to buy online and pay online? WordPress offers lots of product catalog plugins you can check out and implement quickly.
How can they pay you? You may have to set up PayPal or some other form of online payment.
How will their product or service be delivered?
What's happening to any pre-scheduled events that are now postponed or cancelled?
What actions can customers take online?
What's the best way to get in touch with you?
Write up all of these items as a Frequently Asked Questions page and get it up on your website ASAP.  This way you can share that link in all of your future communications.
How to communicate your updates to customers
Add a bright colored bar to your website that clearly features crisis information. The SBA has a great example
Try the FREE  WP Front Notification Bar a plugin for WordPress Sites.
Update your Google my business listing
The first place your customers will go to find out what's happening in your business at any point in time is Google.  They will most likely search for your business name to get your hours no matter what.  But when there is a health or weather emergency your customers will go to Google to get the latest information.
Here is a step-by-step guide to updating your Google My Business listing.
Visit "Google My Business"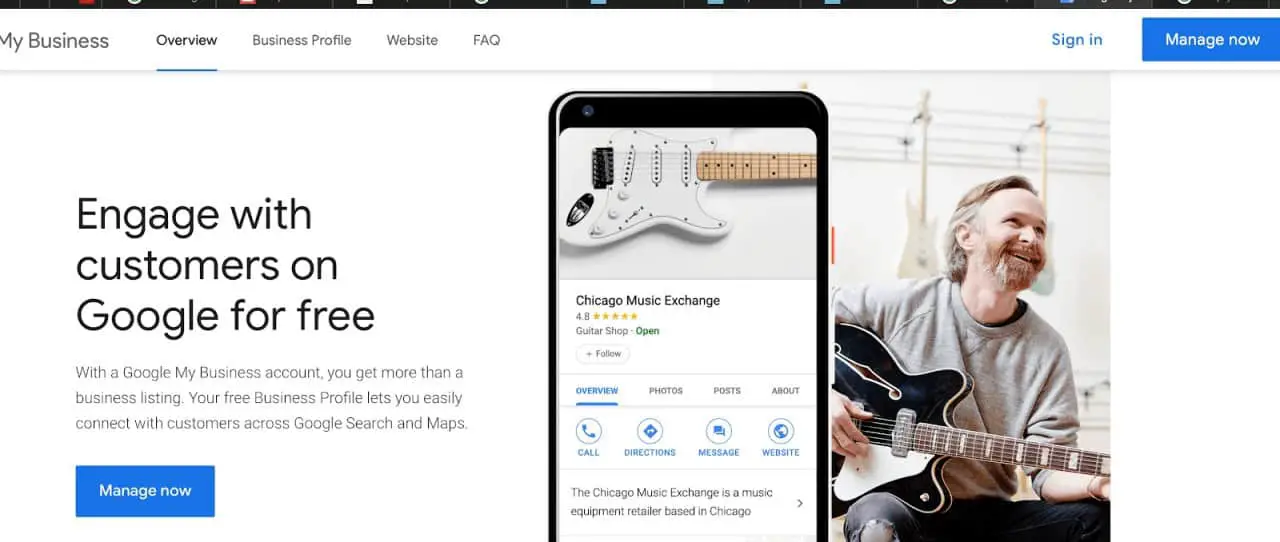 Sign into your account.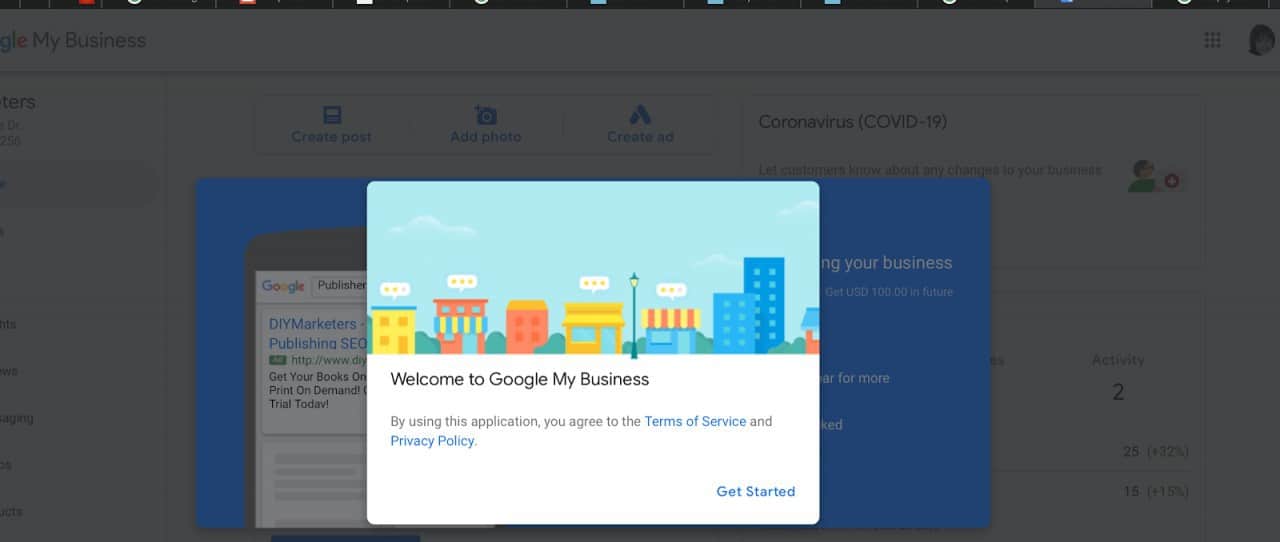 If you haven't created or claimed your Google My Business profile, this is the ideal time to do that.
Simply click on each menu item in the left hand sidebar and fill out the accompanying form.

There will be a prompt to verify and claim your business listing.  Choose an option of how you'd like to verify your business listing.

You can use that same home page to change your office hours.
All you need to do is go through each element in the left side-bar menu and make changes accordingly.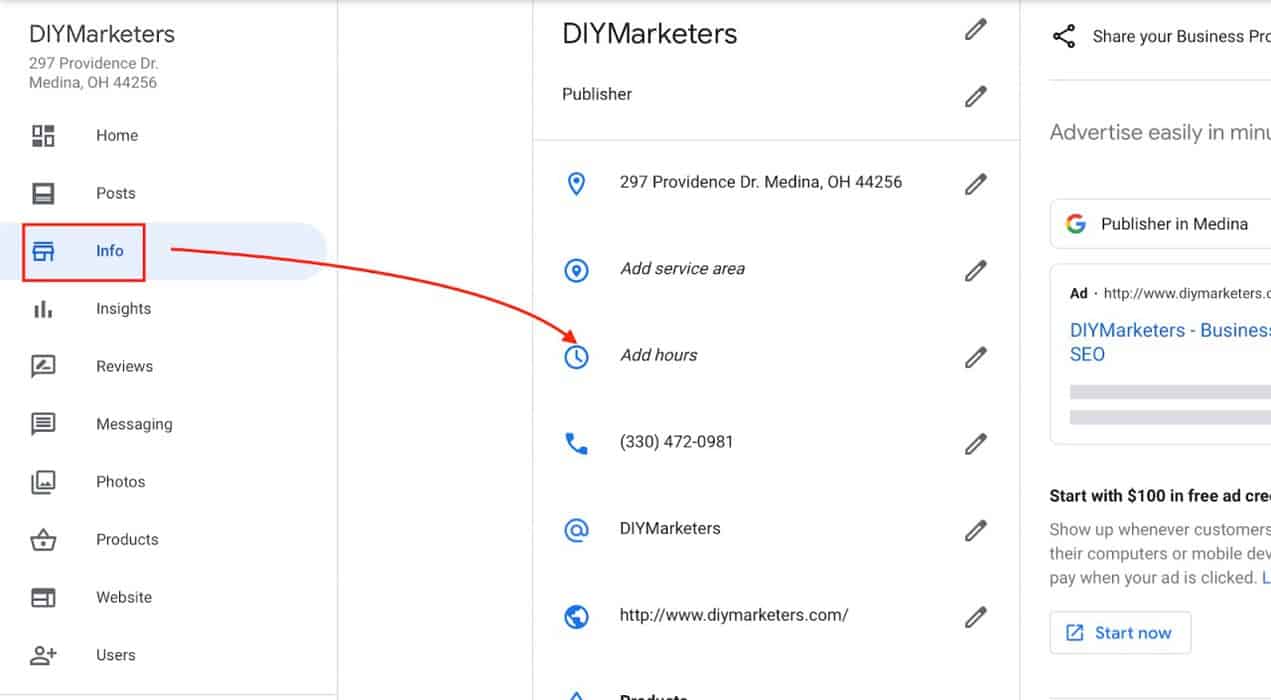 When things get back to normal, you can go back and change it all back again.
How to Add a Special Coronavirus Message In Your Google Business Listing
Most businesses don't know this, but you can quickly and easily update your listing and add timely messages for your customers.
Here's how:
Once you're inside your Google My Business listing, you'll see a landing page with all of the different sections on it.

To add a new post, just click on "create a post"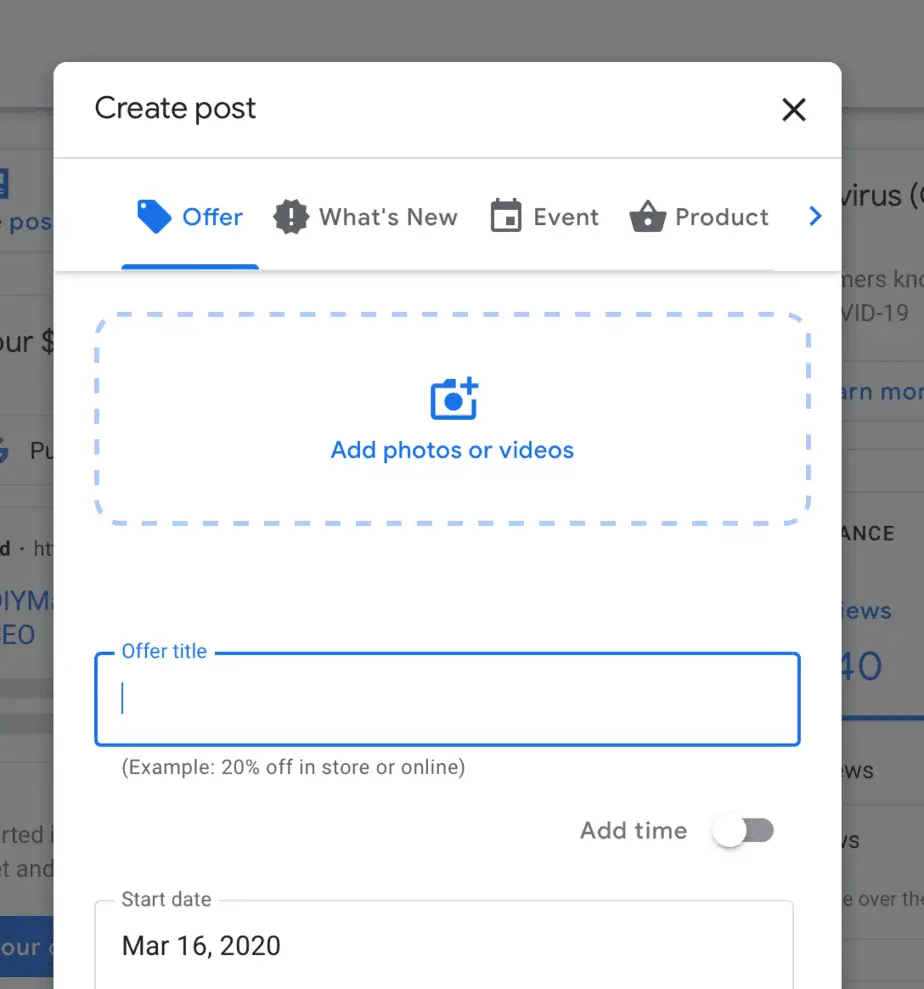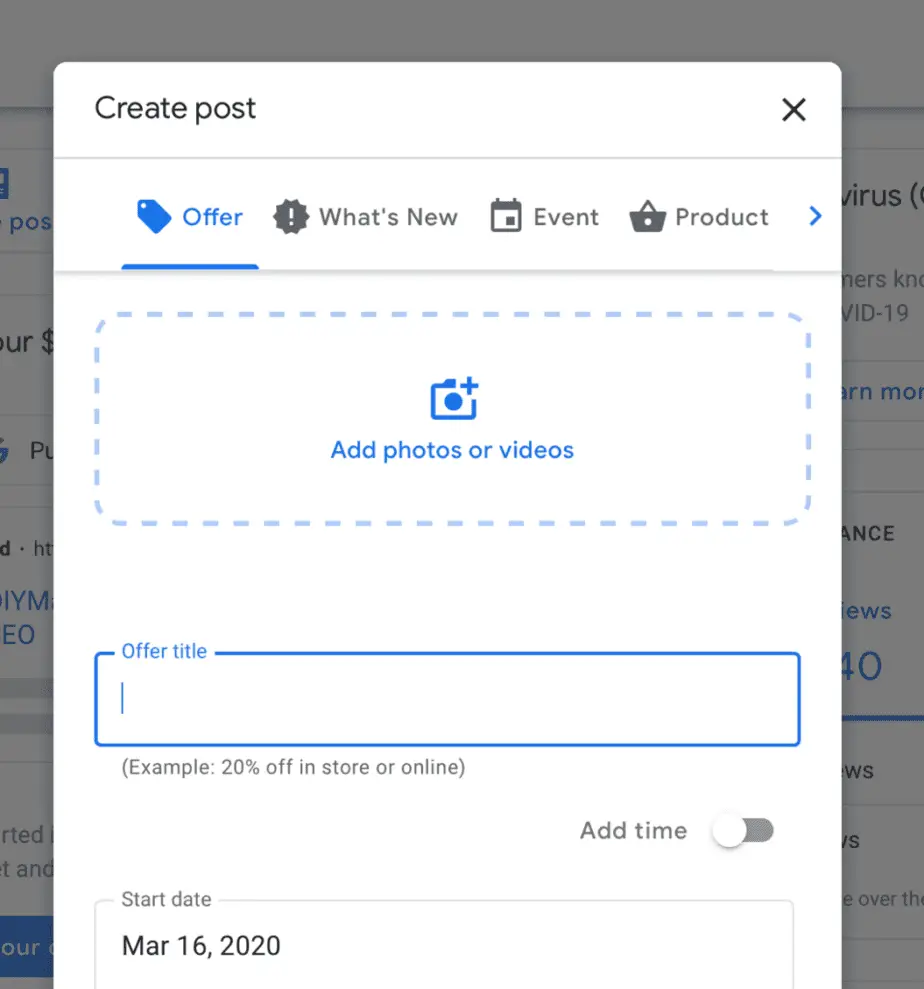 You'll see this window with four options; Offer, What's New, Event, Product.
If you have a new offer during a time of crisis, click on "Offer" and fill out the form.
Then click on "What's New" and add a message for your customers. It will update almost immediately and here is what it will look like: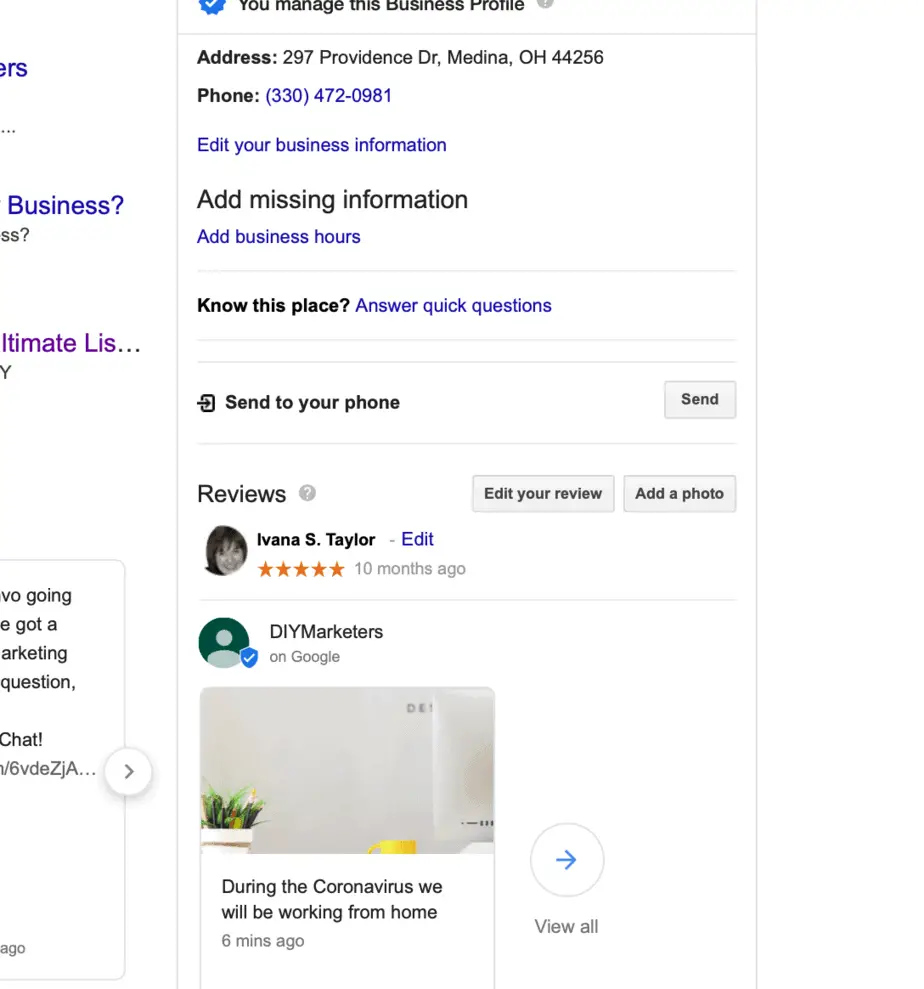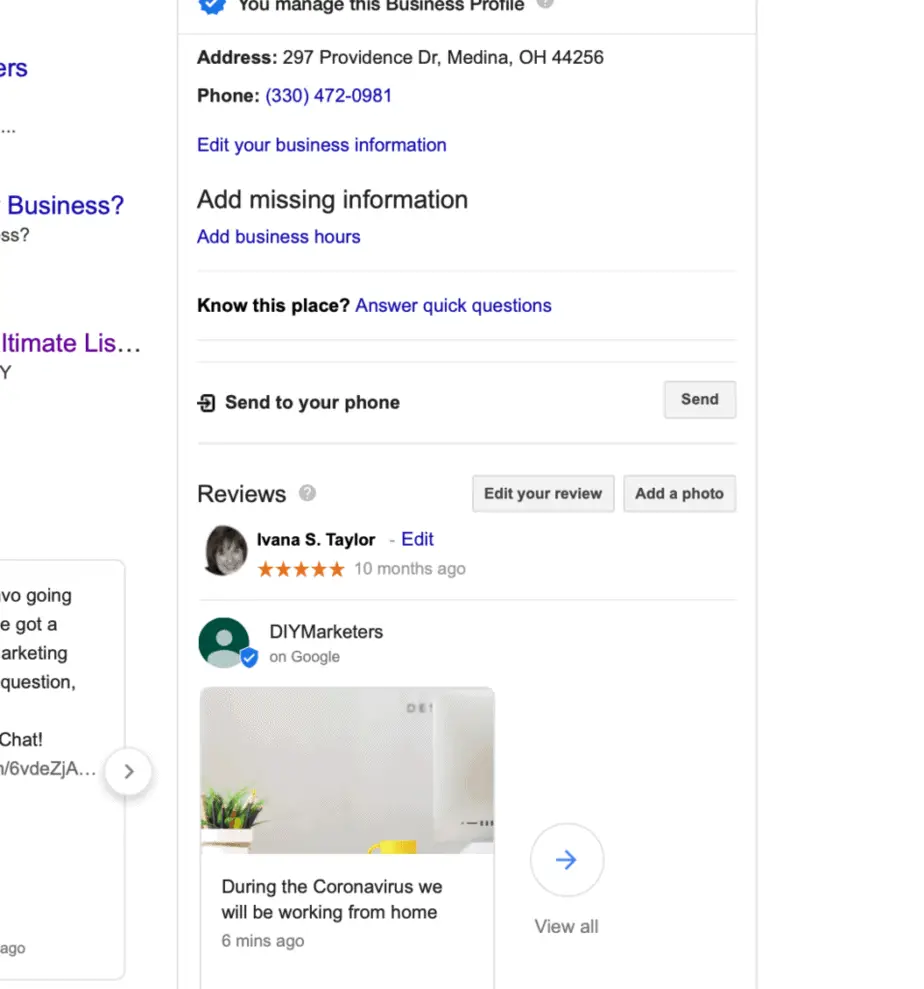 How do I edit events on Google My Business?
Google often pulls information from your website.  So if you have events listed on your website and those events appear in your Google My Business Listing, you'll have to edit those events on your website first.
Unfortunately, those updates may not happen automatically and you may have to wait a few hours.
Send an Email to Your Customers
With your decisions made, infrastructure in place and online systems set up. You are ready to send a series of emails to your customers.
[optin-monster-shortcode id="qichnozd14nphtwhgh62″]
Do NOT overthink this.  Remember, as a small local business, your customers just want to know what you're offering and how they can get their hands on it.
Here is an example of a simple email I've been receiving daily from a local high-end restaurant that has really stepped up to serving their community.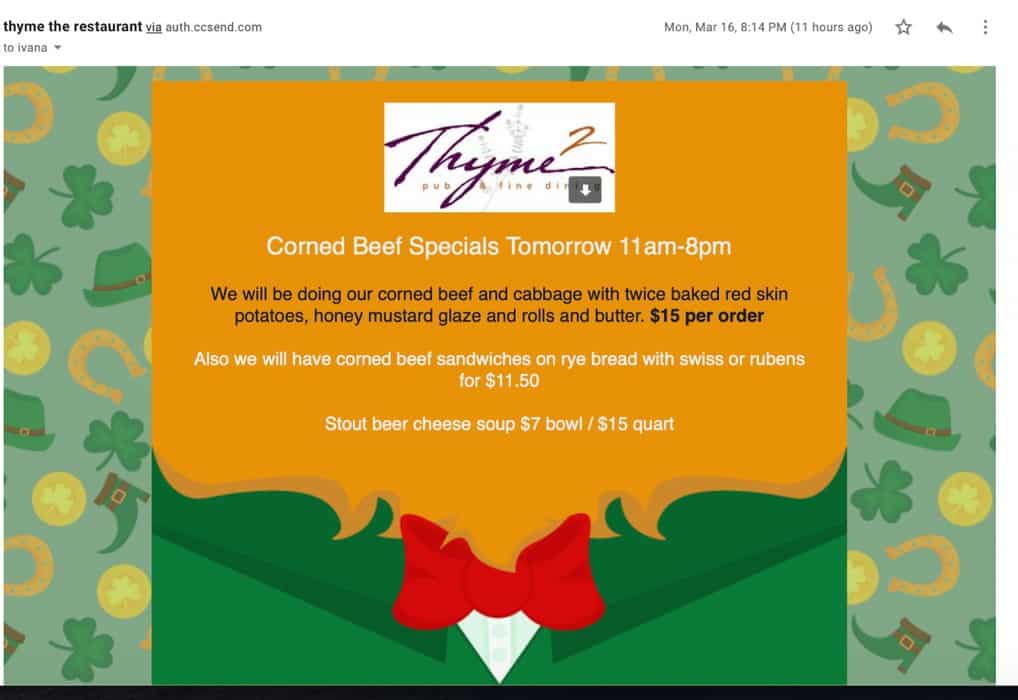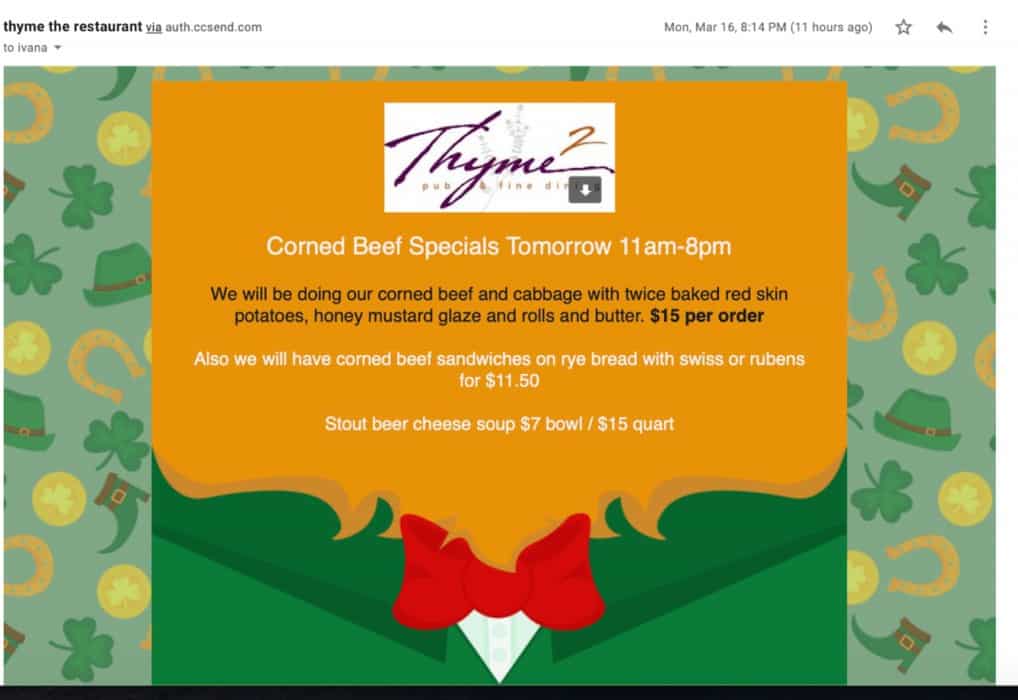 Notice how their focus is on the OFFER and what I can get from them.
They tell you the price and at the bottom there is a teeny tiny phone number.  Sure, they could have done better, but seriously, this is good enough.  They know their customers are local. Their call to action is a phone call and we can get the details that way.  This email is 90% ok and does the trick.  
Right now, no other local restaurant is doing what they are doing. Each email is a daily reminder that they have food I can order and pick up.
Now that we have this idea, let's work out the details to get it to 100%
Put the offer right up front — that's all the customer cares about.  What is available, when is it available, how much is it, how do I get it (instructions, what do you want me to do) how do I pay, etc.
At the bottom of the message you can include a link to your frequently asked questions that are on your website if people want more details.
How to Serve Customers
Sit down and create some useful offers.  Take a look at your inventory and create some bundles that customers will find useful (and even fun).  
If you're a restaurant, you've got to move food and ingredients. You can create cooked meals, you can even create ready-to-cook meals.  Think about including drinks such as a bottle of wine and desert.
Retailers can create all kinds of special themed packages; bath bundles, first-aid bundles, etc. Here is a great infographic from the folks at Contact Pigeon with some great tips.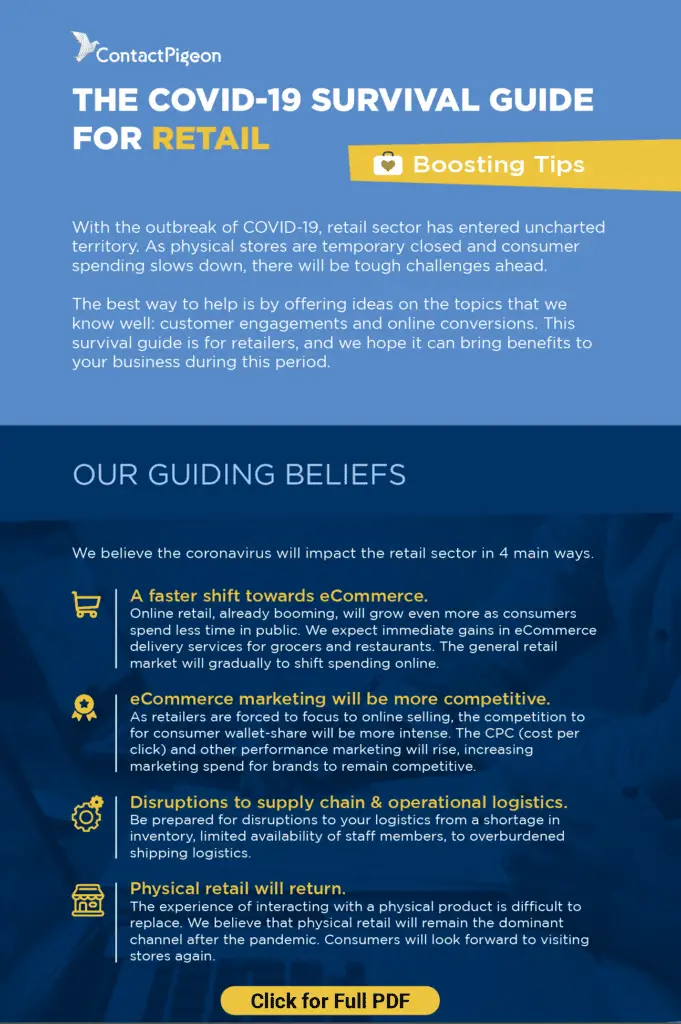 Service businesses can offer to do home visits especially for the elderly
Zoho is offering a free work-at-home bundle until July (for now) so you can meet with customers online.  Microsoft Teams is offering a free online meeting tool as well.
Where to Get Office Supplies
Staples is offering free delivery for any sized order. Call your local Staples to get details. Call your local office supply store to see if they offer free delivery. You can also order on Amazon and WalMart
How to Engage Employees as Part of Your Marketing Crisis Strategy
If you have employees, your first inclination is to keep them safe. Your next worry is how to keep them earning money when new business has dried up. Your employees are a key component of your marketing crisis strategy. Here are a few tips.
Get everyone together on a conference call. (Free Conference Call offers free numbers) and brainstorm with everyone about any activities or jobs that have been put on the back burner.
Working from home: Not every business has obvious "work from home" options. But if you look closely enough, maybe there are accounting, bookkeeping or database activities that you've been putting off because you haven't had time.
Call customers. Since everyone is cooped up, you can consider calling your "at risk" customers to see if there is anything you can do to help. This will not only generate goodwill, but it will provide valuable market research and ideas for future offerings.
De-clutter and clean up. You can tell when a business is bustling based on how much clutter gets hidden away — because there's no time to "deal with it". Well, now you have time. You can put folks to work cleaning up old files and paperwork.
Free Small Business Marketing Tools
Over the last few days, several companies have made their small business marketing and social media tools available for free to any small business owner. Here is a list with links.
Where to Get Financial Help and Small Business Loans
Part of your marketing crisis strategy has to be making sure that you've got enough cash flow to keep going.
There are all kinds of resources out there that will help you communicate with your customers and suppliers. Not only that, but the Small Business Administration and Chamber of Commerce have additional resources to help out. Check these out before you throw in the towel.
The US Chamber of Commerce has put together a wonderful set of resources that you can use as is or to customize for your own business.  These include printable flyers and social media images.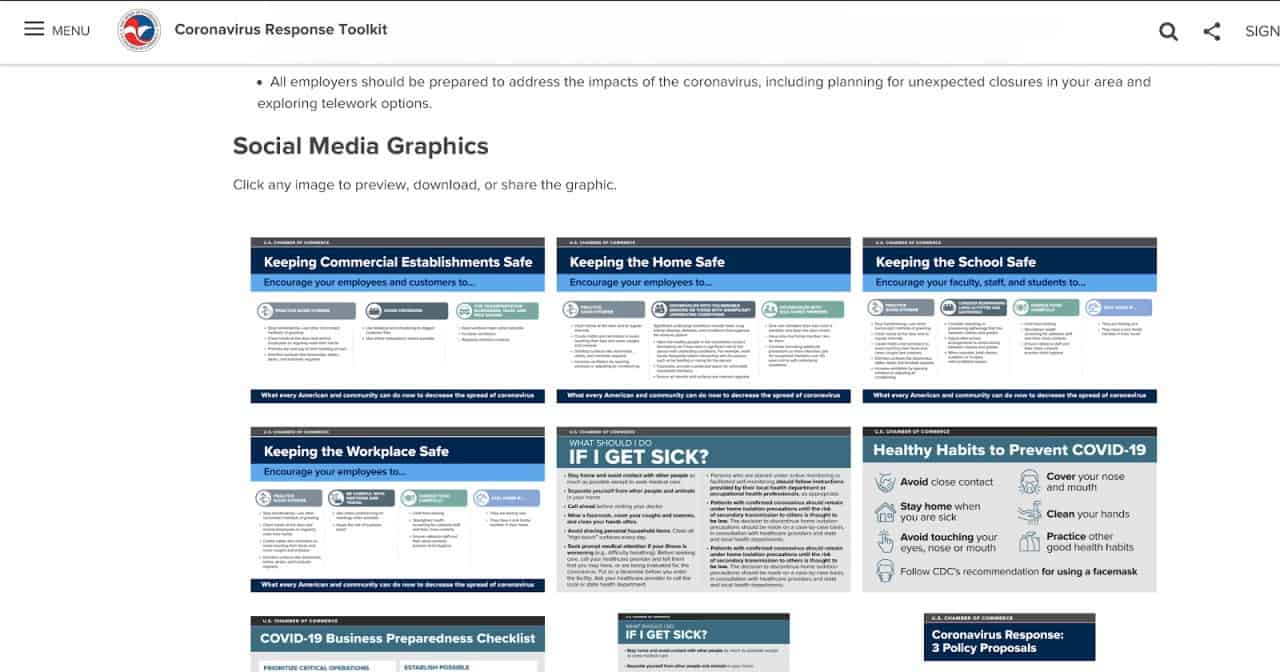 The SBA has pulled together a wide range of resources for small business owners all over the country.
These loans may be used to pay fixed debts, payroll, accounts payable and other bills that can't be paid because of the disaster's impact. The interest rate is 3.75% for small businesses without credit available elsewhere; businesses with credit available elsewhere are not eligible. The interest rate for non-profits is 2.75%.
For additional information, please contact the SBA disaster assistance customer service center. Call 1-800-659-2955 (TTY: 1-800-877-8339) or e-mail disastercustomerservice@sba.gov
How to apply for the small business loan
The SBA will provide financial assistance only to businesses that are otherwise unable to secure loan funding.
The loan amount is determined by the small business or independent business owner's actual "economic injury and financial needs."
Interest rates for EIDL loans are set at:
3.75% for small businesses
2.75% for nonprofits
Loan repayment can extend up to 30 years. The SBA's terms and conditions are determined by the business' ability to repay the loan.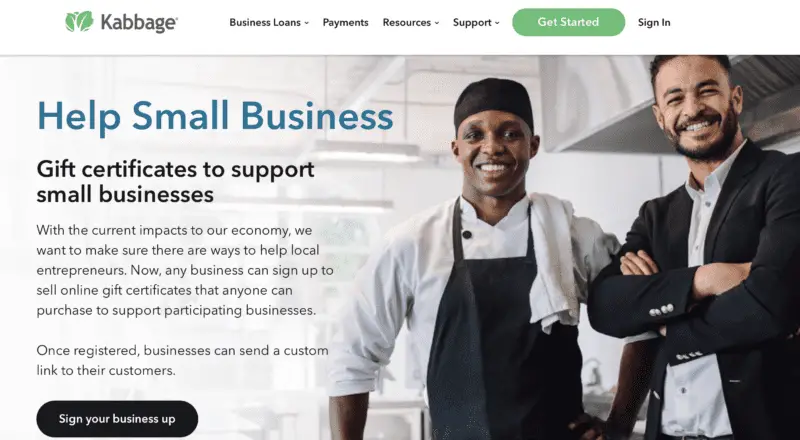 Kabbage Inc., has launched www.helpsmallbusiness.com to support small businesses financially impacted by COVID-19.
The initiative is a call-to-action across the U.S., enabling anyone to purchase an online gift certificate from participating small businesses to provide them with crucial financial support. Certificates can be redeemed in full after they're issued or in the future when the crisis has subsided. All revenue generated from gift certificate sales will be deposited via Kabbage Payments as soon as the next business day to participating small businesses to help aid their ability to withstand cash-flow gaps caused by COVID-19.*
Your Crisis Marketing Strategy Checklist
It can be frustrating feeling completely out of control. But, the best way to gain control is to stop, breathe and look for the gratitude and opportunity around you.
A crisis is often an opportunity to be your best self. It's an opportunity to do what you set out to do in your business — help people.