Looking for HARO alternatives for more media coverage? Not sure why you need a HARO alternative? Read on for tips and tools that drive inbound PR.
HelpaReporter.com was a pioneer inbound PR marketplace where pr professionals and relevant journalists asked and answered questions. For more than 10 years, it was your best free resource for media coverage, extensive press coverage, blog content, and general online visibility.
After more than a decade of using HARO (Help a Reporter Out) to collect tips and ideas from small business owners, I discovered that they are only accepting queries from larger publications with a SimilarWeb global rank between 1 and 1 million!

In fact, most businesses that aren't major publishers or content marketing brands are not going to make this mark — especially if you are in a niche business.
Here's an example of a company that I know is doing everything right in terms of content marketing. But they are a software company — not a marketing company.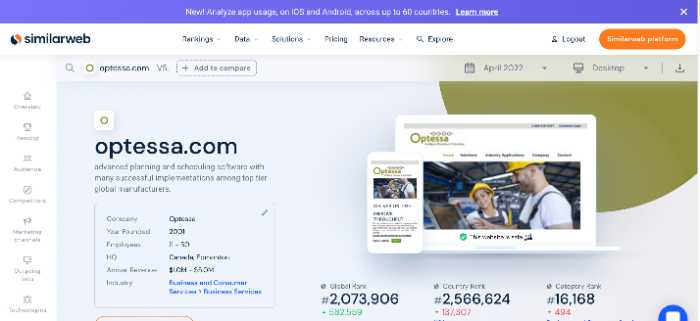 So, if they wanted to get quotes or insights from small business owners for a piece of content, they would be out of luck.
If you want to see where your website ranks, click over to SimilarWeb, enter your website and see where you fall.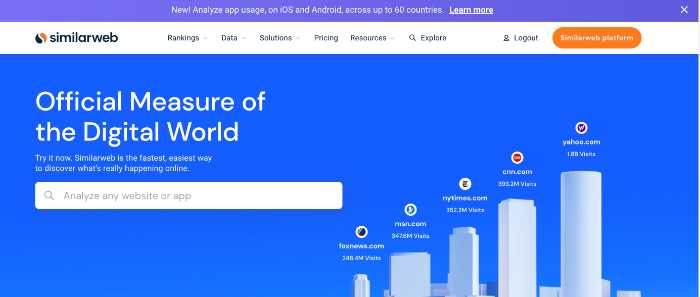 What is HARO
In 2008, Peter Shankman started a Facebook Group called "Help a Reporter Out". The concept was simple, journalists would share what stories they were working on, and experts could answer relevant pitches and be quoted in articles. Then, HARO became a mailing list with over 800,000 sources and 55,000 journalists and bloggers. HARO is now one of Cision's brands. (Wiki)
In other words, it was an inbound PR marketplace that posted journalist queries and where experts would respond.
This is different from OUTREACH or outbound PR where you spam thousands of publications with a press release or news. It's more targeted, it's more fun, and experts get better visibility, while journalists seeking sources don't have to cold pitch.
Win-Win
Why You Need a HARO Alternative
There are three main reasons you want an alternative to HARO:
Collect expert tips, ideas, and strategies. This is a great way to curate content for your blogs, case studies and website.
Grow your audience. When you use expert content, you can promote those experts and they will promote being featured on your site.
Build backlinks and authority for your site. Yes, Google still uses relevant, high-quality links to your site to measure website authority and credibility. When you feature expert content and participate as an expert on other site content, your site will get links and your brand will grow in authority
Being featured as an expert and featuring experts on your site is a simple, high-quality way to build that know, like, and trust factor online.
The Best Haro Alternatives for Inbound PR
So, now that we know we're looking for an inbound PR marketplace, public relations software or PR tools where you can land press coverage without sending cold emails.
Overall, here are the features you're looking for as you review each media intelligence platform.
Media coverage, media outlets and media opportunities: that are relevant to your industry
Online visibility: Look for media lists of online publishers so you can get SEO juice for your brand.
Online news: I prefer online news outlets and online news because I'm looking for quality backlinks to my site.
Media mentions with links: Look for posts that will mention your name and website with a link.
Free options: Look for a free platform, free online service, free version, free tool, free plan. Many platforms will offer some element of free service either for experts or for a limited amount of engagement.
Proactively pitch journalists: Look for a feature that connects journalists to experts and vets both journalists and experts.
Curated media list or Custom media list: This is mostly a search function. You want to be able to create or see a list of curated media that you want to engage with.
Media contacts
Media partners
Social media accounts
Qwoted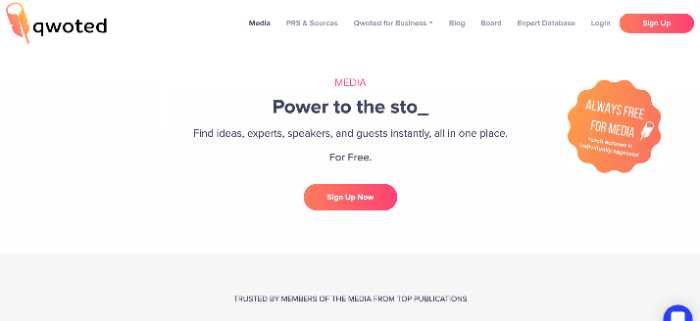 Qwoted is one of the most popular PR platforms that can be a good HARO alternative. It's free to sign up. but you have to be approved. You will need a personal profile displaying your qualifications and skills.
PR agencies will benefit the most, but there are also great opportunities for online businesses and experts to answer questions and get link building opportunities from major industry publications
One of my favorite features is the sidebar that helps you search pr opportunities by industry and publication.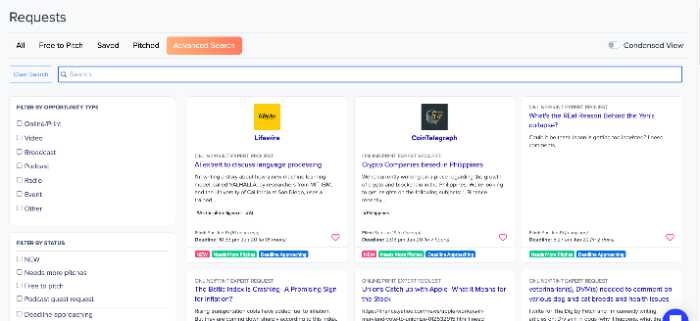 Many of the key features are only available with a paid subscription.
Muck Rack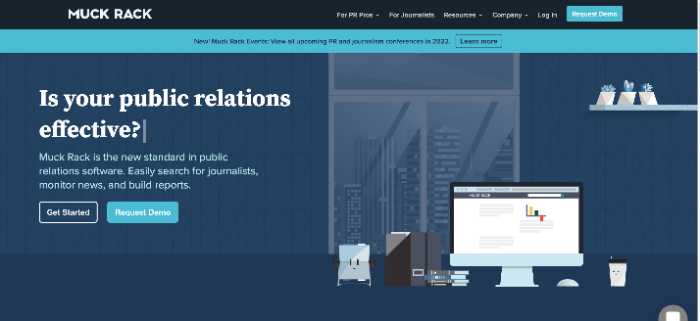 Muck Rack is primarily a PR platform for PR professionals and agencies. Their is no free option and requires a membership fee.
Content marketers can open a free profile as a "journalist". You'll have to fill out a profile and Muck Rack will create a portfolio page for you. They will also aggregate information about you.
I had to mention Muck Rack, but I wouldn't recommend it for solopreneurs or local small businesses, it's mostly for PR teams.
BizSugar Mastermind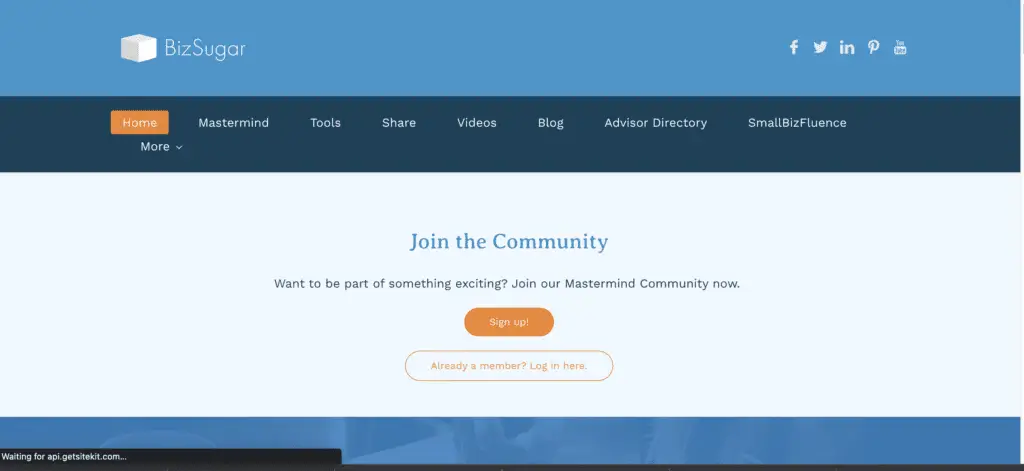 You won't see the BizSugar Mastermind Community as one of those HARO alternatives that's a marketplace where journalists and sources come together. That's because it's not a marketplace — it's a mastermind community.
When you join BizSugar, you become part of a community of more than 50,000 small business owners and entrepreneurs. It's the perfect place to ask questions, make connections and build relationships.
JustReachOut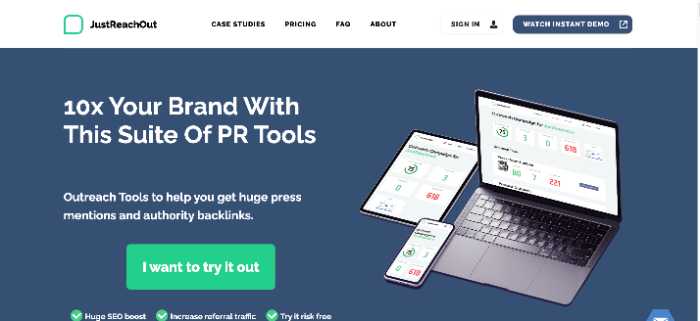 JustReachOut is another platform that's often listed as a HARO alternative, but I don't agree. this is an OUTreach platform that a DIY PR professional would use to identify potential journalists and send them pitches.
JustReachOut also offers pre-designed templates that you can use to request back links to your site.
Overall, I would discourage you from sending these types of emails if you haven't already developed a personal relationship with the recipients.
SourceBottle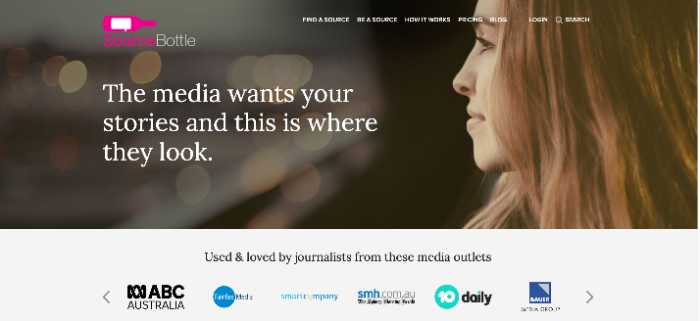 SourceBottle is another HARO alternative for both PR professionals and small business owners. You register once and you can be either a source or a journalist.
One thing that sets SourceBottle apart from other inbound PR marketplaces is this "giveaways" feature. This is a paid feature, but it's not at all expensive at $25/month.
Basically, you can find giveaways or post your own giveaway. This is great if you're a blogger reviewing products.
Terkel.io
Terkel.io is my favorite of all these HARO alternatives. I found the platform VERY user friendly. The only issue I had is that you had to create a journalist account and a source account. I find that a bit cumbersome.
One of the things I LOVE about Terkel that no other platform offers is that you can get different versions of your query; you can get quotes only or a complete article with images.
I recently requested two articles and was blown away by what I received. I have PAID hired writers to create similar articles and, on a scale of 1-10, I'd give my writers a 5 (I had to rewrite everything) and I give Terkel an 11. Yeah. It's that good.
Which HARO Alternative is Right for You?
Which HARO alternative you choose will depend on your primary business function. If you're a PR professional or agency, it may be worth the investment in one of these paid platforms or to gain access to premium features.
If you're a blogger, stick to the basic free plans and focus on the HARO alternatives that have the participants and partners that best represent your industry or audience.