Referrals vs references: The key differences between a referral and a reference is that references are active requests fro more information and referrals are passive recommendations for a specific business.  A reference is given by the business owner and waits to be contacted, while a referral actively shares their experience with you with their friends and family.
If you're a consultant, freelancer or even a startup trying to get your first customers, it's really important that you understand the difference between referrals and references. Instead of thinking about this as referrals vs references, think about leveraging your referrals and references is the fastest way to make money.
Referrals vs References in an Infographic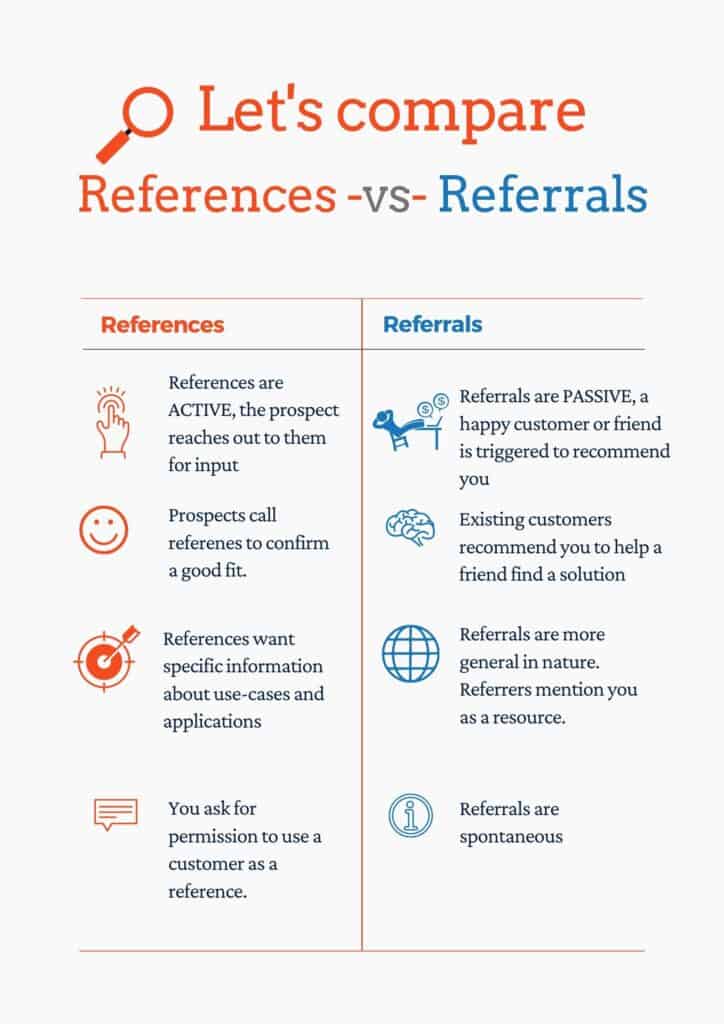 Put on your Human Resources Hat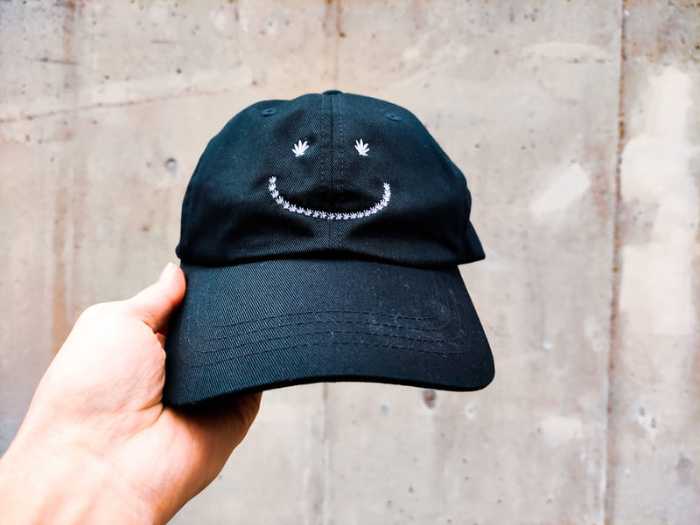 Collecting references and referrals is a human resources activity that's related to sales. Your job is to think about your prospects as potential employers who have a job opportunity for you, and your team as job seekers who are on a job search.
What is a reference?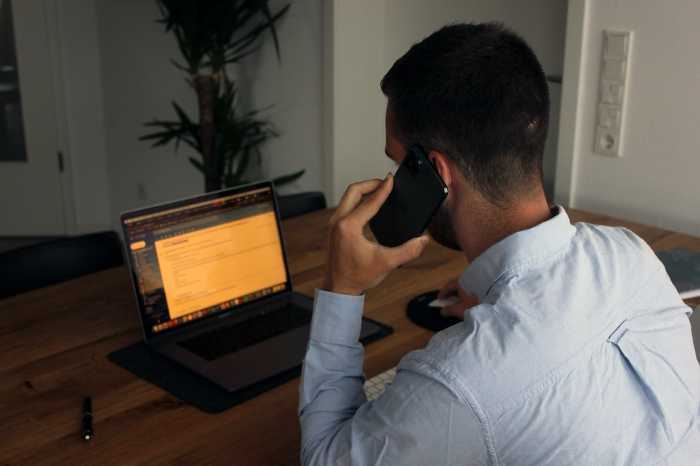 In general, a reference is an active request by a potential customer for information about your business.
Most business owners think of references as something solely related to hiring. But when you're a solopreneur, you're asking your customers to make a hiring decision, so things like character references are still important.
Your Customers Want to Hire You to Do a Job
Your potential customers are like hiring managers. In the same way that a hiring manager might request a set of references from previous employers to get a deeper understanding of a person's qualifications, your prospect will want a list a references from a past customer to see what their experiences were.
Look at it from the perspective of clients (who serves as hiring managers). They have a job opportunity, or a job that needs to be done and they are looking to you and your competitors as "job seekers'.
So, like any potential future employer doing a job search, they want to reach out to your past clients (or past employers) to check your reference work and see if your are a good fit.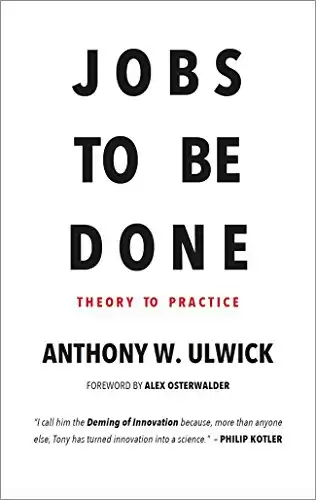 Jobs to be Done: Theory to Practice
The jobs-to-be-done framework is a way to develop products based on understanding both the customer's specific goal, or "job," and the thought processes that would lead that customer to "hire" a product to complete the job.
This book will teach you how to use this innovative framework to develop profitable new offers that meet customer needs and help you stand out.
Read Now
We earn a commission if you click this link and make a purchase at no additional cost to you.
12/01/2023 04:19 am GMT
Why are references and referrals important?
References and referrals are essential to any successful marketing campaign. They're one of the best ways to build trust and credibility.
When you provide a potential customer with a reference, this gives them the opportunity to ask your existing clients questions that are specific to how they might use your product or service.
This helps them predict how your overall performance might match their unique situation.
Referrals, on the other hand, typically come from a conversation where an existing client hears a problem or trigger that makes them think of you.
How to Get References to Close New Business
Your references will be the people who know you best and can vouch for you. They're likely to be your existing clients, but they could also include friends, family members, colleagues, past customers and anyone else who has worked with you before.
How to ask for references
References are one of the best ways to show clients that you're trustworthy. They give potential customers confidence that they'll be treated fairly by you.
Here are a process you can use to generate references from existing customers to help them talk about your products and services.
Send an email to your past clients asking them if they're willing to be a reference for you.
Reach out to them on social media and ask them to connect with you.
Put together a list of questions for them that potential customers might ask and send it along.
Create a landing page on your website specifically for references.
Give them a special offer for being a reference.
Create a case study or video testimonial from them.
Thank them publicly on social media or your blog.
Mention them in an article you write about referrals or references.
Ask them to write a review of your business on Google, Facebook or Yelp!
Send them a handwritten note thanking them for their support!
What is a referral?
A referral is someone who has already bought from you and is willing to recommend you to others. Referrals are one of the best ways to build your list of customers and grow your business.
How to Use Referrals to Generate New Business
Don't leave referrals up to chance. A solid referral program that helps your existing customers refer you is a powerful sales funnel that will serve as a feed of ideal customers.
Customers who regularly refer your business can also serve as references.
Here's a quick process for developing a referral and reference program for your company.
Ask for them.
The best way to start using referrals and references is by asking for them. This will allow you to build trust and rapport with your clients. But don't just ask for them – offer them.
The key is to make it insanely easy for your customers to refer you. Here are some ideas:
Create a special sequence via email
This is one of my favorite ideas. Your customer isn't sitting here thinking about being a referral. You have to remind them. A great way to do that is create a special sequence that you can send them via email. You might include news, examples of ways you've helped other customers or see how you answer similar questions to the ones they already have,
Create shareable case studies and examples.
Make it easy for your clients to share your content and give you some credit. Then follow up with them regularly to keep the relationship going.
How to ask for referrals
The best way to ask for referrals is by asking for them directly. This will give you the opportunity to explain why you're asking for them, what they mean to you and how it will benefit them.
This is why it's so important to have a referral program as part of your formal marketing plan.
How to reward referrers.
Referrals are one of the best ways to market your product or service. They're free, they're easy to track and they're a great way to build relationships with potential customers. But if you want to really stand out from the crowd, you'll need to offer something extra special to those who refer others to you.
Not everyone can accept gifts.
Please remember that there are some businesses that cannot accept gifts of value. For that you may have to get a little creative.
I'm going to give you a list of my favorite referral rewards. Most of these will depend on what's relevant or natural for your business.
Free products or services. If you have a product or service that's easy to share for free — give your referrers access or send a free gift of what you sell.
Gift certificates. I love to send gift certificates to restaurants or stores that both the referrer and their family can enjoy.
Fun food. Another fun thank you send a referrer (especially if they are not in your city) is a local food that they won't have access to in their geographic region.
Donate to their favorite charity. This is a great option for those referrers or references who cannot accept gifts as part of their work.
Store credit. This is similar to a gift certificate or gift card. It's a great way to have referrals coming back for more.
Make References and Referrals are Powerful Marketing
So, the question isn't whether you should use references or referrals in your marketing. Instead, your best marketing will make use of BOTH references and referrals.
Don't wait. Make a list of your best customers, interview them and see whether they can be references, referrers or both.