Don't you love it when you search for something and the answer pops up right away? Sure you do! That's SEO in action. If you want your business to get found by your ideal customer, then you're ready for an SEO strategy for Small Business.
You see, Google is in the business of making it easy for their customers (that's you) to find what they are looking for and get their questions answered in the fewest clicks possible.  If you want to do the same for your customers, then keep reading.
This guide will simplify SEO and help you create an SEO strategy for your small business. You'll also get tips and recommendations for the best SEO tools to help you implement your SEO strategy.
Why Small Business Owners Struggle With SEO
In my research and my experience with small business owners, I've found that most small businesses struggle with SEO because:
It's technically complicated. No doubt. SEO is a technical discipline. And, it's difficult to understand the general landscape of the SEO industry and to find a process that works for your business.
SEO experts are too specialized. Because SEO is broad and technical, it's difficult to find an SEO generalist who not only knows enough about the overall industry but can recommend and explain a process that you understand and can implement.
SEO is constantly changing. Because Google and other search engines are constantly changing in order to improve your search experience, what works today, may not work tomorrow.
Despite these challenges, I can't stress how important small business SEO is to the health of your business — especially if you don't have a lot of time or money to invest in marketing.
How SEO Works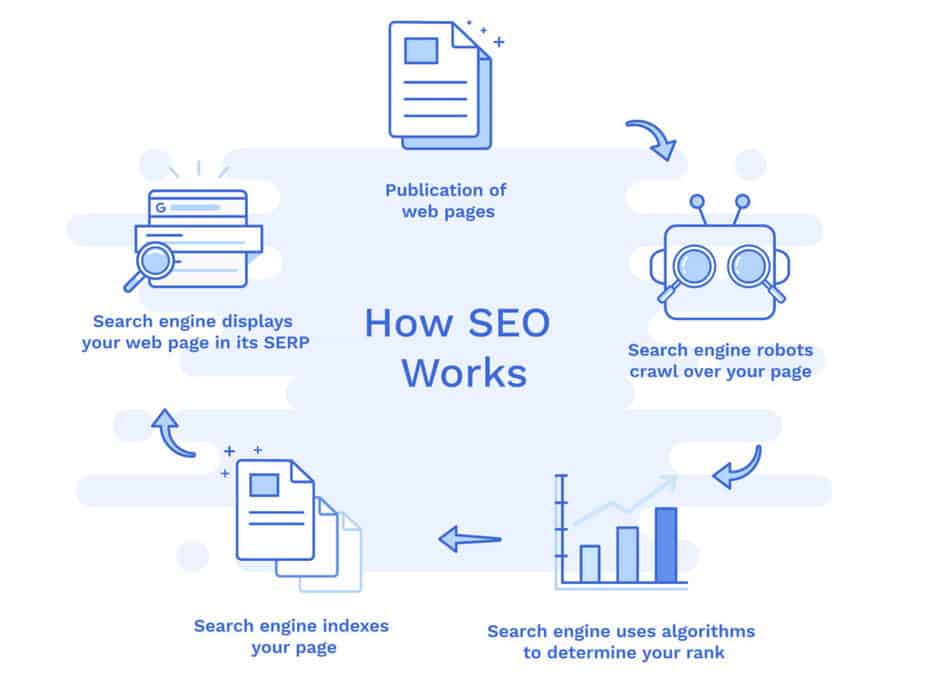 In this section, you're going to get some critical context around SEO.  This will help you understand WHY you need to create high-quality content, WHY your website MUST be optimized on mobile, and WHY your site needs to be super-fast. The idea is that if you understand a little bit about how the sausage is made and the role YOU play in driving how search engines work, you will be able to prioritize what to do on your site.
At its core, search engine optimization makes sure that your site is easy to find and access by BOTH people and web crawlers (or bots).
So, Google would discover web pages by crawling from a web link to a web link and match web documents to your search query by finding those words on each page. In many cases, individual websites had to submit URLs into the search engine index to serve those URLs to you.
Over the years, not much has changed. Google and other search engines use crawlers (or bots) to constantly look on the web for the newest, freshest, and best content. Google also looks at related sites and reviews them with your new content to determine if they should put your site in front of their customers or not. This is called organic search.
In other words, the site that has the best, most relevant, and helpful content for the searcher will get placed higher in the search results.
Makes sense, right?
Write For the Reader, Organize for the Search Engine
The ONE rule in SEO that has never changed is to write for the reader, and then consider the search engines.
If you only learn one thing from this guide remember this — keep your customer and their questions, concerns, and needs front and center and you'll never go wrong.
Begin organizing your website and your content for the reader first. Then, you can tweak that structure based on what makes it easier for search engines to crawl and index your site.
Why Does Google Keep Changing Their Requirements?
Google keeps changing and updating its algorithm because WE (their customers) keep changing our behavior and requirements.
We are searching using our mobile phones first — so that's why they reward sites that look great on mobile.
We have NO patience. If you click on a search result and the page doesn't open within 2 seconds — you leave and try another search result.
We leave irrelevant sites. Related to having no patience – we leave sites that don't immediately answer our questions.
I'm sure you've done all of these things when you search for information. And your customers are doing the same thing. So, this is why it's more important than ever that small businesses take SEO seriously.
What Every Small Business Owner Needs to Know About SEO
In this section, you'll get a list of the important information you won't find in any SEO book or Google search.  This is a "what to expect" list that's aimed to help you navigate the SEO landscape as you're ramping up your SEO strategy.
No single SEO expert has all the answers
Like doctors, most SEO professionals know a lot about all aspects of SEO. And, like doctors, SEO experts have specialties.
There are SEO experts who only deal with specific technical aspects of website optimization. There are SEO experts who only do page optimization, or on-page SEO there are SEO experts who create content that drives organic traffic. And so many more.
Google and SEO experts assume you understand how SEO works
This is unfortunate but true. If you search for the term "SEO" in Google, you'll see these ads listed.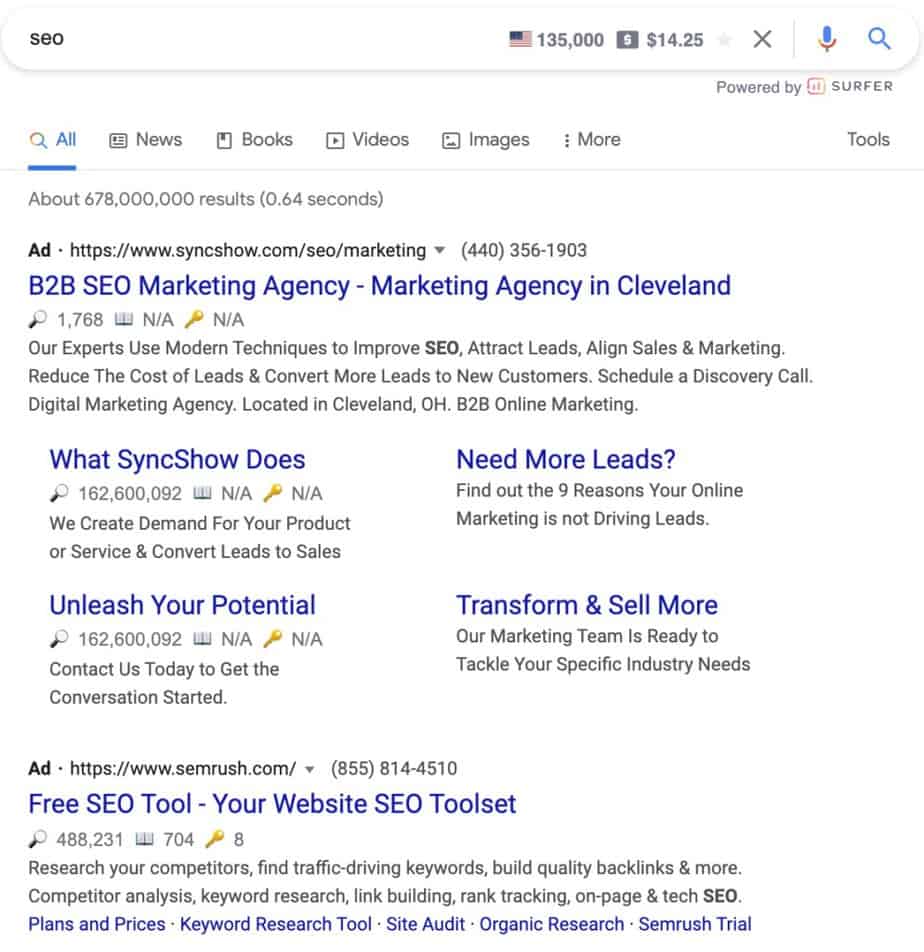 This tells you that Google thinks that you either just want to hire an agency to do this for you — or — that you know enough to use a tool like SEMRush to optimize your content. These are both at opposite ends of the extreme.
SEO is changing all the time
Search Engine Optimization (SEO) is the youngest marketing channel, and also one of the fastest-changing. I would even go so far as to say, it is the fastest-changing.
For that reason, SEO can definitely seem too overwhelming and hard to keep up.
What is Search Engine Optimization Strategy (SEO)?
Depending on the nature of your small business, your SEO strategy may be slightly different:
But the basic principle remains consistent across all niches: You need to ensure your site can be crawled and you need to create relevant content that matches your target customers' search patterns.
What Types of Businesses Benefit the Most From SEO?
It's true that SEO can be effective for any industry, but some industries may see more success with it than others.
Here are a few examples of industries that get the highest ROI from SEO:
Online Businesses
Medical Practices
Legal Services
Restaurants
Home Repairs and Renovation Servies
Real Estate
Put simply SEO is today's Yellow Pages. If your best customers hit Google to get your phone number, address, get your hours or make an appointment — you need SEO strategy for your small business.
How Do I Use SEO in My Business?
Before we get into specifics, let's talk about some beginning steps EVERY small business should take:
Set a baseline
Your first step is to understand exactly how your website measures up against what Google considers to be "Best Practices" so that you have the BEST chance of being found by your customers.
Get "Google Core Web Vitals" for your site. One way to check your Google Core Web Vitals Score is by using GTMetrix. Just enter your website URL and you'll get a grade for your website – along with suggestions for improvement.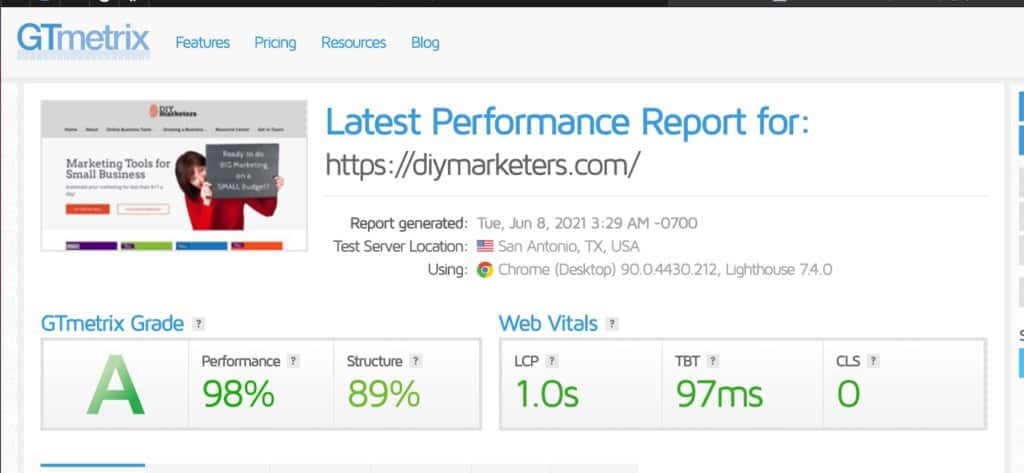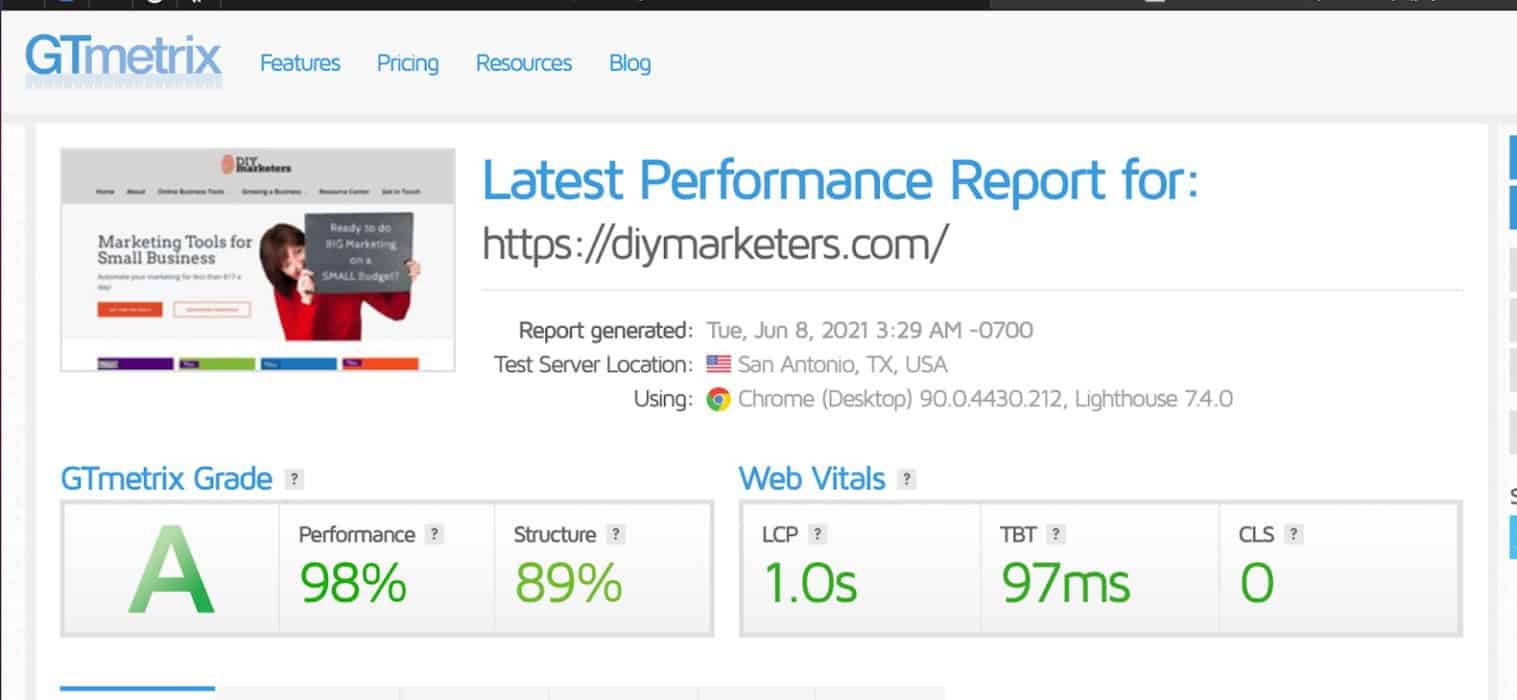 Run an SEO audit on your website.  Think of an SEO audit as a physical for your website.  You want to see if your website is performing properly.
These two elements of setting a baseline are TECHNICAL SEO functions.  It's best to hire a technical SEO specialist to do this for you.
Do a content audit on your website
The next step is to run a "physical" on your content. The purpose of a content audit is to see if the content that you have on your website is doing its job in helping your prospects and customers get answers to their questions.
A content audit will also help you identify how your website compares against competitors or other sources of information and identify specific steps you can take in the area of  content marketing to attract more of your ideal customers.
You can use a tools like SEMRush or Ahrefs can do this too. But if you're not comfortable with this type of technology, it's best to hire a CONTENT SEO specialist to help you.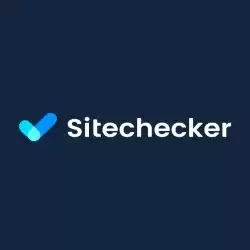 Website SEO Checker & Audit Tool: Test Your Score for FREE
SiteChecker.pro is a website SEO checker and audit tool that helps webmasters and entrepreneurs improve the SEO performance of their websites.
It offers a comprehensive analysis of a website's SEO, identifying technical issues that can negatively impact its performance and ranking
Try Now
Here are the three steps to creating an SEO strategy for your small business:
SEO Strategy for a New Website: Choose an SEO Friendly Domain
There are still lots of SEO experts that stress themselves and their clients with the need to find a .com domain.
Years ago it made sense for type-in traffic when people would automatically type .com after anything they type into the browser's address bar.
But even then, having a .com domain was hardly an SEO signal.
Google has never confirmed their algorithm favored .com domains. There's also no solid study that would be able to confirm a theory that a top-level domain is a ranking signal.
In fact, Google itself started using alternative top-level domains pioneering the concept. They have domains.google for their domain selling service and grow.google for their training platform.
There are lots of trending top-level domains that quickly gain traction. These include .tech domains for technology-driven startups, .online for web-based products and services and .shop for e-commerce businesses.
The beauty of those alternative subdomains is that they immediately convey the nature of a business, and so match searcher intent better (which may actually result in the higher click-through from search results and better on-page engagement).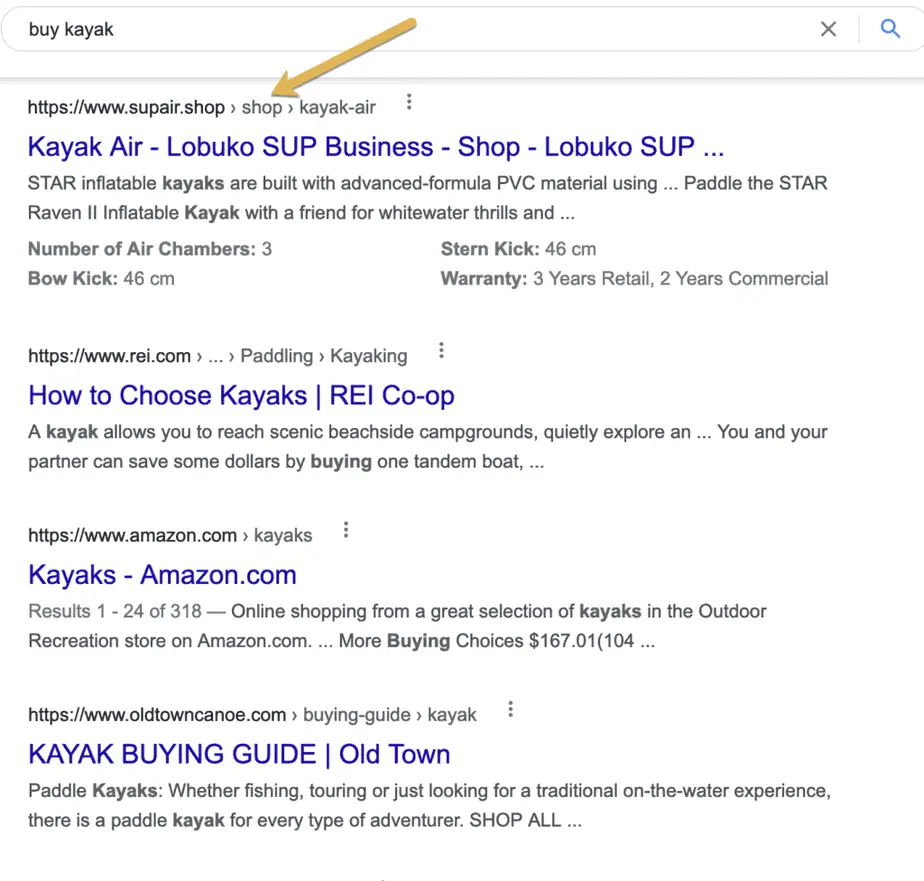 Featured tool:
To help you pick a good domain name, check out Namify which is a cool tool that generates easy to remember and brand domain names, helps you pick an intent-matching top-level-domain and even check social media name availability for the chosen name:
Technical SEO Strategy for a Small Business, Made Simple
Traditionally, technical SEO has ensured that the web pages could be accessed and crawled by search engines. As Google was becoming better at crawling all types of web elements, including Javascript and videos, the focus on technical SEO has shifted onto providing a great customer experience.
Google has been encouraging website owners to build user-friendly websites for years. First, they included site speed as a ranking factor a decade ago. And recently they have announced a so-called "page experience" update that made user experience part of their ranking algorithm.
While this may seem overwhelming to a busy, non-technical business owner, let me make it easier for you:
So far, the impact of user-experience updates has been pretty mild. The majority of high-ranking pages don't comply with Google's high standards
WordPress makes it pretty easy to build usable websites even if you don't really know web development (and don't have the budget to hire someone to help).
While creating a great user experience is important on many levels (for both attracting and converting visitors), don't let technical aspects of SEO overwhelm you (or even make you shy away from starting a website).
Start small. The smaller a website is, the fewer technical issues you are likely to face.
Set up a several-page website that will tell your business story and let people contact you. Then when you feel comfortable start gradually building up your website by adding relevant content.
SEO Content Strategy: Keyword Research and Optimization
One of the oldest and fundamental SEO tactics is to create search-optimized content. This task has traditionally consisted of two steps:
Identify search queries (keywords) that people tend to type in Google's search box when researching a relevant topic. Tools like Frase will help you with this step.
Use those keywords in content for Google to be able to match your content with relevant searching
While the first task hasn't changed much (here's a quick exercise for you to find keywords to optimize for), the second step is very different now from what it looked like a few years ago.
Optimizing for "keyword strings" is getting old. Google understands that people use different ways to search but a page doesn't really need to contain that phrase to be relevant and helpful for the searcher.
For example, if I am planning my weekend and search for something like [hiking places in adirondacks], Google shows search results that don't even mention [places] anywhere in the title tags, meta descriptions or even content. Instead, Google suggests [hiking guide], [hiking trails] and [hikes]:
To drive this message home, Google even officially announced two major updates throughout its history: Hummingbird and Bert, both of which aimed at helping Google understand the meaning behind a search query instead of focusing on the individual keyword strings.
Instead of stressing over keyword density, focus on your content depth. Is it doing a good job answering people's questions and helping them solve problems? You need to create epic content rather than SEO-friendly content.
This is not to say keyword research itself is obsolete. Keyword research is as important as ever: You need to know how people search and what your competitors are doing to rank.
What needs to go is the concept of keyword density that forces a writer to add a certain number of keyword strings within content. This is a harmful and spammy concept that breeds low-quality content.
Featured tool:
Text Optimizer offers an alternative score to judge content quality. They apply semantic analysis to identify underlying concepts behind your target search query. It helps you create a more in-depth copy covering more angles: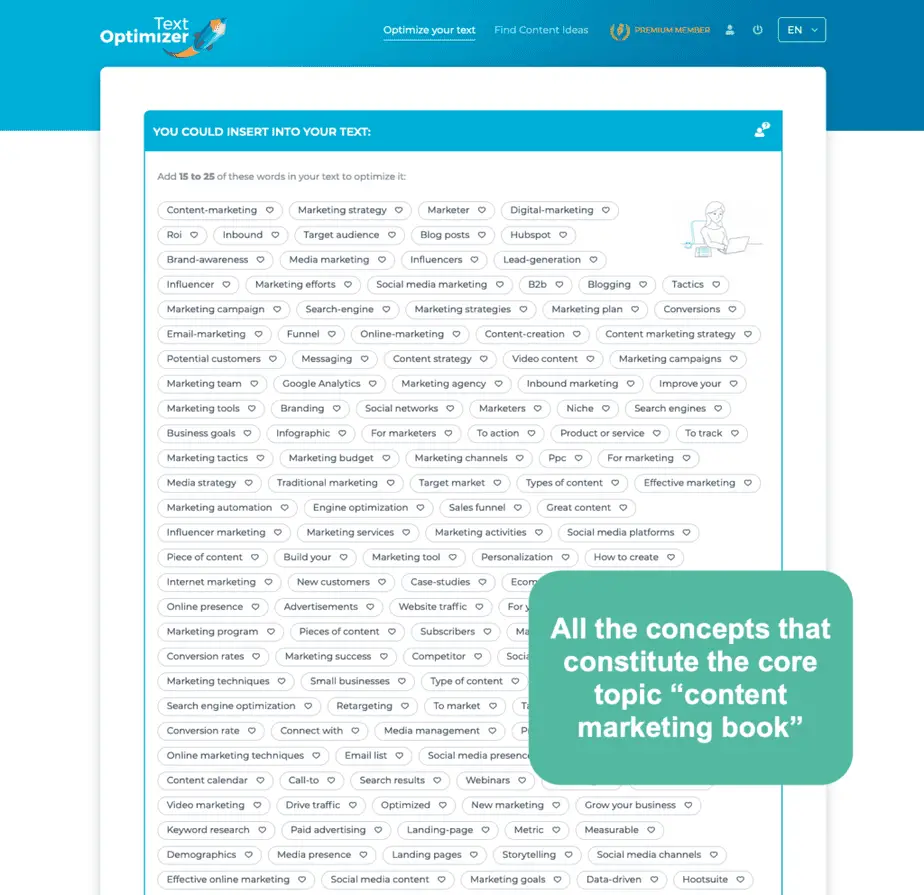 Another great tool to use here is Site Checker which includes content analysis as part of their site audit feature. The tool extracts the semantic structure of each page allowing you to see whether you are using your target keywords in prominent sections of your content: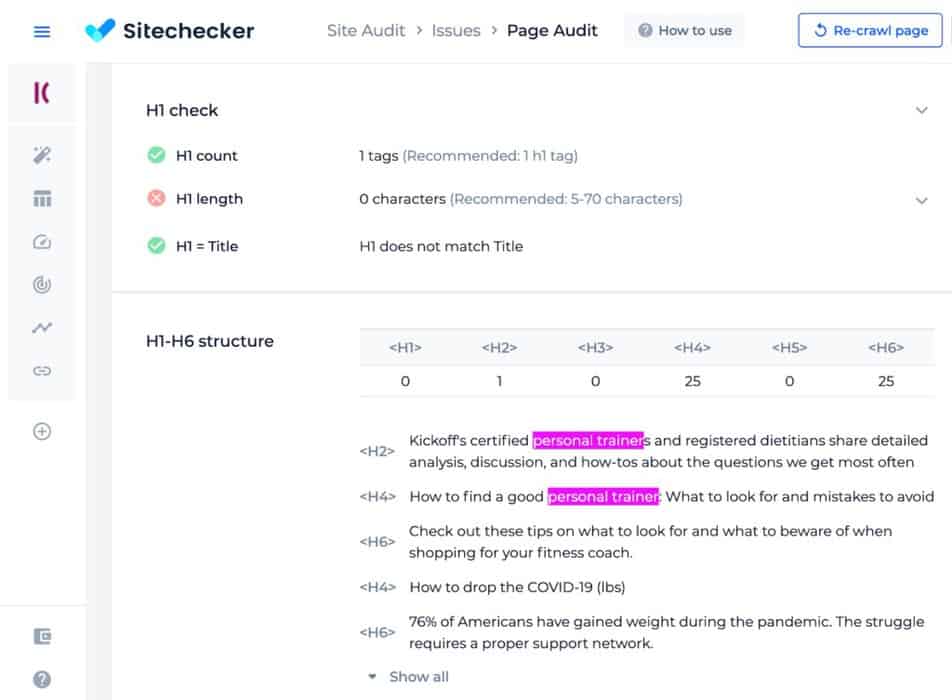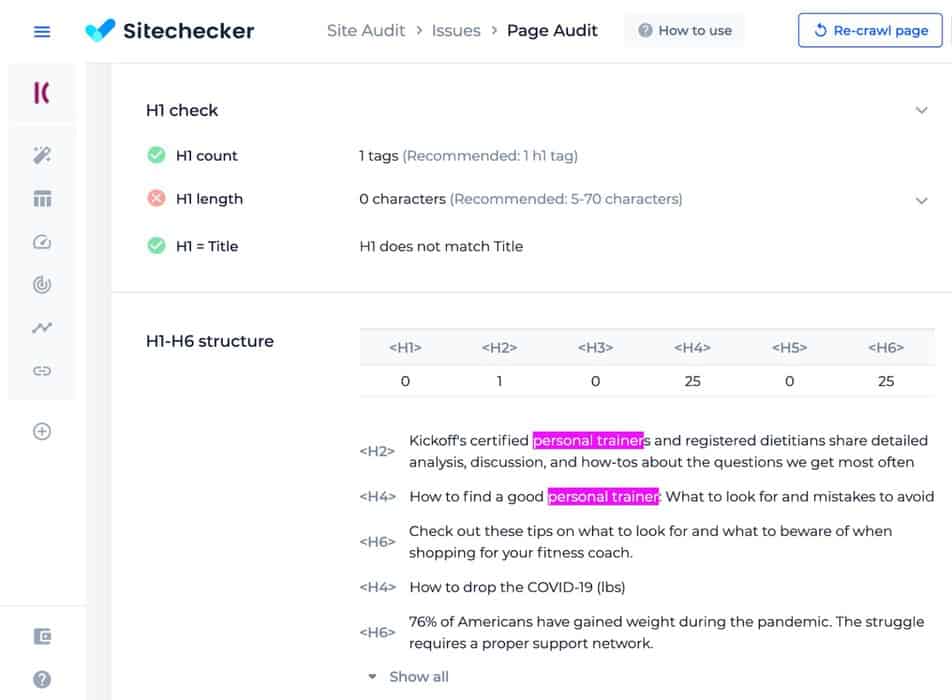 Keyword prominence is a much better metric to use than keyword density. Relevant keywords in prominent on-page elements help in both SEO and on-page engagement.
On Page SEO and Web Analytics
Ever since search engine optimization was born, it has all been about achieving a certain position in Google. It has quickly changed because of an array of reasons:
Not all Google's search engine result pages are even driving clicks. Some of those SERPs are doing such a good job answering a searcher's question, there's no need to click!
It's no longer about organic positions any more. Google shows image carousels, video carousels, People Also Ask, featured snippets, etc. Organic results sometimes take some scrolling to get to. They no longer provide adequate visibility. You need to be everywhere.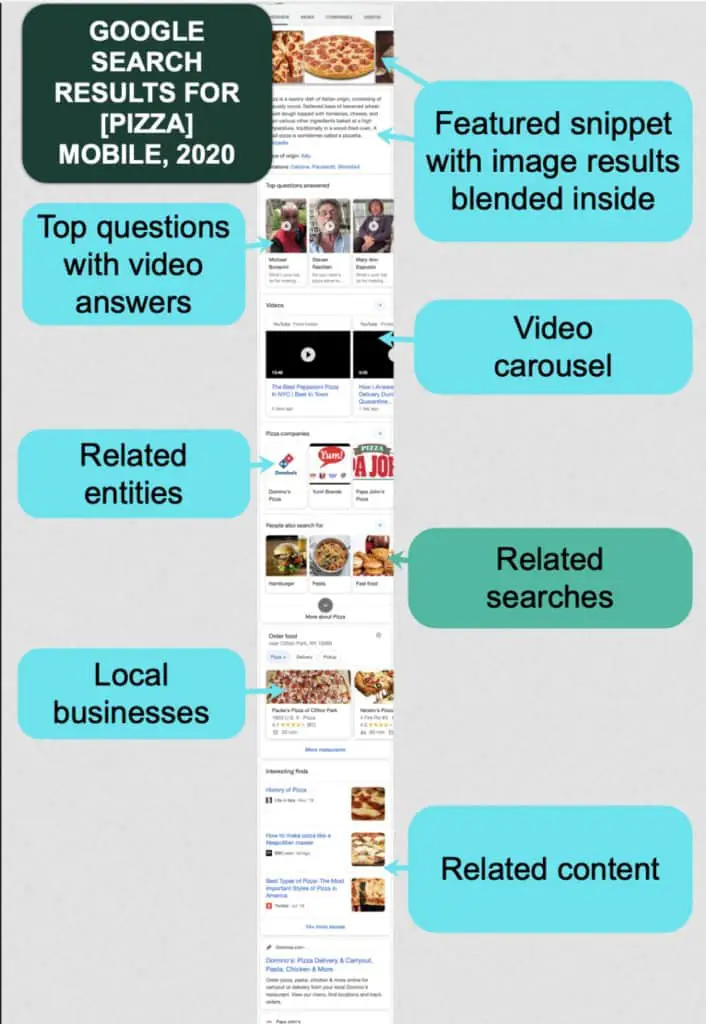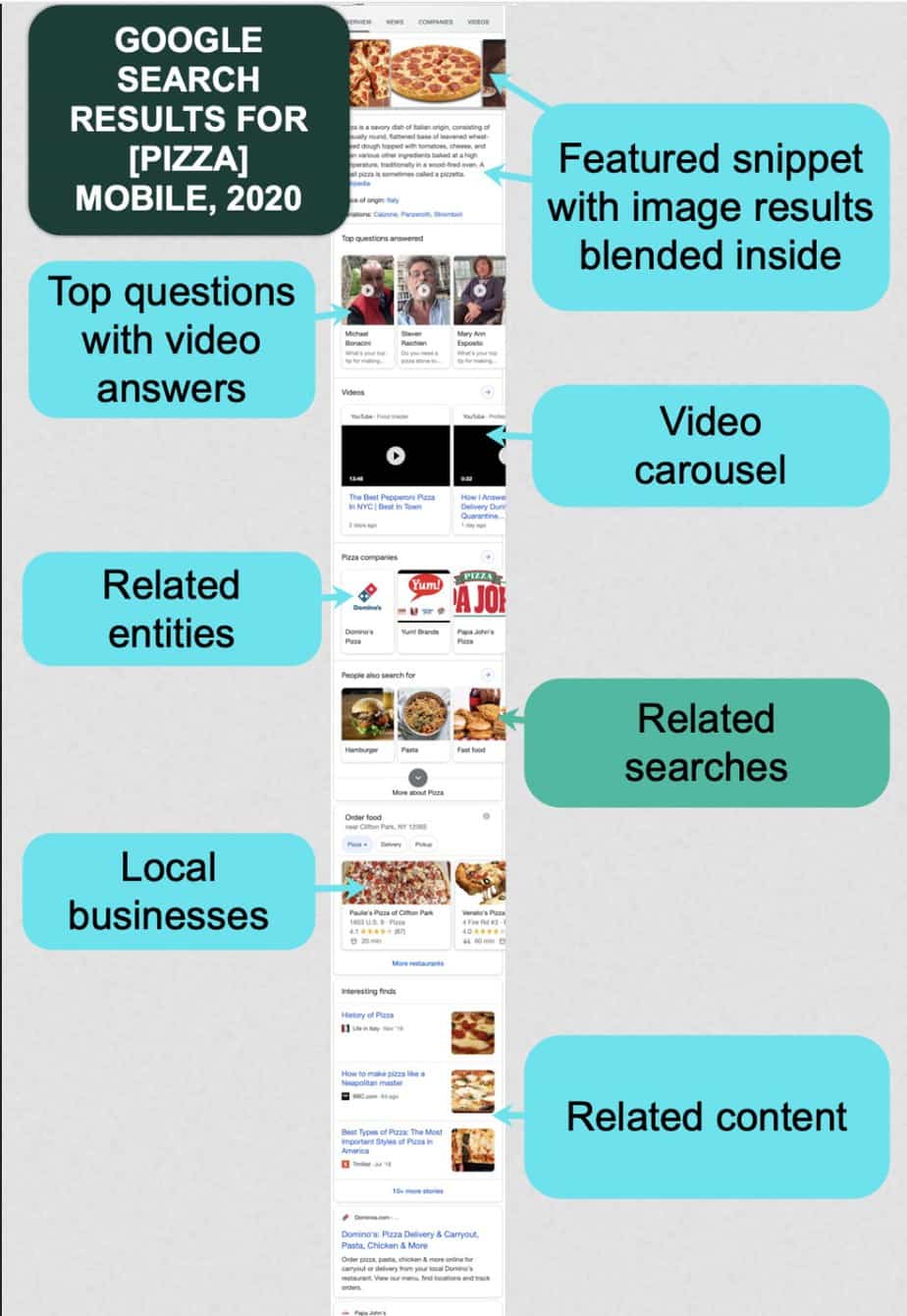 Finally, Google values on-page engagement. If its algorithm notices people click your organic result and leave (go back), they know your page isn't fulfilling their need. This is bad and your page may lose its visibility. Converting traffic is part of SEO now!
So instead of focusing on organic positions or even organic clicks, start measuring conversions and evaluating on page engagement. This involves working with your clients (or on your own site) on creating different buying journeys and implementing various engagement tactics. These may include:
Play with different calls-to-actions, designs and colors. Here are a few plugins to help
Experiment with various "Buy now" button results
Creating lead generation forms to capture emails of your site visitors. Try using conversational forms for better results
Create a promo video to prompt your site users to pause and watch. Videos make the best job at engaging traffic. Tools like InVideo will help you out.
Invite your site visitors to enable web push notifications to get notified when your site has an update. This is a great way to drive return visitors! Tools like Push Monkey is a good option which also comes with segmentation and analytics
Allow your customers to schedule a call with you right away.
You can also reach out to customers with reminders using SMS messages.
Not all people will buy from you right away but you need to engage them in some way or another. This is not to say that you need to overwhelm them with your calls-to-action and forms. Make your engagement tactics fit naturally within your context.
Featured tools:
Google Analytics is a great tool to ensure you have a well-set monitoring routine. It could take some time to figure out and may need some training.
Finteza is an easier option, yet as advanced as Google Analytics in terms of its monitoring capabilities. The tool will help you identify which of your conversion funnels are leaking conversions. These need to be eliminated or fixed to better match the search intent or on-page context: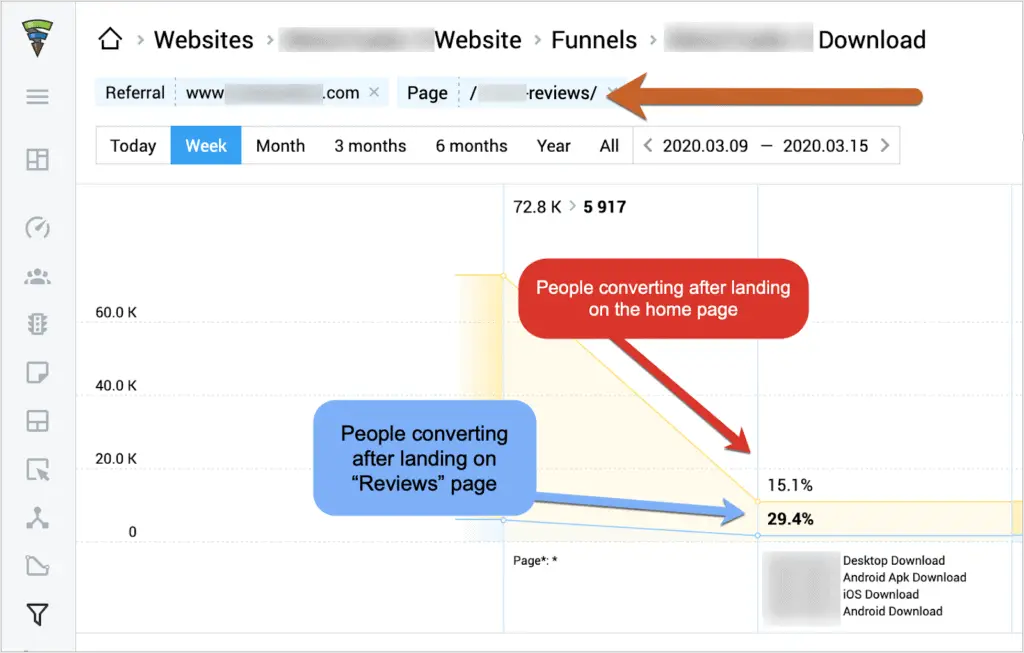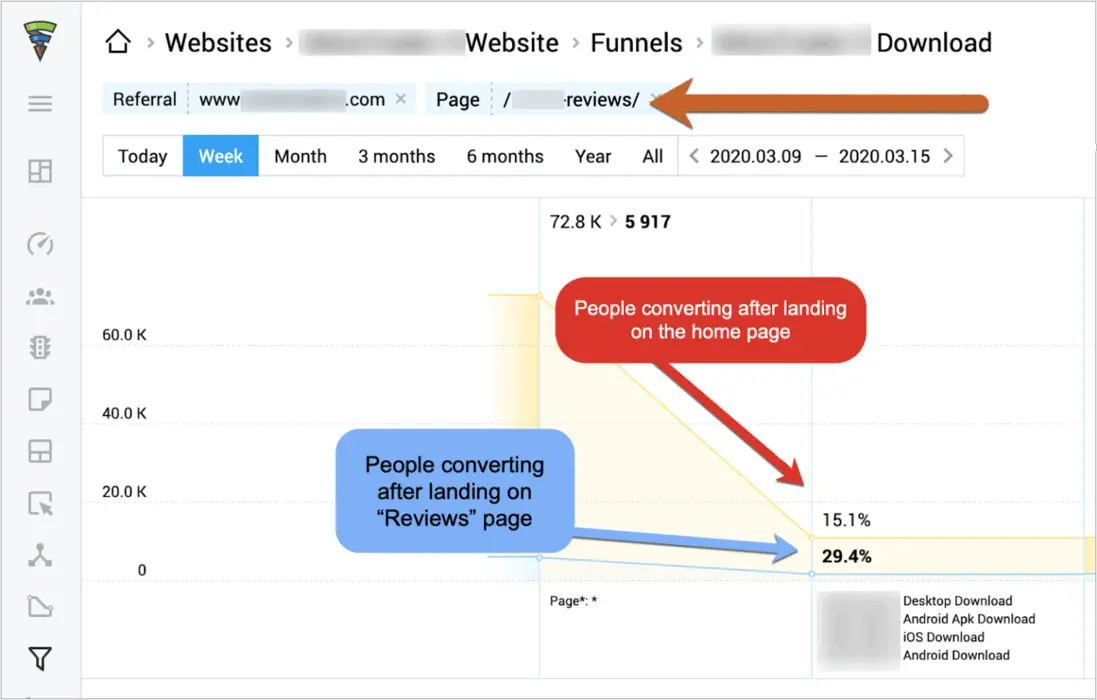 Conclusion
Search engine optimization is an exciting industry to be in. It is young and vibrant and often challenging but for the most part it is very interesting! SEO is an ongoing process and you need to always keep an eye on new trends and updates.