So, you're ready to promote your business! Woohoo! But where do you begin? Marketing can be overwhelming if you aren't sure what marketing channel or marketing platforms are best to help you promote your business.
In this guide, I've pulled together ways to promote your business. I've organized it into three marketing strategies; content marketing, direct marketing and paid advertising. I've also included both online and offline marketing tactics.
Let's get started!
Use the 80/20 Principle to Leverage Your Marketing Budget
It's almost like marketing experts have a goal to confuse small business owners. Sorry about that!
It must feel like an insane money-grab out there with every expert and marketing agency has their hand out for a slice of your marketing budget.
Just look at this! 5.6 Billion search results for how to promote your business online! It's overwhelming and you'll waste all your savings by trying and failing.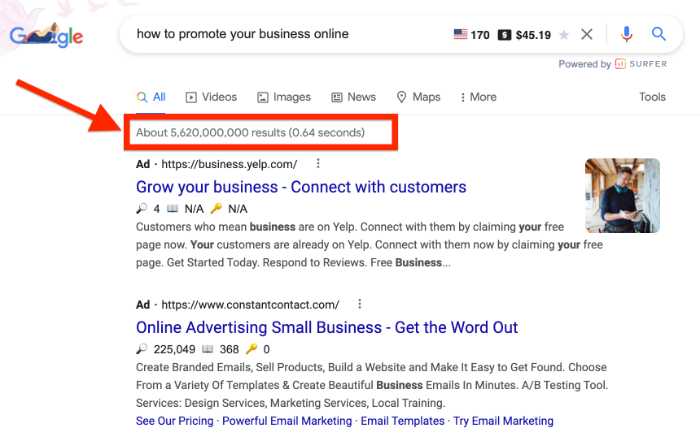 Just because Google gives you articles with a mish mash of digital marketing tactics doesn't mean that you should try them all.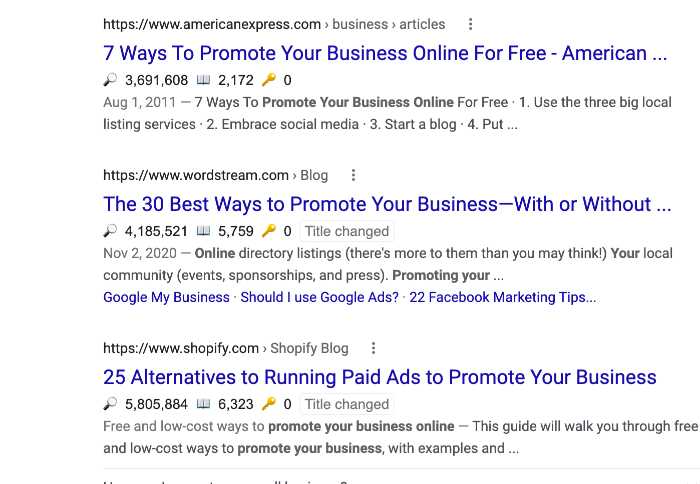 To get the most out of the time and money you are investing in digital marketing, you're going to have to do a few things:
Always keep your target audience at the center of your digital marketing efforts.
Focus on those internet marketing ideas that most closely match your natural strengths and inclinations.
Not sure where to begin? I've made it super easy by creating this Marketing Superpower Quiz that will help you choose the best digital marketing strategy for you.
Hopefully you've taken the quiz and know exactly which marketing strategy is best for promoting your business online.
Now you're ready to pick the digital marketing tactics that you're going to use for your business.
How to Promote Your Business With Content Marketing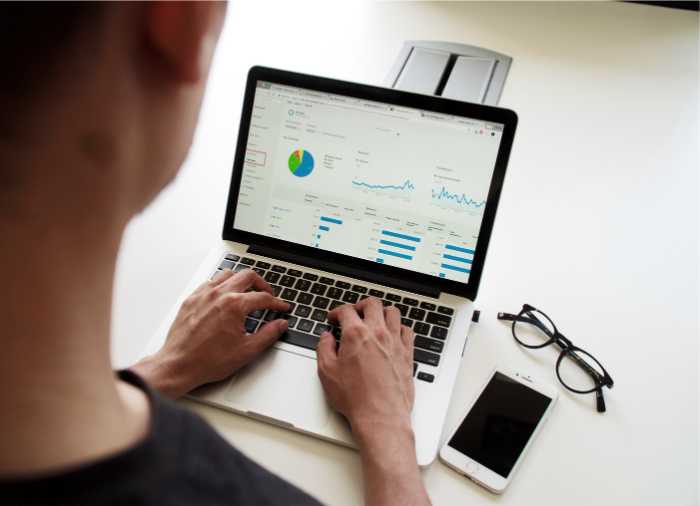 Content marketing is an inbound marketing strategy. What makes content marketing different from other strategies is that it's focused on educating your prospective customers with information that helps them choose you over other sources.
Let's start with some online tactics to promote your business.
Update your Google My Business listing
Updating your Google My Business page is one of the easiest online marketing tactics for driving more new customers to your business. It's FREE and all it takes is a few minutes of your time —
The first place we all go to get any bit of information is Google. If you do nothing else:
Claim your Google listing: Businesses that claim their free listings on at least four review sites earn an average of 46% more revenue. (Womply)
Fill out all the information — be sure to include images – keep your Google listing updated (there's an article on this that needs to be updated. optimized and published)
If we're talking 80/20 — this is at the top of the list! And get this — almost all businesses set it and forget it when they should be updating it at least quarterly.
Why update your Google My Business Listing?
The pandemic taught us that things change daily and your customers will often search your business just to see how you're operating today or what you want customers to do.
Google will reward you for using its platform for anything and everything. The more complete your business profile, the more Google will feature you.
Collect Positive Reviews and Success Stories
When a potential customer is looking into a business, they'll often check online review sites to get an idea of what the company is like.
If your business has mostly positive reviews, then the customer will be more likely to do business with you. On the other hand, if your business has a lot of negative reviews, then the customer will likely go elsewhere.
This is why collecting positive reviews is such an important online marketing tactic – it can help you win new customers and keep them coming back for more!
The numbers behind why online reviews are worth it
I found these amazing statistics on G2 and wanted to share them with you.
92% of B2B buyers are more likely to purchase after reading a trusted review (G2 and Heinz Marketing)
For every one star increase that a business gets on Yelp, they see a 5-9% increase in revenue. (Harvard Business Review)
When a product gets five reviews, the likelihood of it being purchased increases by 270%. (Spiegel)
When higher-priced items display reviews, the conversion rate increases by 380%. (Spiegel)
If a business has more than nine current reviews, they earn 52% more revenue than the average. If a business has more than 25 current reviews, that increases to 108%. (Womply)
How to Collect Success Stories from Happy Customers
Here's a great video by Dennis Yu sharing his best digital marketing campaign for collecting testimonials (or success stories) from your clients and customers.
Optimize Your Website
Right after searching on Google, your potential customers are heading to your website to get more information. And when they get there, you want them to stay there and spend money!
Hate to break it to you but web design is a much bigger factor in driving traffic to your site than you thoutht.
Here is a short list (in descending order) of things you should do to make sure your website is converting visitors to customers.
Make sure that it's designed for mobile.
Optimize your site for speed. Find out what your "Core Web Vitals" are. (check out this complete guide to search engine optimization)
Use mobile marketing: Mobile marketing is the process of using mobile devices, such as phones and tablets, to promote a product or service. This can include ads, text messages, emails, and website visits.
Create a landing page
Bet you didn't realize that you don't need a big, expensive and complicated website to get more customers. A simple landing page with a solid call to action can do the trick just as well.
Best Landing Page Builders
Bet you didn't know that you can drive website traffic without having a fancy, complicated website!
In fact, if you want to generate leads, customers and sales as fast as possible, your fastest path to cash is to create a simple landing page, with an offer and ability to take orders.
Here are the landing page builders I recomment.
Kartra
I've just recently switched to Kartra. Kartra is an all-in-one online marketing platform that helps businesses grow online. With Kartra, you can create beautiful landing pages, build membership sites, automate email marketing, and more. Kartra is the perfect solution for businesses of all sizes who want to grow their business online.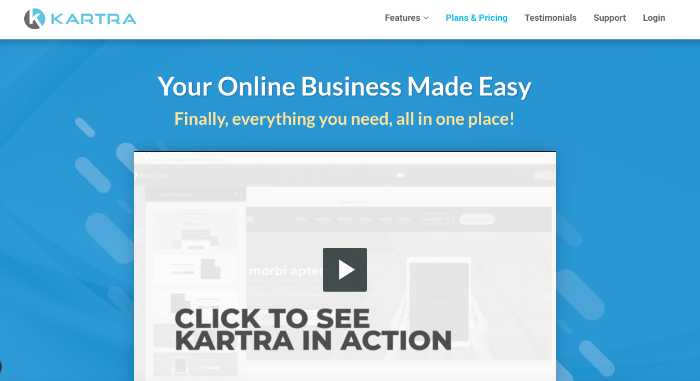 Lead Pages
Lead Pages is one of the more full-featured online landing page builders. Their templates are very visually appealing, and they're excellent for converting visitors into customers.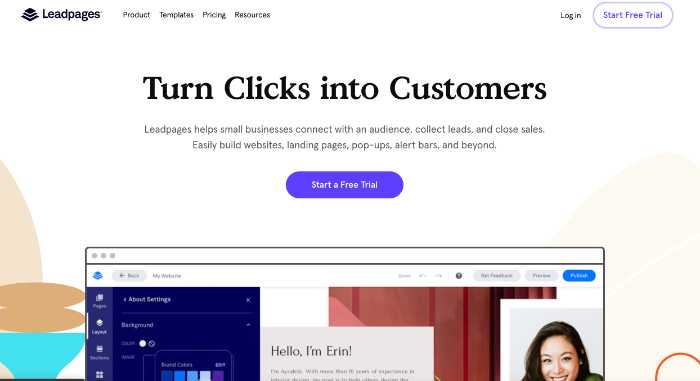 Use SEO (Search Engine Optimization) to get found
Sure, some people are going to be searching for your business name, but here's something you might not have realized — if you want more customers or if you want your existing customers to purchase more from you, search engine marketing can actually help you increase web traffic.
Your customers use search engines to research their problems and to find a business. Even if you're a local business owner, you should invest some time and effort into understanding what keywords your customers are searching for and being found for those keywords.
Start blogging
Marketing campaigns that include blogging are exponentially more successful than those that aren't.
57% of marketers say they've gained customers by using blogs as marketing content.
Blogging is a great way to promote your business online. It helps customers and potential clients get to know the company on a personal level, understand just what they have to offer, and see how it might be beneficial for them.
Most online marketers agree that a high-value blog post can provide huge value when it comes to promoting your business because of the amount of informative written content marketers are able to produce.
In addition, by providing thoughtful opinions about products or services from their own expert standpoint, online bloggers have the opportunity to stand out from other marketing material online where businesses sometimes push sales or advertise products with little insight into what customers really want.
If you'd like to build your brand and drive more traffic (and authority links) from other sites, you might consider guest posts to some of the bigger sites in your industry.
Host a podcast
Podcasting is a great way to promote a business online because it allows businesses to share their message and expertise with potential customers in an engaging and entertaining way. In addition, podcasting allows businesses to build relationships with customers by providing great content that listeners can't help but share. And finally, podcasting is a great way to reach new customers and grow one's business online.
Create videos
Video content is growing in popularity online. You need to start a YouTube channel now unless you already started. Many business owners who are not familiar with video are afraid of trying it for themselves as they are convinced it needs to work. It's not true. Among the biggest video campaigns conceived by a small business was a relatively simple project, such a one by Catmantoo animal trainers. This is footage of an animal on a roller coaster that has millions of views! No need to worry about video appearing homemade. This will help.
Run webinars
If your customers are national or worldwide and they need more information to buy your product or service — especially if your product or service expensive, then webinars can be the ideal digital marketing strategy.
According to a survey by Marketo, online leads generated from webinars were three times more likely to convert into sales than those generated through traditional methods like trade shows and direct mail (36% vs 13%). The survey also found that 92% of listeners were happy with the quality of information presented during the online lecture; only 16% said they would rather interact in person.
Create infographics
Having information graphics is a valuable resource in creating your content. This can be very effective in creating lots of link building sites to promote your business online. As a small business, your information is often unknown. By looking up the company records you find valuable information that may interest your client. How do certain products spike during a specific period or season? Several firms outsourcing design to specialized design firms costing hundreds of dollars. But no one can do that. Simply start with a free tool on Canva.
Ebook
Publishing books is an effective means for firms building expertise in the field. Gary Keller cofounders Keller-Williams Realty and grew its reputation nationally by publishing one of their most influential books on property. In the digital era things are simpler now than in previous years. It's your chance to list the best tips that you can give others in the field. This is not going to take much time. Most Kindle books are between 20,000 and 300k words that can be roughly 25 blogs long. After finishing the material, you can send it into the bookstore or promote it.
Press Releases
Press releases, especially for small businesses, are often forgotten as a lead generation tool. Create a press release to promote local events to your local community. You can send your press release to a local newspaper. Another benefit of writing and distributing press releases is that they are often optimized for search engines and can be found online.
Use These Direct Marketing Tactics to Promote Your Business
If your strength lies in creating and building relationships online, then you want to try these direct marketing tactics. as mart of your digital marketing strategy.
While some of these tactics can be used with other marketing strategies, the key to direct marketing is that your communication has the following characteristics:
You have a target customer with a specific problem.
You have a solution to this problem.
You have an offer that will transform the life of your target audience.
The following tactics are basically the channels that you're going to use to deliver your solution to your audience.
Email Marketing
Next to referral marketing, email marketing is the best and fastest way to promote your business online and generate new sales.
The biggest mistake people make with email marketing is thinking that you need to build a large email list.
While larger email lists contribute to profitable email marketing ROI, your goal should be solely on building a large email list. Instead, think about it as building a BUYERS LIST!
"Buyers lists" are what real estate agents call their email lists and I think it's brilliant! When you set a goal to build a "buyers list" you'll naturally focus on creating things your ideal customers will want to buy!
Read more about email marketing:
SMS (text messaging)
Text messages allow you to reach customers in all areas of their life, from work or school to social gatherings or family functions – with the ability to segment the message by time zone at little cost.
For example, an online flower retailer can send promotional texts on Valentine's Day if they know that customers' recipient would likely be getting home at 8pm after finishing work. They could also offer prospective customers information about upcoming events happening near them.
Social Media Marketing
Another online marketing tactic is social selling on popular social channels. The best part of social media marketing is you are in control of the message and how it's sent to people online. Here are a few tips:
Figure out which networks are most popular with your customers. It's a delicate balance between how you like to share content and where your ideal customers hang out.
If your decision makers are managers or C-Level executives at B2B companies you'll want to focus on LinkedIn.
If your product or service is more consumer oriented, you might try Facebook, Instagram or TikTok.
Paid Advertising Tactics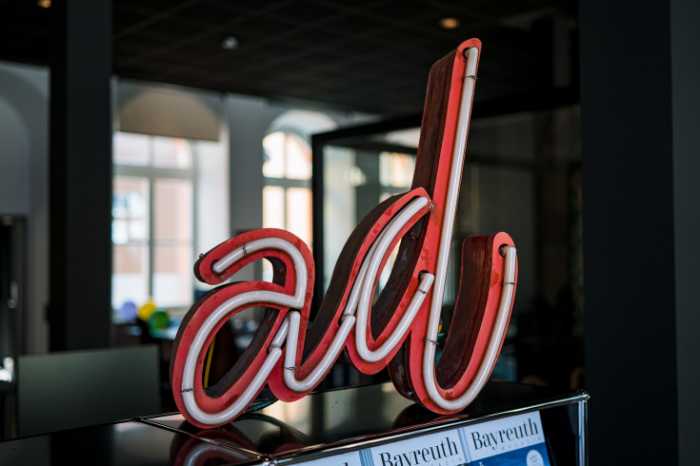 Have you noticed how many digital marketing experts try to push you away from digital advertising? There's this myth that advertising is expensive and every other type of digital marketing campaign is somehow cheaper.
Not True!!!
If you're way too busy servicing customers and doing what you're good at and what you love, then paid media might be the right path for you!
Here's a list of
Use PPC (Pay-per-click)
PPC (pay-per-click) is an online advertising model in which advertisers pay a fee each time one of their ads is clicked. It is a form of cost-per-action marketing in which the advertiser pays only when a desired action is taken by the viewer.
PPC is ideal if your customers recognize that they have a problem or know what solution they are looking for and might be searching for it on Google. This often fits local businesses such as "basement waterproofing" or "dog training"

Ad Espresso is a powerful online tool that helps businesses create and measure their Google Ads and Facebook Ads. It's an easy-to-use platform with a wide range of features, including A/B testing, budget management, and detailed performance analytics. Ad Espresso also offers extensive resources and support, so businesses can learn everything they need to know about Google and Facebook Ads.
Social Media Advertising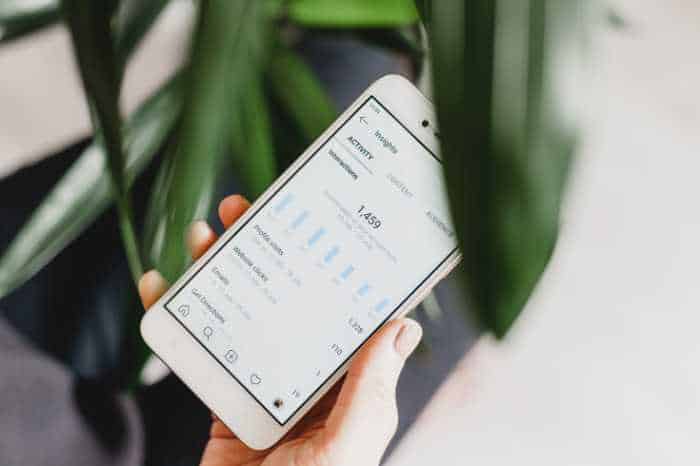 There are many benefits to advertising on popular social media channels for your business.
One of the most obvious benefits is that you can target a large audience with laser precision. thanks to the use of sophisticated targeting algorithms, you can ensure that your ads are seen by the right people, increasing the chances that they will take action. Additionally, social media advertising is often much more affordable than traditional advertising methods, making it a more cost-effective way to reach your target market. Finally, social media platforms offer unique opportunities to create engaging and interactive ads that can help you stand out from the competition.
Run Contests
Contests are a great content marketing strategy because they can help you increase brand awareness, drive traffic to your website, and generate leads.
Additionally, contests can help you create valuable user-generated content that can help promote your business online.
What to give away? One simple solution to this problem is to sinply give away free products and services.
KingSumo is a WordPress plugin that helps businesses run online giveaways and contests. It's an easy-to-use platform with a wide range of features, including A/B testing, budget management, and detailed performance analytics. KingSumo also offers extensive resources and support, so businesses can learn everything they need to know about online giveaways and contests.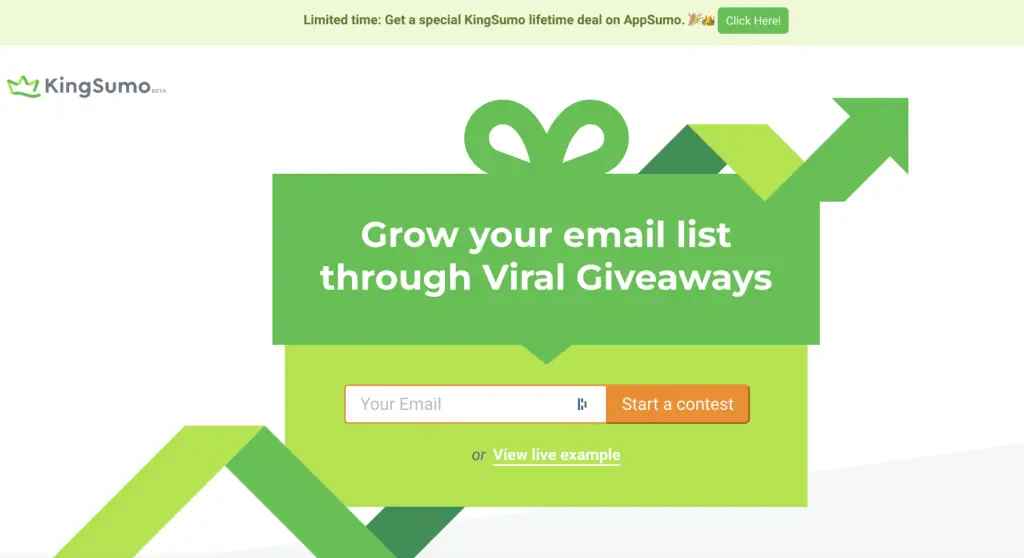 Influencer Marketing
Let's get something straight — while many celebrities are influencers, not all influencers are celebrities. In fact, hiring celebrities isn't always the best use of your marketing budget.
But that doesn't mean that influencer marketing won't work for you.
Creating content with influencer input is a great way to drive website traffic and increase website visitors.
The key to great influencer marketing is to find influencers who create content consistent with your own point of view.
Native Advertising
Native advertising is a form of online advertising that matches the form and function of the platform on which it appears. Native ads are designed to be less intrusive and more relevant than traditional online ads. They often look like natural content, such as articles, videos, or social media posts.
Coupons and Special Offers
Your customers LOVE coupons! You can create and share coupons with your customers both online and offline.
The easiest way to manage online coupons is with an online coupon management platform. There are many online platforms for daily deal sites today (Such as Groupon)—and they all offer their own version of discounts and perks.
Before you go…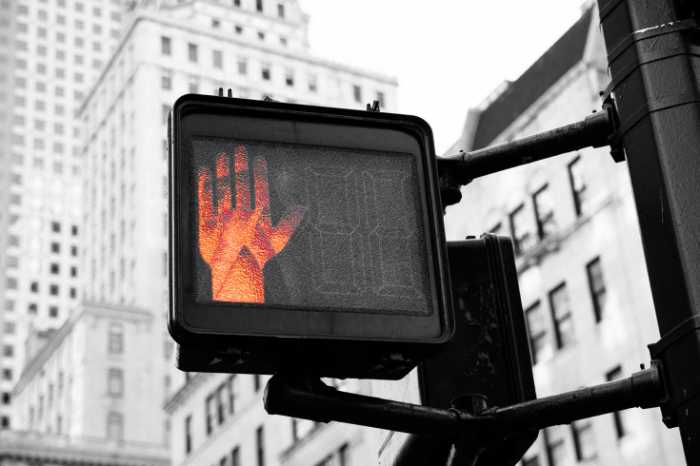 If you're a digital marketer who wants more leads and is short a sales team, then use these simple tactics in your marketing plan.
Set business goals, select either a content, direct or paid advertising strategy to reach your marketing goals.
Be sure to leverage your CRM platform to make sure that none of your potential customers fall through the cracks.
Take the time to check out the marketing automation tools we've recommended here to help with your marketing efforts.
As you can see, online marketing doesn't have to be expensive – there are a variety of online marketing tactics that small business owners can use on a budget.