I'm writing this Writesonic review after using it for just over a month. I think it's worthy of your checking it out, especially if you are a niche blogger who wants to write more articles faster.
What is Writesonic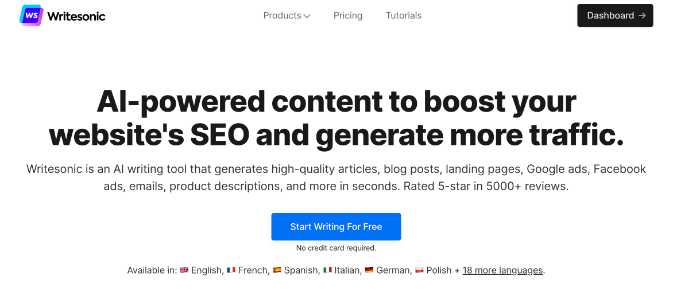 Writesonic is an online content generation tool that helps you write articles faster by providing a simple to use interface and tips for improving your writing.
How Writesonic works
Like many other AI writing tools, writesonic takes basic descriptions for articles, ads, and product descriptions and creates content in minutes.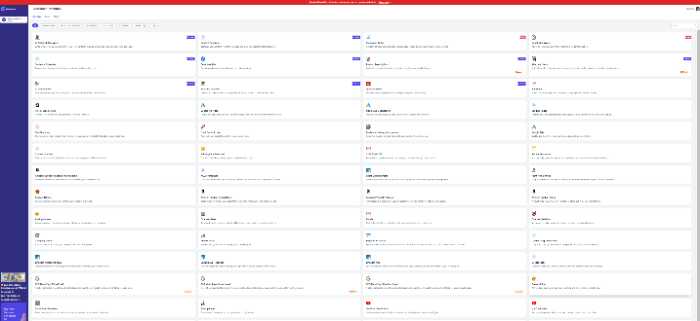 I don't expect you to be able to see or read this dashboard. I'm showing it this small so you can see the INSANE number of options you have for creating 56 types of content.
The general categories include:
Ads
Social Media: TikTok, linkedIn,
Ecommerce: product descriptions and Amazon headlines, descriptions and titles
The general categories include:
Blog articles
Ads
Social Media: TikTok, linkedIn,
Ecommerce: product descriptions and Amazon headlines, descriptions and titles
The 56 types of content are:
1. Articles
2. Blog Posts
3. Case Studies
4. Clickbait Headlines
5. Ecommerce Product Descriptions
6. Facebook Ads
7. Forum Posts
8. Guest Posts
9. Instagram Ads
10. LinkedIn Ads
11. LinkedIn Articles
12. LinkedIn Headlines
13. Newsletters
14. Pinterest Pins
15. Press Releases
16. Quora Answers
17. Reddit Posts
18. Sales Emails
19.Sales Pages
20. SEO Articles
21. SlideShares
22. Social Media Posts
23. Sponsored Content
24. TikTok Ads
25. TikTok Videos
26. Twitter Ads
27. Twitter Headlines
28. Whitepapers
29. YouTube Ads
30. YouTube Thumbnails
31. YouTube Titles
32. Amazon Headlines
33. Amazon Product Descriptions
34. Craigslist Posts
35. eBay Listings
36. Etsy Listings
37. Facebook Posts
38. Forum Signatures
39. Instagram Captions
40. LinkedIn Articles
41. LinkedIn Headlines
42. Newsletters
43. Pinterest Pins
44. Press Releases
45. Quora Answers
46. Reddit Posts
47.Sales Emails
48. Sales Pages
49. SEO Articles
50. SlideShares
51. Social Media Posts
52. Sponsored Content
53. TikTok Videos
54. Twitter Ads
55. Twitter Headlines
56. Whitepapers
User interface and experience
The Writesonic user interface is very intuitive and easy to use. After signing up for an account, you're taken to a dashboard with all of your options for content creation.
You can either choose to create new content or edit existing content. I found the editing interface to be very user-friendly and straightforward.
There are three main sections to the Writesonic editor:
The first section is where you input your topic, keyword, and audience.
The second section is where you actually write your content. This is the meat of the Writesonic editor, and it's very well designed.
Who Writesonic is for
Writesonic is perfect for content marketers, bloggers, and small business owners who want to generate good content quickly without spending hours writing or paying someone to write for them.
Pros and cons of using Writesonic
Pros
---
Easy-to-use interface
Ability to send covert reminders to prospects
Multiple engagement touchpoints
Customizable templates
Video messaging and live chat features
Integration with various CRM systems
Cons
---
Some users reported issues with CRM integration
Pricing may be considered high compared to other alternatives
Pricing and how to buy Writesonic
Writesonic pricing is based on purchasing credits. There is a monthly fee for a specific number of credits. This pricing structure has gotten mixed reviews, but I think it's very competitive. For $45/mo you get unlimited credits and an integrations with SEMRush.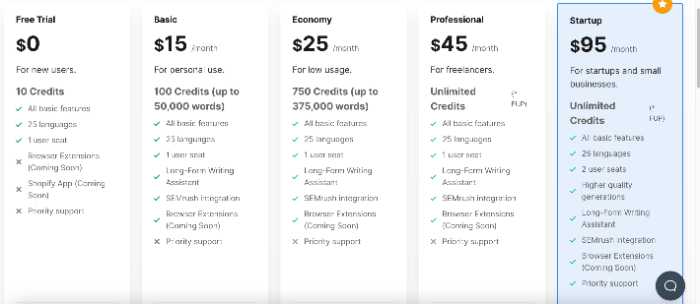 I've been using the free plan and I find that it's enough for me to use the tool as a supplementary tool to Jasper.ai.
Writesonic vs Jasper.ai
I've been using Jasper.ai for over a year. And, as much as I love Jasper.ai, Writesonic does things a little differently and that makes it an ideal add-on to my AI writing toolbox.
| | | | |
| --- | --- | --- | --- |
| | | | |
| | | | |
| | | | |
| $15 for up to 50,000 words | $49 for Boss Mode with 50,000 words | | |
| | | | |
While both Writesonic and Jasper.ai create blog outlines, Writesonic will write out the entire article and Jasper.ai writes out one section at a time. If you are a niche blogger in a popular niche, you can end up with an article that's 80% perfect and just edit elements here and there to come up with a finished article.
Jasper.ai is very different. Jasper.ai will come up with an outline, but you have to go back and forth with the AI to get to content that you find acceptable. If you prefer to edit an entire article, you'll like Writesonic and if you prefer to customize your article as you go, you'll prefer Jas[er.ai.
If you like being a part of a rabid fan community, Jasper is a great choice. Because they were among the first high quality AI writing tools, they've developed a large community of users. So if you want to hire writers to create your blog posts using Jasper, this is your best bet.
Final thoughts on using Writesonic
Overall, I'm a fan a Writesonic. The quality of the content is very, very good. But, like all AI writing tools, it's not close to perfect. Just because you see complete sentences doesn't mean that those sentences are factually accurate.
Whenever you're using any content writing tool, I recommend that you use the tool as an idea generator. Google and other search engines are getting wise to AI content. As of this writing, Google will only penalize nonsensical AI content. If your content adds value to the reader, you will be fine.
As in all content marketing, always keep your reader at the center of your content and do not write content for the sake of content. And for that, Writesonic is a great choice.